450 MAIN EVENT RESULTS | 2018 FOXBOROUGH SUPERCROSS
As we conclude our night in Gillett Stadium in Foxborough Massachusetts, we are simply in awe of how things panned out. Week after week, Monster Energy Supercross offers a new and exciting plot in each and every event. Tonight, was all about Marvin Musquin and rival Eli Tomac.
450 MAIN EVENT RESULTS
Marvin Musquin (KTM)
Eli Tomac (Kaw)
Jason Anderson (Hus)
Blake Baggett (KTM)
Dean Wilson (Hus)
Weston Peick (Suz)
Malcolm Stewart (Suz)
Justin Brayton (Hon)
Justin Barcia (Yam)
Chad Reed (Hus)
Christian Craig (Hon)
Vince Friese (Hon)
Tyler Bowers (Kaw)
Benny Bloss (KTM)
Cedric Soubeyras (Suz)
Henry Miller (Suz)
Brandon Scherer (Yam)
Alex Ray (Yam)
Devon Rapper (Kaw)
AJ Catanzaro (Kaw)
Dustin pipes (Suz)
Kyle Cunningham (Suz)
Marvin Musquin grabbed a clean start, and managed to lead almost the entire race until Eli Tomac cleanly stole the lead away. On the final lap, Marvin made a questionable move against Tomac to deliberately take him out for the win. He succeeded, and walked away with the "W".
Eli Tomac showed pure frustration after the incident for the win. He rode hard and stayed smooth while running behind Musquin. It was clear that the move was intended to take him out. "It was a cheap shot," said Tomac while talking with FS1's Jenny Taft on the podium.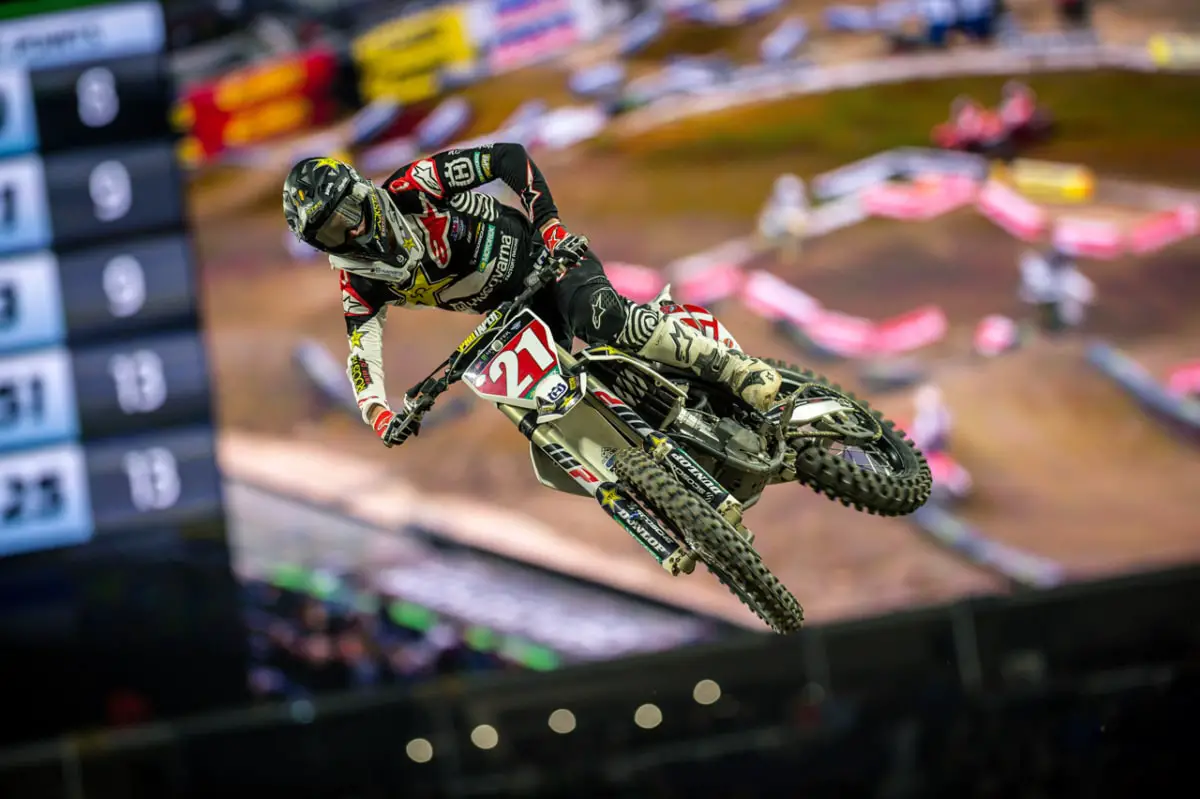 Meanwhile in third, Jason Anderson struggled on the rough choppy conditions Foxborough had to offer. But, he's been very consistent on the podium and looks to hopefully wrap up his first 450 title next weekend.
450 SUPERCROSS POINTS STANDINGS
Jason Anderson–

332

Marvin Musquin–

298

Eli Tomac–

269

Justin Brayton–

247

Blake Baggett–

243

Weston Peick–

219

Broc Tickle–184
Dean Wilson–

183

Cooper Webb-181
Malcolm Stewart–

150
450 LCQ RESULTS (TOP 4 QUALIFY)
Kyle Cunningham (Suz)
Alex Ray (Yam)
AJ Catanzaro (Kaw)
Dustin pipes (Suz)
450 HEAT 2 RESULTS (TOP 9 QUALIFY)
Justin Barcia (Yam)
Eli Tomac (Kaw)
Blake Baggett (KTM)
Weston Peick (Suz)
Chad Reed (Hus)
Vince Friese (Hon)
Dean Wilson (Hus)
Henry Miller (Suz)
Benny Bloss (KTM)
450 HEAT 1 RESULTS (TOP 9 QUALIFY)
Jason Anderson (Hus)
Marvin Musquin (KTM)
Malcolm Stewart (Suz)
Justin Brayton (Hon)
Tyler Bowers (Kaw)
Christian Craig (Hon)
Cedric Soubeyras (Suz)
Brandon Scherer (Yam)
Devon Rapper (Kaw)