MXA WEEKEND NEWS ROUND-UP: THE SIREN CALL OF MOTOCROSS LOVE

Click on images to enlarge
A MAN AND HIS PUCH: UNREQUITED LOVE, REUNITED AGAIN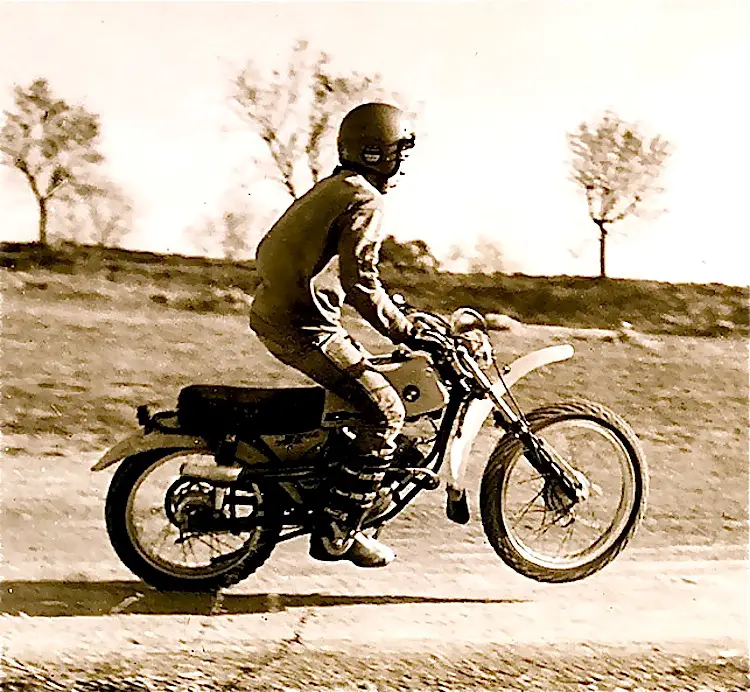 Now a plastic surgeon, this was 13-year-old Kim Sunol back in 1975 on his dream bike.
Before packing up and heading to the USA for a two-week whirlwind race adventure at the REM Octobercross on October 31 and the 2015 World Vet Championship on November 7-8, Spanish racer Kim Sunol had very important business to attend to. Was Dr. Sunol called to the hospital to perform emergency surgery on a patient? Was he needed at fellow World Vet racer Xavi Costa's house to help change Mini-Fever's diapers before going to the airport? No, Kim wanted to finish the restoration project on his 1975 Puch Minicross MC50.
Kim's original 1975 Puch Minicross.
Kim's newly restored 1975 Puch Minicross.
Yes, we know that he had waited 40 years, but this was the perfect moment. Kim explained it this way, "This was my dream bike when I was a kid. I did very crazy things on it. I believe that if I hadn't kill myself on it, then no other bike would. Now, my living room collection consists of my 1977 Montesa Cappra VB 125 and a 1975 Puch Minicross. Every time I go from the couch to the kitchen to open a bottle of wine, I say, 'beautiful bikes'!" You can see Kim and Xavi in action of the World Vet in two weeks—but the Puch is staying in Barcelona.
KIM SUNOL ON HIS PUCH MINICROSS AT CIRCUITO DE LES FRANQUESES IN 1975

JAMES STEWART'S WRIST INJURY: IT WAS NOT HURT IN THIS CRASH

For those who noted that James showed no signs of hurting his wrist in this crash, James said he hurt his right wrist earlier in the day during practice at the Monster Cup. Then, after getting up from sliding into Trey Canard he said he cased a jump and hurt it again. Given that the Monster Cup is a meaningless race, made significant by the potential million dollar bonus and purse money, once James did poorly in the first moto, he was out of the running for the million or any purse money for the night—and thus saw no reason to continue and risk further injury.

KTM JUNIOR SUPERCROSS CHALLENGE WILL HAVE 10 DATES IN 2016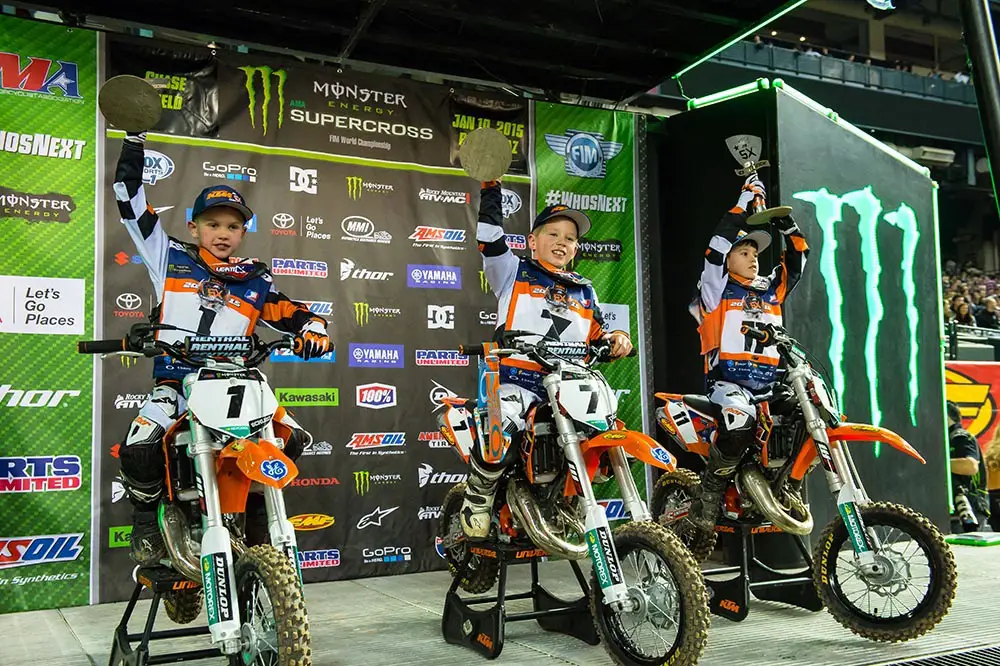 In its 17th season, the 2016 KTM Junior Supercross program will include 10 Supercross venues, beginning January 16 with San Diego Supercross and concluding in Las Vegas with the final round of the series on May 7. The KJSC is an intermission program where 15 randomly selected riders race aboard identically prepared KTM 50 SXS motorcycles. Throughout the day, the young riders will experience a track walk like the pros, participate in two practice sessions, sign autographs for the fans, participate in opening ceremonies and race a three-lap exhibition race during the Supercross night program. Interested applicants must be 7-8 years old and meet the full requirements listed in the official rules. All rules and online entry forms can be found at the KJSC event website at www.ktmjrsx.com.
2016 KTM JUNIOR SUPERCROSS CHALLENGE
Jan. 16……………………..San Diego
Jan. 23……………………..Anaheim II
Feb. 6……………………….Phoenix
Feb. 20……………………..Dallas
Feb. 27……………………. Atlanta
Mar. 12…………………….Toronto
Mar. 19…………………….Detroit
April 9………………………Indianapolis
April 16……………………..St. Louis
May 7……………………….Las Vegas
WATCH TONY CAIROLI WIN THE FINAL ROUND OF THE BRAZILIAN CHAMPIONSHIP
THIS WEEK'S BIRTHDAY BOYS: "THE DART" WOULD HAVE BEEN 60


Oct. 25…Tony Amaradio 1973
Oct. 25…Mike Lafferty

Oct. 27…Kenny Zahrt 1955
Oct. 27.. Jimmy Jarrett
Oct. 27…Malcolm Stewart 1992

Oct. 28…Alex Martin 1989
Oct. 29…Takeshi Kolkeda 1977
Oct. 22…Michael Brandes 1975


NEWEST AMA MOTORCYCLE HALL OF FAMERS
2015 inductees (left to right): Motocross/offroad racer Rodney Smith, J&P Cycles John Parham, dirt tracker Alex Jorgensen, Yamaha mechanic Keith McCarty, road racer John Kocinski (and his son) and Harley exec Richard Teerlink. Photo: Camilla Sjodin
The American Motorcyclist Association Hall of Fame inducted six new honorees this past weekend. Those named were dirt tracker Alex Jorgensen, road racing champion John Kocinski, Yamaha team manager Keith McCarty, J&P Cycles entrepreneur John Parham, offroad champion Rodney Smith and former Harley-Davidson CEO Richard Teerlink. Of interest to motocross racers are:
Keith McCarty.
Keith McCarty wrenched for Mike Runyard, three-time 250 National Champion Tony DiStefano and Bob "Hurricane" Hannah, before moving into management at Yamaha.
Rodney Smith.
Rodney Smith was a Northern California racer who moved to Brazil to win five Brazilian National championships before caching the eye of the Suzuki GP team during the Brazilian Grand Prix. He went to Europe, where he finished third in 1988 250 World Motocross Championships before returning to the USA  to win five GNCC titles, three AMA National Hare Scrambles titles, five AMA National Enduro Championships and was twice top American at the USDT.
OLD PROS NEVER DIE, THEY JUST PAINT SUNSETS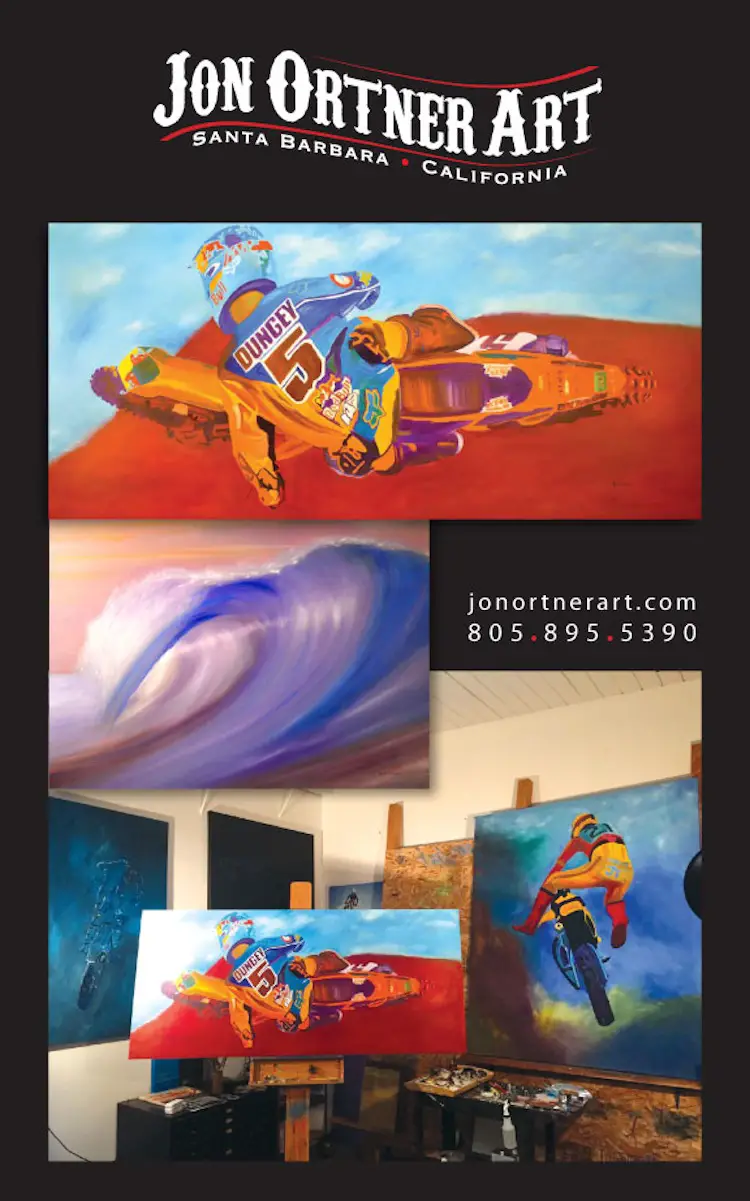 Jon Ortner never retired after his AMA National days ended—he kept right on racing. And you can find him any weekend at Glen Helen hammering out laps on his YZ450F. But, racing the Over-50 Elite class against Doug Dubach, Kurt Nicoll, Pete Murray, Willy Simons and Andy Jefferson doesn't pay. So, what does Jon do for a living. He's a painter. You can see his work at www.weatheredwalls.com/jon-ortner-art-santa-barbara/ or by calling (805) 895-5390 or by showing up in REM pits on Saturday.
2015 AUSSIE SUPERCROSS: NOT AT WAYVILLE ON OCT. 31


According the Australian Supercross promoters: "There were issues confronting us in preparing the Coolum/Wayville venue in time to be ready to host round four (on October 31), and at this stage of planning, and after consulting with Motorcycling Australia, the best decision for the Championship, and the sport as a whole, was to take round four back to Jimboomba (where it was held last week). We will build an all-new track at Jimboomba X Stadium for round four, and only further improve the facilities and amenities that were already so well received by the fans, riders and teams last weekend at round two of the Championship."
2015 REM OCTOBERCROSS: WORLD VET WARM-UP ON OCTOBER 31

For more info go to www.remsatmx.com.
2015 WORLD VET MOTOCROSS CHAMPIONSHIPS ON NOV. 7-8
For more info go to www.glenhelen.com.

LAKE ELSINORE GRAND PRIX ON NOV. 7-8

For more info go to www.lakeelsinoregp.com.
DAY IN THE DIRT IS COMING TO GLEN HELEN ON NOV. 27-29

For more info go to www.dayinthedirt.com

ROGER DECOSTER'S THOUGHTS ON RACING THE MXDN
2016 ARENACROSS TICKETS GO ON SALE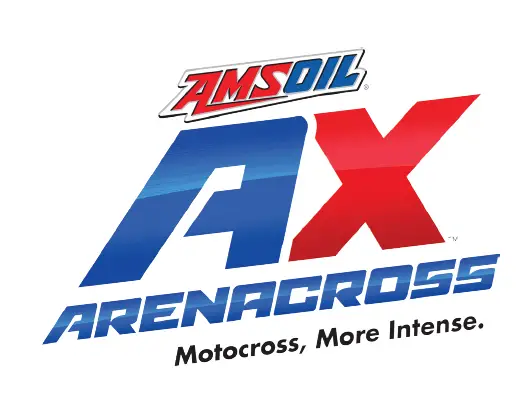 Feld Motor Sports announced that tickets for the 2016 AMSOIL Arenacross season are now on sale for what is expected to be one of the most intense seasons in AMSOIL Arenacross history. Additionally, a brand new championship logo and slogan were unveiled to the public as the next step in what has been unprecedented growth in the series.
Get your tickets at arenacross.comto be a part of the 2016 AMSOIL Arenacross season that is poised to be one of the most intense in the history of the sport, as the series travels through a total of 13 different states while racing inside some of the country's most prominent NBA and NHL arenas. This highly anticipated championship battle comes on the heels of an incredible 2015 season that featured a fight for the title that came down to the final race in Las Vegas and packed venues at virtually every stop on the schedule.
The new logo and its accompanying slogan is the next step on what has been a progressive rebranding for AMSOIL Arenacross. Since establishing Ricky Carmichael's Road to Supercross and introducing the "Race to the Championship" prior to the 2013 season, AMSOIL Arenacross has experienced tremendous growth both on and off the track. The changes to the competition have resulted in arguably the most dramatic and dynamic racing of all time, which was capped off by the most memorable championship battle in AMSOIL Arenacross history last season between Kyle Regal and Jacob Hayes. A season-long fight to earn the first professional title for either rider was ultimately captured in one single incident in Las Vegas, when the duo came together for what is no doubt one of AMSOIL Arenacross' defining moments. A moment that has surely not been forgot by either rider and is destined to add intensity to every round of the 2016 season.
The simplified logo is straightforward and to the point, with a nod to the all-American colors of the title sponsor. To complement the logo, the slogan "Motocross, More Intense." carries tremendous impact in just three words. There is no environment like AMSOIL Arenacross in all of motocross and only one word can succinctly describe everything that makes this the most exciting championship on the planet – intense.
"There's so much intensity and focus necessary to win in this championship that you're either going to make it or break it," said Regal. "I've always wanted to be a champion and AMSOIL Arenacross forced me to dig really deep to finally get to where I've dreamed of being. All the pain and the suffering I've encountered along the way were worth it when I felt the sensation of relief and accomplishment in raising that trophy in Las Vegas."
With the support of Ricky Carmichael and the Road to Supercross, as well as incredibly talented champions like Tyler Bowers and Regal, AMSOIL Arenacross has become the sport's proving ground for riders with big dreams. The no-holds-barred, win-at-all-costs mentality that it takes to be successful on the man-made battlefields inside the country's most well known arenas results in hard-earned, exceptionally satisfying wins and even more fulfilling championships. To win in AMSOIL Arenacross a rider needs to be prepared for war, where he will face the intense ups and downs of battle, and a necessity to maintain the mental fortitude of a warrior that refuses to quit.
Don't miss your chance to be a part of AMSOIL Arenacross – Motocross, More Intense.

For more information on the 2016 AMSOIL Arenacross season log on to www.Arenacross.com.
2016 AMA SUPERCROSS SCHEDULE

2016 AMA SUPERCROSS CHAMPIONSHIP
Jan. 9…………………….Anaheim, CA
Jan. 16………………….San Diego, CA
Jan. 23………………….Anaheim, CA
Jan. 30………………….Oakland, CA
Feb. 6……………………Glendale, AZ
Feb. 13………………….San Diego, CA
Feb. 20………………….Arlington, TX
Feb. 27………………….Atlanta, GA
March 5………………….Daytona, FL
March 12…………………Toronto, CAN
March 19………………..Detroit, MI
April 2………………..….Santa Clara, CA
April 9………………..….Indianapolis, IN
April 16………………….St. Louis, MO
April 23………………….Foxboro, MA
April 30………………….East Rutherford, NJ
May 7…………………….Las Vegas, NV
2016 AMA NATIONAL CHAMPIONSHIP SCHEDULE

2016 AMA NATIONAL CHAMPIONSHIP
May 21……………………Hangtown, CA
May 28.…………………..Glen Helen, CA
June 4..……………….….Thunder Valley, CO
June 18..…………………Mt Morris, PA
June 25.………………….Muddy Creek, TN
July 2.…………………….Red Bud, MI
July 9..……………………Southwick, MA​
July 16.…………………..Millville, MN​
July 23.…………………..Washougal, WA
Aug. 13..………………….Unadilla, NY​
Aug. 20..………………….Budds Creek, MD​
Aug. 27.…………………..Crawfordsville, IN​
2016 FIM GRAND PRIX SCHEDULE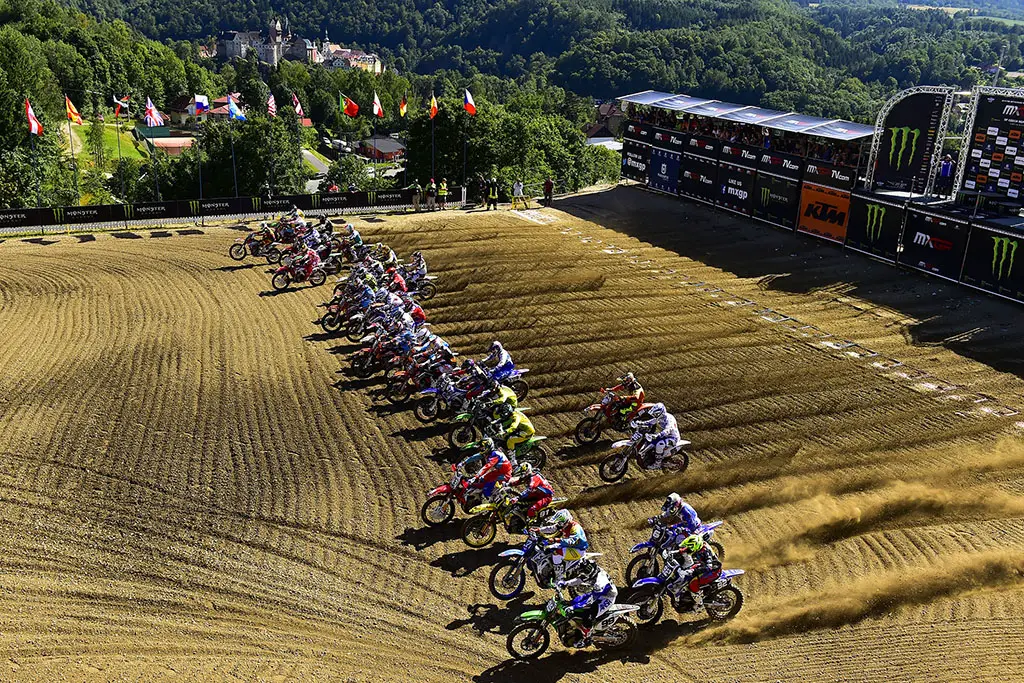 Throw your old 2016 Grand Prix schedule out. This is the latest new one.

2016 FIM MOTOCROSS WORLD CHAMPIONSHIP SCHEDULE
Feb. 27……………………..Losail, Qatar
Mar. 06……………………..Suphan Buri, Thailand
Mar. 13……………………..Sepang, Malaysia
Mar. 3……………………….Neuquen, Argentina
April 24……………………..Leon, Mexico
April 17…………………….Valkenswaard, Holland
May 1……………………….Kegums, Latvia
May 8……………………….Teutschenthal, Germany
May 15……………………..Pietramurata, Italy
May 29……………………..TBA
June 5………………………St Jean d'Angely, France
June 19…………………….Matterly Basin, Great Britain
June 26…………………….Mantova, Italy
July 24………………………Loket, Czech Republic
July 31………………………Lommel, Belgium
Aug. 7……………………….Frauenfeld, Switzerland
Aug. 28……………………..Assen, Holland
Sept. 3………………………Charlotte, USA
Sept.11……………………..Glen Helen, USA
SUBSCRIBE TO MXA AND MAKE MONEY
If you had subscribed to MXA, the November 2015 issue would be winging its way to your mailbox right now. It's chock full of good stuff.  Plus, subscribers get a $25 Rocky Mountain gift card that pays for their subscription and then some.

Do you subscribe to MXA? You should. We know that you think that print magazines are dead and that the internet will fill the void, but most of the stuff in the current issue of MXA won't appear on the web for several months, if at all. Luckily, you can get all of MXA on your iPhone, iPad, Kindle or Android by going to the Apple Store, Amazon or Google play, but better yet get the Digital desktop version at https://hi-torque.com/product/motocross-action-digital-edition/ or click on the link below to get the print version delivered to your door for only $15.99 (plus you get a free $25 Gift Card from Rocky Mountain ATV/MC just for subscribing). There is a profit to be made in this deal for you. For the Print magazine go to: http://hi-torque.com/product/subscribe-to-motocross-action-magazine/
WHERE TO BE, WHEN TO BE THERE & WHAT TO WEAR
2015 REM OCTOBERCROSS
Oct. 31………………………..…Glen Helen, CA
2015 RACE AROUND THE LAKE
Oct. 30-Nov. 2……………….Castaic Lake, CA
2015 GEICO ENDUROCROSS CHAMPIONSHIP
Nov. 7………………….Boise, ID
Nov. 20-21…………..Ontario, CA
2015 AUSTRALIAN SUPERCROSS CHAMPIONSHIP
Oct. 31……………………………Jimboomba, QLD
Nov. 21…………………………..Sunshine Coast, QLD
Nov. 28…………………………..Homebush, NSW
Dec. 5……………………………..Sunshine, Vic
2015 WORLD VETERAN MOTOCROSS CHAMPIONSHIP
Nov. 7-8……………………….Glen Helen, CA
2015 LAKE ELSINORE GRAND PRIX
Nov. 7-8……………………….Lake Elsinore, CA
2015 PARIS SUPERCROSS
Nov. 14-16…………………….Lille, FRA
2015 THOR MINI OLYMPICS
Nov. 23-28…………………..Gainesville, FL
2015 DAY IN THE DIRT
Nov. 27-29…………………….Glen Helen, CA
2015 GENEVA SUPERCROSS
Dec. 4-5……………………….Geneva, SW

Photos by Camilla Sjodin, Dan Alamangos, Massimo Zanzani, KTM, John Ker and MXA