MOTOCROSS ACTION'S NEW YEAR THANKS TO ITS LOYAL TEST CREW

Click on image to enlarge
MXA test crew in 1977: 39 years ago Paul Boudreau (backrow), Jody Weisel, Cherry Stockton and mechanic Alan Hahn, along with (front row) Kurt Evans, Pete Maly and Al Baker were the MXA gang.
We don't say thank you nearly enough, but every MXA test riders has a lot to be thankful for.  Jody, John, Daryl and Dennis have the greatest jobs in the world. They ride, race and write. It is true that they gripe about their jobs and the misery of having to test brand-new motorcycles in the hot sun—but that is just normal men-at-work jabberjawing. They love what they do—and it shows in the dedication they put into testing bikes.
When you read an MXA bike test, you might be tempted to think of it as the product of an in-house editor (Jody Weisel, John Basher, Dennis Stapleton or Daryl Ecklund). Not true. While these four are the nucleus of Motocross Action, MXA also has a loyal crew of racers who help us out immensely on a weekly basis. MXA provides the bikes, gear, helmets and parts to a select crew of Pro, Vet, Intermediate and Novice motocross racers. On any given weekend at Glen Helen, Pala, the World Four-Stroke race, Perris Raceway, the World Vet Championships, Piru, "Day in the Dirt," Cahuilla Creek or Milestone, the MXA gang could be as large as 10-riders strong. What do the riders who are on the MXA team supply in exchange for the free ride? Feedback. Our vast reservoir of motocross knowledge is fueled by teenagers, Pro riders, Vet riders, industry legends, several AMA Hall of Fame members and, lastly, the four editors.
MXA test crew in 1982: 34 years ago (left to right) Ketchup Cox, Lance Moorewood, Gary Jones and Jody Weisel were the core of MXA.
The MXA wrecking crew is a weird mix. It has aggressive young riders; Vet Pros with solid credentials; crazy local amateurs; Vet riders; and old-line racers from the 1960s and '70s. We couldn't do the job of testing motorcycles without the help of the complete crew—the young for their enthusiasm, the experienced for their mechanical skill and the old hands for their amazing knowledge. When you mix all the MXA guys together you have MMI graduates, AMA Mechanics of the Year, team managers, AMA Hall of Famers, aftermarket company owners, suspension experts, clutch specialists and more than our fair share of professional wrenches.
This may surprise you, but MXA never forgets a test rider; thus a test rider who raced for us decades ago can always get a ride with us today. What other race team keeps its riders around after their Pro days are over? We like motorcycle racers. We appreciate the contributions that Lars Larsson, Alan Olson, Gary Jones, Larry Brooks and Feets Minert have made to the motorcycle world. And, they will always have a bike waiting for them in the MXA pits. We appreciate what they offer and we have benefited because of their expertise.
The MXA test crew in 1985: 31 years ago David Gerig, Gary Jones,Lance Moorewood (front left) and Jody Weisel were the MXA wrecking crew.
You may think that it impossible for us to field as many as 10 bikes and riders every weekend, but all you have to do is show up at a local Glen Helen race to marvel at the vast number of orange helmets and MXA test bikes in every class. There are people who whine that MXA has too many old guys, but we knew these guys when they were young (and we aren't so callous as to drop them now). Plus MXA's old guys know more about motorcycles, their development, the technological advancements over the years and how a bike performs than any 10 teenage wunderkinde. Would you rather have a bike tested by a guy who knows not only how to build a bike, but how to design one—or by some 16-year-old kid who's looking for the next free deal?
The MXA test crew in 1992: 24 years ago Gary Jones, Alan Olson, Jody Weisel and George Kohler were the official Team Peak Honda Vet team (with works bikes).
To all of these test riders (and the families that supported them when they were gone to the races) we say thank you for your help. And a special thanks to the old school MXA test riders from the past like Doug Dubach, Larry Brooks, Paul Boudreau, Kurt Evans, Pete Maly, Bill Keefe, David Gerig, Mike Basher, Ed Arnet, Gary Jones, Clark Jones, Tim Olson, Lance Moorewood, Ketchup Cox, Dick Miller, John Minert, Billy and Willy Musgrave, Mike Hooker, the late Al Baker and Rich Eierstedt. And especially, Jeremy McGrath, Mike Craig, Roger DeCoster, Mike Chamberlain and Cole Seely.
The MXA test crew in 2012: Four years ago Jody Weisel, John Basher, Dennis Stapleton and John Minert were hard at work — this photo was shot at the Suzuki Supercross test track and Daryl Ecklund was busy riding when the photo was shot.

MXA'S BIG FOUR: THE MEN YOU SEE IN THE MAGAZINE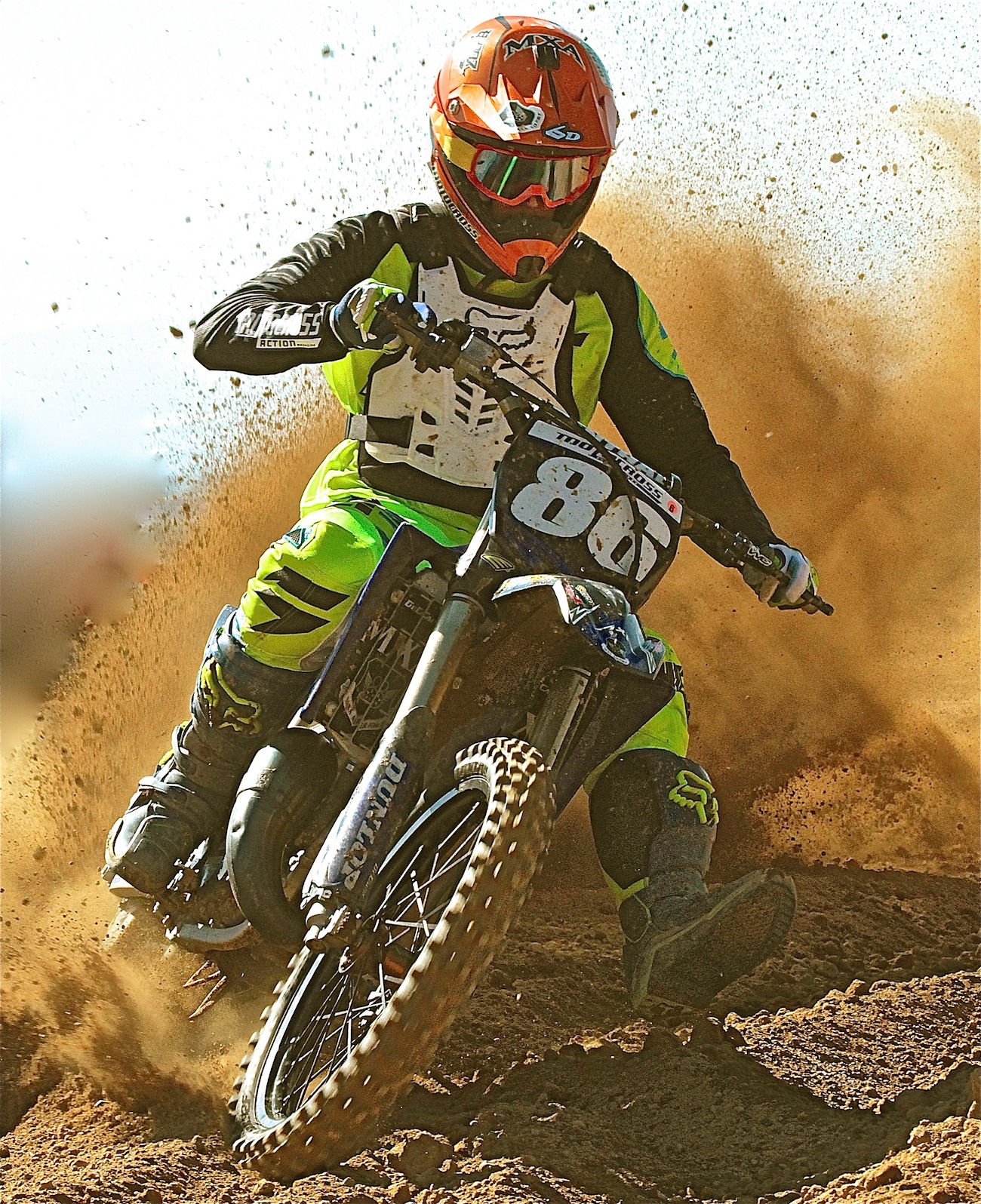 John Basher: When John was still in college, his brother Mike worked at MXA. John interned every summer and got to see the photographic aspect of magazines by watching his brother work. When John graduated, he moved to MXA full-time and now shoots photos that rival his brothers work.
Dennis Stapleton: MXA has a calendar on the wall that attempts to keep track of Dennis' travels. At any given time he could be racing in Holland, Switzerland, Sweden, the Philippines or South America—but he is always back in time for the next test session. Thanks Dennis.
Jody Weisel: as a guy who started racing motocross in 1968, Jody has logged a lot of hours in pursuit of test info. Jody has tested more vintage bikes than any man alive, but he did it by riding them when they were brand-new.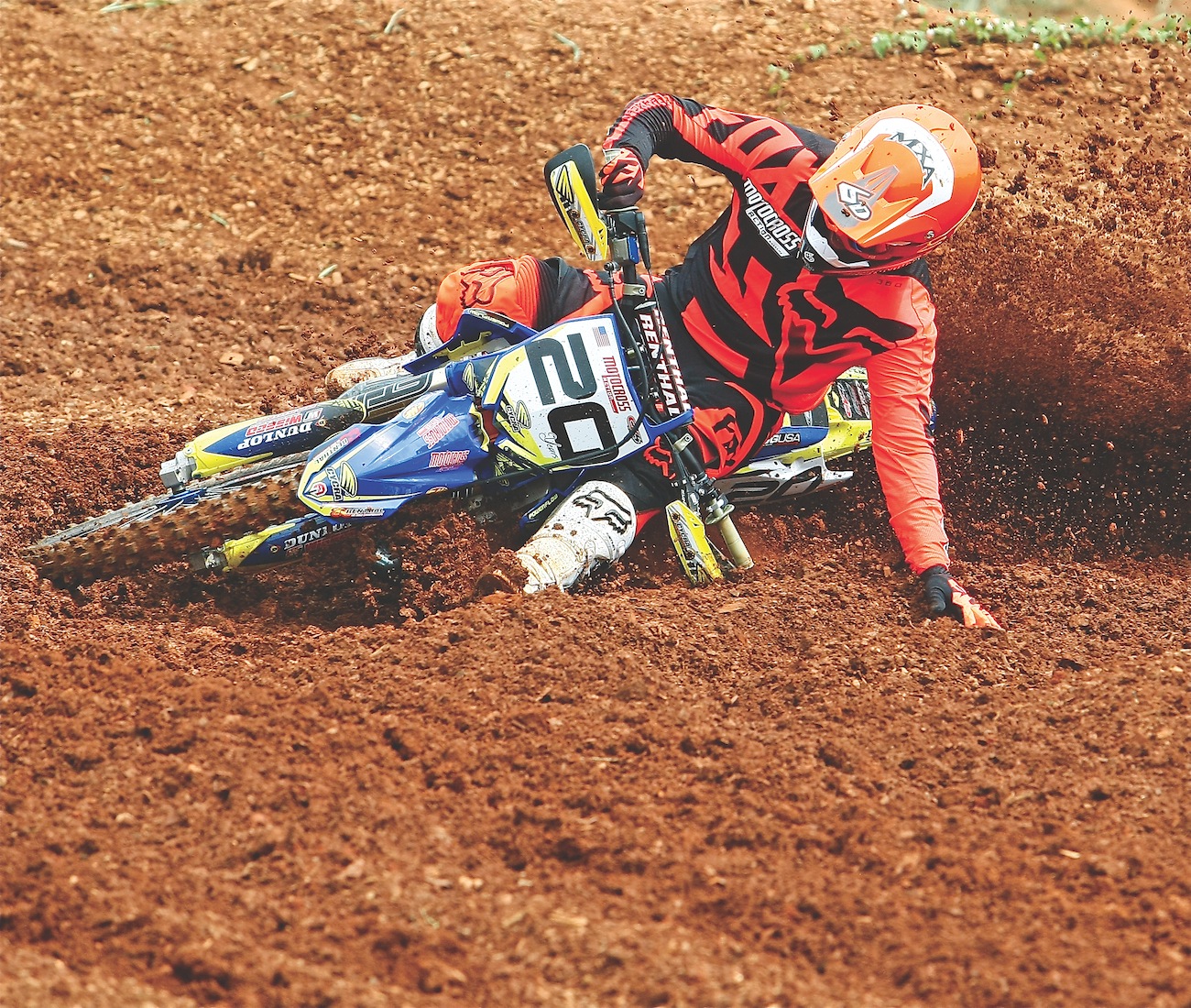 Daryl Ecklund: Not every AMA pro racer has what it takes to be a test rider—but Daryl made the transition from AMA Pro to physical trainer to MXA test rider with ease. He is MXA's managing editor, which means he does all the work.

THE MEN BEHIND THE SCENES


Roland Hinz & Roger DeCoster: Roland (right) owns MXA and Roger DeCoster worked at the magazine for two years (between Team Honda and Team Suzuki).
Tom Hinz: Tom is the son of MXA owner Roland Hinz, who also owns Mountain Bike Action, Dirt Wheels, Dirt Bike, Road Bike Action and Electric Bike Action. Although Roland is an avid offroad rider, he didn't want his son to race motocross. So, of course, Tommy took up racing. Tom runs MXA's website.
Zap Espinoza: Zap was a local racer on the SoCal scene before heading to college. He came straight from law school to MXA—now he splits his time working at Road Bike Action magazine, but you can see that he has found a way to mate motocross and road cycling by hanging out with Bob Hannah (left).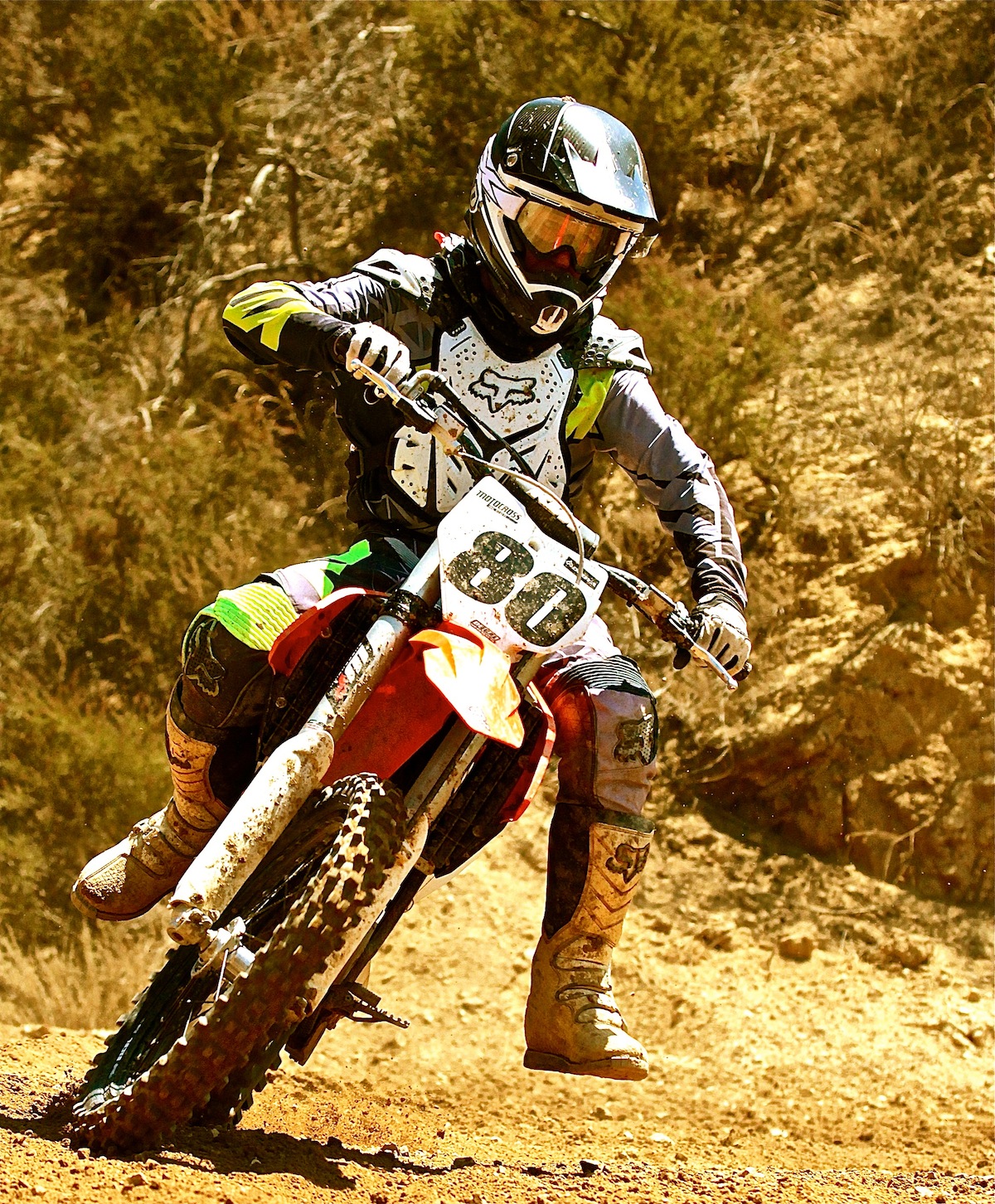 Tom White: An AMA dirt tracker, White Brothers founder, museum owner, AMA Hall of Famer, announcer/emcee and motocross racer, Tom White is also the Vintage Editor at MXA—a job for which he is richly awarded (okay, maybe not).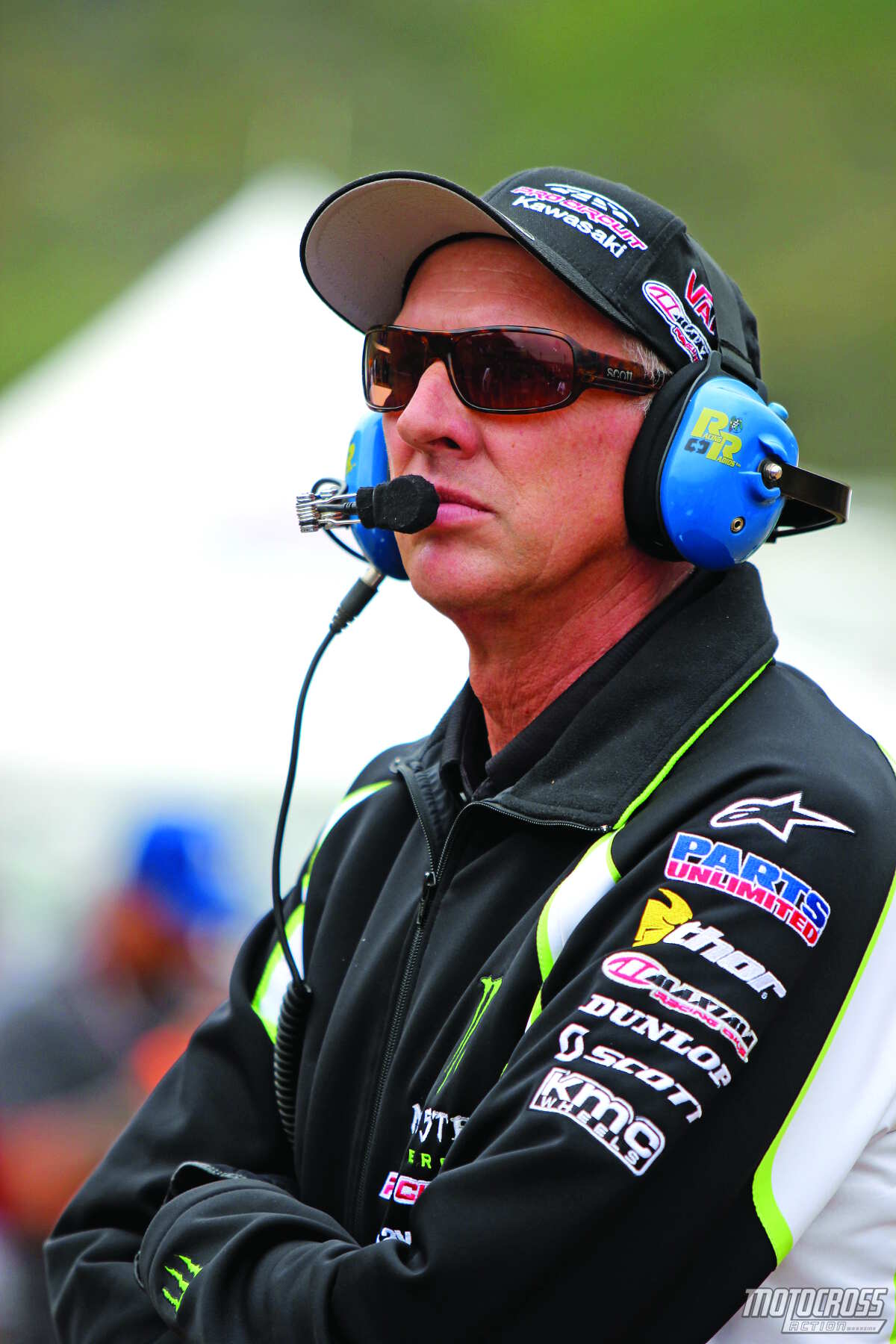 Bones Bacon. Over the years, when the MXA wrecking crew needed suspension help, we always went to Pro Circuit's Jim "Bones" Bacon for advice. Since he helped us so much, we asked him to do the same thing for the rest of the world by writing a suspension tech column in every issue (for which we rewarded him exactly the same as Tom White).
Travis Fant: Travis (right) coordinates, shoots, edits and produces all of MXA's video content. He has to put up with the filming suggestions of every test rider while still keeping a smile on his face.
John Ker: John has been shooting photos at MXA for 30 years, but he is more famous for his BMX, mountain bike and surfing photos (although we love his Supercross, National, Grand Prix and test bikes shots). In fact, John has been inducted into both the Mountain Bike Hall of Fame and the BMX Hall of Fame.
Massimo Zanzani: The MXA gang can't be testing bikes four days a week, covering the AMA Supercross and Nationals on the weekends and be in Europe at the same time. That's where Massimo is our saving grace. Massimo shoots all of the GPs for MXA.

Dan, Debbi, Rich & Chillzone: These are the photographers who cover all of the bases when the regular MXA crew is off on location. Jody (left) meets with photographers Rich Stuelke (on Jody's left), Dan Alamangos (back to camera), Debbi Tamietti and Mark Chilson (far right) to discuss how Dan's pants got so dirty in practice. Dan, Debbi, Rich and Mark are incredibly competitive when it comes to getting the best photo.


OUR THANKS TO MXA'S UNSUNG HEROES
Dan Alamangos.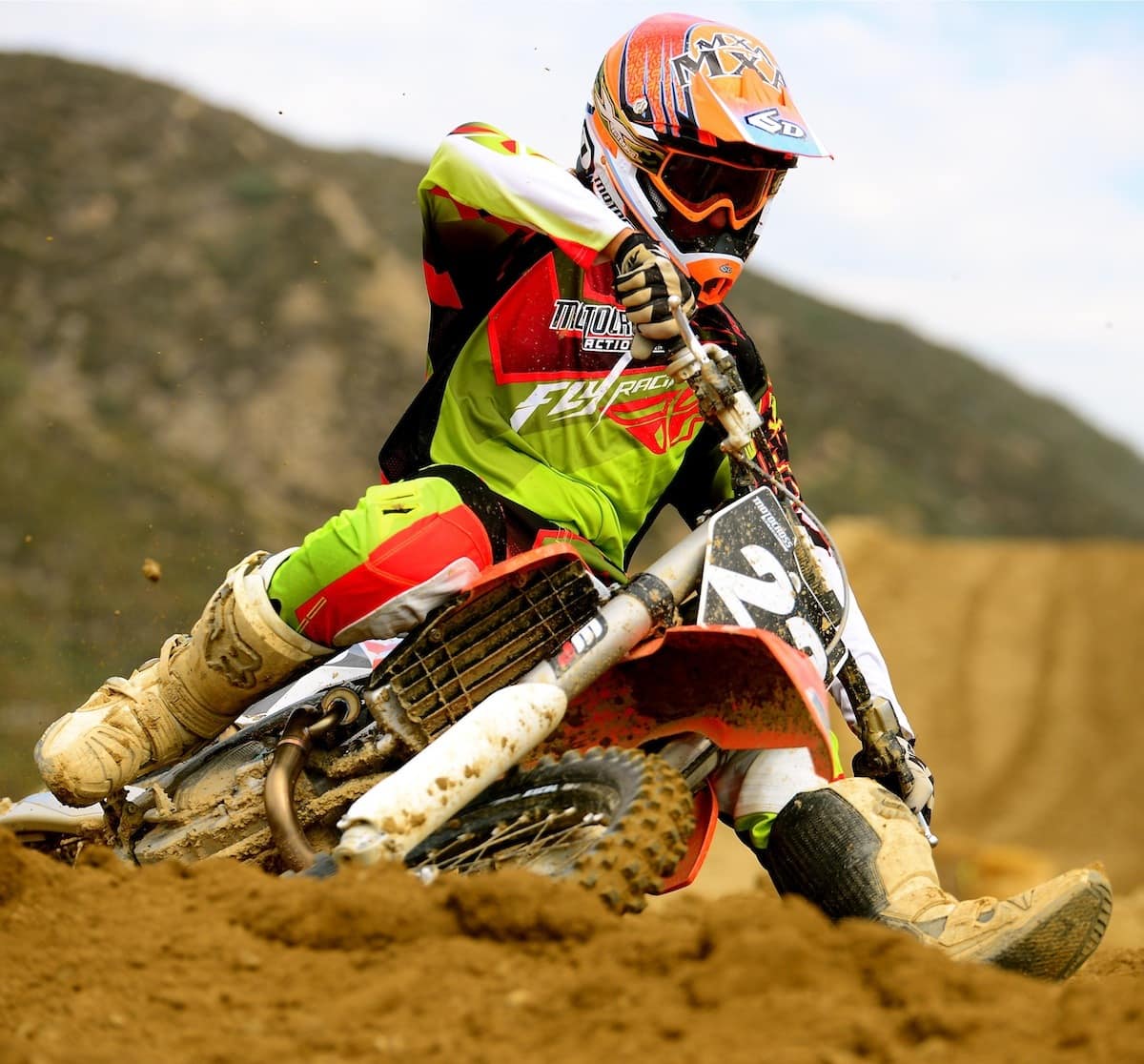 Randel Fout.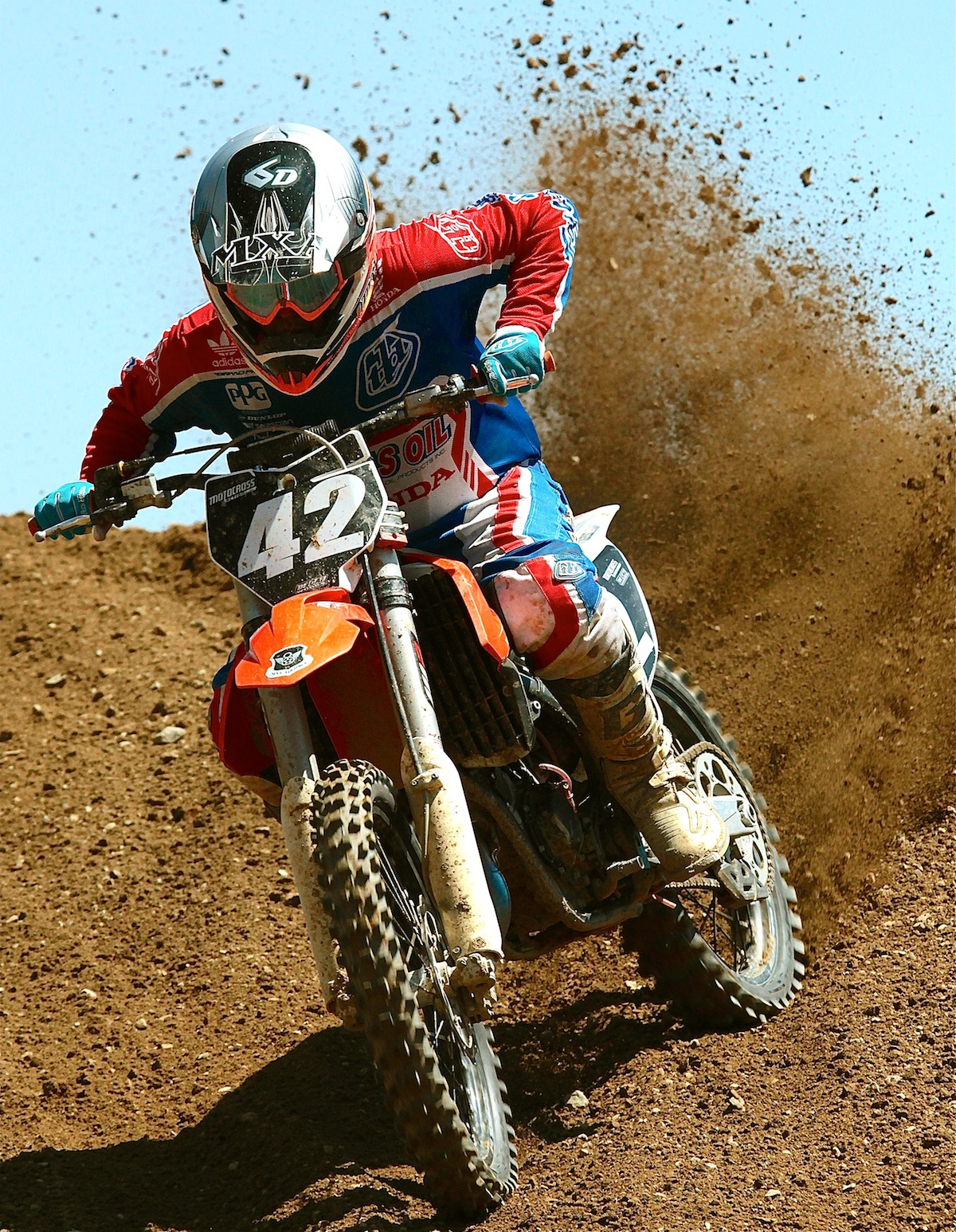 Ernie Becker.
Lars Larsson.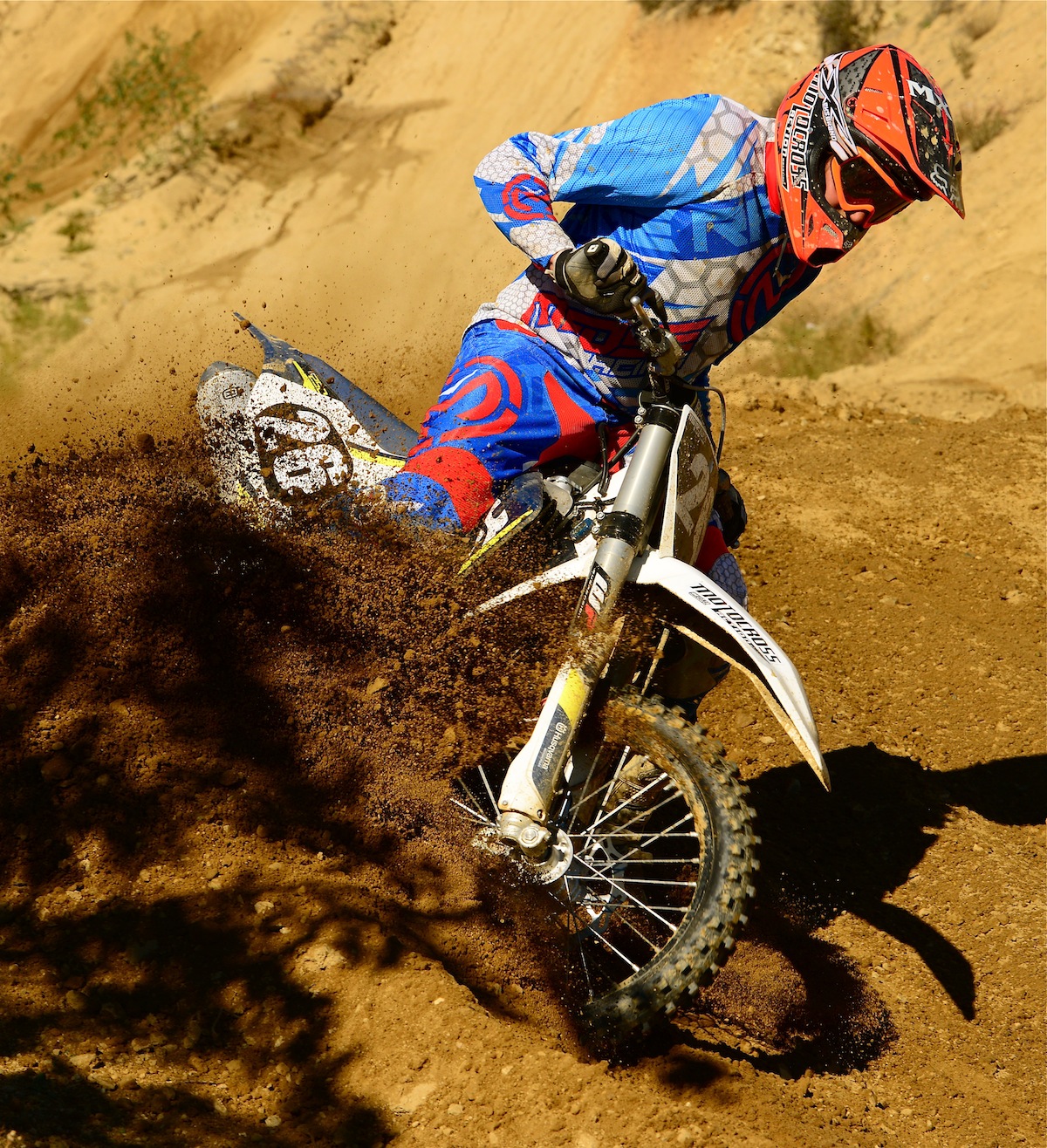 Chris Alamangos.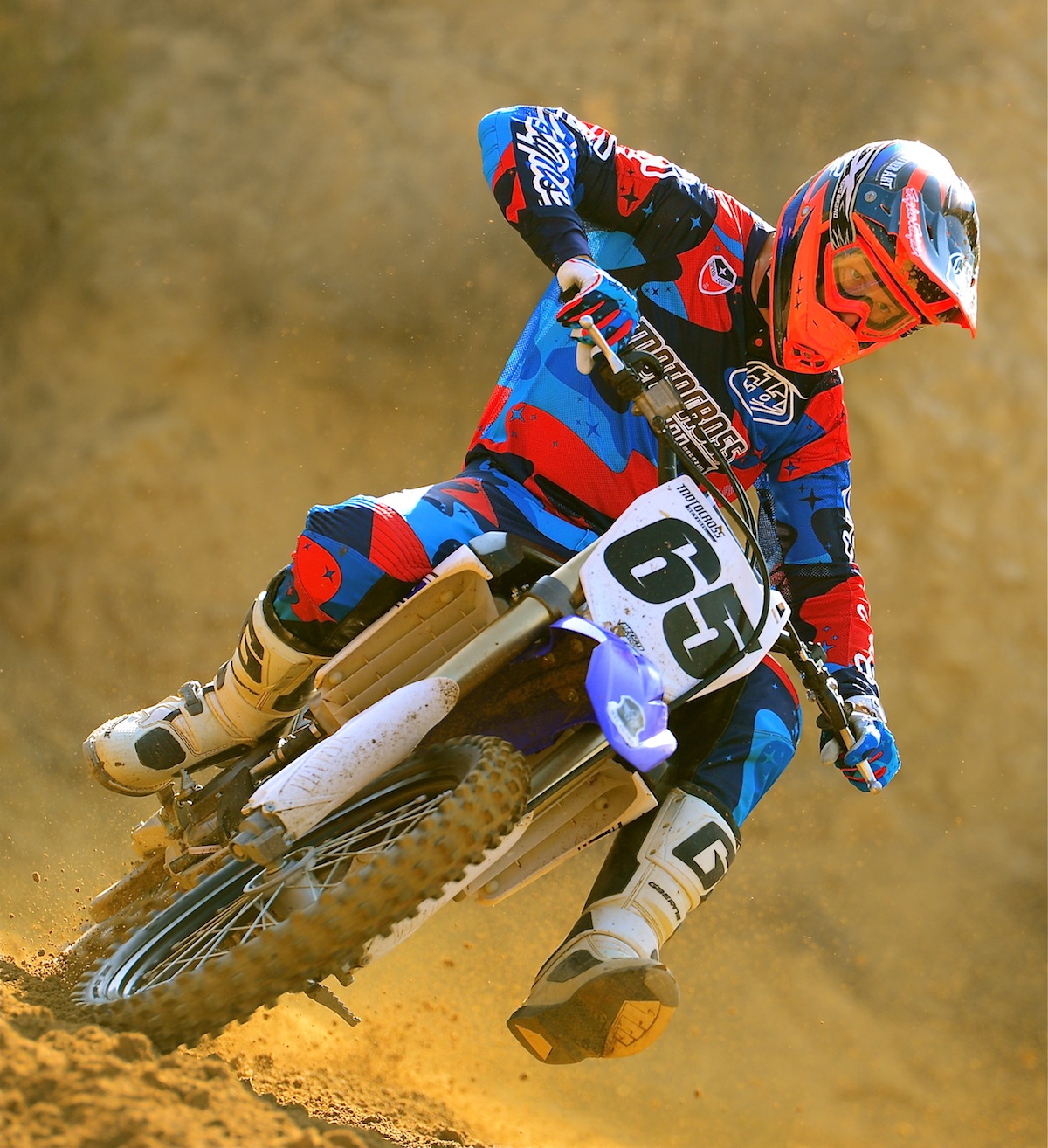 Jon Ortner.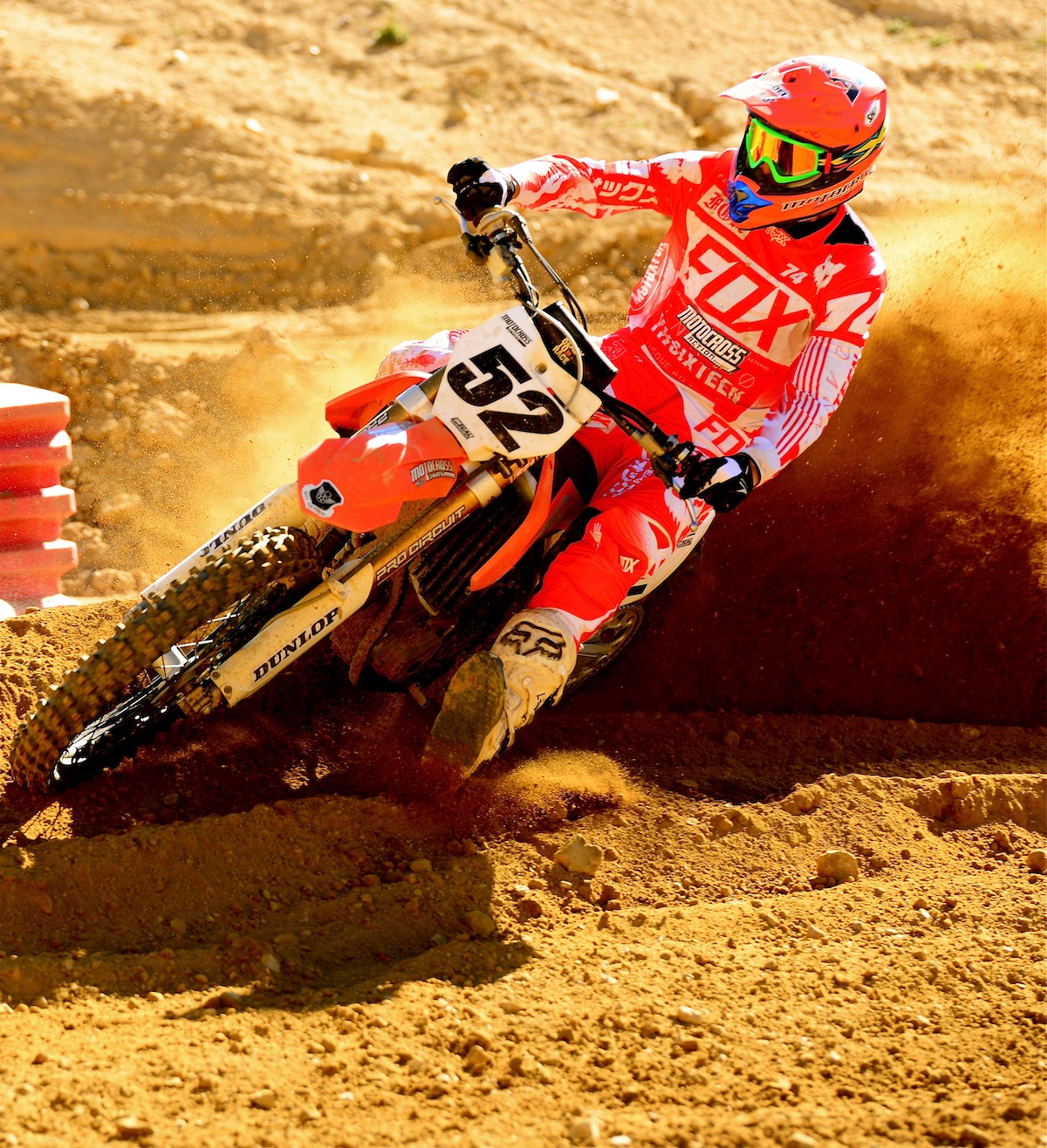 John Perry.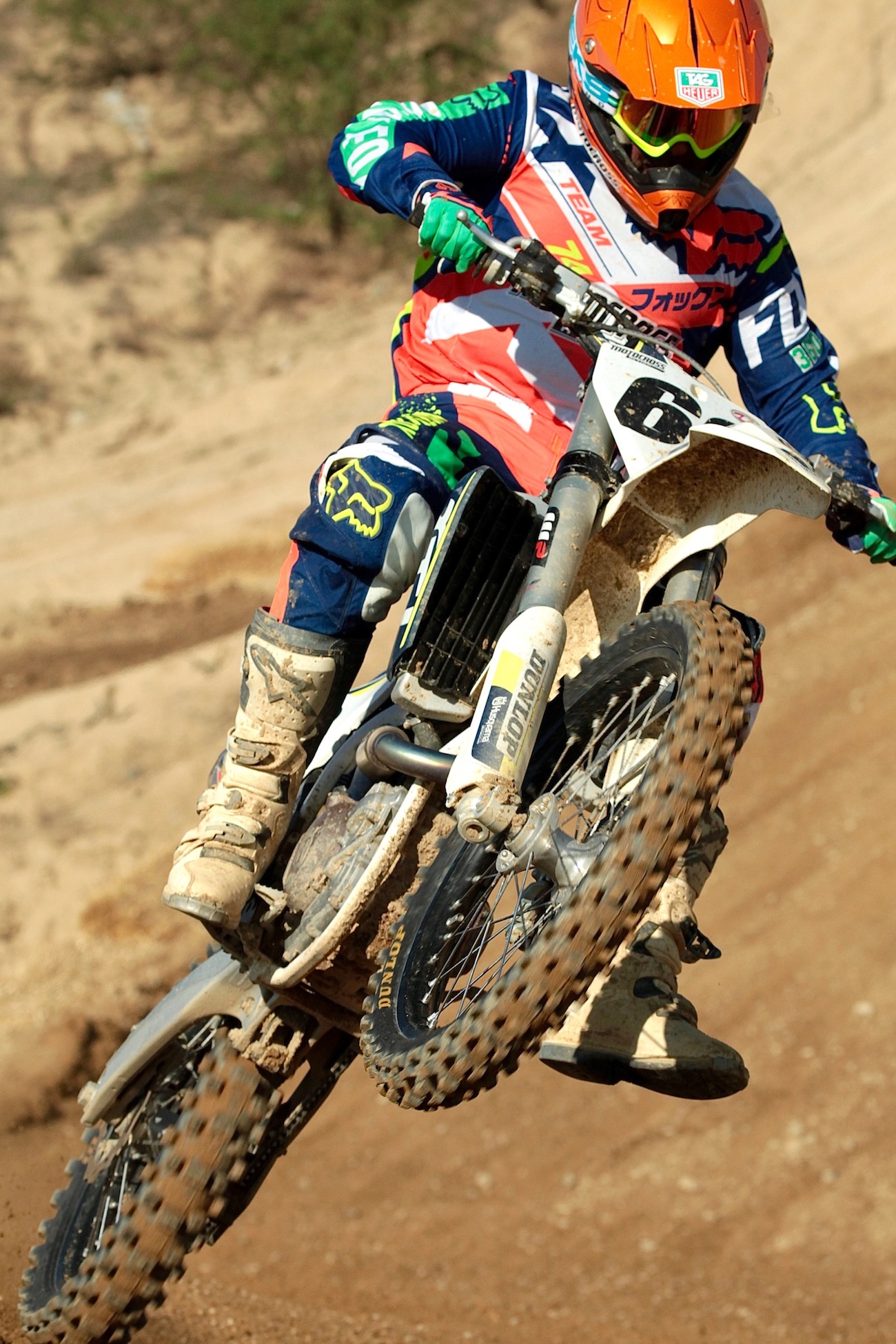 Mark Hall.
THANK YOU TO EVERY MXA TEST RIDER OVER THE YEARS…