THE NAME GAME: ON NAMING A CHAMPION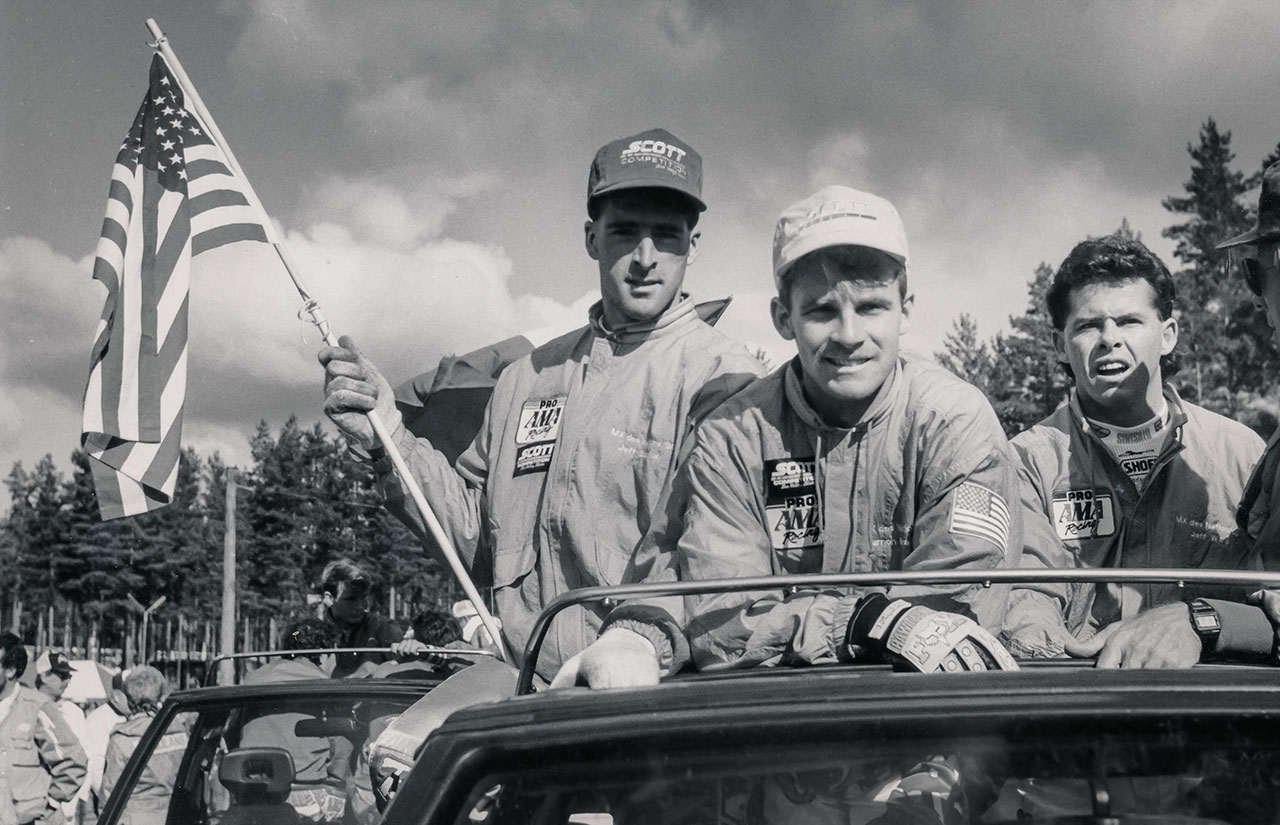 Jeff Ward, Damon Bradshaw and Jeff-Stanton won the 1990 MXDN for Team USA. The Jeffs are a powerful force in American motocross.

You and the wife have decided to add a wee lad to the family, and as tradition would have it, he needs a name. The boy is going to be a racer so he best have a name that will make him a champion. We have yet to find a study specific to the topic of this article, but there has been studies on the correlation of what your kid is named to what career they do. Or how well they do in life or in a career. It must be an easy name. One that can be shouted in a fit of moto-parent rage. A name to symbolize the greatest motocross rider to come. The name marks a legend.
Jeff. Jeff Stanton, Jeff Emig, Jeff Ward, Jeff Matiasevich, Jeff Leisk, Jeffrey Herlings. Why not add Nascar legend, Jeff Gordon to the mix? More Jeff's have won Supercross or AMA motocross championships than any other name. The third season of the Motocross World Championship in 1954 had a third place rider named Jeff Smith. A name starting with "J" may be the jackpot of racer names as there are quite a few other names that have won championships. Jeremy (McGrath, Van Horebeek, Martin), James (Stewart, Dobb), Jimmy (Weinert, Ellis, Gaddis), Jean (Michel Bayle), Jeffrey (Herlings), Jake (Weimer), Justin (Barcia, Bogle), Jason (Anderson, Lawerence), John (Dowd, Avery). A Joey Savatgy was a serious contender in two championships this year.
The list could probably get even larger if last names were included. However it is safe to assume that won't change for your young offspring. In 1993, the 500cc class of the Motocross World Championships was swept by "Js" as Jacky Martens, Jorgen Nilsson, and Joel Smets would take the podium spots. Internationally Joel is a good name given the third and fifth rider with the most wins is named that in the Motocross World Championships . In 2013, the 250 class had the same phenomena where Jeffrey Herlings, Jordi Tixier and Jose Butron all took the podium (and rode KTMs). Combined "J" riders amass a total of 32 Supercross wins, 22 AMA National motocross wins, 74 Motocross World Championships (450 and 250) races. What if you had a daughter? If none of the above names work for you in this avant garde society, why not try Jessica? Jessica Patterson has won in the AMA Women's class seven times.
What if Jeff brings up bad memories of your "uncle Jeff"? If you have ruled out the letter J. The letter "R" is the next best starting point of baby names. Lately "Ryans" seem to be dominating. Once we lost Ryan Villopoto, Ryan Dungey set in to take his place. Rick also is a winning name. Ricky Johnson dominated the mid 1980's. A little over a decade later, the greatest rider of all time, Ricky Carmichael showed up and broke records nobody has topped. Other "Rs" of renown include Ricky Ryan, Rex Staten, Ron Lechien, Rich Thorwaldson, Robbie RTeynard, Rick Buregtt and Ryan Hughes. And let's not forget the greatest "R" of the them all—Roger DeCoster.
"M" is another good foundation. Mike LaRocco, Mike Kiedrowski, Mike Bell, Mike Craig, Mark Barnett, Marty Smith, Mike Brown, Mike Hartwig, Marty Tripes, Micky Dymond and Marvin Musquin were all top dogs of their time. If you wanted to double-down on the "Ms" and "Js" — the name Jean-Michel Bayle comes to mind.
Now you have a foundation to start you little motocross prodigy off on. While we could elaborate on names that start with every letter in the alphabet, your lucky name already reads Jeffrey Ryan Michael +Last name. It would be remiss of me to forget, "half" of the MXA crew starts with J, unless John is spelled like Gheon. With this knowledge, go forth and name the youngster. Good luck and remember "Sue" is not the name of a champion.