PRO TAPER PRESENTS MXA'S MID-WEEK REPORT BY JOHN BASHER

#WHIPITWEDNESDAY
Rider: Ken Roczen
Location: Unadilla National
Date: August 18, 2012
Photographer: John Basher
Camera: Canon 1D Mark III
Lens: 70-200mm f/2.8
Focal length: 160mm
Exposure: 1/1600 sec.
F-stop: 3.5
ISO: 400
MXA VIDEO: 2017 KAWASAKI KX450F
QUOTE OF THE WEEK: ANDREW SHORT
Photo by Brian Converse.
"I love dirt bikes, so I still hope to be able to ride. I have been doing the same 29 races a year since I got out of high school, so I am ready to do more trail riding. I would like to spend more time riding in the mountains in Colorado, and doing a little riding down in Baja. Maybe I'll even go to some different countries to do some trail riding and different types of events. In terms of racing, I would welcome an opportunity to work with a race team, as I think I can be beneficial."
Click here to read the interview.
NETWORK NEWS: HIGH POINT NATIONAL
[Press Release]
Fresh off its first off weekend of the 2016 season, the Lucas Oil Pro Motocross Championship, sanctioned by AMA Pro Racing, is ready to embark into the heart of the 12-round schedule with its east coast debut. Legendary High Point Raceway in Mt. Morris, Pennsylvania, will celebrate its 40th year in the championship by kicking off the first of three races on network television this Saturday, June 18th. The Red Bull High Point National will serve as the season premiere on NBC with a showcase of the second 450 Class moto, beginning at 12 p.m. PT / 3 p.m. ET. MAVTV (450 Moto 1 & 250 Moto 1) and NBC Sports Network (250 Moto 2) will bookend the broadcast coverage. 
Broadcast Coverage of the Red Bull High Point National:
First Motos (450 & 250 Class) – LIVE on MAVTV at 10 a.m. PT / 1 p.m. ET
Second 450 Class Moto – LIVE on NBC at 12 p.m. PT / 3 p.m. ET
Second 250 Class Moto – LIVE on NBC Sports Network at 1 p.m. PT / 4 p.m. ET
MINI-VIEW: JESSY NELSON
Many considered Troy Lee Designs/GoPro/Red Bull KTM rider Jessy Nelson a contender for the 2016 West Coast 250 Supercross title, especially after his second place finish at Anaheim 1. Those title hopes were gone after a high-speed practice crash a few days later. Missing the entire Supercross series, the 22-year-old returned to racing at the Hangtown National opener. A bit rusty from lack of racing, Nelson did show that he still has podium speed. We recently had a chance to talk to the Californian to see what's up.
By Anna and Jim Kimball
Photos by Brian Converse
Jessy, many of us thought that you were a title contender coming into the 2016 West Coast 250 Supercross series.
Yeah, I think that it was going to be a good year for me. I was really feeling good, and I put in a ton of off-season training. Everything was going in the right direction until the crash happened, but that is the way it goes. You live and learn, and hopefully next year will be different.
What all happened from the crash?
I had a bad concussion, and then I compression fractured a couple of vertebrae. It was two vertebrae in my back that I hurt, and that was the end of my Supercross season.
How did you feel coming into Hangtown?
Coming into Hangtown I had about five or six weeks back on the bike. I felt okay at Hangtown, but I got a little tight on the bike. It is a lot different between riding on a practice track and actually racing. Nothing really compares to racing, so it was tough to get that same feeling.
You looked  a bit more comfortable at Glen Helen.
I felt awesome at Glen Helen. The first moto I had a bad start and that was a bummer. I felt like I was riding around in a fog. The second moto was great. I feel like I should have had second, but I made a couple mistakes and let Alex Martin get away from me. At Lakewood I felt even better, but had a crash that took me out.

Now you have had a couple races under your belt. Are you in full race shape?
I feel really good, and I know that I am in shape physically, but I would say that being in shape and being in race shape are two different things. The heart rate and intensity in racing is just so much higher than anything that you experience while practicing. I just hope to start getting better, and picking off some race wins soon.
This is the second season the team has used KTM machinery. Are you fully accustomed to the KTM now?
Everything is getting bigger and better, and also progressing. It's going very well. I cannot thank KTM enough. Roger DeCoster, Jon-Erik Burleson, and my team manager, Tyler Keefe, are all giving lots of support.
How has it been training with Tyla Rattray?
Rattray has been awesome, both on the track and off the track. He puts our programs together and is with us every day. He comes to the races and helps us to get where he was by winning races, and then hopefully by winning championships.
HE'S IN! STAPLETON GOING TO LORETTA'S
My good buddy (and MXA Test Editor) Dennis Stapleton battled bike problems, a few crashes and bruised ego in order to qualify for this year's Loretta Lynn's Amateur National. As you know, Loretta's is the biggest amateur race in the country–if not the world–and getting a ticket for the big show isn't easy. Dennis had to race area and regional qualifiers in order to get the invite. Come August 1st, Stapleton will be representing us pumpkin heads in Hurricane Mills, Tennessee. He qualified for the Junior +25 class, where he will likely be up against Adam Chatfield, Sean Lipanovich, Austin Stroupe, Michael Byrne, Chad Ward, Robbie Reynard, Blair Miller, Robb Floth, Chad Wages, Daniel Lewandowski, Barry Carsten, James Povolny, Rusty Holland and many other fast guys. Make sure you give Stapleton grief if you see him eating anything other than kale salads at the track for the next two months (insert crying laughter emoji here).
PRODUCT SPOTLIGHT: NIHILO CONCEPTS KTM & COBRA GAS CAPS
The New Nihilo Concepts billet gas cap is an awesome addition to your bike. Made from 6061 billet aluminum and anodized to match your brand the Nihilo cap was designed  to work with the stock rubber insert so you can be sure of a tight seal. This cap will fit all KTM 50's and Cobra 50's and 65 as well as lots of other brands with a 48mm male threaded spout. The larger breather hole insures a good flow of fuel into the carburetor. Give you bike that factory look while improving the function at the same time!
Visit www.nihiloconcepts.com or call (855) 4-NIHILO to order.
THE 2017'S IN ACTION
The MXA wrecking crew is just getting warmed up. In the past two weeks we've ridden the 2017 KTM 250SX, Husqvarna TC250, Husqvarna TX300 and Kawasaki KX450F. Needless to say, it has been a good time. Given the lead time needed for printing a magazine, these bike tests won't appear until the September 2016 issue. Be patient, fellow moto comrades. It takes days to figure out the quirks of each bike, try different settings, and then write comprehensive tests. And you thought we just slapped on an extra tooth on the rear and had our writing gnomes type up the reports. Ha! I wish.
Take a look at the new bikes slinging decomposed granite in SoCal. You can also see the bikes in action by subscribing to MXA's very own YouTube channel (click here).
2017 Kawasaki KX450F.


2017 KTM 250SX.


2017 Husqvarna TC250.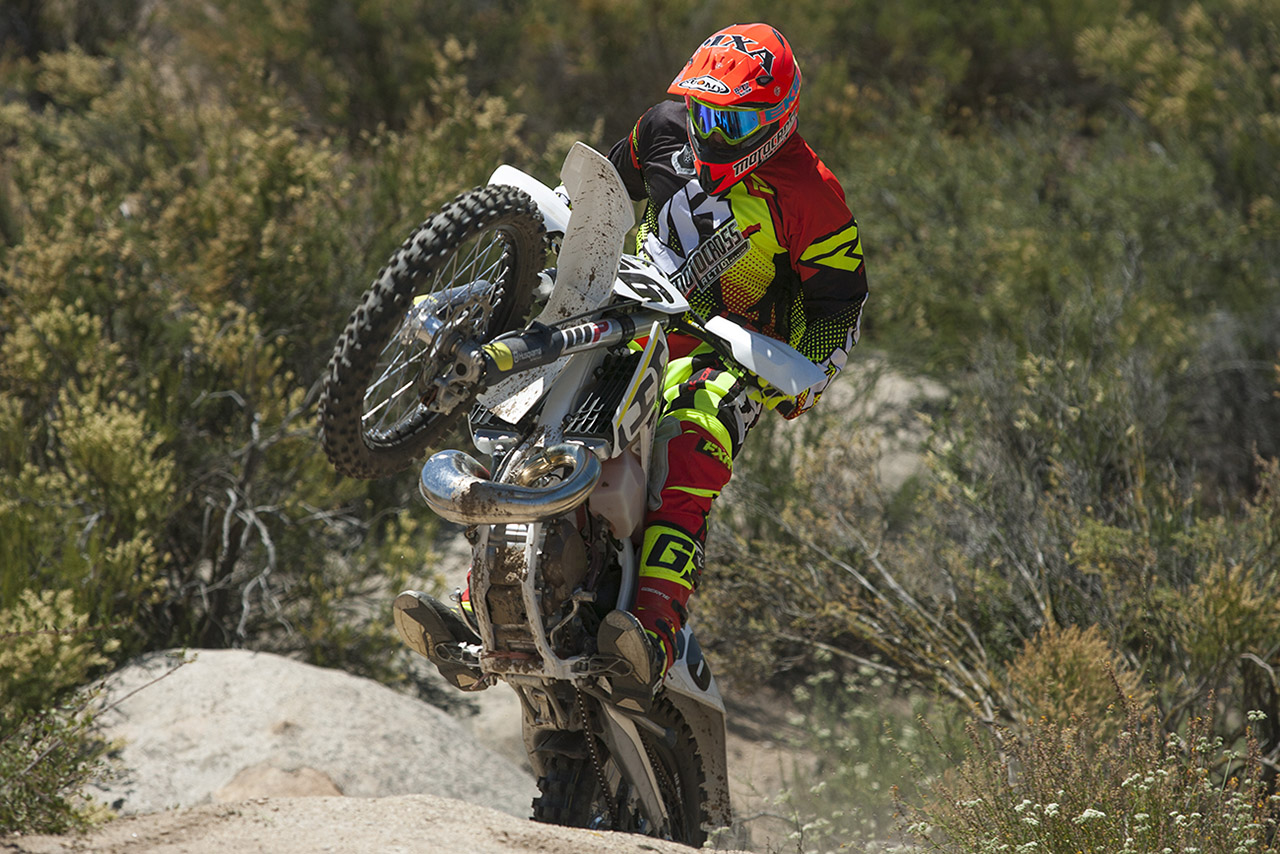 2017 Husqvarna TX300.
VIDEO: MADDO GOES BOATING
TWO-STROKE SPOTLIGHT: JOE HURD'S YAMAHA YZ125
I've known Joe Hurd for a long time. He used to work at Motorex, which is how I met him way back when I started at MXA. Little did I know that Joe is a 125cc two-stroke lover like me. Upon seeing that I was building my own rendition of the dream YZ125, he sent over some amazing photos of his project bike. I think you'll agree that he did a very nice job, right down to the choice in graphics (Yamaha of Troy!) and suspension (KYB A-Kit!). Best of all, he's putting the bike up for sale. That's right, you can own this piece of two-stroke glory. For details on the bike, along with Joe's contact information (serious offers only), see below.
Bike: 2015 Yamaha YZ125
Engine mods: FMF Factory pipe with Shorty silencer and Moto Tassinari VForce reed block.
Other mods: Renthal TwinWall bars, Renthal sprockets, complete Cycra plastics kit.
Asking price: $7500
For more info, email Joe Hurd at [email protected]
On a related note, I would like to start showcasing a two-stroke in every edition of the Mid-Week Report. This is a cool chance to showcase your bike. Please include a paragraph explaining what mods were made. Photos of the bike are necessary in order to be considered for publishing. Oh, and by submitting your bike for the "Two-Stroke Spotlight," you agree to release all ownership rights to the images and copy to MXA. Email me at [email protected]. Please don't send me spam, and, no, I can't tell you the meaning of life. Now let's see what you got!
ONE QUESTION: JEFFREY HERLINGS
Jeffrey Herlings is on a roll once again. Photo by Massimo Zanzani.
By Jim Kimball
You're having a phenomenal 250 World Championship series, having only lost one moto in 10 rounds.
Yeah, it has been pretty good. I now have 57 wins to go along with my previous two World Titles. I've been dominating this class since 2012, and in particular the 2016 year has been awesome. I really hope to keep this win string going, and get this third World Championship after a couple bad years.
TRACK TRAVELS: COWBRANCH MX FARM
Photos by Maddie Hall
Since moving to North Carolina, I've made it a goal to ride as many "Tar Heel State" motocross tracks as possible. While office work usually weighs me down, my scheduling chops allows me the opportunity to occasionally break free from the monotony of computer work. During those times I try to link up with newfound riding buddies and hit up different tracks. To be fair, this is only a recent endeavor, given that I didn't own a motocross bike up until a few weeks ago. Now that I'm equipped with a Yamaha YZ125, I'm eagerly pounding the pavement across North Carolina to make up for lost time.
Located in Macclesfield, a small town sandwiched between Wilson and Greenville, CowBranch Motocross Farm is a moto gem. I heard about the facility through ICW Radiators owner, Brett Koufas. Brett and I met at CowBranch this past Friday. The track operations manager, Chris Gordon, welcomed us with open arms. He manicured the sand/clay loam mixture to perfection with his automatic irrigation system and also by hand. I resisted the urge to lay down on the front straightaway and make loam angels. Typically the track isn't open during the week, but Chris gave us carte blanche.
Let me preface my experience by saying that I'm not used to riding on dirt; rather, most SoCal tracks are comprised of decomposed silty granite with hardpack underneath. Those conditions don't exist anywhere in North Carolina–at least not anywhere I've visited yet. I'm not sad about that fact. Riding on hardpack takes a different skill set. Furthermore, it's not that fun. Conversely, riding the sand/clay mixture at CowBranch Motocross Farm is like immersing one's self in pure joy. Even slow riders feel like heroes. On my best day racing I was a top Vet Intermediate. Those days are behind me (until I turn 40 and hit a motocross renaissance). Now that I've painted an accurate picture of my feebleness behind handlebars, let me just say that railing corners around CowBranch made me feel ten years younger. I was able to carry more speed into turns and get on the throttle earlier. If I employed that technique on the slick SoCal circuits I would skid on the ground like a drunk frat boy trying to run the 40-yard dash. It would be ugly. 
'But what about the jumps' you say? I can respond to that question with a snarky answer like, "It doesn't matter how big the jumps are, because the corners make up for your fear of flight." However, I won't do that. Instead, I can proudly proclaim that the jumps were designed for mortals such as I. Even me, the over-thinking nincompoop who dwells on the repercussions of shorting a jump, managed to clear every obstacle. The biggest jump was a fourth-gear tapped tabletop on a YZ125–or third gear at quarter throttle on a 450 four-stroke. All the jumps are fun and challenging. Faster riders were rocketing off the single and well into the rollers. Slower riders were much more modest. The beauty is that a rider can work up the courage to go bigger, all while not getting broken in half. That, along with the dirt, is what makes CowBranch Motocross Farm special.

Maybe you're thinking about visiting CowBranch now that you've read my glowing review of the place. Here's what you need to know:
Website: www.cowbranchmotocrossfarm.com
Facebook: www.facebook.com/cowbranch
Practice: 10:00 am until dusk, weekends and holidays
Fees: $20 (big bikes), $15 (pee wees), $10 (minis)
Membership: $10 (annual fee and required)
Address: 1267 Stallings Road, Macclesfield, NC
Other tidbits: automatic irrigation, concession stand, primitive camping, clean restroom
VIDEO: HANGING WITH THE ALBERTSONS
REMEMBER WHEN: HEATH VOSS' SPREAD
Do you remember Heath Voss, the 2004 FIM World Supercross Champion? Heath was a former factory Yamaha rider from Minnesota who moved to Texas during his heyday. I had the privilege of visiting him back in 2005 to do a story. We rode bikes, went water skiing, and took a ride in his airplane. This photo shows Heath's massive spread, which included three Supercross practice tracks and a long outdoor track. The big building in the upper left hand corner of the photo was Heath's garage/apartment. The building below that was Voss' house.
MY INSPIRATIONS: CHUCK SUN

The people and events that shaped Chuck Sun's career.
JIM POMEROY
"I have learned from every rider I have ever raced against, but I would say when I turned Pro I learned more from Jim Pomeroy lapping me than I did from all the practice laps in the world."
ERIC CRIPPA
"As a privateer, I traveled the National circuit with my friend, Rocky Corson, who took a semester off from college to travel around the country with me. But, when I went to Team Husqvarna, Eric Crippa came along to help me out. We both went to Team Honda together and won the 1980 AMA 500 National Championship."
TERRY KNOT
"When I was on the Husky team in the 1970s, Terry would always tell me that I needed to work harder and get in better shape if I wanted to win races. He inspired me to try harder. When I got to Team Honda Roger DeCoster took over where Terry left off."
AUTO PARTS STORE
"I was nine years old when I saw my first mini-cycle at the local auto parts store. I had to have it. After I saw the movie 'On Any Sunday,' I knew that I wanted to be a motocross racer."
MY WRESTLING COACH
"I was on my junior high school wrestling team and I was going to quit the team. My coach, Heath Path, came to my house and convinced me that I needed to finish what I started. I didn't quit and went on to finish second in the State Finals for my weight class. Plus, I got in better shape to race motocross."
THE THIEF
"Every event in your life shapes who you are, but before I became a Pro I had a used Maico that I worked on in my bedroom. When I finally got it perfect, someone stole it. I should have been crushed, but it just made me more determined to succeed."
I INSPIRE
"I hope that when I talk to people at meetings and tell them stories about my racing career that it inspires them to race. My best friend's son says he wants to be just like me when he grows up. That's because he thinks all I do is ride for a living!"
BLAST FROM THE PAST: "JAMMIN' JIMMY"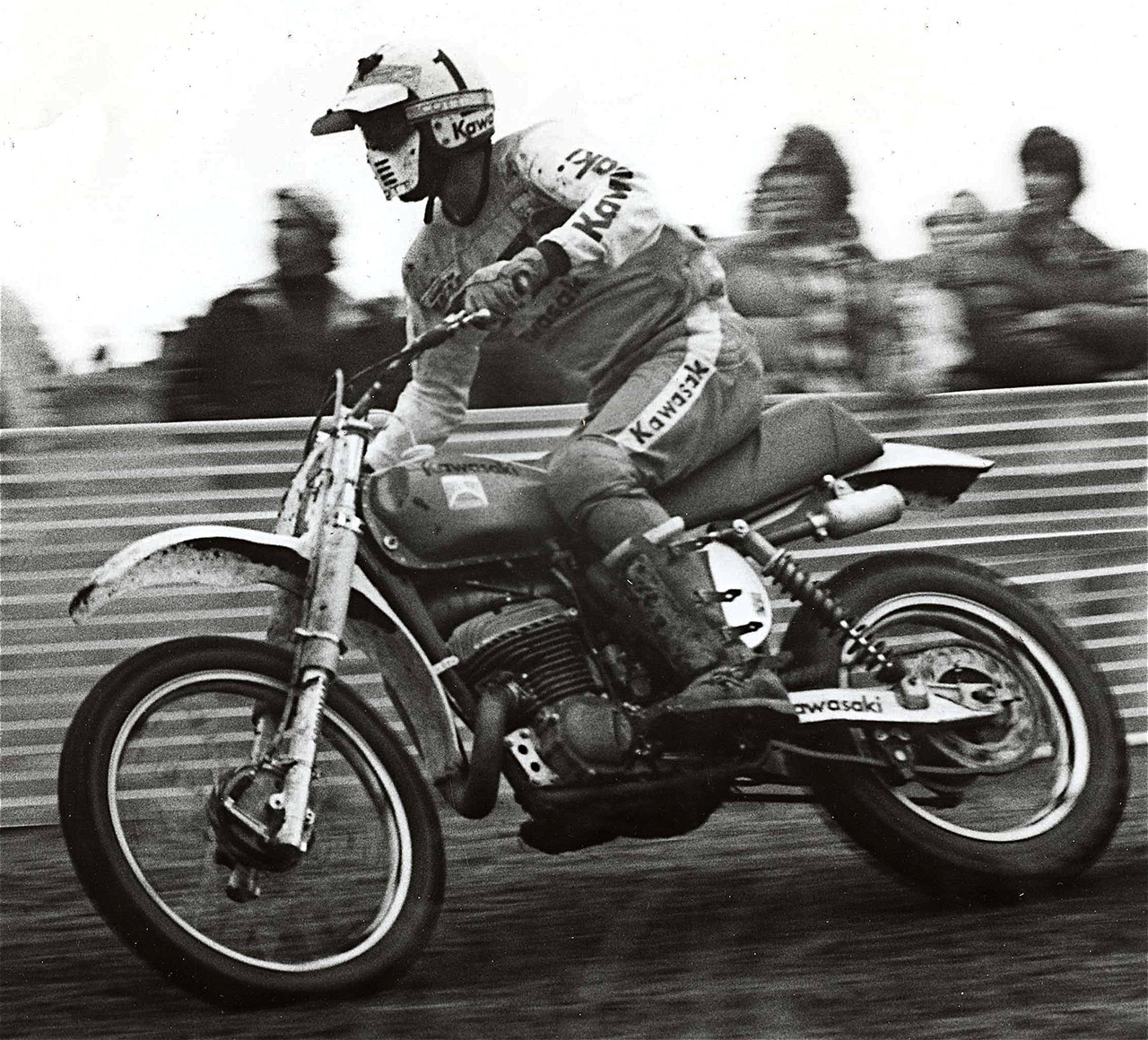 Multi-time National Champion Jimmy Weinert is a character. He was known in the paddock for his goofy songs and witty character. On the track he was a fierce competitor who gave no quarter (just ask Tony DiStefano!). This grainy photo is of Weinert from 1977. These days he runs the Jimmy Weinert Training Facility in Maysville, North Carolina. Click here to view JWTF.
PRODUCT SPOTLIGHT: NEXT COMPONENTS "UNBREAKABLE" LEVERS
The new generation Smart Lever includes all new composite blends that increase stiffness yet offer the flexibility to move out of the way in a crash and return to the riding position. "It's the composite lever that feels like and looks like aluminum."
Line includes:
Complete Smart Clutch Assembly
Composite Smart Brake Lever
Composite Smart Clutch Lever
Aluminum Brake Rotator Clamp
FEATURES & BENEFITS
Anti Fatigue, Anti-Vibration stock shape composite lever blade has a very comfortable feel that reduces finger fatigue and arm pump.
Ultra lightweight 68-gram lever without pull in flex for a solid feel.
Levers fit in stock OEM perches.
Exclusive LCP-10 Liquid Crystal Poly Hybrid design.
Lightweight NO Springs or hinges for added weight. Maybe the lightest lever in the marketplace.
CNC Machined aircraft grade 6061 T6 Aluminum knuckle.
Manufactured to factory team specifications.
Limited lifetime warranty.
Visit www.matrixracingproducts.com for more information.
VIDEO: BRETT CUE'S X GAMES MISFORTUNE