A BARN BURNER AT REM GLEN HELEN: WORCS VERSUS JAPAN
Jeremy McCool (335), Justin Muscutt (816). Makoto Ogata (4), Matt Cerami (140) and Yuki Okura (36) head towards turn two in the first 450 Pro start. Photo: Debbi Tamietti
PHOTOS BY DEBBI TAMIETTI, JOSH FOUT & JON ORTNER
REM unveiled a totally new track this weekend. It was much longer, had sweeping turns and the stadium sections had a lot of back-and-forth hairpins. Most of the layout was popular, but the constant turning down by the starting line turned into one-lined corners as the track bent from left to right to left to right. The tightness of the stadium section didn't seem to hampered the passing opportunities as every class saw lots of spirited moves as the track climbed out of the lower levels. None more so that in the Pro class.
Japan's Yuki Okura and Makoto Ogata, faced off against local talent Evan Kelly, Daniel Van Der Ziel and Jeremy McCool, while Hawaiian Brian Medeiros and WORCS racer Dalton Shirey bridged the gaps in the ocean and the sport's disciplines. Matt Cerami finished last in the Pros and made no friends with his questionable riding.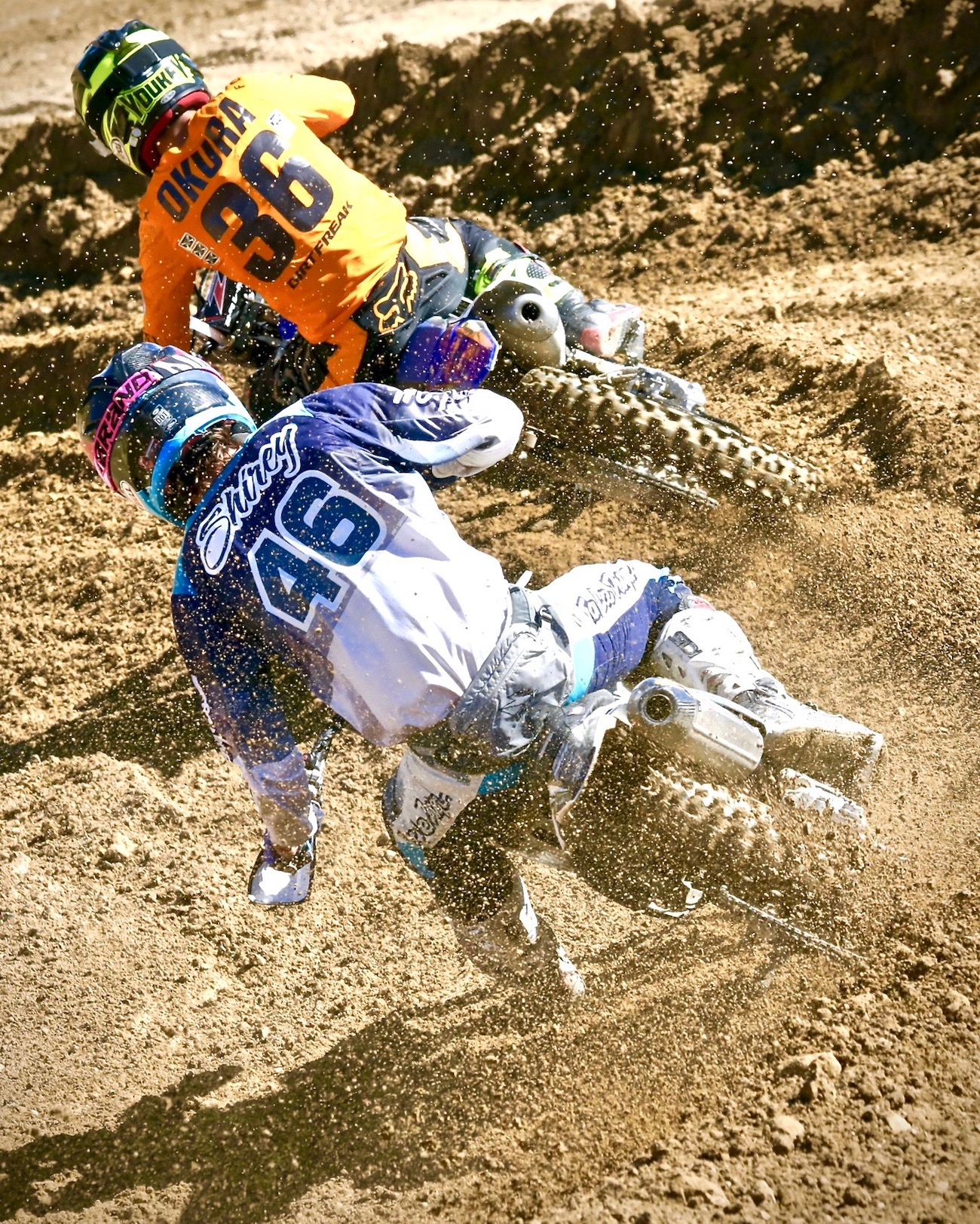 Yuki Okura didn't just turn fast laps times on his Yamaha YZ250F, but he was near the front on both starts. Dalton Shirey didn't get great starts, but he put the power to the ground in his pursuit of the Japanese rider.  Photo: Debbi Tameitti
The battle up front revolved around the two Japanese riders, the Hawaiian and the WORCS racer. Both motos were incredible see-saw battles—eventually distilling down to a personal duel between Yuki Okura, on a YZ250F, and Dalton Shirey on a Husky FC450. Shirey had to come from mid-pack to get to Okura, but when he got there the fireworks started.
Not every pass was pretty. It may look like Shirey (right) and Okura (yellow jersey) are crashing, but neither one fell.  Photo: Debbi Tamietti
In the first moto Dalton caught Okura at the entrance of a steep uphill hairpin by diving inside at the last second, but before that lap was over Okura surprised Shirey by cutting across a steep off-camber downhill hill turn that Shirey was using the berm a the bottom to navigate around. Okura's line intersected the berm right in front of Shirey, who gave up the spot rather than crash.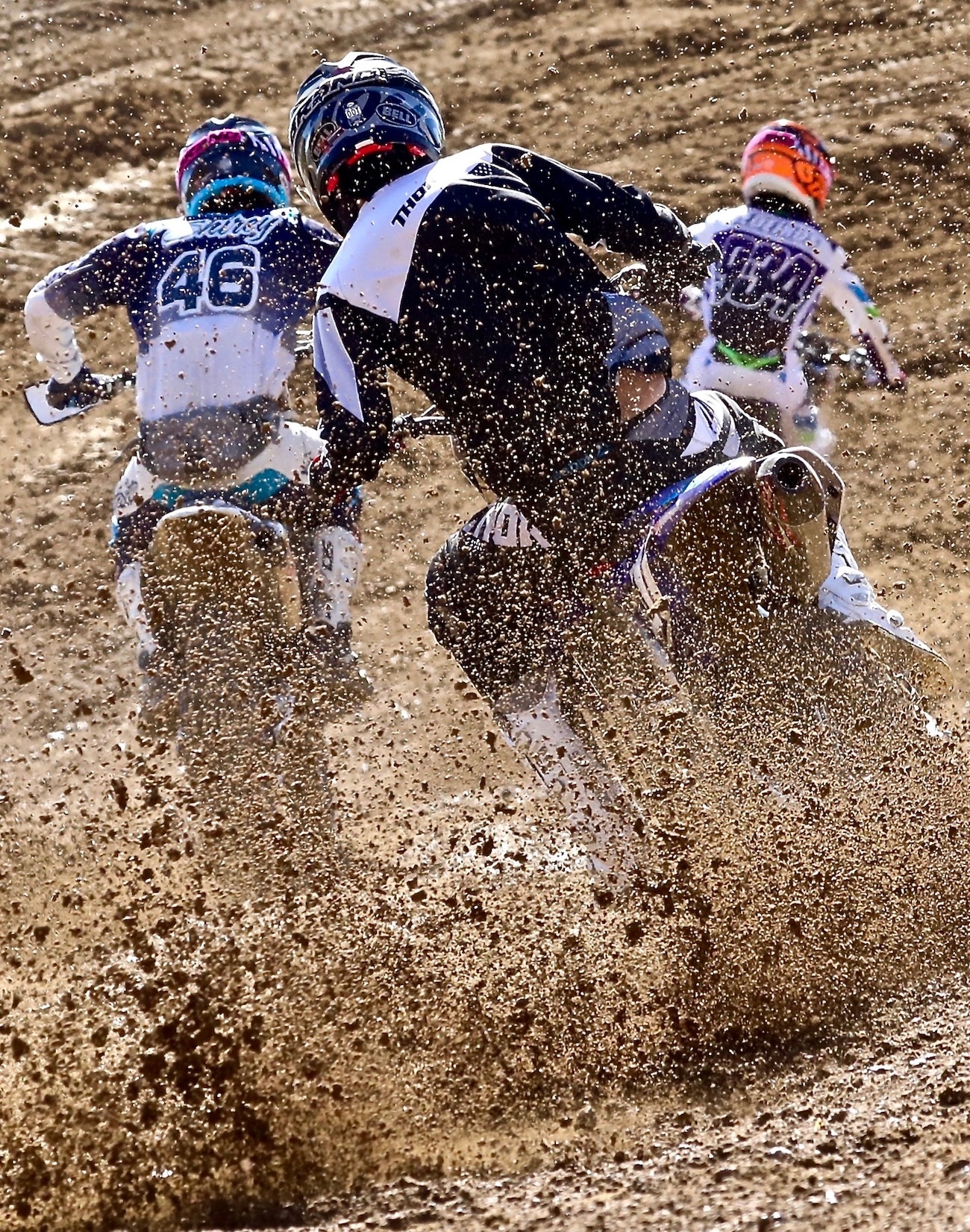 Dalton Shirey (46) had to work his way up to the front. Here, he is sandwiched between Daniel Van Der Ziel and Brian Medeiors (934). You eat a lot of dirt in the 450 Pro class.  Photo: Debbi Tamietti
But, Shirey wasn't done with Okura and as they swept into the last laps of the first moto. With time running out, Shirey pushed his way past the Japanese Champion and opened a big enough gap that no more surprises were in store.
Evan Kelly had a great first moto, but his 3-6 tied with Hawaiian star Brian Medeiros' 6-3.  Photo: Debbi Tamietti
Justin Miuscutt was assigned to race MXA's 2020 Honda CRF450. MXA got Chad Reed's Supercross exhaust system, which is very different from the typical CRF450 exhaust. Justin went 5-8 for seventh in the 450 Pro class.  Photo: Jon Ortner
In the second moto Shirey once again came from behind, picking off fourth place Van Der Ziel, third place Medeiros and second place Ogata before beginning another pass and re-pass war with Okura. At the end of the day, Dalton Shirey went 1-1,  Yuki Okura went 2-2, but was scored as the winner of the 250 Pro class, allowing Makoto Ogata to be scored as second in the 450's with a 2-2. Daniel  Van Der Ziel's 4-4 was good enough for third and and Brian Medeiros got fourth with a 6-3.
Jon Ortner went 2-2  the Over-50 Elite class, but he styled for awhile. Photo: Josh Fout
Paul Krause had so many off-road numbers on his front number plate that he blocked one out with black tape. Paul swept both motos of the Over-50 Expert class. Photo: Josh Fout
The biggest class of the day was the Over-50 Experts. They shared the first gate with the Over-50 Elite riders, who quickly broke away with Craig Davis going 1-1 in front of Jon Ortner's 2-2 and Ron Shuler's 3-3. However, the real battle was in the Over-50 Experts where ISDT and Baja hero Paul Krause won both motos over a top ten made up of Giovanni Spinali (4-3), Steve Coster (3-6), John Griffin (7-4), Jerry Black (6-5), Last week's Over-50 Expert winner Val Tamietti (5-8), visiting Canadian Darrin Sargeant (8-10), Mike Chastian (10-9) and Joe Sutter (13-7).
Pasha Afshar (L7) leads Mike Chastain (06), Joe Sutter (111) and Mike Monaghan (84) in the Over-50 Expert race.  They finished 13th, 9th, 10th and 11th respectively. In the background you can see Over-50 Intermediate winner Lonnie Paschal (51) in the second wave. Photo: Josh Fout
It was a very warm 82 degrees on Saturday, but it is still cool enough at 10,000 feet for there to be snow on the mountains. Mark Donaldson (36) is one of a growing group of rider who choose to race 125 two-strokes instead of 250 or 450 four-strokes. Photo: Jon Ortner
In the Over-60 Experts, which was the second largest class at REM, Robert Reisinger went 1-1, but since Reisinger is not yet 60 years old, the first actual 60-year-old was Dave Eropkin (2-1) in front of Val Tamietti (1-2), Will Harper (3-3), Mike Monaghan (5-4), Randy Skinner (4-5), Ron Lawson (6-6), Joe Pena (7-7), Jim Hanson (8-8) and Pete Vetrano (10-9).
Ron Lawson leads Randy Skinner (white helmet), Mike Monaghan (36), Val Tamietti (31) and Robert Reisinger (96) up a steep corkscrew turn in the Over-60 class. Photo: Debbi Tamietti

Val Tamietti (31) went 2-3 in the Over-60 Expert class, but in the Over-50 Expert class, which he won last weekend, bad starts relegated Val to a 5-8 score for 7th overall. Photo: Debbi Tamietti
In the most watched race of the day, Greg Groom, of "Greg Groom Creative Line Award" fame, bet Chris Corum, who was mounted on a 1987 Honda CR125, that there was no way that Corum could beat him on a 33-year-old 125 in the Over-60 Intermediate class. To tell the truth, most of the people lining the fence believed that Corum could beat Groom, and if he did they also believed that Groom would cut the track to get back in front (what Groom classifies as a "Creative Line.") It didn't come down to that because Greg got two holeshots, while Corum was stuck in traffic. But, in both motos, the little CR125 worked its way past Gary Scott, Randy Blevins (back after an incredibly long lay-off), Kent Reed, Phil Cruz, Stephen Braseny and Ron Verbeek to get to second place. Greg told Chris to forget the bet because they had such a good time racing for all the marbles — $20 to be exact.
ONE UPHILL TURN IN FOUR PHOTOS

When the races started, this turn was on the top of a mound of dirt. The cone that marked the corner had been knocked out of the way. Photo: Debbi Tamietti
Within one moto, the riders were using the side of the jump as berm and not going to the top any more. Photo: Debbi Tamietti
REM promoter Frank Thomason came out and drove AMA National track markers into the dirt to force the riders back onto the actual race track. Disqualifying every rider who cut this corner was an option, but it would have meant 75% of each class.  Photo: Debbi Tamietti
With the markers in place and the cone back on top of the hill the riders stayed on the track…sort of. Photo: Debbi Tamietti
RESULTS FROM SELECTED CLASSES
Josh Fout (86) twists the throttle to the stops on MXA's KTM 300SX two-stroke project bike. Photo: Debbi Tamietti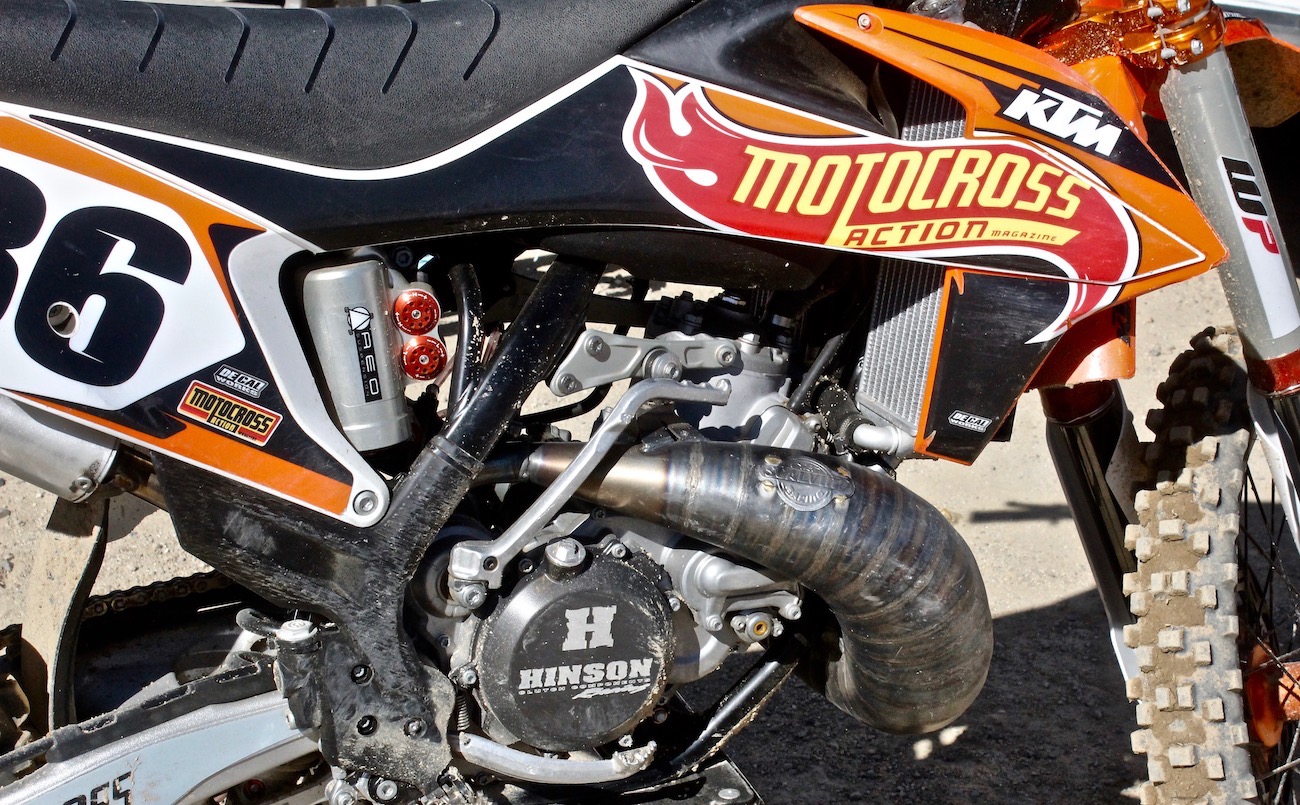 This is the KTM 300SX that Josh Fout was assigned to race for an upcoming MXA test. It has XACT Cone Valve forks, XACT shock, factory triple clamps, PHDS bar mounts, KTM Power Parts hubs, REP shock linkage, AEO KTM suspension valving, Dick's Racing-tuned 300cc kit top-end, taper-bored 38/42mm carburetor, Scalvini cone pipe, Hoosier tires and DeCal Works graphics. Josh was the fourth test rider to race it. Photo:Jody Weisel
As the flu continues to run rampant through the motocross ranks, some of the sick recovered enough to come back and race again this week. Mike Monaghan was out of action, not just racing, but work also, for two weeks, but he made a comeback this weekend. Unfortunately, Mike decided to ride two classes. He gave it all he had in the Over-60 Expert class for a 6-5 day. His second class, was the Over-50 Experts.  Mike was giving up ten or more years to the younger guys, but in the past he has managed to win this class and the Over-60 class on the same day, but this was not the day. Totally exhausted from the after-effects of the flu, Mike went 11-11.
Every week REM presents a framed photo to the rider of the week from MotoPhoto LLC. Unfortunately, when Mike Monaghan caught the flu they couldn't give him his photos from two weeks ago. This week, he got the framed Debbi Tamietti photo. Photo: Jon Ortner
Last week the MXA riders were decimated by the flu as Jody Weisel, Mike Monaghan, Josh Fout and Randel Fout were all too ill to race. This week Dan Alamangos joined the sick squad at home in bed.
Nanami Honda is the All-Japan National Ladies Motocross Champion, she finished on the podium 7 out of 8 races in the Japanese Women's National Championship. She went 3-3 in the 125 Novice class at REM. Photo: Debbi Tamietti
125 NOVICE
1. Dane Morales (Yam)…1-1
2. Chase Young (KTM)…2-2
3. Nanami Honda (Yam)…3-3
Donny Mcglaughlin took the 250 Beginner victory on his KX.  Photo: Debbi Tamietti
250 BEGINNER
1. Donny McGlaughlin (Kaw)…1-1
2. Parker Mortis (Hon)…3-2
3. Tyler Eversman (Suz)…2-3
During practice this sweeping right-hand turn was very muddy, so during the rider's meeting REM had the Cat come out and make it into a  dual-line corner. It was a lot better and the inside and outside lines were perfectly equal — if you did it right. Photo: Jon Ortner
VET NOVICE
1. Adrian Spiker (Yam)…1-2
2. Michael Oetzell (KTM)…2-2
3. Mark Taylor (Yam)…3-3
Steve Coster (959) goes right, while the rider on the track behind him goes left. Photo: Debbi Tamietti
OVER-40 EXPERT
1. Luther French (KTM)…1-1
2. Pasha Afshar (Yam)…2-3
3. Craig David (KTM)…4-2
OVER-40 INTERMEDIATE
1. Adrian Spiker (Yam)…2-1
2. Steve Coster (Hus)…1-2
3. Joe Sutter (Yam)…3-3
Stephen Thorpe (56) swept both motos of the Over-40 Novice class. Photo: Debbi Tamietti
OVER-40 NOVICE
1. Stephen Thorpe (Hus)…1-1
2. Brian Lehtinen (Yam)…3-2
3. Lamont Dusseau (Yam)…2-3
OVER-50 INTERMEDIATE
1. Lonnie Paschal (Yam)…1-1
2. Bill Reimer (KTM)…4-2
3. George Andrews (Hus)…3-4
Mic Rodgers (115) finished 4th in the Over-65 Expert class. Photo: Debbi Tamietti
Chris Corum (3) had to give it his all to win the the Over-60 Intermediate class, but bad starts on his 1987 CR125 forced him to settle for second overall. This guy is amazing. Photo: Debbi Tamietti
OVER-50 NOVICE
1. Bob Morales (Hus)…1-1
2. Lance Sloane (KYM)…2-2
3. Eric Barr (Yam)…3-3
OVER-60 INTERMEDIATE
1. Greg Groom (Suz)…1-1
2. Chris Corum (Hon)…2-2
3. Ron Verbeek (Hus)…3-3
Carl Gazafy (176) won the Over-65 Expert class. Photo: Debbi Tamietti
OVER-65 EXPERT
1. Carl Gazafy (Kaw)…1-1
2. Mike Marion (Yam)…2-2
3. Ken Ehlers (Yam)…3-3
OVER-65 INTERMEDIATE
1. Gene Boere (KTM)…2-1
2. David Harrison (Hus)…1-4
3. Tony Parsons (KTM)…3-3
Darrin Sargeant (145) came down from Canada for the 80-degree weather and a little SoCal throttle therapy. Darrin upheld Canadian honor with an 8-10 in the Over-50 Expert class. Here, he duels with Val Tamietti (31), Mike Monaghan (84) and John Griffin (7).  Photo: Debbi Tamietti
BREAKDOWN BY BRANDS AT REM
1. KTM……27%
3. Yamaha…..25%
3. Husqvarna…24%
2. Honda……16%
7. Suzuki…..4%
5. Kawasaki….3%
6. TM…….1%
Dirt Bike Magazine's Ron Lawson and 6D's Robert Reisinger (96) play a game of tag in the Over-60 Expert class. Photo: Debbi Tamietti
In a partial race schedule for 2020, REM is scheduled to hold motocross races on  February 15, February 22, March 7, March 14, March 21, March 28, April 18, April 25, May 2, May 9, May 16 and May 24.
UPCOMING 2020 REM RACE SCHEDULE
Feb. 15
Feb. 22
Mar. 7
Mar. 14
Mar. 21
Mar. 28
Apr. 18
Apr. 25
May 2 (REM Vet Cup)
May 9
May 16
May 23
On the REM racetrack you work hard to get up to the top, just to go right back down again. The riders on the left just came down from Mt. Whitney and have climbed one-third of the way back up the small hill next to Whitney and are headed down toward the drop-off in the center of the screen. Photo: Josh Fout

REM races this coming weekend on February 15.  For more info about REM motocross go to www.remsatmx.com or their Facebook page by Clicking Here.
DO YOU RACE AT REM? WANT A PHOTO OF YOU IN ACTION?  DEBBI HAS THEM
Give Debbi a day or two to process this week's REM race photos to her SmugMug account and then browse to your hearts content. You can order digital photos of yourself or friends from her page—for as little a $1.50. To look at this week's REM race (posted in a couple days) and Debbi's favorites photos go to www.debbitamietti.smugmug.com