A DAY IN THE LIFE OF A SUPERCROSS FAN
Working out of a warm dry van makes life at a high mountain racetrack more comfortable for the MXA guys.
By Jon Ortner
I don't know how you spent the day of the Anaheim I Supercross, but I didn't want to waste the day standing around in the pits on a cool and drizzly day. So, I decided to drive from my art studio in Santa Barbara to the Cahuilla Creek Motocross track in Anza, California, to get in some riding and then head over to Anaheim Stadium later to meet up with Chris Cole and a bunch of buddies.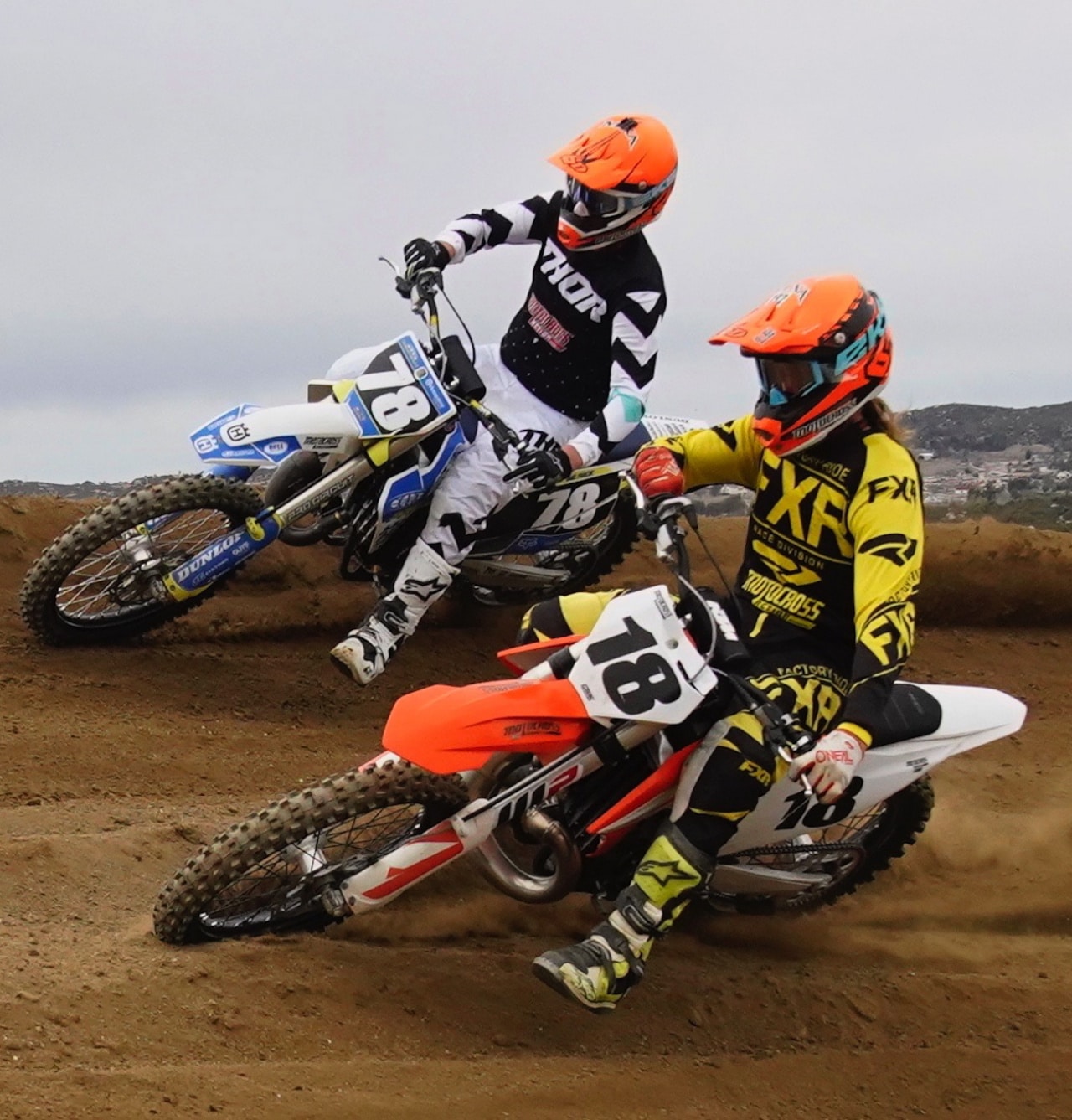 Like father like son. Randel Fout (18) and son Josh race almost every weekend of the year. Their job at MXA is to do endurance testing—which means trying to break things.

The first thing you need to know is that Cahuilla Creek is located at almost 4000 feet elevation from sea level —and it is an over 200 mile drive from my home in Santa Barbara. I was willing to get up early and start driving with my super trick 2019 Simi Valley Cycles Yamaha YZ450F tucked in the back of my van. I didn't have any plans to go with anybody, so I was rolling solo. But at least I'd be riding (especially since this was a weekend off from the REM Motocross races because Glen Helen was using the park for the Sprint Hero Two-Day Offroad race).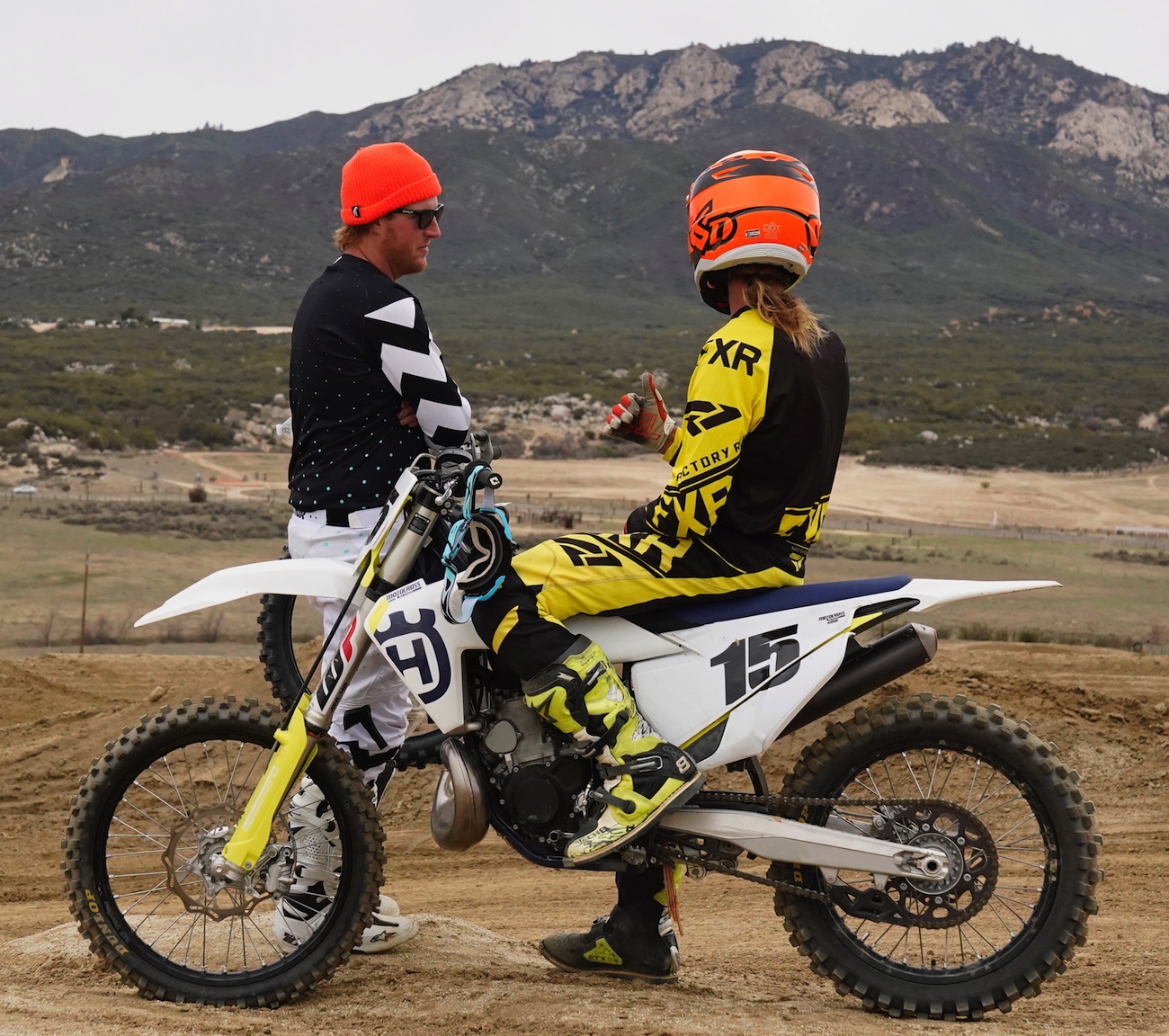 It must be a warm day at Cahuilla Creek because the mountains in the background can have snow on them in the winter. Josh, who lives in Big Bear, tells Randel who lives on a boat in Oceanside Harbor not to worry, he has snow shoes in the van.
When I pulled into Cahuilla Creek I was thrilled to see that a bunch of the MXA wrecking crew was there testing two-strokes. It seems like every time I go somewhere, there are MXA guys there also. It was good to have friends to hang out with. Overall the crowd of riders was very small—maybe everyone who wanted to ride was heading early to Anaheim.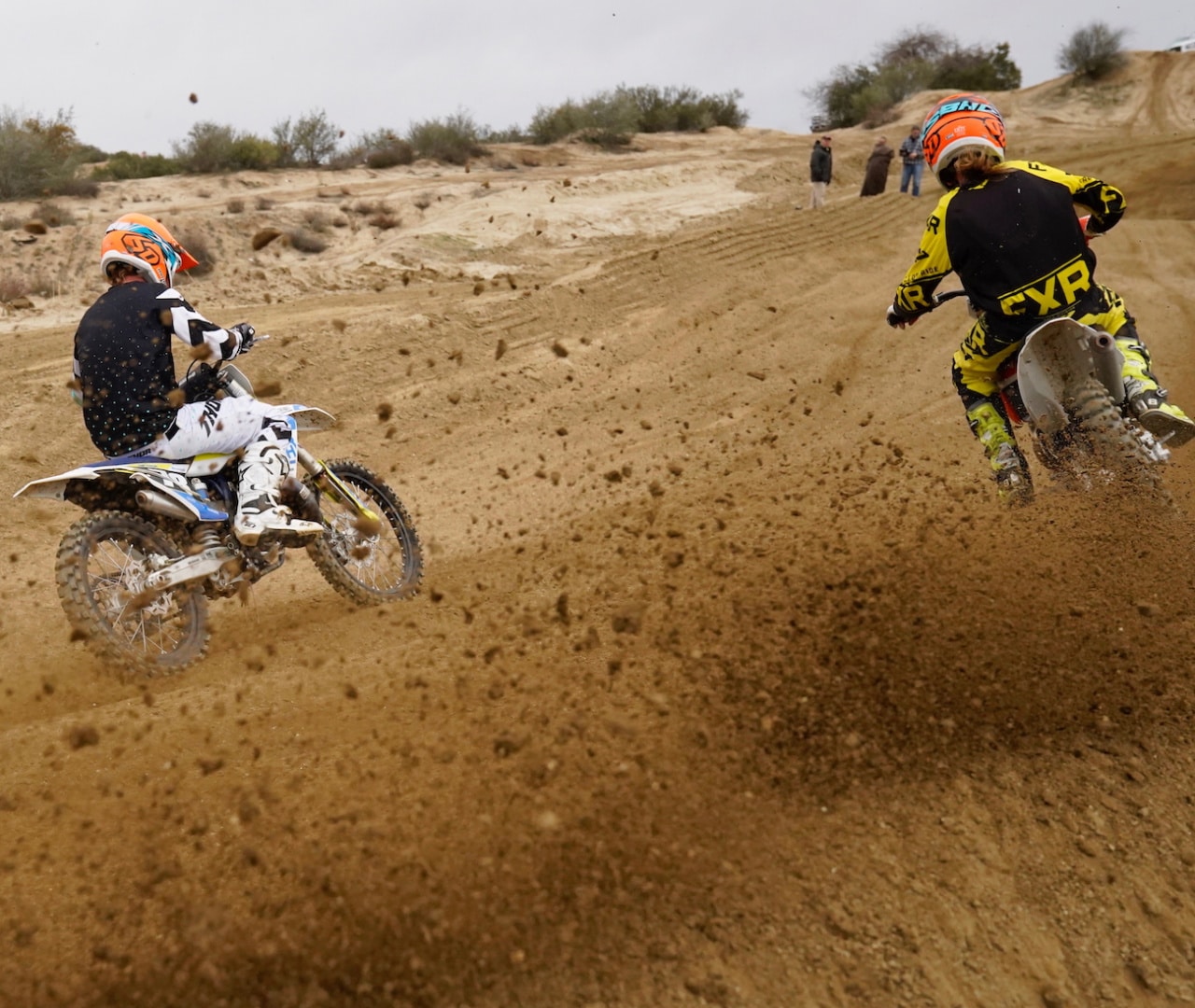 The old man still has some moves, but don't feel sorry for Josh (left,) he is on the bike that Mitch Payton built for Ivan Tedesco for the Washougal 125 All-Star race.
MXA brought three 2019 two strokes with them—and Randel Fout. Marc Crosby and Josh Fout where there to do back-to-back tests on the KTM 250SXF and Husqvarna TC250. They brought Ivan Tedesco's full-race Pro Circuit Husky TC125 along to keep themselves entertained. And, they were very entertaining as they circled the track in close drill order.
(Left to right) Logan Fout with Dr. Marc Crosby, technology guru and former Baja champion Brett Helm, Randel Fout (FXR gear), his son Josh, and REM Motocross' very own  Frank and Myra Thomason were all at Cahuilla Creek on Saturday.
Even with the small turnout at Cahuilla one of the best thing about motocross is that you are  going to cross paths with great people riding dirt bikes!  As I parked next to the MXA guys, Northwest motocross track builders Steven Abrams and Matt Harris were next to me. They had made the trek from Boise, Idaho, to get in some motos before heading over to A1.
Josh Fout railing the outside berm on the Husky TC125, while his father Randel rips the inside line on the 2019 KTM 250SX.
I decided that this would be a good day to collect some input from the MXA guys about where my recently finished YZ450F stood. They all volunteered to turn in some laps and give me their feedback.
Steven Abrams and Matt Harris drove from Boise, Idaho, to see the Anaheim Supercross opener, but like any serious racers they brought their bikes with them.
By the time the day was done Brett Helm and the Fouts (Josh and Randel) had taken turns hammering my pride and joy around the hilly mountain circuit. My plan had been to leave Cahuilla Creek at 12:30 p.m. and be at Anaheim Stadium by 2:00 p.m., but we just couldn't stop riding.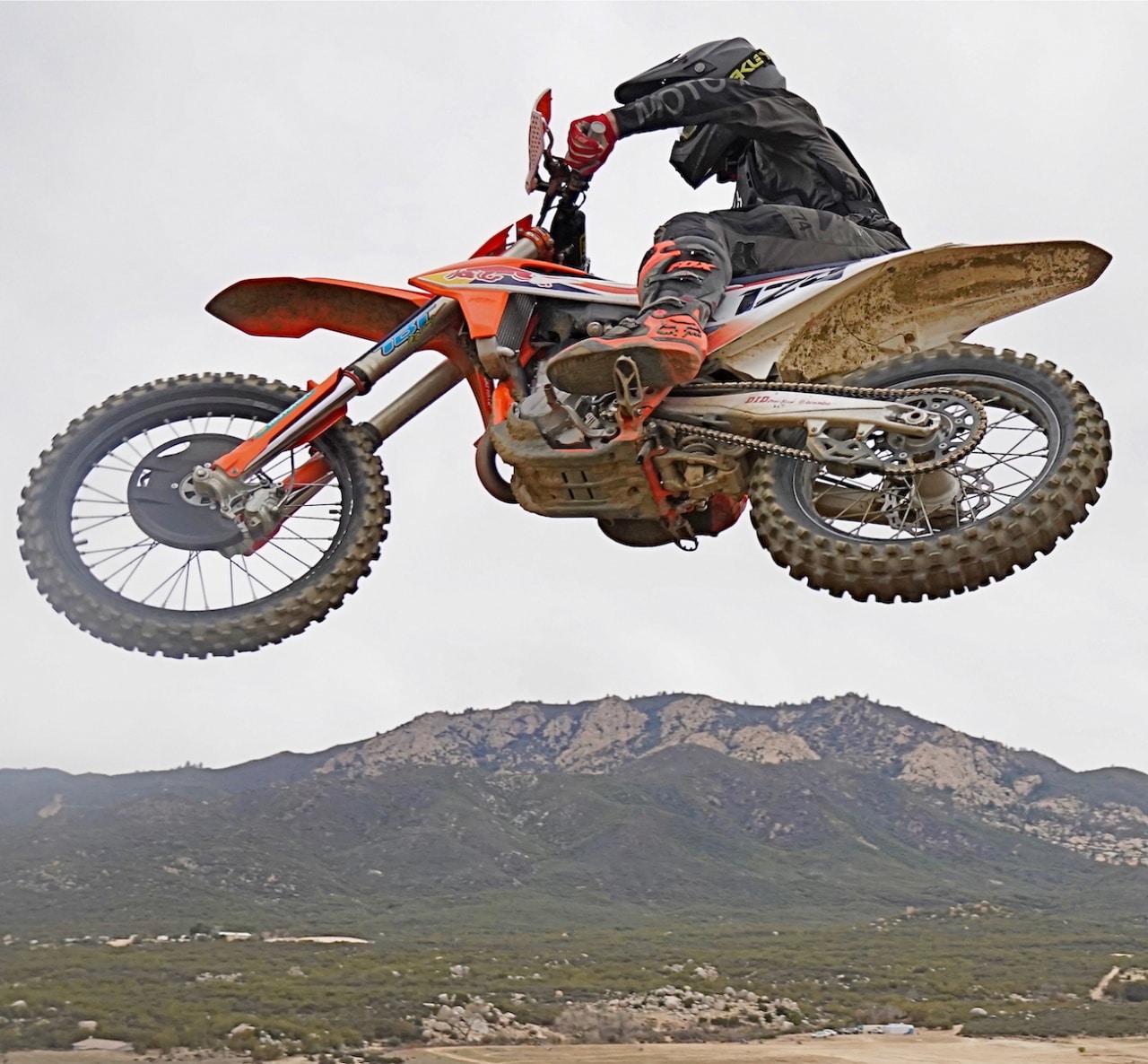 Steven Abrams feeling good while airborne on his TBT Racing suspended KTM.
Finally at 4:00 p.m. we all realized that we had a long way to go to get back to the city. The MXA guys had to take their test bikes back to the MXA workshop and clean them before  they could head to the stadium, but the Boise Boys, Brett Helm and I could just head straight to the race.  We had a great time riding together and planned to have a great time watching the first Supercross of the 2019 season later that night.
Idaho's Matt Harris (45) appreciated the soft terrain and roosted his appreciation after the tracks up north froze a month ago.
The MXA wrecking crew guys were kind enough to shred some laps on my super dialed in Simi Valley Cycles/Cole Racing/Twisted Development/Factory Connection Yamaha YZ450F. In the background you can see Marc Crosby getting undressed to head for Anaheim Stadium.

Josh Fout tucks my YZ into the tightest of inside lines. The Factory Connection suspension and linkage set up allows precise turning that most of us hardcore Yamaha riders are not familiar with!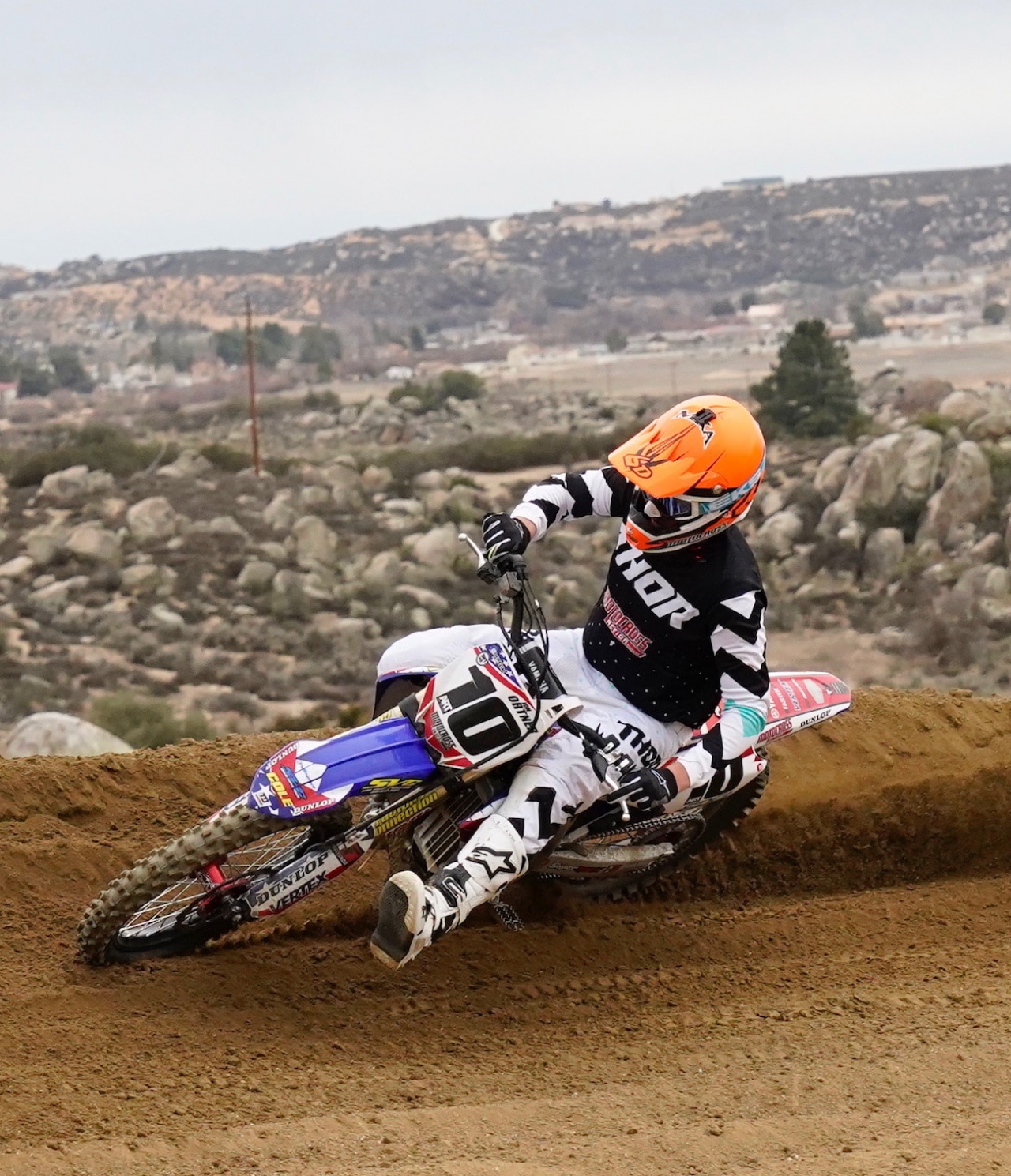 The high elevation track is located on the road that climbs and falls between Temecula and Palm Springs. The dirt is good, especially on a cool cloudy day, but there are a few small rocks off the track. Josh Fout stays on the soft side.
From the top of the Cahuilla Creek track you can see for miles to the west. Josh Fout stops trackside to scope out the view.
Brett Helm volunteered to do some hot laps on my Yamaha to share his ride impressions.
After riding my YZ450F Brett returned to his Honda CRF450. I'm sure he was disappointed to get off my YZ450F, but he tried not to show it.
LIVING THE GOOD LIFE AT A1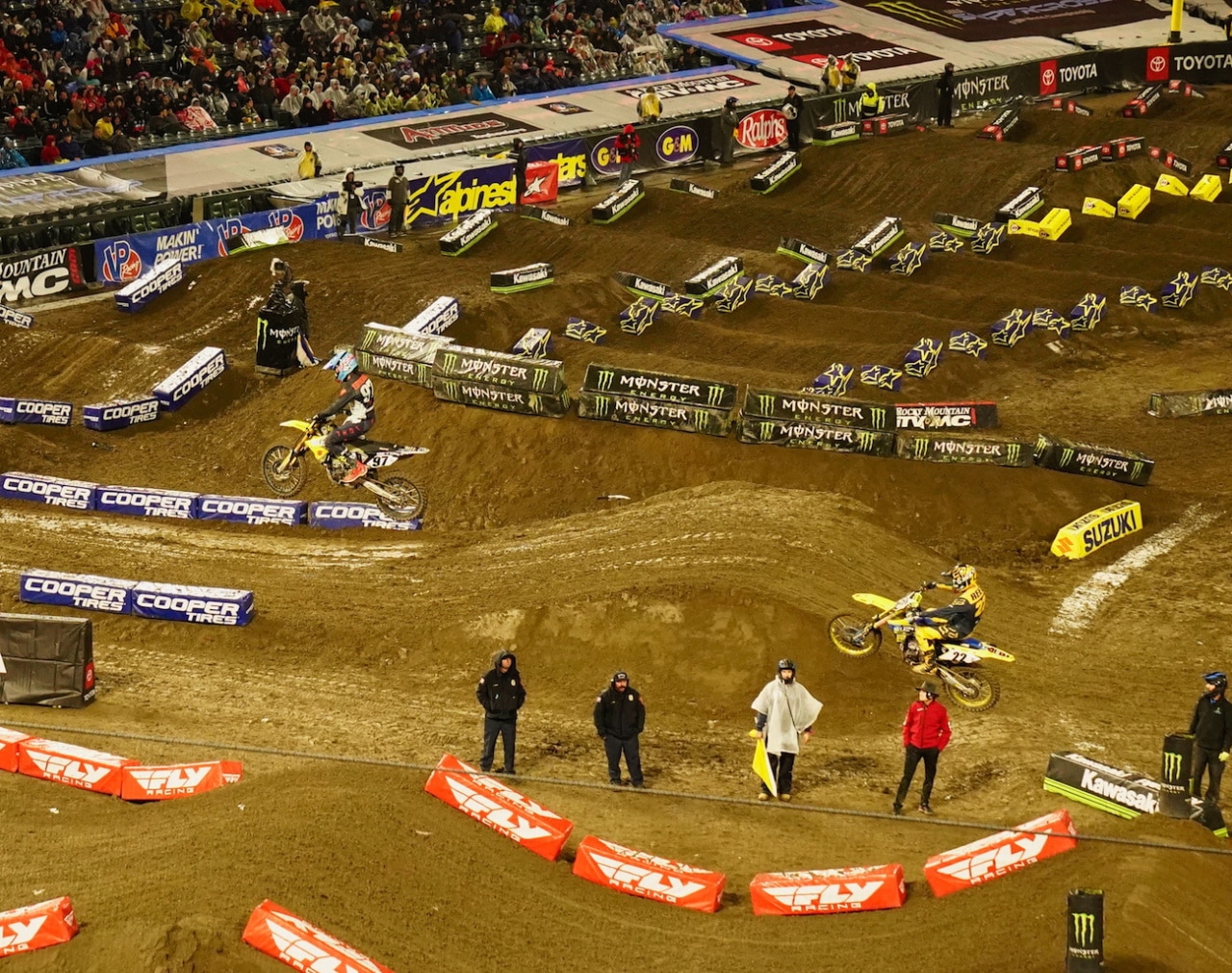 The view of the A1 track from Chris Cole's suite during the heat races. Chad Reed (22) chases Adam Enticknap. Chad had to go to the Last Chance to make the main. Every main event that Chad makes sets a new all-time record. As for Adam he missed making the 450 main by one spot in the Last Chance.

As I drove down the hill from Cahuilla Creek towards Anaheim Stadium I wasn't worried about getting to the race on time. Why not? I had the ultimate hook-up for the Anaheim Supercross. Shane McElrath had me dialed in with an All-Access pit pass, and Chris Cole included me in his private suite, directly above and in front of the first turn. With my extended ride day at Cahuilla Creek, I didn't actually arrive at the stadium until right before show time. I was thinking my best opportunity for pit photographs may have been missed. With the sun setting and fans and riders heading into the stadium for the night's racing to begin, I was making my way upstream into the pits to see if I just may get lucky with some shots… and I scored!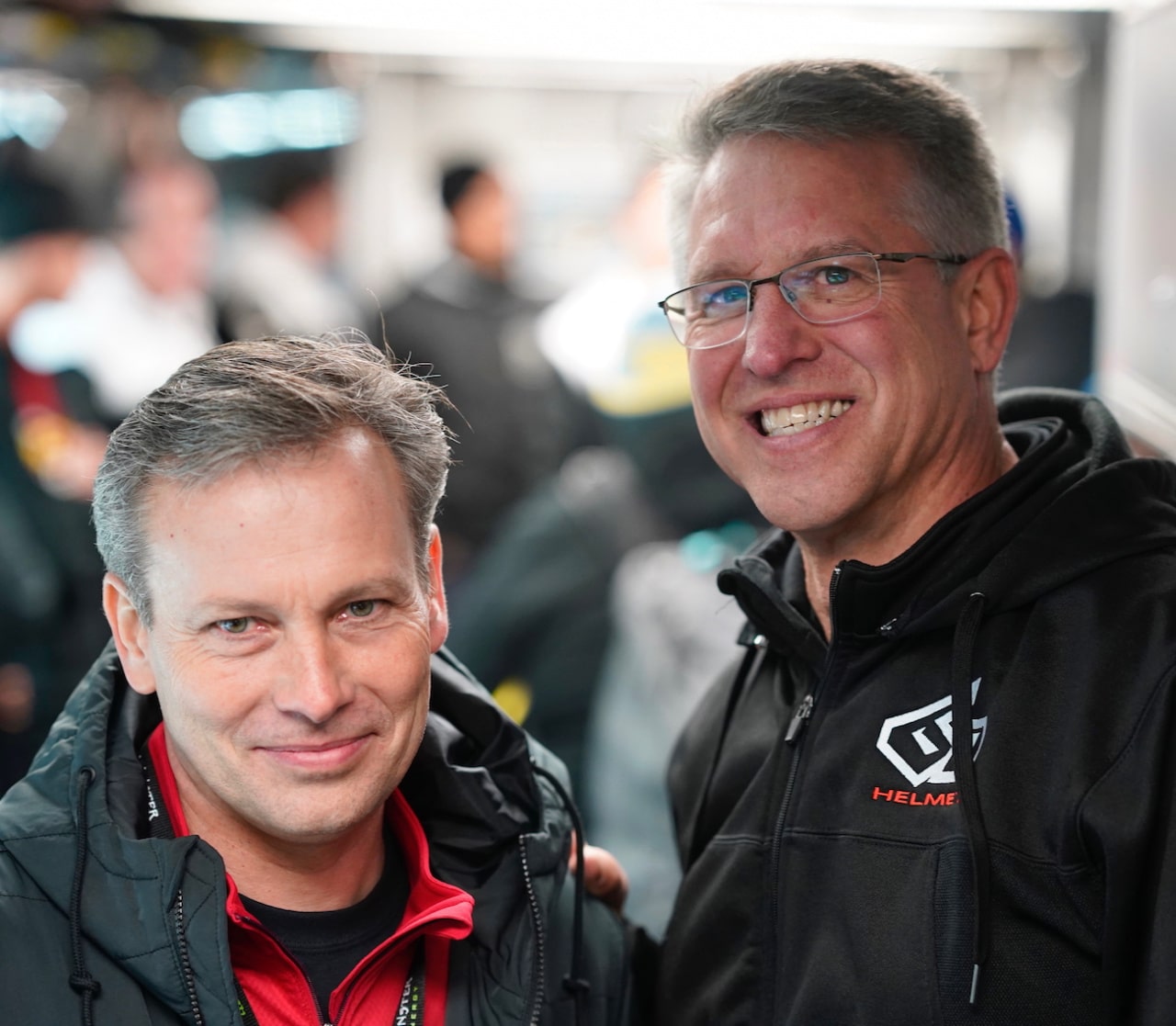 Factory Connection's Rick "Ziggy" Zielfelder and 6D's Bob Weber.
As I walked around the corner to the Factory Honda pits, I came face to face with my friends Bob Weber, of 6D Helmets, and Ziggy Zielfelder, of Factory Connection. I was able to personally share with Ziggy my last several weeks of incredible experience of practicing and racing with his suspension settings, shock and fork spring selection, and rising rate linkage.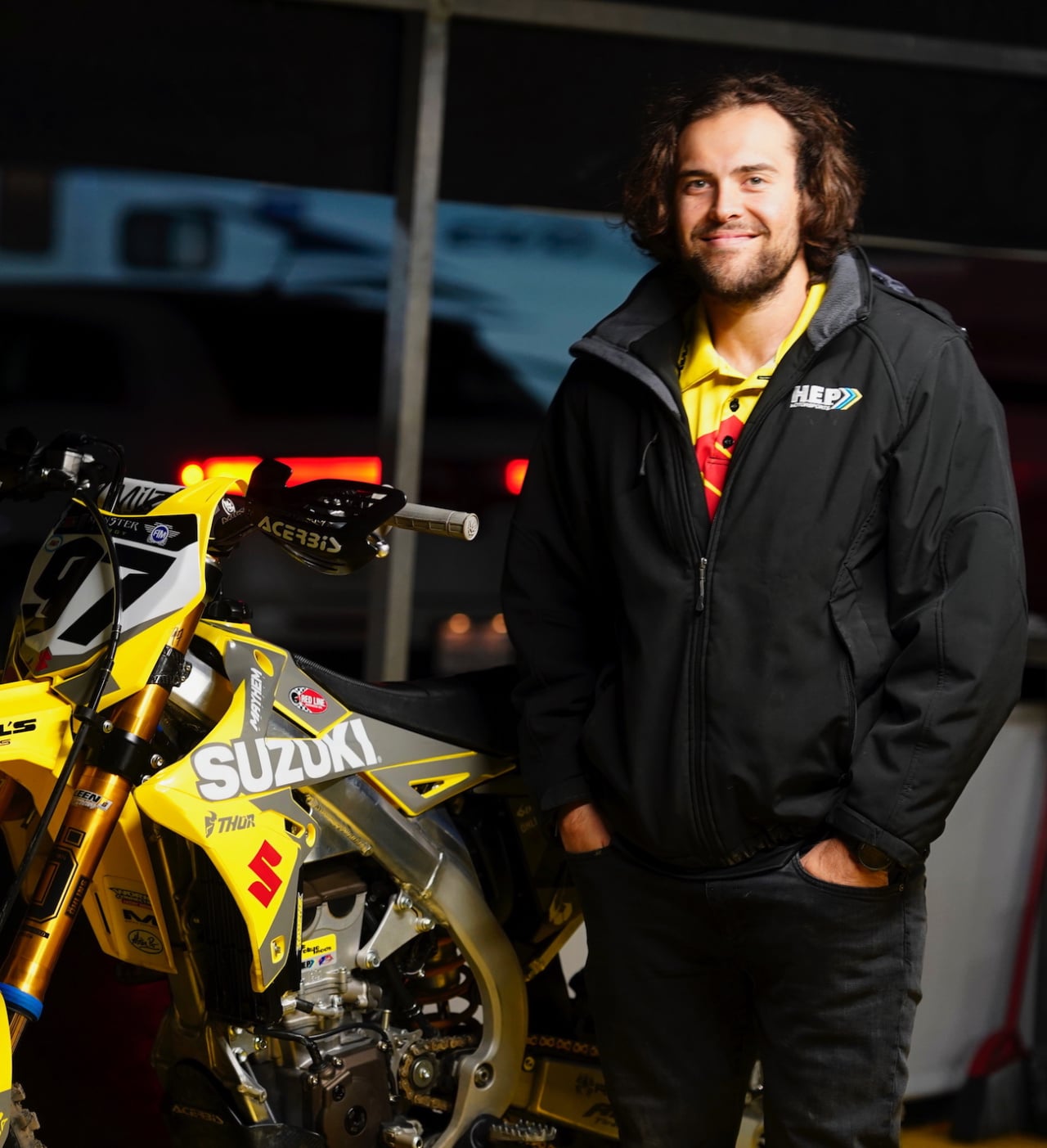 A smiling Adam Enticknap.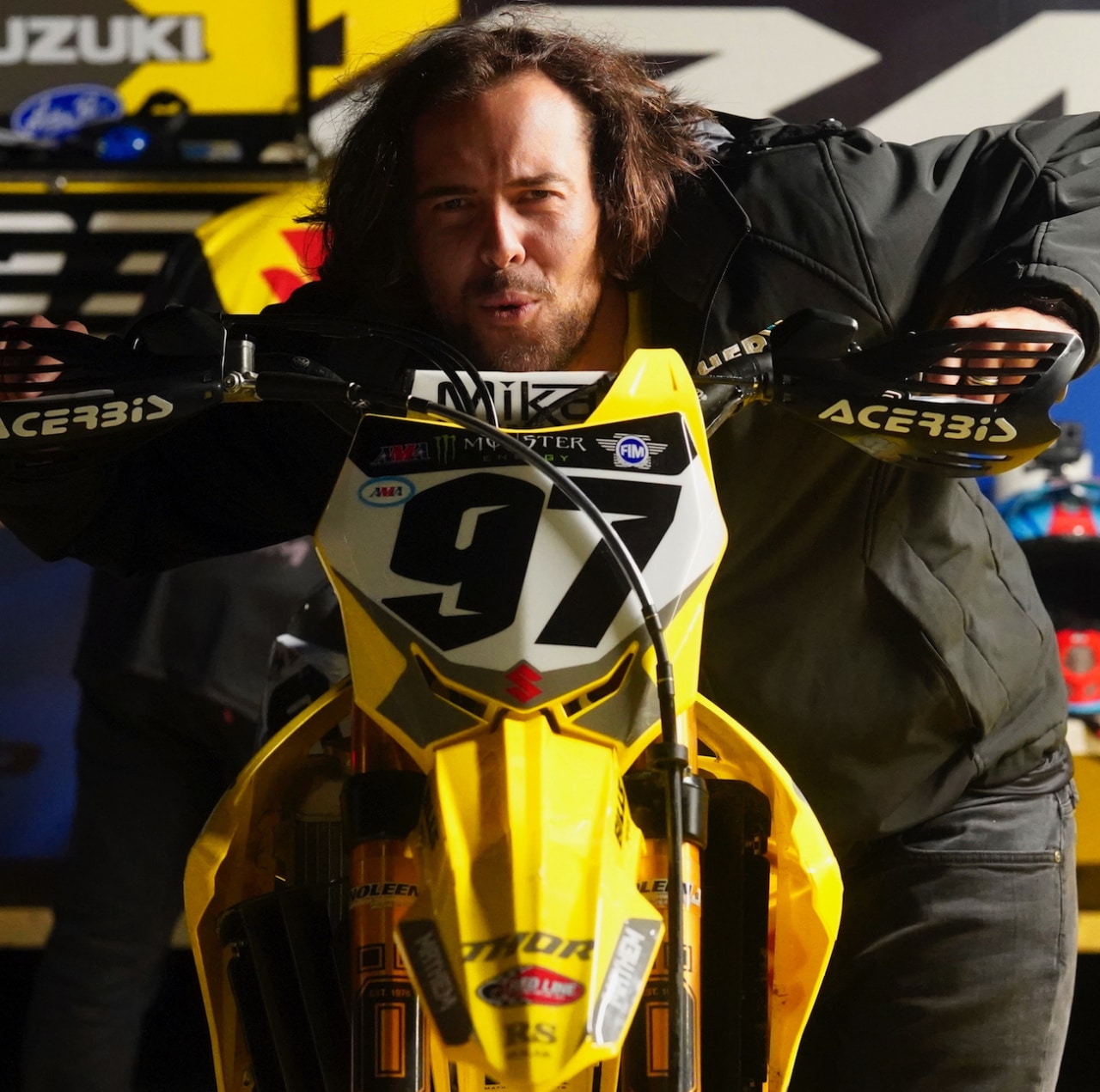 Adam Enticknap had to give up his 722 number because he earned AMA National number 97 in 2018. Under AMA rules, if you earn a National number, you have to take it.
The next row over in the pits I came toe to toe with the ultra-creative and entertaining Pro Supercross racer, Adam Enticknap. I knew he was in pure focus mode, but Adam spent the time with me to get a shot only he could pull off!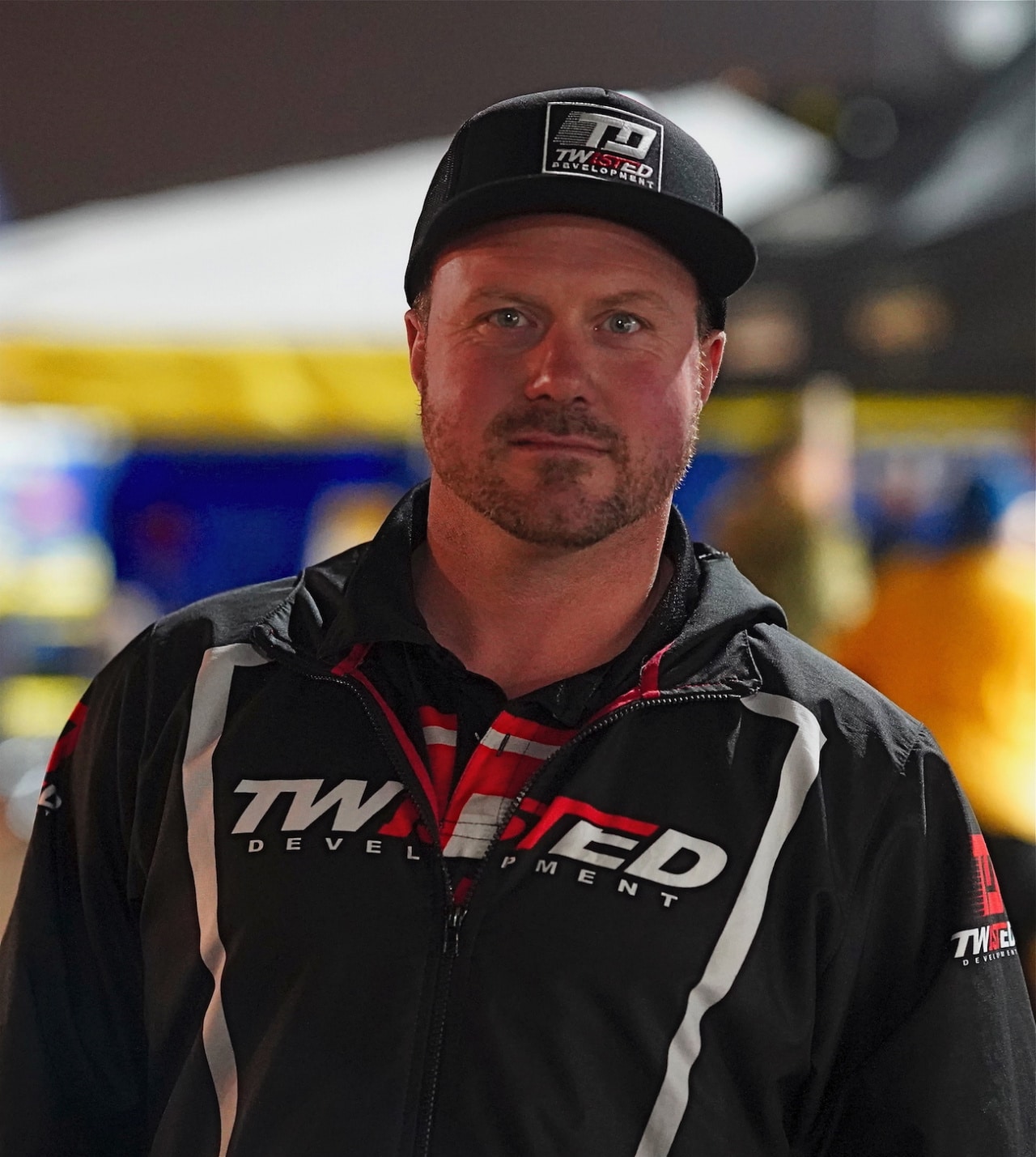 Twisted Development's Jamie Ellis is a very busy man in the pits. His ECU know-how is legendary.

My quick tour of the pits then brought me face to face with Jamie Ellis, the man behind the sophisticated mapping and engine technologies of Twisted Development.  I was able to quickly share with Jamie my success riding with his engine and its awesome linear performance, all while shooting a dynamic portrait shot of him.
Chris Hay works on the LitPro unit on Jimmy Decotis' JGR Suzuki RM-Z250.
I spotted Chis Hay installing LitPro's timing and data acquisition systems on Jimmy Decotis' JGR Suzuki. I caught Joey Savagty's (17) team in final preparation mode, and Carson Brown's mechanic at work on his Husky FC250. Eli Tomac's (3) bike looked mean. It was fun to see Dean Wilson's (15) standing proud in front of his Sprinter van. No one knew at that moment that Dean would lead eleven laps in the final, with a fantastic top five finish to start of his Supercross campaign.
Joey Savatgy's works Kawasaki.

Eli Tomac's number 3 when it was clean.

Straight Rhythm 125 two-stroke winner Carson Brown was on the JMC Husqvarna FC250.

A privateer doesn't get fancy grip covers, Dean Wilson has to make do with zip-lock bags. Dean may be a privateer, but his old Rockstar Husky team gave him a works FC450 to race out of his Sprinter.

The Chris Cole experience in his A1 suite was first class! Chris' friends and family are all incredible people, and the highlight of the evening was Chris special guests —Shane McElrath's (12) mother and grandmother, flown in especially to watch Shane race to a podium finish on his Factory TLD/KTM. Shane's mother, Debra McElrath, had not yet seen Shane race at A1. And, Debra's mom and Shane's grandmother, Freida Embler, had not only never been to California, she had never been on an airplane!
Frieda and Debra  were high and dry in Chris Cole's private booth.

The warm, dry Chris Cole suite was such a deluxe way to view the riders navigating, slipping and sliding their way around the track. Appetizers, dinner and dessert were served with a full complement of beverages. We were able to watch the race directly from the suite, or outside on the private balcony. What a night!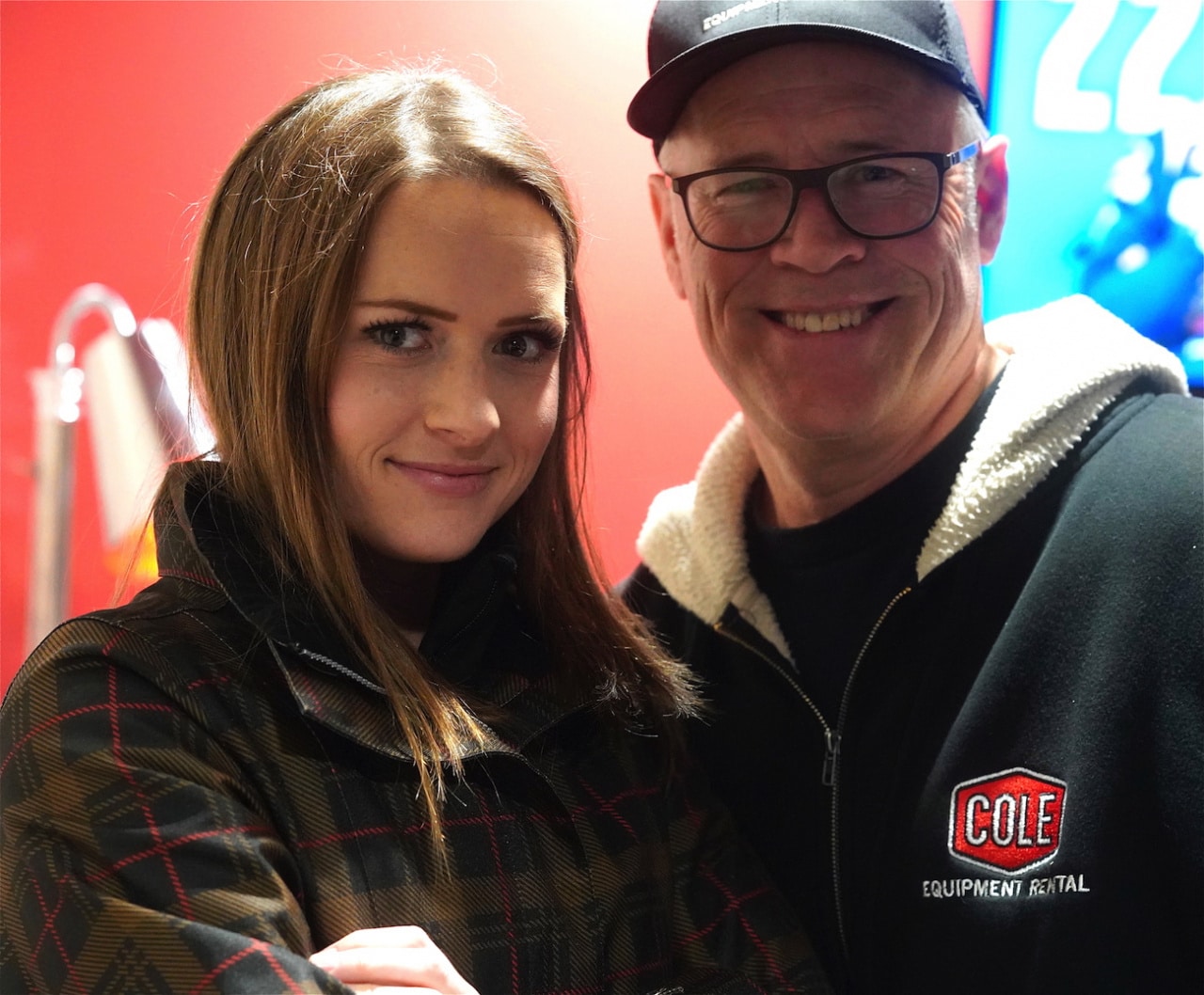 Ashley Cole and father Chris work side-by-side at Cole Equipment Rental—you may have seen their heavy equipment at the AMA Nationals.

Saturday's A1 was such the perfect start to an exciting new year. Riding my dirt bike with good friends and making new ones, then spending the evening with and watching the very best do their thing, A1 style, was simply a magical day.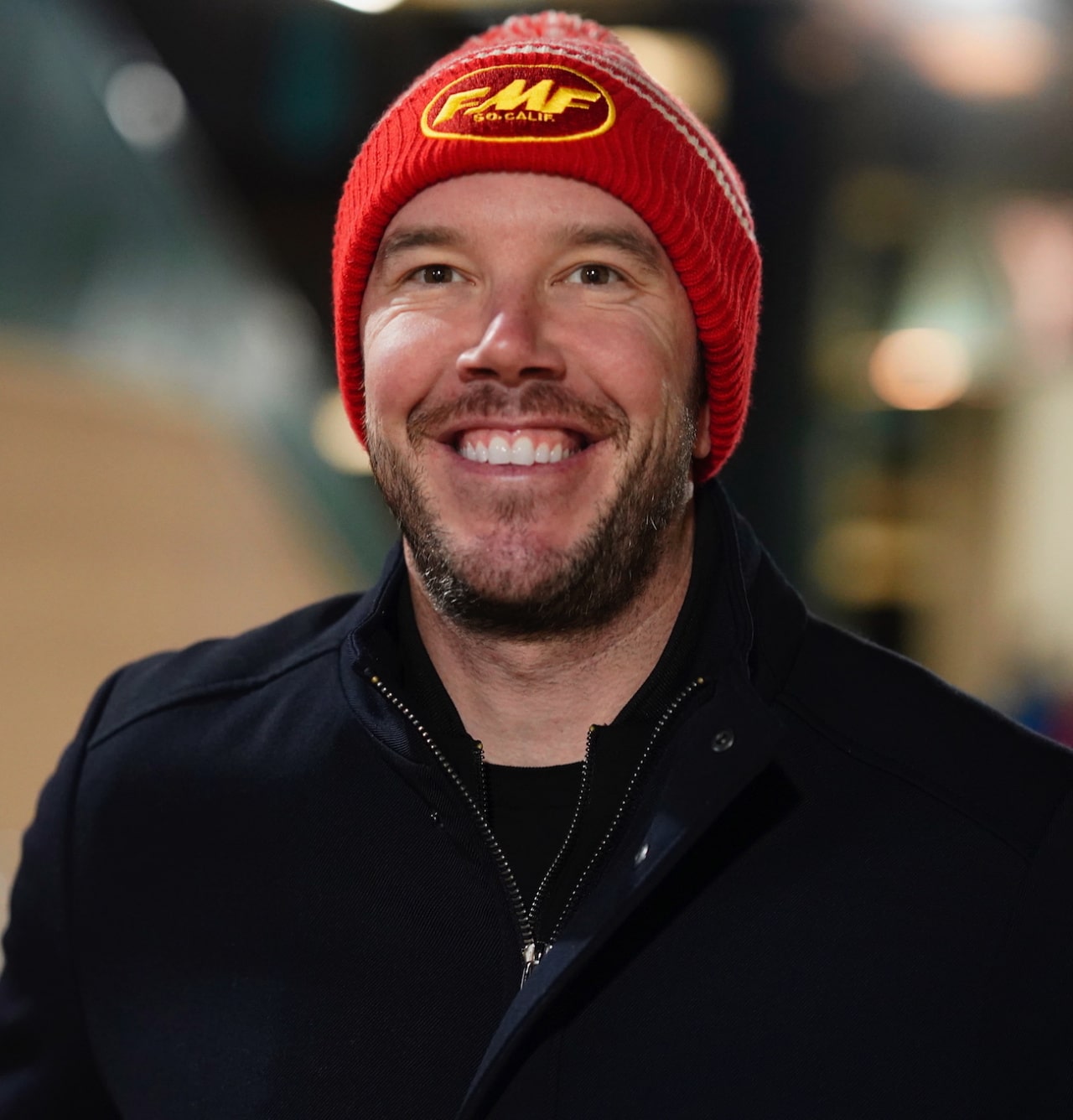 Lil' D sharing the stoke of Supercross.

Super fans in the pits. Rommel Andrade, Kenny Maddux, and friends Brittany & Brittany.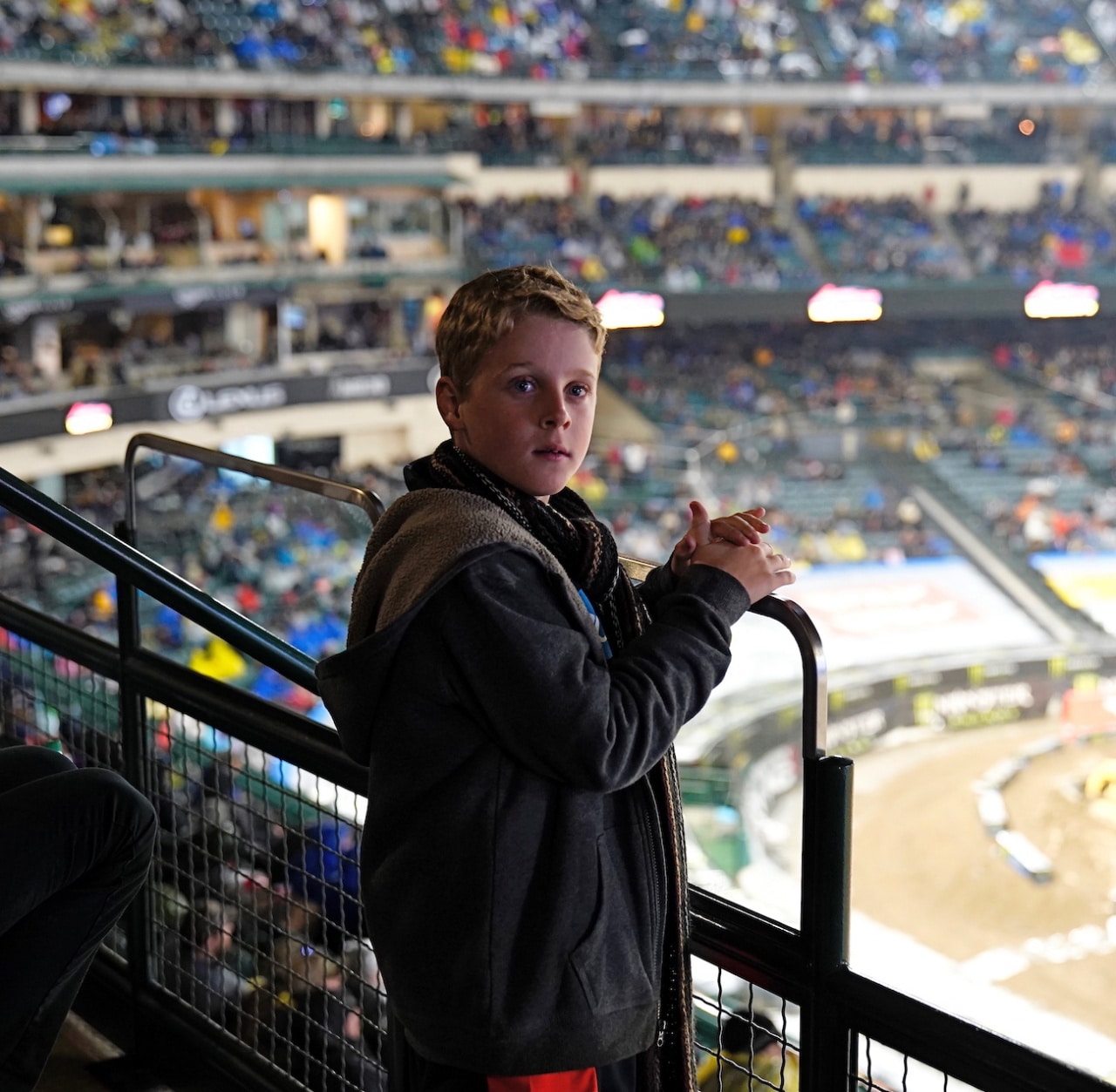 Ryder Friday is building up a lifetime of memories.
MXA's Dennis Stapleton stopped by the Cole booth every time he got wet, hungry or cold. Chris Cole (right) was a gracious host.
The Cole family: Bradley, adopted Jon Ortner, Chris, Jan and Ashley. Ashley is engaged to MXA's Josh Mosiman.