ADAM CIANCIARULO INTERVIEW: THE NATIONALS, LAS VEGAS & THE TAKE-OUT
Click on images to enlarge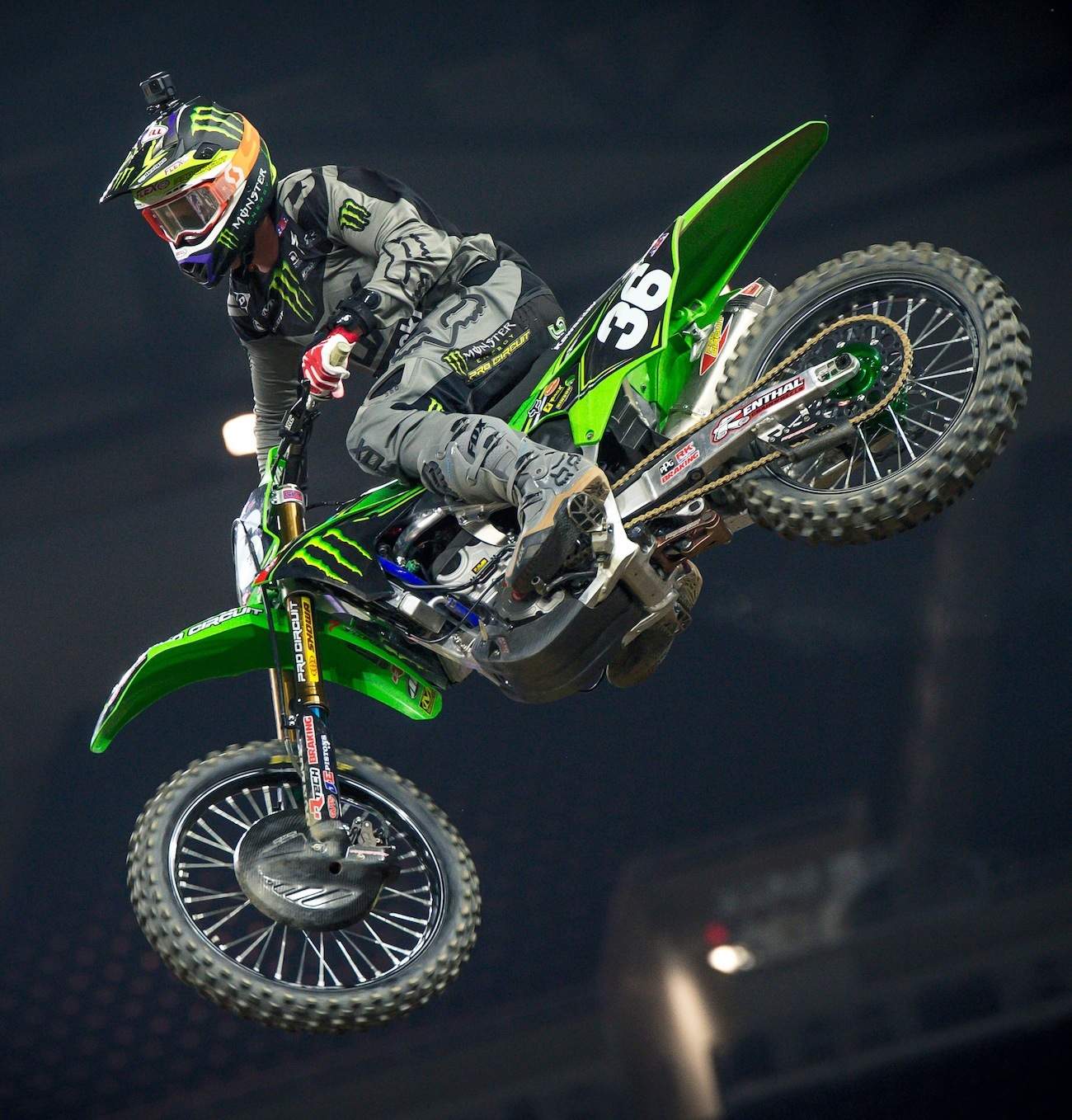 As amazing as it seems, Zach osborne and Joey Savatgy were so far behind Adam Cianciarulo at Las Vegas that Adam could well have ended up winning the AMA 250 East Championship.
By Eric Johnson
At the San Diego round of the 2017 Monster Energy Supercross Series, Adam Cianciarulo, dressed in street clothes and looking out at the throng of fans surrounding the Monster Energy/Pro Circuit/Kawasaki pit area, talked about what kept him going through all the bad luck and injuries he had suffered through in his abbreviated career.
"There's nothing like that," remarked Cianciarulo about just what it feels like to win a Supercross main event in 2017, something that he had not been able to since Detroit in the March of 2014. "That's the best 45 seconds you're ever going to feel in your life.  I mean I think about that all the time. I mean everything I do this season will be to get back to that point."
And during the nine-race 2017 AMA 250SX East Championship the 20 year-old did, in fact, get to experience just what those 45 seconds felt like again when he won the main event at Daytona Beach, Florida. Five rounds later, last Saturday night on the high-speed circuit that played host to the combined 250 East/250 West Dave Coombs, Sr, Shootout in Las Vegas, Cianciarulo was able to pull down another big win in a dominating fashion—with a masterful gate drop-to-checkered flag victory. Yes, 15 laps and another 45 seconds of bliss for Adam Cianciarulo.
A few days after of his Vegas jackpot, we caught up with the pride of New Smyrna Beach, Florida, while getting things sorted out in SoCal for the start of the fast approach AMA 250 National Motocross Championship.
The Adam Cianciarulo that people remember from his 2014 successes was a little kid. This past year his growth spurt kicked in and he is now six-feet-tall.
WHAT'S THE 2017 EAST/WEST SHOOTOUT WINNER UP TO THIS WEEK? I just got done testing at Pala.
KNOCKING OUT ALL THE OUTDOOR STUFF FOR HANGTOWN? Yes sir. We've been at some tracks back in Florida, but no real testing. Today was the first actual testing day with Bones [Bacon] and the guys. We're trying to get the settings dialed-in this week. We have another test tomorrow at Glen Helen. We're just trying to get this thing dialed this week.
WHEN YOU TALK ABOUT DIALING IN YOUR SETTINGS, WHAT DOES THAT ACTUALLY ENTAIL? Let me see… I think in order to be competitive in Pro motocross racing, not only do you have to have a rider with the talent speed and the fitness to run up front, but you also have to have a really good setup. That means being comfortable with your suspension and with your engine settings. Maybe a racer doesn't like the soft feeling of the bike and might like it a little bit stiffer and a little bit more predictable. Some guys prefer softer settings. We also go to a lot of different tracks with a lot of different dirt, because the bike works differently on different dirt. So we try to get suspension settings and engine settings that complement each track, whether it's slick, rutty, rough or muddy. It's all about finding the right balance for the rider. There are really no right or wrong answers when it comes bike setup. Everybody is different and prefers a different feel. It's just all about making it to where you feel like you can go as fast as you can on the bike you're riding.
WHEN DID YOUR START WORKING ON YOUR OUTDOOR SETUP? After St. Louis I had a couple weeks off from the 250 East, so I got to ride outdoors in the heat in Florida. I did some 30-plus-twos on a rough track, After that when you go back to Supercross and you kind of feel like you're on vacation. It's definitely a different ballgame, but there is still a throttle on the right and two wheels spinning around.
HOW DIFFICULT IS IT TO SHIFT GEARS, BOTH MENTALLY AND PHYSICALLY, TO GO FROM SUPERCROSS TO THE OUTDOORS? What's interesting is that this is my first year really making the transition from Supercross to the outdoors. Before this year it had only made it through one or the other. You don't want to put too much emphasis on outdoors too soon because you want to do the best you can in Supercross, but at the same time you don't want to find yourself behind the eight ball when it comes to Hangtown because it comes very quick.
YOU'RE COMING OFF A VERY GOOD SUPERCROSS SEASON AND ARE GREAT SHAPE, WHAT ARE YOUR THOUGHTS ON THE AMA 250 NATIONALS? I feel very confident in my ability. I think it's one of those things where you can't go in saying, "I want to win the championship." You have to take it race by race and, if you study any past championship, the winners always say the same exact thing. I'm going to have to bring it every moto. It's going to be about putting yourself in the position and doing the best you can. I feel like I'm at a point in my pro career where I have a lot of room to improve and I look forward to doing that over the course of the summer. I'm excited.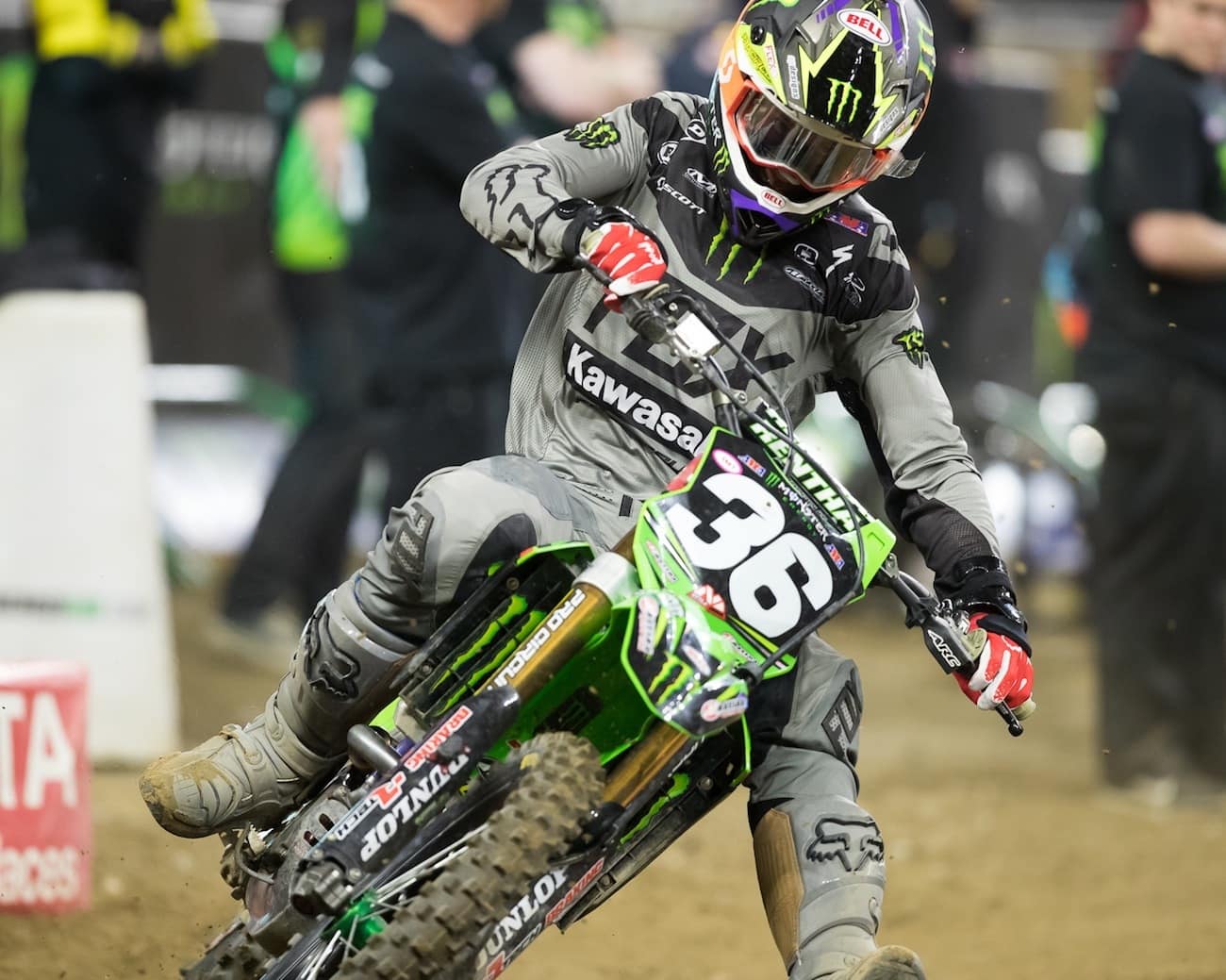 Adam has never strung together a complete season of Supercross and Nationals. Now that he has made it through the 2017 Supercross series, he's on his way.
JUMPING BACK TO SUPERCROSS, YOU MADE THE WIN IN LAS VEGAS LOOK EASY. Thank you. It did kind of go perfect. It was interesting because I had actually been fighting a virus, a little head cold, for the past couple of weeks. I had it in New Jersey and I couldn't shake it in time for Vegas. I thought I might dull my expectations, but even on press day, even though I still felt sick, I felt so comfortable on the bike. I don't know what it is about the west coast dirt, the slick stuff, but I felt really good from press day forward. Even moving into practice and the heat race and the main, it just seemed like everything clicked. After practice went well I just kind of had this goal of getting the holeshot and, honestly, leading every lap. That was my goal and that just what I felt like I was going to do. It's hard to explain. Both races I've won this year, Daytona and Vegas, it was like I knew I was going to do it before I did it. I could see it happening. It was cool to be ahead of the craziness that was going on behind me and just kind of do my own thing and end the season on that strong note.
WERE YOU AWARE AWARE OF THE CRAZINESS GOING ON BEHIND YOU WITH SAVATGY AND OSBORNE? It was cool to be ahead of the craziness that was going on and just  do my own thing and end the Supercross season on a strong note. I heard the crowd go crazy a few times. I knew somebody had crashed on the opening lap and and that gave me a little bit of a gap right away. I ended up getting about a five-second gap on Justin Hill. It gives you some comfort to know that you have a teammate behind you. Obviously, we're out there competing and he wants to beat me, but it just gave me a bit of calmness to just ride my own race. I hit my marks and I feel that if you marked where I went around the track every lap, I was probably within a foot of the same line every lap.
HOW WAS THE VEGAS TRACK, APART FROM THE DIRT? It was a difficult track. Vegas always is. And the roost was pretty gnarly heading out of the stadium. I hadn't actually ridden Vegas since I was there racing the Amateur All-Star class at the Monster Energy Cup. I forgot how bad that roost hurts and that was definitely one of the reasons why I wanted to get the holeshot.
AT ONE POINT DURING THE MAIN EVENT YOU WERE ACTUALLY WINNING THE 250 EAST CHAMPIONSHIP. DID YOU REWATCH THE RACE ON TV? I did. I found the race on YouTube that night when I was laying in my hotel room. It was crazy, man. During the race I heard the crowd going nuts so many times and I knew the eyes were on the battle behind me. When I rolled over the finish line after I won the race, I actually turned right and rolled into the rhythm section.  Justin Hill came up and congratulated me and told me good job. I was actually watching Joey and Zach go through the last set of whoops before the last few corners. I watched that whole pass happen. Joey is a buddy of mine and, obviously, we've both been through a lot of adversity this season and to watch him get taken out like that with two corners to go was weird because I never felt like that before. When I watched that happen I just didn't even know what to think. It was an interesting emotion I was feeling. The whole race was something I'll never forget. You know people are calling it one of the greatest supercross races of all-time and I'd probably have to agree with them. It was pretty nuts.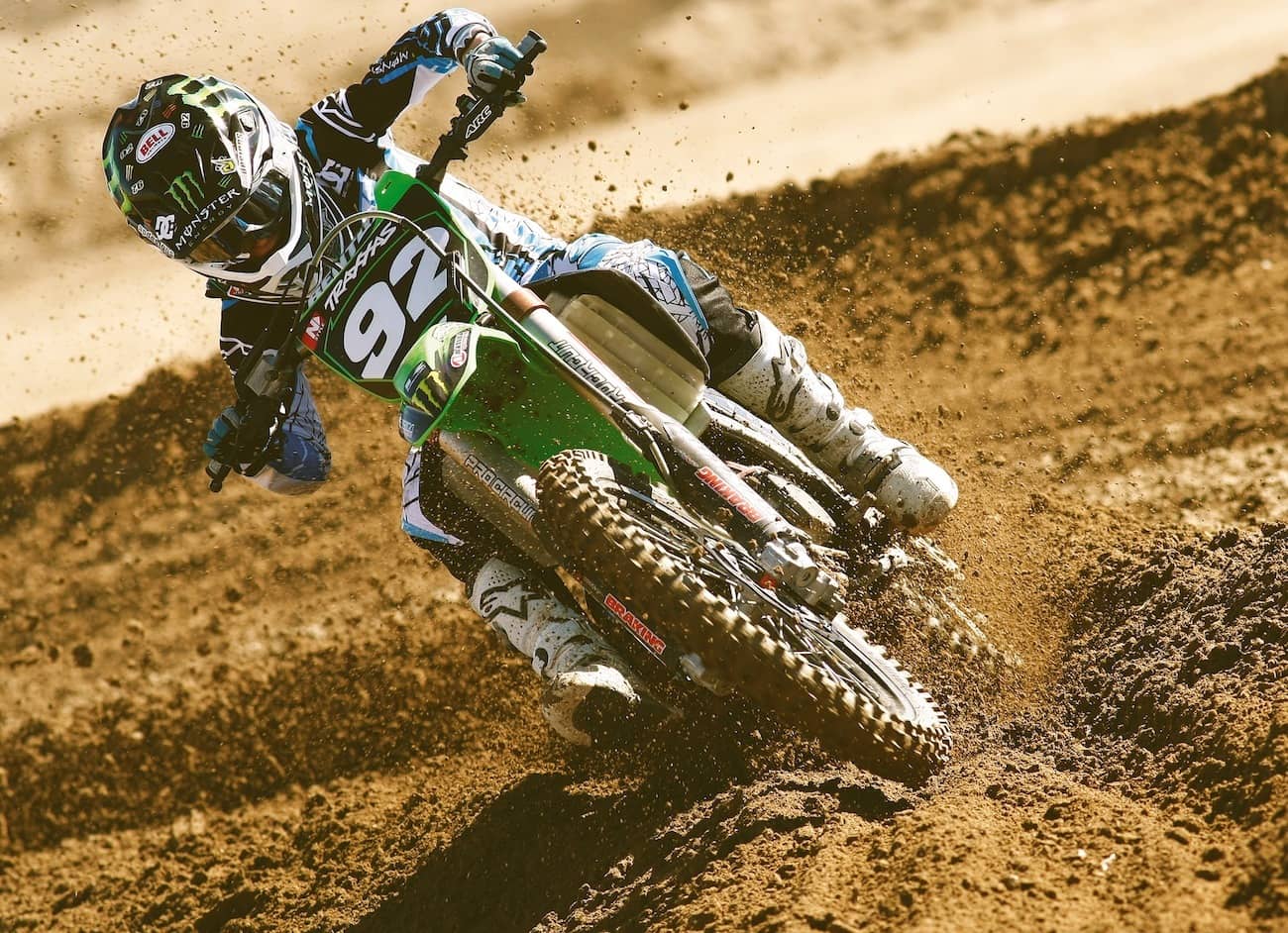 Way back in 2012 Adam was a Pro Circuit/Monster/Kawasaki rider. They signed him to a long-term contract while he was still in the amateur ranks.

WHAT DID YOU THINK OF THE OSBORNE MOVE? It was one of those deals where emotions were running high. Joey is my buddy and I didn't want to see him get taken out. Zach and I got into it earlier in the year (Note: the two clashed during practice at the Indianapolis Supercross) so it wasn't like I was cheering for him. I kind of understand that it was for the Championship and it's the last corner, but at the same time, for me, it was difficult to watch.
YOU WON TWO 250 EAST RACES, POSTED THE MOST HOLESHOTS AND HAD THE LOWEST AVERAGE FINISH IN THE ENTIRE 250SX CLASS. GOOD YEAR? GREAT YEAR? ARE YOU HAPPY? I'm happy, but not satisfied. I really feel like I have a lot more in the tank and there are a few races that I wish I could go back and redo. It had been a few years since I raced supercross and it's easy to get lost in the excitement of it all. I just wanted to go out there and win. I wanted to do that so badly that I kind of got distracted from the process of it all; distracted from that it takes to win a race. Winning is a very hard thing to do.
WHAT WAS YOUR TURNING POINT? You have to execute what you know how to do and not get so caught up in  winning. That was me in the beginning of the season—all I wanted to do was win. I was just going to twist that throttle until I crossed the checkered flag first. Eventually I calmed down and started worrying more about what I was doing on the bike. I think that is when it started to come around for me. All in all I'm happy with the year and happy with how things are looking heading into the summer.