ALEKSANDR TONKOV TO RACE AUSTRALIAN NATIONALS FOR KAWASAKI
Click on images to enlarge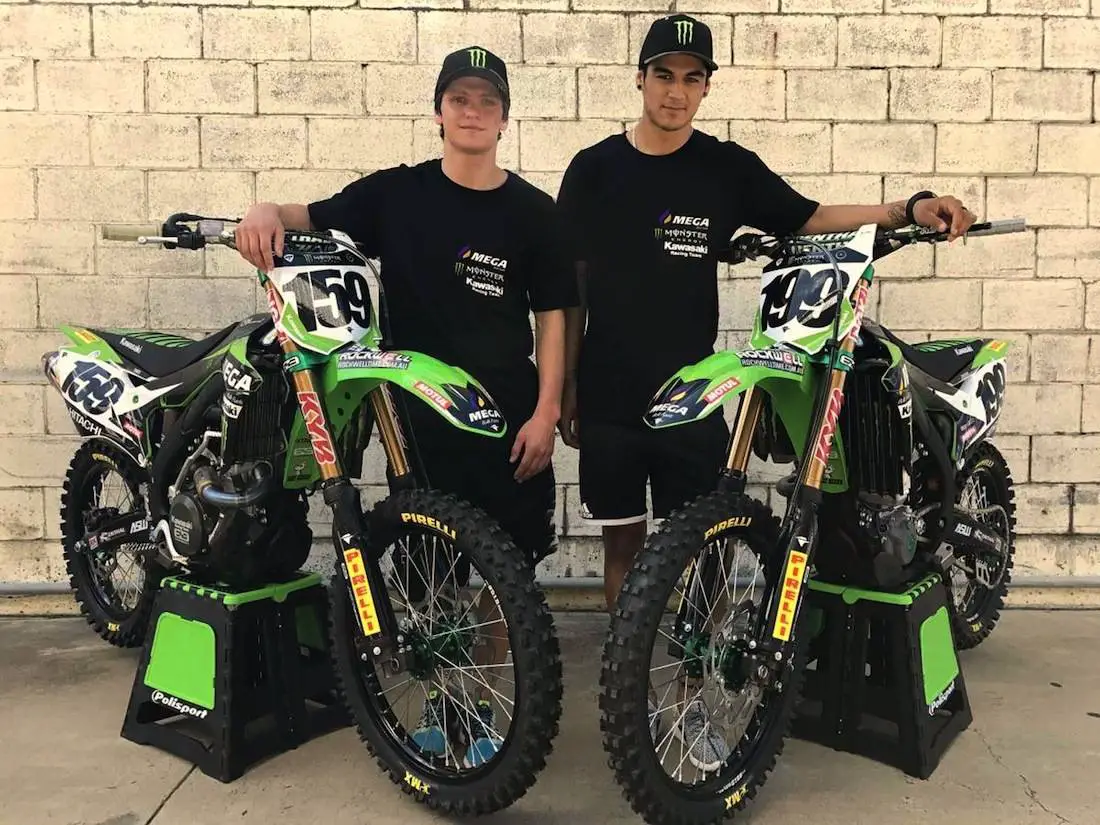 Aleksandr Tonkov (159) will team with Nathan Crawford (199) for the 2017 Australian 450 Nationals.
Russian Aleksandr Tonkov will join Nathan Crawford on Mega Bulk Fuels Monster Energy Kawasaki KX450F motorcycles in the 2017 Australian 450 National Motocross Championships series. The 24-year-old from Kungur, Russia, was racing the World Championships last year and had a deal for this year with the Wilvo Yamaha team for the 450 class. However, a mysterious passport issues surfaced in 2016 that forced Tonkov to stay in Russia. Rumors abounded about what caused him to be trapped behind the former Iron Curtain, but the most logical story was that he failed to have a passport with the correct entry permits and the European Union banned him (for usinga non-valid passport) — perhaps for two years. Without being able to enter any EU countries, Tonkov's Grand Prix career came to a halt. Thus, Tonkov had to find a country that would accept him and had a thriving motocross series. The Australia deal was rumored for several months, but it must not have been a sure thing because Tonkov only arrived in Australia a short time before the first National.
"I had some USA opportunities but I have never been to Australia," said Tonkov. "I heard a lot of nice things about Australia. It is very different to Europe so I wanted to come here and race. I was really happy with the phone call to come racing here and to do what I love. I am really happy and really thankful for the opportunity. I am friends with Dean Ferris and Todd Waters, so I heard many good things about the Australian Championship and that is another reason why I wanted to come here. I didn't come here from Russia to be number ten, I want to win the races."
Last year Aleksandr Tonkov raced for the Wilvo Yamaha team in the 250 World Championships. Click here read what the MXA wrecking crew thought of Tonkov's YZ250F.
Team Manager and multi-time Australian motocross and Supercross champion Troy Carroll welcomes the addition of Aleksandr Tonkov to the Mega Bulk Fuels Monster Energy Kawasaki team, saying, "We have had this locked in for a while and it has been a lengthy process, so we are happy everything is in place now and Aleksandr is settled in. From here we will be fine-tuning Aleksandar's KX450F and setting it up perfectly for him."
2017 AUSTRALIAN NATIONAL CHAMPIONSHIP
April 2……………………..Wonthaggi, Victoria
April 23…………………..Appin, New South Wales
May 7……………………..Connondale, Queensland
May 21……………………Horsham, Victoria
May 28……………………Murray Bridge, South Australia
July 3……………………..Nowra, New South Wales
July 16……………………Shepparton, Victoria
July 30……………………Port Macquarie, New South Wales
Aug. 13……………………Toowooba, Queensland
Aug. 20………………..…Coolum, Queensland