ALEX CAMPBELL INTERVIEW: A CHAMPION'S MECHANIC

ALEX CAMPBELL INTERVIEW: A CHAMPION'S MECHANIC
Behind every motocross champion is a great mechanic. While the mechanic must be good with a wrench, they are often called to be a friend, advisor, counselor, and coach. For the past four championships, Dylan Ferrandis has relied on mechanic Alex Campbell to make sure he has everything he needs to succeed. While Alex not only takes care of his race bikes, he also takes care of Dylan's practice bikes as well, working as a mechanic 24/7. It is not the most common practice amongst the factory teams to have the same mechanic travel from the practice track to the nationals, but Alex Campbell has proven that the hard work pays off. We caught up with Alex to find out what it takes to be one of the hardest working duos in the sport.
BY JIM KIMBALL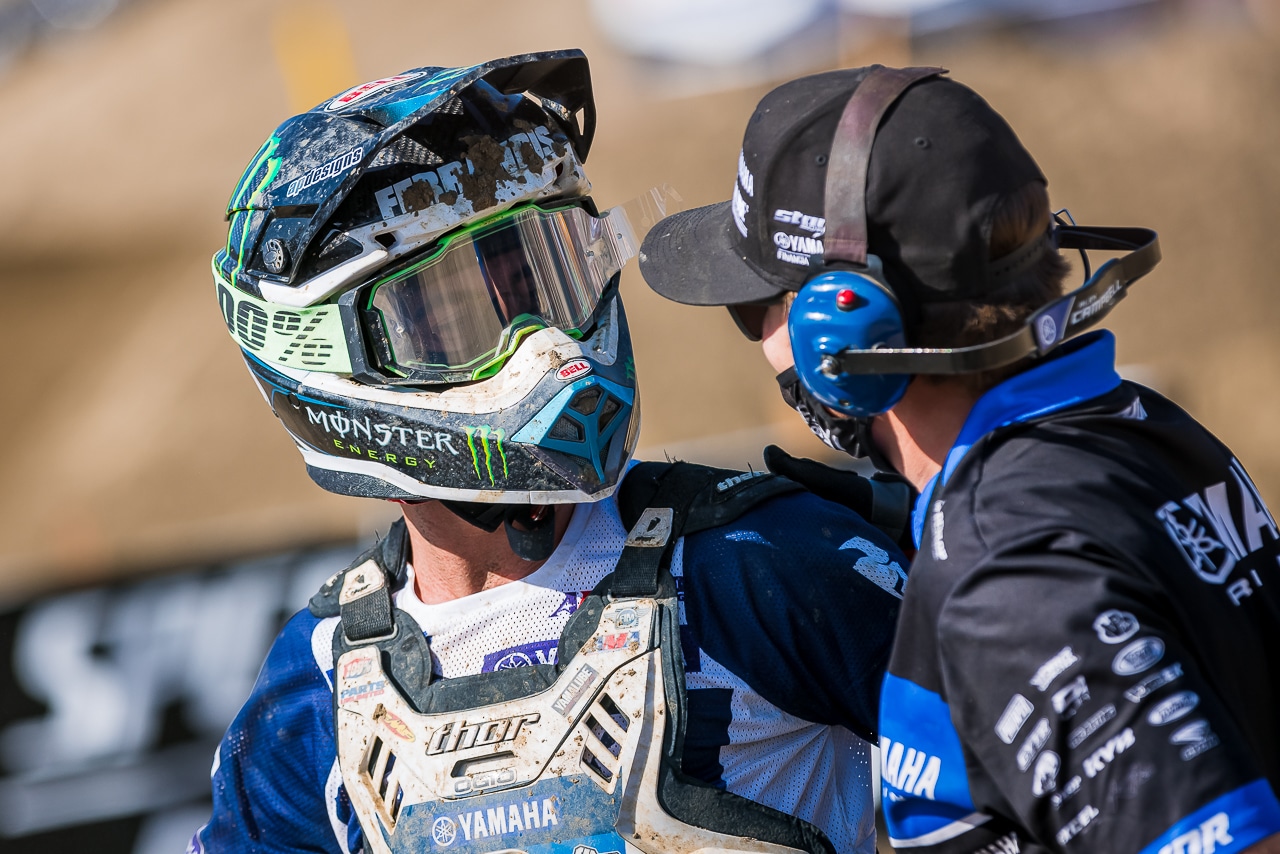 After solidifying the 450 championship, Dylan rode to Alex right after crossing the finish line. 
WHAT WAS IT LIKE ACHIEVING THE 450 TITLE WITH DYLAN FERRANDIS?  It was special to do it that early in the season. We were back to a 12-round series this year, so there was plenty of opportunities to gain points. But still, in the 450 class, it is not easy to do with all the competitors out there. You have Eli and Ken and all the other guys. You don't expect to win the championship so early. It was pretty special to do it a race early.  
YOU HAD SEERAL 250 CHAMPIONSHIPS WITH DYLAN, WHAT WAS IT LIKE MOVING TO THE 450 CLASS? The transition from the 250 to the 450 was easier for me than it was for Dylan. It is still a Yamaha, so it was a bigger engine, and a few other differences, but going from the 250 to the 450 for me was not terrible. I have had a few championships now with Dylan and it is special. We know how each other works and in those high-pressure situations, we do well together. Again, working on the bike was not too crazy for me but still unexpected to win the 450 title in the rookie season. It was special to do it like that. We just went out for two good motos every weekend and that was what we tried to do.  
Alex assessing Dylan's needs back at the 2020 Oakland Supercross. 
YOU'RE DYLNA'S RACE MECHANIS AND PRACTICE MECHANIC, THAT MUST BE DIFFICULT? During the week, I do the practice bikes and then fly to the race, so when he rides during the week, I am there every day with him wherever he rides.  Normally, we were based out of California, but this summer, we went to Florida after Highpoint. So, I was gone all summer from home in California. Wherever Dylan went and wherever he rode, I was with him every day, doing practice mechanic stuff. A lot of guys have a practice mechanic back at home. You know they would have one in Florida and then me as the race mechanic I go back to California after the race. But Dylan had asked me to continue doing it, both practice and race.  
WITH STAR MOVING FROM CALIFORNIA TO FLORIDA, DO YOU THINK THAT WILL BE A GOOD THING? I think long-term for the riders, it will be better for sure. The tracks are a little more realistic in the summertime. The public tracks in California are good, but they close at 2:00 p.m. They are blown out and definitely not as good as the beginning of the day. We have made it work but going to Florida and having our own facility is really catering to the riders well. It is a little tougher for mechanics, just being at the facility all the time. But I think it will benefit the riders in the long run. 
Alex and Dylan celebrating after Houston Supercross back in 2019. 
BUT YOUR WIFE LIVES IN CALIFORNIA AND YOU WORK IN FLORIDA, HOW DOES THAT WORK? It has had its own struggles on the personal side of things. But my wife is supportive, and she was never upset that I was gone. She knew that this was my life. She is from Minnesota as well and was only in California to spend time with me, then I left California to go to Florida. It was tough. She could not leave with her job being there. So, a lot of sacrifices from her too but we made the best of it, and it ultimately paid off with the title. Highpoint was in mid-June, and I hadn't been home since June at that point. So it was tough, but we made it work.  
IS SHE PLANNING ON MOVING TO FLORIDA ANY TIME SOON? We are going to move there at the end of September and get situated. The team will be there full-time and by that point, everything will be located in Florida. Logistically, I have not yet figured it out as being in the middle of the race season made it pretty difficult. I would expect that after Hangtown, we will be packing, and moving to Florida.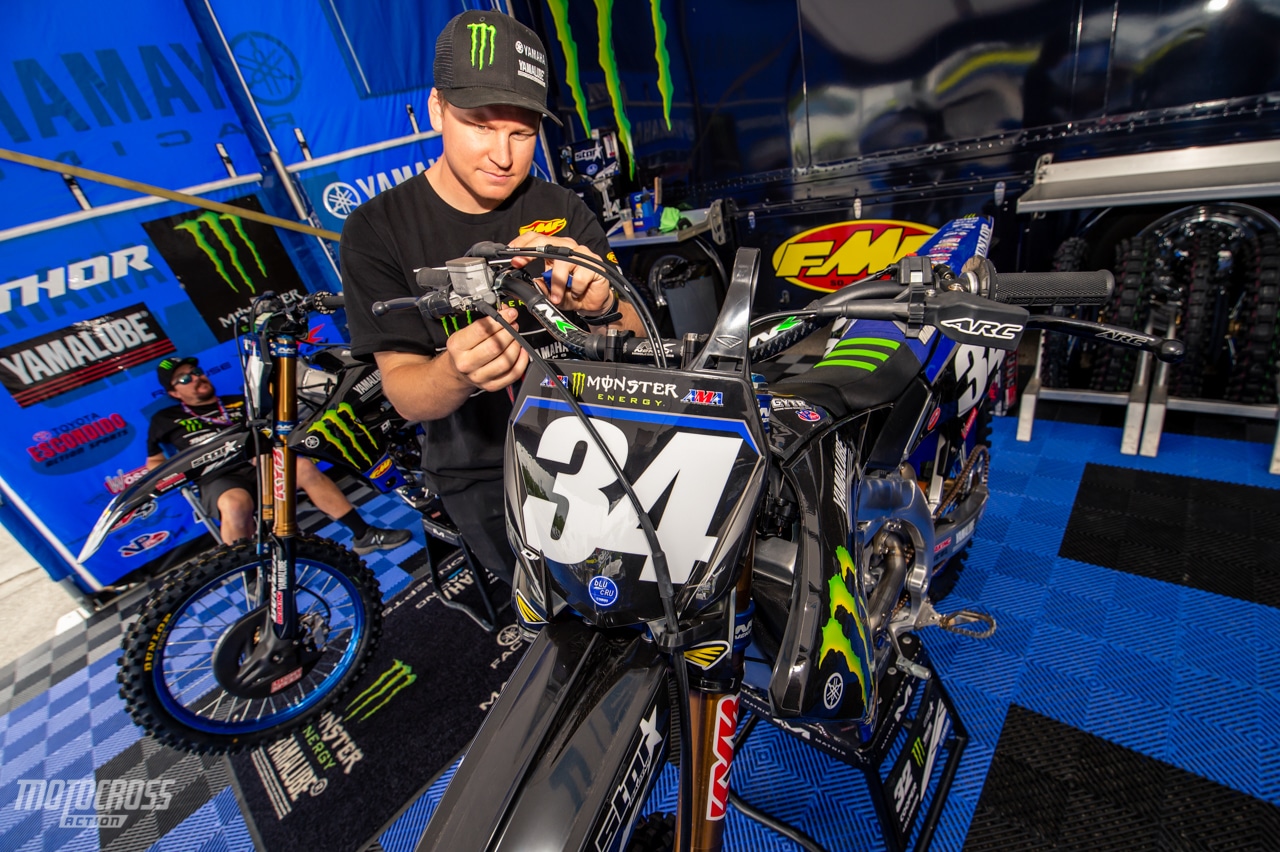 Alex keeping Dylan's bike up to spec. However, they didn't have a Dylan-specific stand.
IS THERE ANY FREE TIME BETWEEN THE END OF THE NATIONALS AND THE 2022 SUPERCROSS SEASON? Because of the team is moving, it doesn't look like I will get any time off. My time off will be spent moving to the new area in Florida where the team is moving to. When you are moving for work, you don't really get a chance to sit down. If I were moving to a vacation house somewhere, it would be like time off. Then Dylan will start back to riding, probably a week after I am done moving or something, so the bikes will have to be ready by then.
Alex was awarded the 450 Mechanic award at the final round of the 2021 season.
TELL US ABOUT YOUR CAREER PATH? I come from a town of about 3000 people in Minnesota. I grew up riding and I raced a little off-road stuff, but never really took racing seriously. I loved dirt bikes, and I grew up on a farm, so I had a work ethic instilled in me from a young age. Later, I went to Florida to go to school and then I met the right people and moved up in the chain of the industry. It was slow at first, but with the snap of a finger, I was at Geico Honda orking for RJ Hampshire. I was there for three years and then made the change to Star Racing. I have been at Star since the end of 2018 through the 2019 season and have worked with Dylan since then. Now, we're just going to keep putting in the work and make the best out of it. 

Star started out as a small team and now they are the factory 250 and 450 effort for Yamaha. What Bobby Reagan started a long time ago is now really becoming this big thing.  I mean, we have a lot of riders and a lot of personnel. It is pretty crazy how far they have come as well. It is impressive to see and I'm excited to keep working with them.