AMA NATIONAL MOTOCROSS CHAMPIONSHIP: PRO CIRCUIT SWEEPS THE PODIUM, REED AND DUNGEY SPLIT 450 WINS; JESSICA PICKS UP WHERE SHE LEFT OFF

CLIFF NOTES FOR POOR READERS


Mike is helped off the track.               Photo: Hoppenworld
1. Mike Alessi set the fastest time in qualifying by almost a second, but crashed in the second practice and suffered a concussion (Mike says that he will not return to action until High Point at Mt. Morris in three weeks).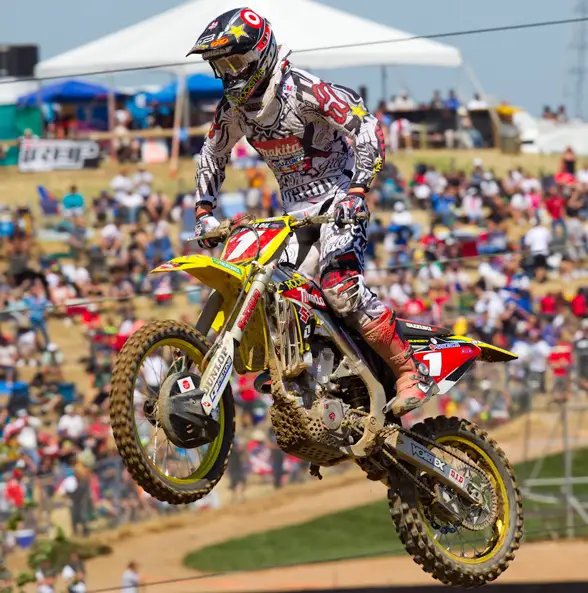 Ryan Dungey (1).

2. Chad Reed and Ryan Dungey were perfectly matched. Last year Reed won Hangtown and Dungey finished way off the pace. This result is a massive improvement for Dungey and a good boost for Reed. They head for Texas tied on points. Villopoto was sick, but had the speed?just not the endurance.
3. Christophe Pourcel isn't ready for prime time yet. He will have to race himself into shape and get use to the YZ450F as the season progresses. Pourcel went 7-11.
4. Ricky Dietrich is back in motocross. The offroad star gave up a sure salary in offroad to gamble on a motocross career. Ricky was ninth overall and looking good on his YZ450F.
5. Christian Craig finished tenth in the USGP last week against the best of Europe and he finished tenth this weekend against the best 450 riders in America (plus four Australians, two Swedes, one Frenchman and one Latvian).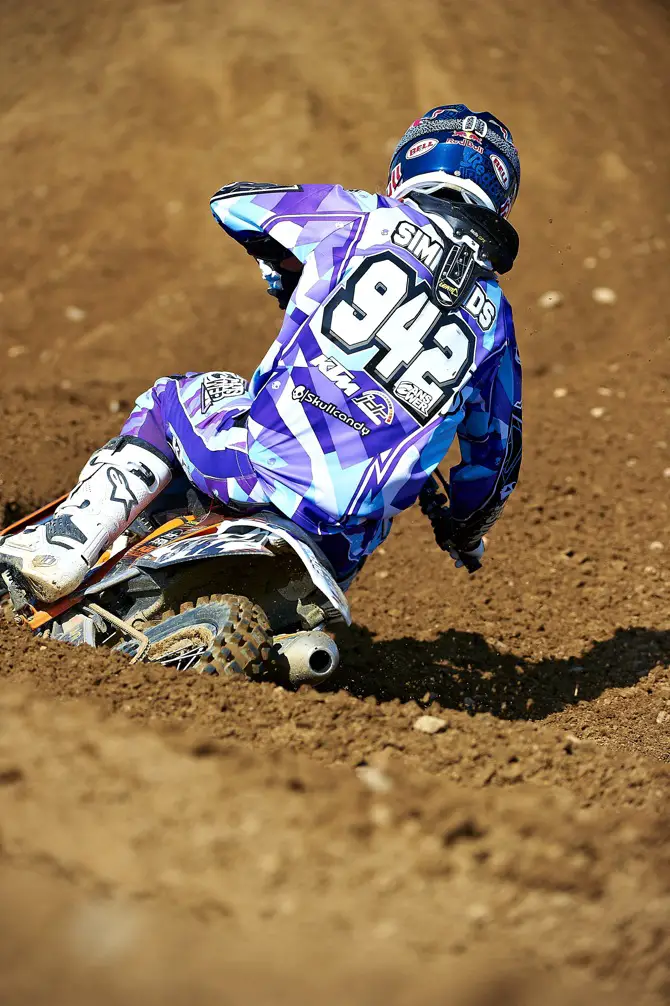 Tye Simmonds was last Aussie, but 16th overall.        Photo: Hoppenworld
6. The Swedes were Calle Aspegren (18th) and Fredrik Noren (25th). They have spent the Swedish winter in SoCal racing at REM to get ready for their AMA debut. The Aussies all made the top 20 (Reed first, Metcalfe fifth, Michael Byrne 11th and Tye Simmonds 16th). Ivo Steinbergs was the lone Latvian. Ivo finished 36th.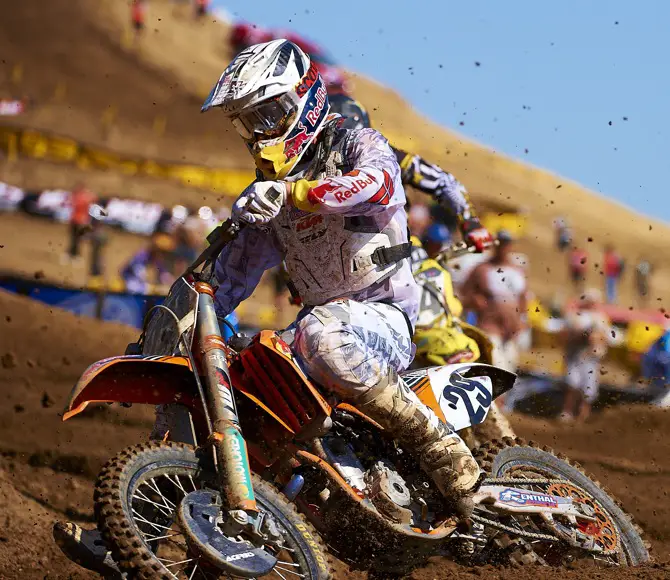 Andrew Short is starting the 2011 title chase in a hole.    o: Hoppenworld
7. Andrew Short's KTM 350 SXF expired in the second moto.
8. Mike Brown wants to keep his National Number 3, but to do so he needs to earn 25 points in 2011 (and still keep up his other job as a KTM offroad racer). Mike left Hangtown with 14 points…only 11 to go.
9. Davi Millsaps went 4-7 in the 450 class…maybe the great outdoors is where Davi will really shine in 2011.
10. In the 250 class the Pro Circuit team swept the podium with Baggett, Wilson and Rattray. It isn't the first time that Mitch's team has done this…it won't be the last.
11. Since Pro Circuit does the engines for the Geico Honda and Troy Lee Designs team also, Pro Circuit could rightly claim to have six of the top ten riders in the 250 class with Baggett, Wilson, Rattray, Tomac (4th), Broc Tickle (9th) and Cole Seely (10th).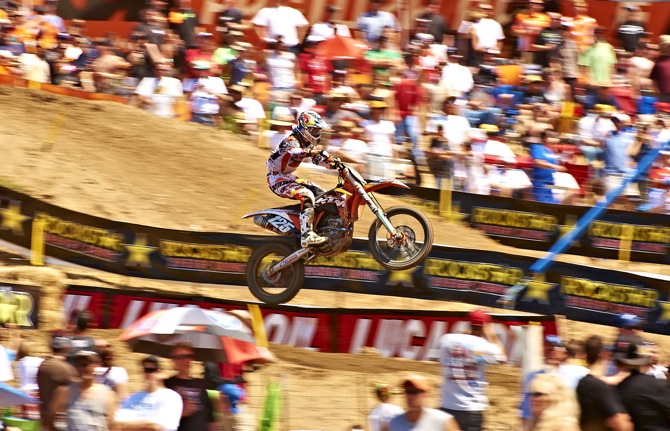 Marvin will get better with each passing week.              Photo: Hoppenworld
12. Marvin Musquin finished at Hangtown about where he finished at the 250 USGP last weekend. Marvin's fifrth was only his second race back since injuring his knee last year. Expect Musquin to get better…although he has to learn unfamiliar tracks while his competition already knows them. Marvin got up dead last from a first turn crash in the second moto and raced back to sixth. He's gonna be a player.
13. Justin Barcia hit a hay bale in the second 250 moto and went 6-18 for 13th overall.
14. Any rider can have a bad day, get a bad start or crashed, but there are a few 250 riders who need to find the magic touch next week. They include Alex Martin (24-14), Ben Evans (19-16), Matt Lemoine (29-17), Malcolm Stewart (20-33), Travis Baker (32-36) and Hunter Hewitt (37-39).

Steffi Laier.                                         Photo: Hoppenworld
15. Steffi Laier, the multi-time FIM Women's World Champion, came to Hangtown to race against Jessica Patterson and Ashley Fiolek. Laier finished third.
THE HANGTOWN RACE REPORT
The 2011 Lucas Oil AMA Pro Motocross Championship kicked-off on Saturday with the 43rd Annual Rockstar Energy Hangtown National. For the second consecutive year, TwoTwo Motorsports/Bel-Ray Racing's Chad Reed grabbed the overall victory in the premier 450 class after a strong 2-1 moto effort. In the 250 class, Pro Circuit's Blake Baggett secured his first career motocross win with 2-1 moto scores.
450 CLASS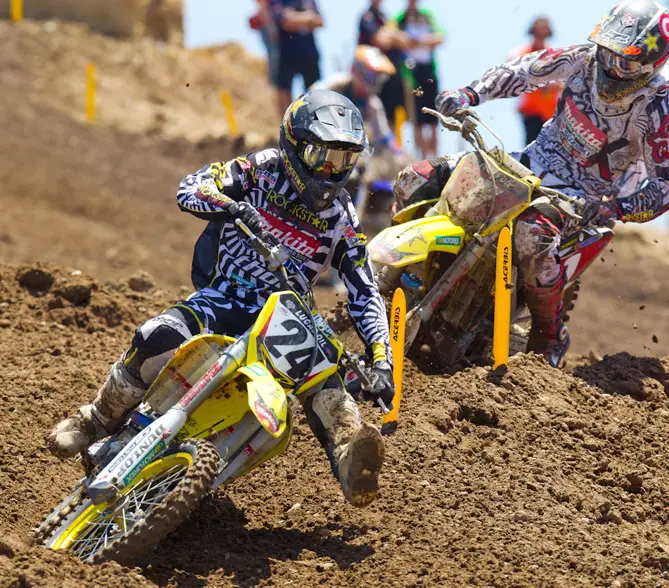 Brett Metcalfe (24).
450 CLASS
The opening moto of the 2011 season was dominated by defending 450 Champion Ryan Dungey and the Suzuki rider was looking for the moto sweep to start his title defense on a strong note. As the gates dropped on the final moto, Monster Energy Kawasaki's Ryan Villopoto took the early lead and a three-rider battle for the top spot ensued between he, Dungey and Reed.
As the second moto neared the halfway point, Dungey worked his way past Villopoto after pressuring him for several laps and Reed soon followed. Just a few minutes later, Reed made the winning pass on Dungey and slowly began to pull away.
"I'm a little surprised. I tested the last two weeks and it's gone well. Normally, this track is always hard, choppy and one lined. We came back this weekend and it was a completely different track than we were expecting. I had a lot of fun today. It was a great race track. I got two good starts, (ran) up front and I fought for it. I'm a little surprised how comfortable I was with the track and bike. We've had only a little time to work on the bike."
Dungey, who tied on points, said "I felt good today. Coming into the weekend, we had a couple weeks of testing and got a good base setting. I just wanted to get things started, see where were at and move forward. I was trying to bulldog it in the second moto and Chad got by me. I got behind him and saw some different lines. It took me a while to get back up there. I made one last attempt, but I'm happy with that result. I made a hard attempt to get by and was riding on the ragged edge, so I decided to back it down. It's a long season."
250 CLASS
The battle for the 250 title was a showcase for two of the sport's rising stars?Dean Wilson and Blake Bagget. Wilson won the first 250 moto, but Baggett, who rode to an impressive come-from-behind second-place effort in the first moto, took charge of the second moto. Bagget and Wilson Pro Circuit teasmmate, Tyla Rattray, was third overall
Baggett said, "I like outdoors better than Supercross because you have to be creative and keep moving around. I was just patient in the second moto. I knew I had to let the race come to me. I just took my time and waited to see where I was. I got around (Dean) Wilson and just kept trying to move forward. I put my head down and looked for lines and ultimately passed (Tyla) Rattray in the same spot I passed Wilson."
While battling with Baggett, Wilson ran over a hay bale, dropping from second to third in the moto. He maintained his position to post 1-3 moto finishes and land second on the overall podium. Rattray's strong moto two performance garnered him third overall (5-2).
WOMEN
Reigning champion Jessica Patterson dominated both of the day's motos on her DNA Shred Stix/Star Racing Yamaha. American Honda's Ashley Fiolek finished second (2-2) while World Women's Motocross Champion Steffi Laier finished third (3-3) in a guest appearance on U.S. soil.
The Lucas Oil AMA Pro Motocross Championship continues next week at Freestone Raceway in Wortham, Texas.
450 CLASS HANGTOWN RESULTS
1. Chad Reed (Hon) ……….2-1
2. Ryan Dungey (Suz) ……….1-2
3. Ryan Villopoto (Kaw) ……….3-3
4. Kevin Windham (Hon) ……….6-4
5. Brett Metcalfe (Hon) ……….5-5
6. Davi Millsaps (Hon) ……….4-7
7. Tommy Hahn (Yam) ……….8-8
8. Christophe Pourcel (Yam) ……….7-11
9. Ricky Dietrich (Yam) ……….11-9
10. Christian Craig (Hon) ……….14-10
OTHER 450 NOTABLES: 12. Jake Weimer; 14. Nick Wey; 15. Mike Brown; 17 Andrew Short; 40. Mike Sleeter
FASTEST QUALIFIER: Mike Alessi
450 CLASS POINTS
(AFTER 1 OF 12 RACES)
1. Chad Reed (Hon)………………..47
2. Ryan Dungey (Suz)……………..47
3. Ryan Villopoto (Kaw)…………..40
4. Kevin Windham (Hon)………….33
5. Brett Metcalfe (Hon)…………….32
6. Davi Millsaps (Hon)……………..32
7. Tommy Hahn (Yam)……………..26
8. Christophe Pourcel (Yam)……..24
9. Ricky Dietrich (Yam)……………..22
10. Christian Craig (Hon)………….18
250 CLASS HANGTOWN RESULTS
1. Blake Baggett,  (Kaw) ……….2-1
2. Dean Wilson (Kaw) ……….1-3
3. Tyla Rattray (Kaw) ……….5-2
4. Eli Tomac (Hon) ……….3-4
5. Marvin Musquin (KTM) ……….4-6
6. Gareth Swanepoel (Yam) ……….9-5
7. Kyle Cunningham (Yam) ……….8-8
8. Darryn Durham (Hon) ……….10-9
9. Broc Tickle (Yam) ……….11-5
10. Cole Seely (Hon) ……….7-13
OTHER 250 NOTABLES: 12. Jason Anderson; 15. Nico Izzi; 16. Austin Howell; 23. Malcolm Stewart;  35, Travis Baker
FASTEST QUALIFIER: Marvin Musquin
250 CLASS POINTS
(AFTER 1 OF 12 RACES)
1. Blake Baggett (Kaw)……………47
2. Dean Wilson (Kaw)……………..45
3. Tyla Rattray (Kaw)………………38
4. Eli Tomac (Hon)…………………..38
5. Marvin Musquin (KTM)…………33
6. Gareth Swanepoel (Yam)……..28
7. Kyle Cunningham (Yam)……….26
8. Darryn Durham (Hon)…………..23
9. Broc Tickle (Yam)…………………22
10. Cole Seely (Hon)………………..22
WOMEN'S CLASS HANGTOWN RESULTS
1. Jessica Patterson (Yam) ……….1-1
2. Ashley Fiolek (Hon) ……….2-2
3. Steffi Laier (KTM) ……….3-3
4. Tarah Gieger (Hon) ……….4-7)
5. Jacqueline Strong (KTM) ……….7-5
6. Tatum Sik (Yam) ……….8-6
7. Mariana Balbi (Yam) ……….13-4
8. Kasie Creson (Hon) ……….10-8
9. Sayaka Kaneshiro (Suz) ……….9-10
10. Elizabeth Bash (KTM) ……….14-9
OTHER NOTABLES: 13. Vicki Golden; 14. Sarah Price 16. Sarah Whitmore
FASTEST QUALIFIER: Ashley Fiolek
WOMEN'S CLASS POINTS
1. Jessica Patterson (Yam)……..50
2. Ashley Fiolek (Hon)…………….44
3. Steffi Laier (KTM)………………..40
4. Tarah Gieger (Hon)……………..32
5. Jacqueline Strong (KTM)……..30
6. Tatum Sik (Yam)………………….28
7. Mariana Balbi (Yam)…………….26
8. Kasie Creson (Hon)……………..24
9. Sayaka Kaneshiro (Suz)……….23
10. Elizabeth Bash (KTM)…………19