ANAHEIM 1—FILTERED THROUGH ONE MAN'S LENS
There were no empty seats for the Anaheim Supercross of Los Angeles.
By cub reporter Jon Ortner
A1 was a really good time. Between the people, the track, and the pits, there was always something interesting going on. The track was technical with numerous combination of doubles, triples, and quad jumps. The step-on and step-off sections each had their own timing requirements, and dirt through the day held up nicely.
I arrived when the gates opened at noon, and I stayed until the very end (10:00 p.m.). The new format of practice, and timed practice gave the riders a tremendous amount of laps. Those riders will have to learn to manage the day, based on their fitness and ability.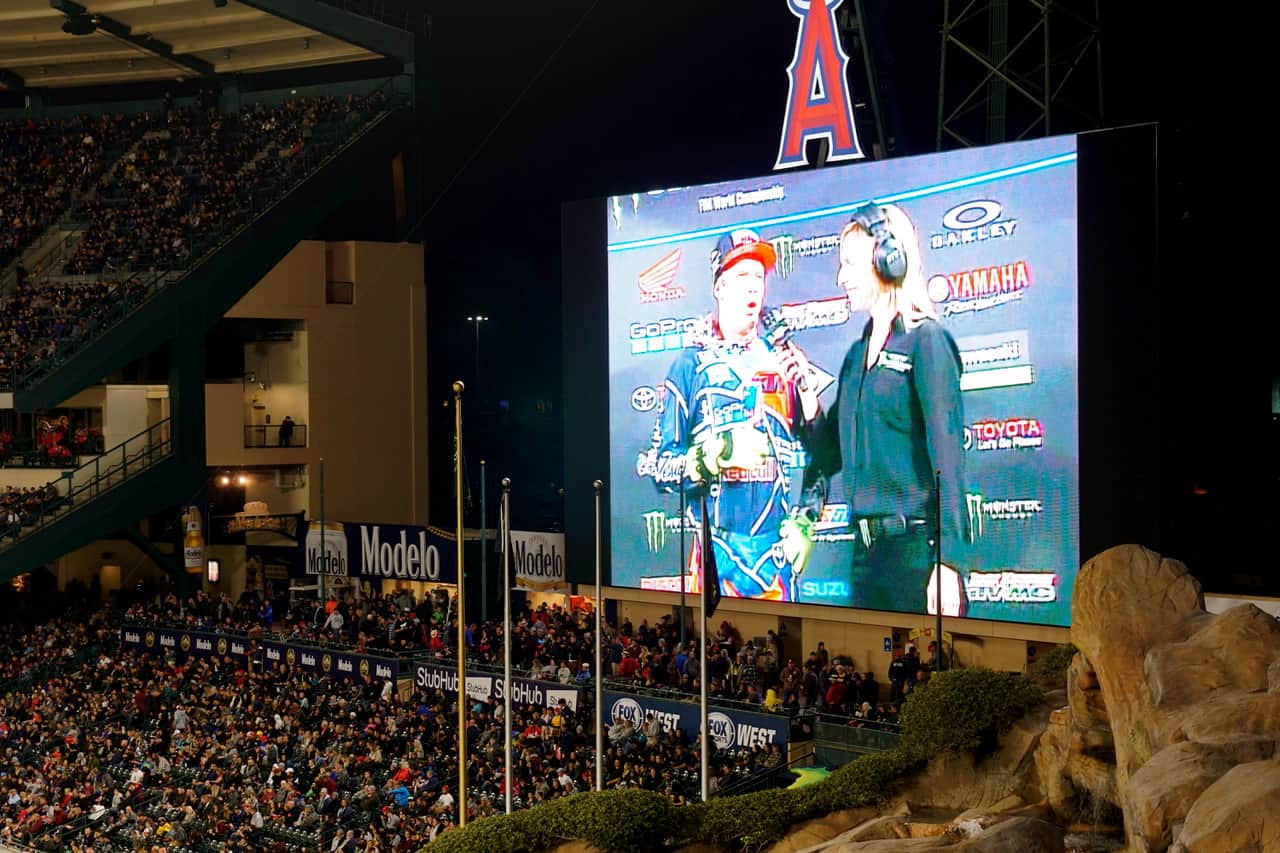 The only time his competiton saw 250 West winner Shane McElrath was on the big screen.
Troy Lee and Bill Keefe celebrate Shane's victory with a big hug. Troy and Bill are both former AMA Pros, not just at racing, but at not spilling a drink during the celebration.
I spent the day with Troy Lee Design execs Brett Helm, Bill Keefe and Troy Lee. It was interesting to watch the priority everyone put towards the fastest laps in qualifying. There was a ton of drama around that. For me, as a former AMA Pro who had to qualify through heats not times, as long as the rider is within a couple of seconds of their group, the best racers will sort themselves out during the main event. Watching live, without the benefit of replay or seeing every detail of every lap (as on TV), it became clear who the top ten riders were in each class. Then, I focused on each rider's approach and had my own observations on how each racer's strategy would affect the evenings program… and I had my thoughts on who would win. Shane McElrath and Marvin Musquin.
The metal starting grid eliminated all wheel spin, at least for the first six feet.
Tyler Enticknap doesn't just go big, but he goes about as high as humanly possible in practice.
Colton Aeck (right) suffered terrible injuries a year ago when he was landed on over a triple. Everyone was glad to see him back in action again—including dad Jeff (left)
Justin Hill's title defense got off to a rocky start at A1 with a 7th, but his JGR Suzuki RM-Z250 was up to the task.

Throughout the day in the 450 class, Jason Anderson, Eli Tomac, and Justin Barcia were ultra-aggressive and fast. Anderson always rides to win, he just doesn't know how to yet. Tomac has a mind problem, for sure. Dean Wilson was fast, but wasn't always linking the track together. Josh Grant started off very fast and the longer the day went the slower he got. Broc Tickle was hit and miss with his speed. Justin Brayton was typically steady. Cole Seely was classic and when he was in clear air, his laps were beautiful. Cole is just too soft when it comes to grinding it out with the better riders. Chad Reed had sections where he was perfect, but, you could see that with his ankle injury he was not stoked on the whoops (he looked a little heavier than last year). Weston Peick was steady all day, all business all the time. Blake Baggett is so good, he just doesn't quite have the Supercross flow. Jeremy Martin struggled all day with the power and weight of his bike, he would grab big handfuls of throttle in one section, only to have to deal with trying to enter the next section of the track clean. Cooper Webb has the potential to be a fantastic rider, but he's still inexperienced on the big bikes.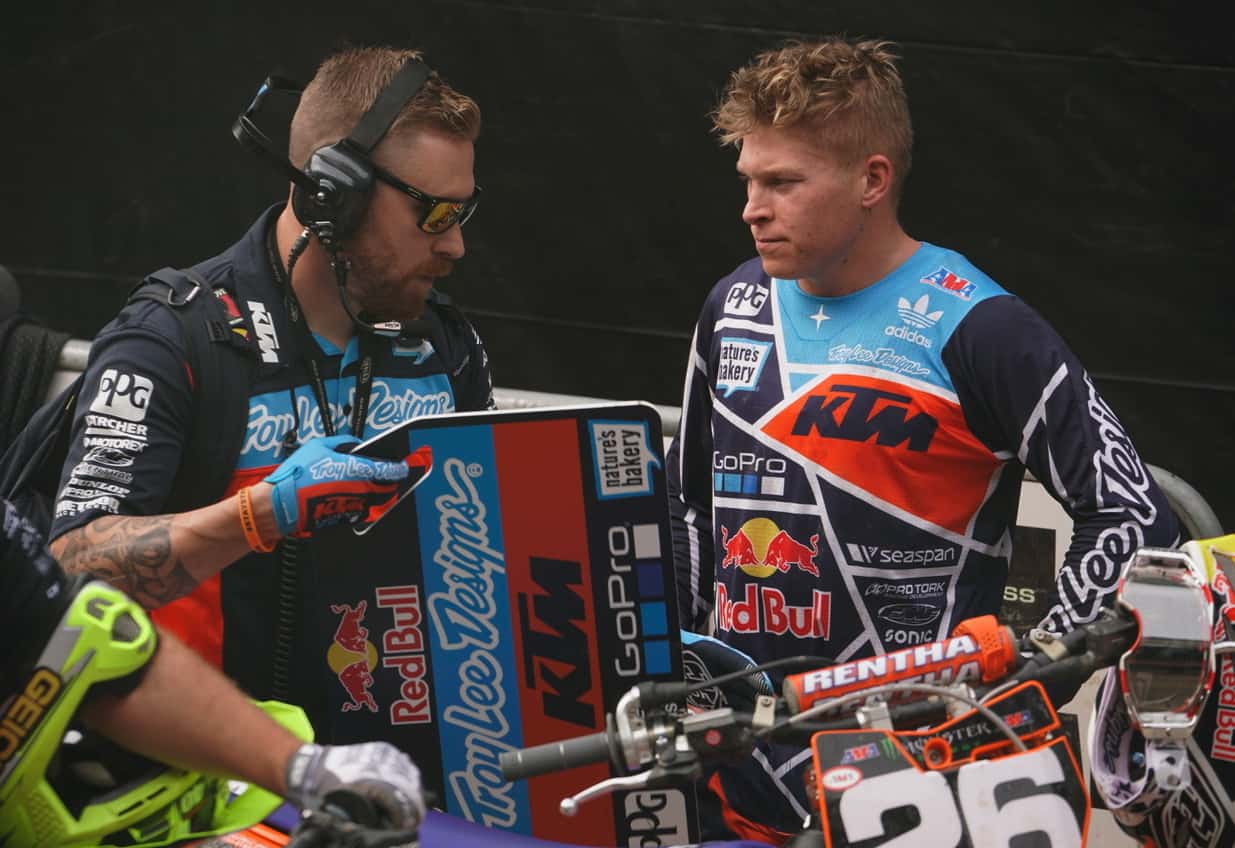 Alex Martin broke his collarbone on the last lap of the 250 main while running in the top ten. He was scored in 21st place. He's week to week until it heals.

Tyler Enticknap during the calm before the storm.

Adam Enticknap is working on his look. He's almost captured it. Adam made the 450 main and finished 21st (which under the new points system gives him 2 points instead of 1).

Aaron Plessinger and Dakota Tedder watch the action in practice.

Every now and then a boy just has to hear a friendly voice.
Ken Roczen was fantastic…super fit, very aggressive and amazingly fast. The entire time I was watching him I was mortified that he going to fall and hurt his arm. If he can be patient and stay off the deck, he will be back on top. It is scary watching him ride. He is so completely devoted to making great speed in every section of the track. That is a fantastic attribute for a racer to have (and most of the riders on the track with him don't have that level of commitment), but it leaves him with no extra margin of throttle control or body position to recover when things go wrong. Which they often do.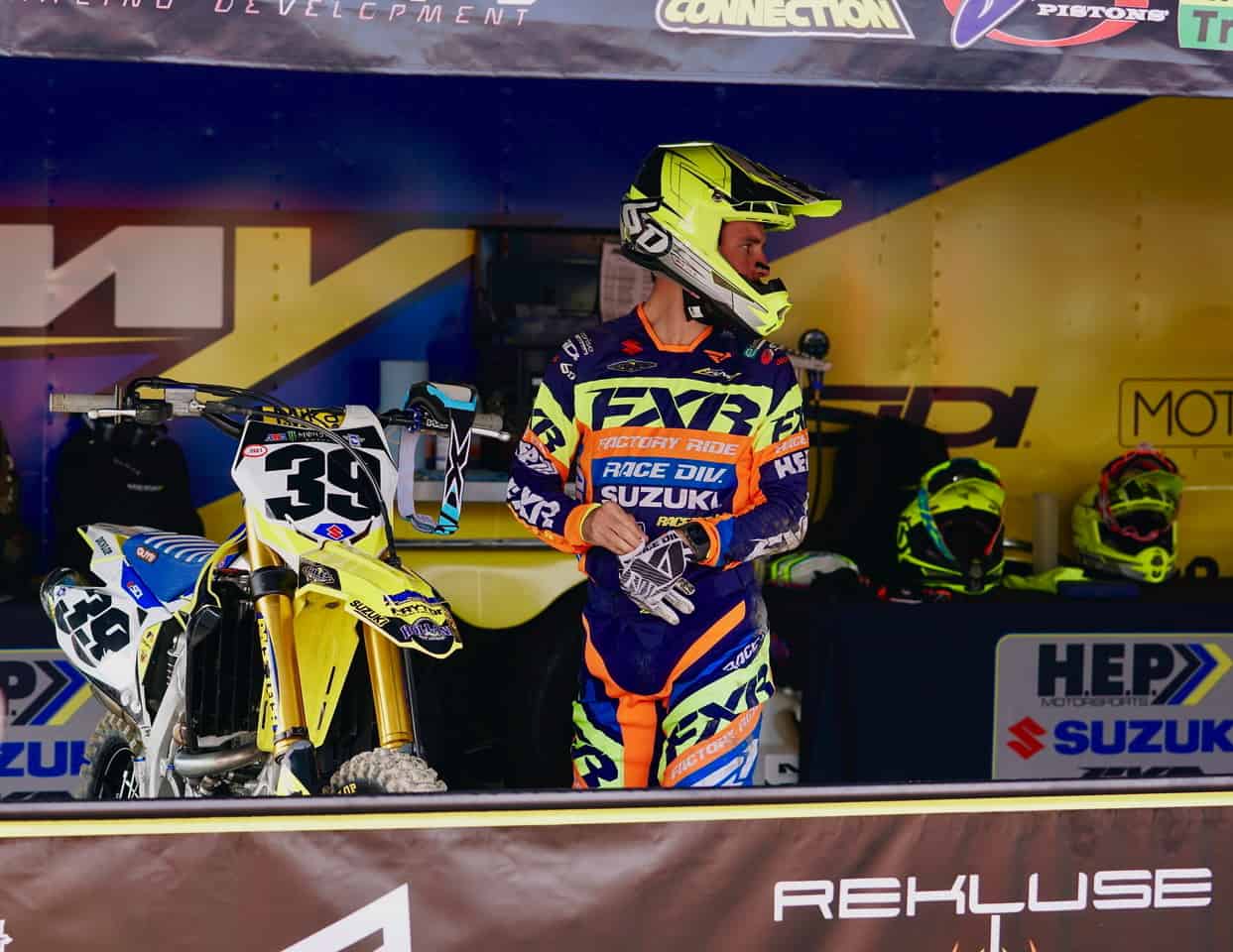 Veteran Kyle Cunningham looks ready in his FXR gear. He is on a HEP RM-Z450 and made the 450 main to finish 16th.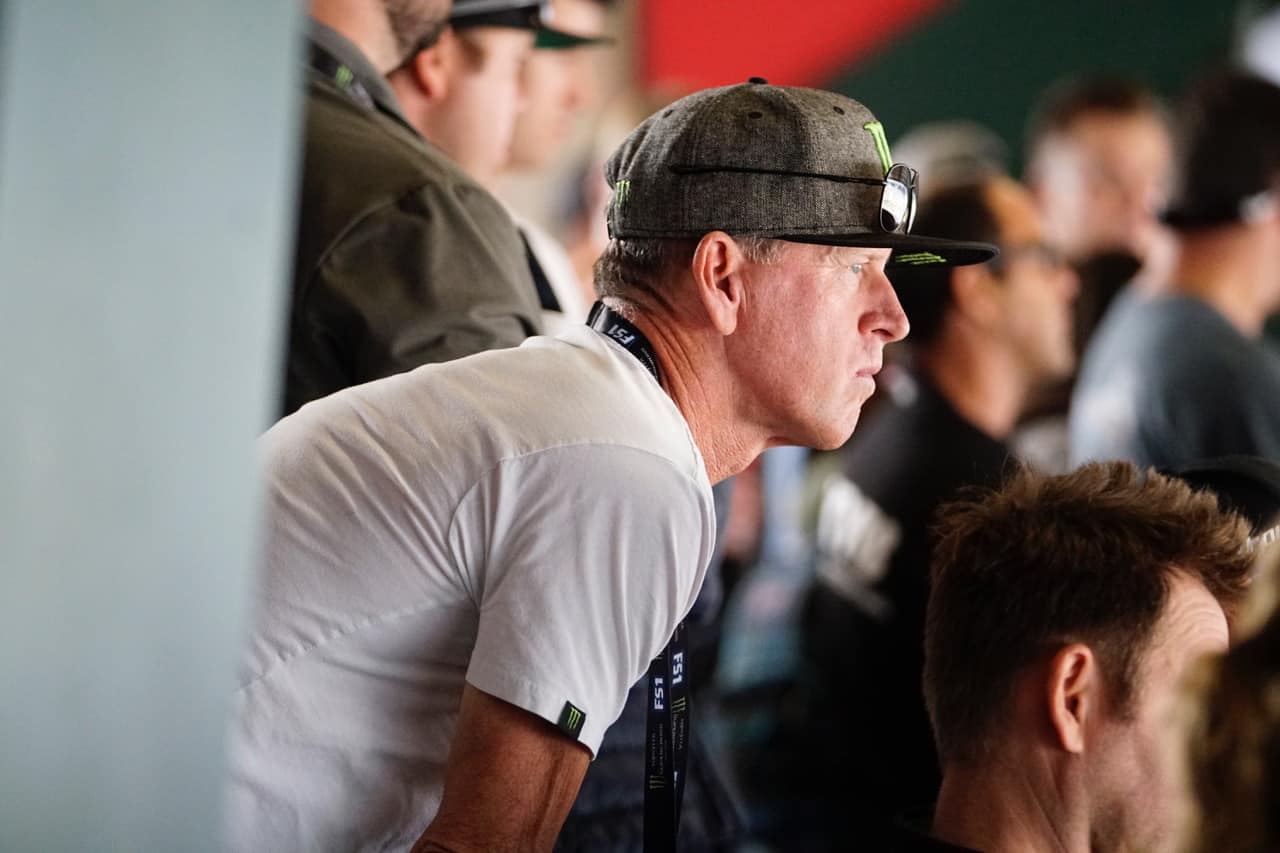 Johnny O'Mara doesn't really have to look to tell what's happening, he's a former AMA Supercross Champion and one of the sport's top coaches and trainers, he can tell by sound alone.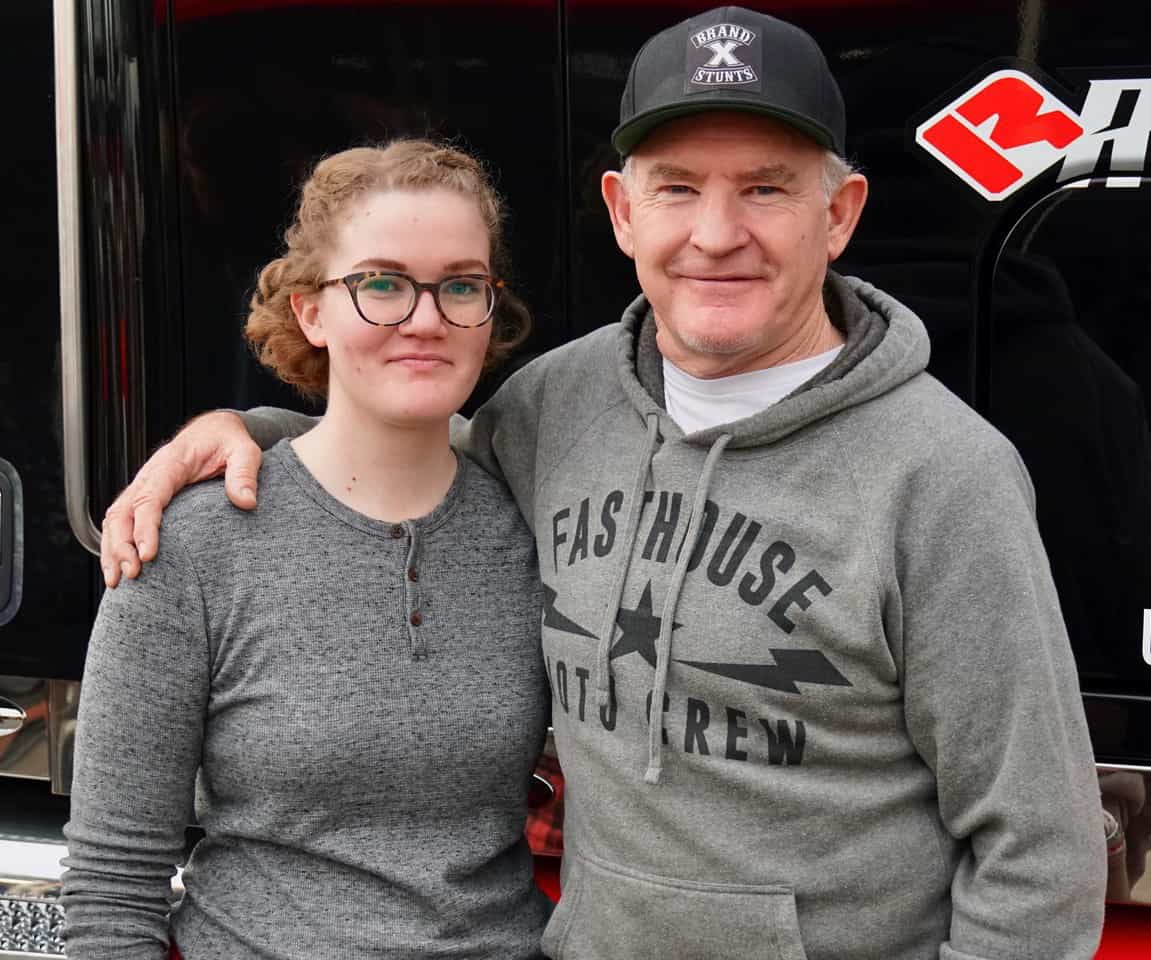 Hollwood Stunt Coordinator and racer Mic Rodgers brought daughter Micaleen to the races.

Mike Alessi may not be racing Supercross this season, but dad Tony (above) is still running the MCR Honda team.
During the practice and timed qualifying, Marvin Musquin would charge aggressively and bounce off everything in sight. Then, the next lap he would stay low and be ultra-smooth. When he rides low and smooth, he probabaly doesn't think that he's going fast, but that smooth way is the fast way. The grace when he rides in his own zone is absolutely inspiring. So for him to get a good start in the main and ride like he does, simply left every other approach the riders took, obsolete. The season will be fascinating to witness with Roczen already so close in speed. It should be amazing between the German and French riders.
Chad Reed (lef0 has switched to Kayaba suspension on his Husky FC450. Technical Touch is handling his setup. Chad was 15th.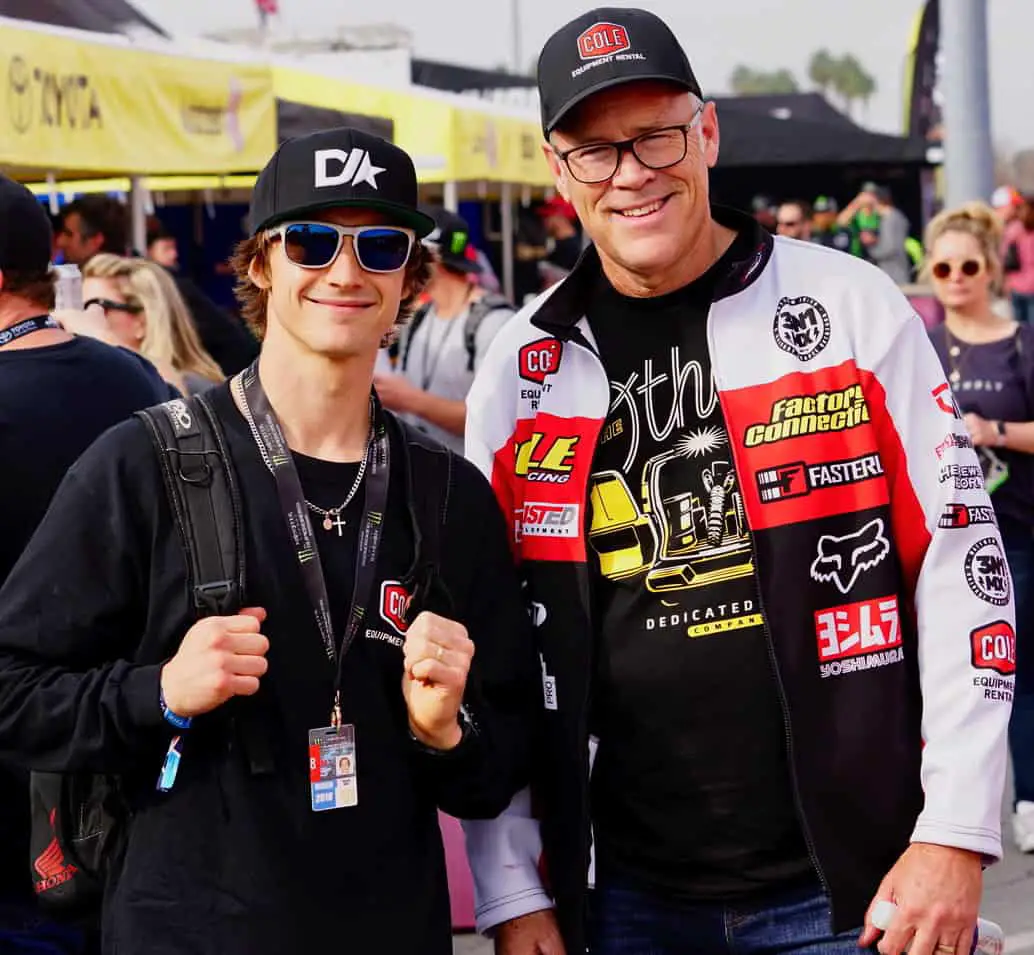 Swede Fredrik Noren was on the sidelines with a broken collarbone and spent time with sponsor Chris Cole at A1.
A month ago these two guys were racing the Indian Supercross Championship in Pune. A month later Justin Muscutt (left) is working for Alpinestars, while Hawaiian Brian Medeiros is getting ready for the 250 Nationals.

Then, there was Justin Barcia. He was aggressive all day, he stayed off the ground, he led the main and stayed in the game even when passed. I was impressed at how well Barcia rode the Yamaha YZ450F. His corner speed was way faster than last year and he had more confidence in the rough. For me, Justin is the wild card…and I do mean "Wild." He's exciting to watch because he's no wimp. If the YZ450F gets him to the first corner in the lead group, he's going to give everybody fits.
Ryan Hughes keeping a close eye on his IBcorp riders.
The long lens captures the roost, but artfully blurs out Justin Brayton. This is when being a spectactor hurts because it doesn't come with a photo pass. Brayton was 7th on the night.

Joey Savatgy navigates through the crowd, with the tallest guy at the track, Bones Bacon (far left), leading the way. Savatfy finished 4th in the 250 West.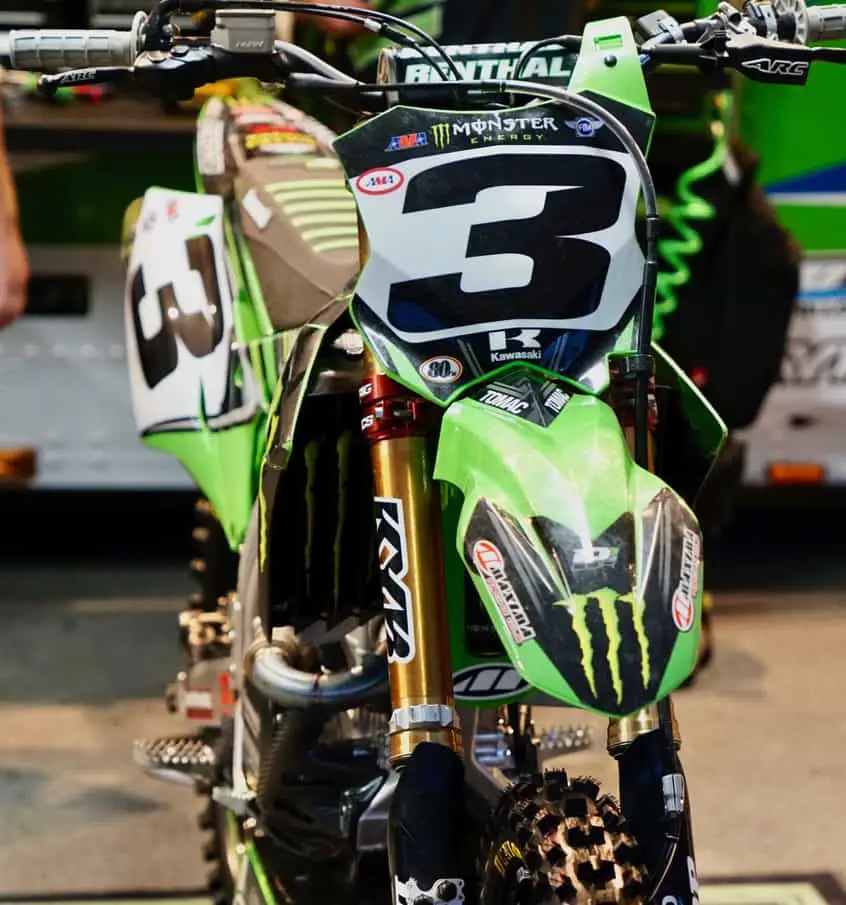 Look at the bottom of Eli Tomac's front number plate and you will see a small decal that reads "80tw." That is in memory of Tom White. Marvin Musquin, Jason Anderson, Cooper Webb amd Ken Roczen ran the decal also.
In the 250 class, those kids are just ripping! Shane McElrath's accuracy, control, line choices and deadly starts just shined. Aaron Plessinger is tough, just needs to smooth out his laps. Joey Savatgy is too aggressive when he is behind. Adam Cianciarulo was awesome throughout the day. But, there were a couple of sections where he would take technical inside lines, only to give away all of his entry speed into the next whoop section. I was shocked that he kept diving to the inside, only to lose all that he gained in the next straight, but at least he was battling for the spots. He just needs to harness Big Mo and carry more speed until he's close enough for the dive bomb to work. Mitchell Oldenburg and Justin Hill were losing time trying to take each other out, instead of racing forward. Both of those guys looked fast in the daylight and lame in the final.