ANTONIO CAIROLI TALKS ON WHY HE RETIRED FROM MXGP & HIS U.S. EXPERIENCE SO FAR

ANTONIO CAIROLI INTERVIEW: GET TO KNOW THE 9-TIME WORLD CHAMPION
At age 36 (he turns 37 on September 23rd) Antonio Cairoli has been racing professional motocross for half his life. And in doing so, the Italian rider has amassed nine world championships, and MXGP 178 wins. What's even more impressive is that while he has ridden both a Yamaha and a KTM, both teams were run by his mentor Claudio De Carli. Many of Cairoli's sponsors today, are the same he started with. Four of Tony's championships have come in the 450 MXGP class aboard his beloved KTM 350SXF. Retirement at home with his wife Jill and young son didn't last very long, as he has now come to race the 2022 Lucas Oil Pro Motocross Championship series. While his stay here may end soon, he will be back later, as one of his primary goals is to race the Motocross De Nations when it returns to Red Bud in the fall. In that event, Cairoli will have the privilege of wearing to mighty number 1 on his motorcycle as he was a member of the 2021 Motocross of Nations winning Italian team. We recently caught up with tony to chat about his career and his time in the U.S. so far. 
By Jim Kimball
TONY, LET'S BEGIN WITH YOUR DECISION TO RETIRE FROM THE MXGP SERIES LAST YEAR. Firstly, the factor that motivated me to stop was because they were going back to the two-day format. For me physically, it is quite difficult to recuperate. Also, my knee was not feeling well, so it gets to be too much when it is two days of racing. Mentally, the GPs were a little bit annoying to me after so many years, so I said, "okay, I just have to stop."  Finally, after getting the win at the Motocross Des Nations after so many years of riding I thought "it is a good year to stop and to do something different." I still ride a little bit for the KTM R&D Department, but solely riding for testing is completely different than racing for a series.
FOR A WHILE YOU WERE IN THE POINTS BATTLE LAST YEAR BEFORE GETTING INJURED. YOU COULD HAVE WON YOUR TENTH WORLD CHAMPIONSHIP. Yes, it was a bummer because last year, I was in a good points position when I had the huge crash and hurt my neck. After the injury, I could not train anymore and was only riding on the weekends and not training. I lost some of my conditioning, and after that happened, I also lost the motivation to continue for another year, so I decided this is my last year. I am 36 years old, and I have done so much. Now I can rest.
Tony's bike is a whole lot different than what it would be in Europe. With stricter rules in America, Tony had to get used to a less modified bike than the European counterpart.
YOU ALWAYS HAD SOME INTEREST IN RACING IN AMERICA, WHAT WAS THE DETERMINING FACTOR TO COME OVER NOW? I just really loved to come and race here someday. I knew Supercross would not be possible because of training and racing was very limited, so it was more difficult. It would be for sure better if I rode here when I was 29, and at the height of my career. I am coming here now when I am 37 years old, but it is still amazing. I don't have pressure, and I just ride for fun now. It is a little upsetting when you are not on the podium, because during my career I have always been a guy who fights for the podium. But now, I have decided that my conditioning is not what it was. I still enjoy riding but racing and making the podium always takes something extra. When you are not sure about something, it is better that you rest and enjoy whatever comes within the race.  That is just what I am doing at the moment.  
YOUR FIRST NATIONAL AT PALA IS DIFFERENT THAN MANY OF THE OTHER TRACKS ON THE AMA CIRCUIT, WHAT DID YOU THINK OF IT? It was a nice ride, very, very fast and very, very sketchy, with hard bumps everywhere. I knew the nicest tracks of the season would come later, but I had the chance to ride the first ones, and I said "okay KTM." For the moment, we will stick with the plan of KTM. I would test for them which I really enjoy doing. I feel that the next race will be better with maybe a podium or whatever. I would consider doing more races if the results get better, but for the moment, my goal is just to enjoy this time with my family here.
Tony finished fifth overall at Thunder Valley.
I UNDERSTAND THAT YOU ARE DOING THE FIRST FOUR AMA ROUNDS, BUT MAY RETURN LATER IN THE SERIES, IS THAT TRUE? Yes, of course I want to race the Motocross Des Nations, I would be very happy to do that race. It is also a very high-level race, so you must be a little prepared for that. I would like to represent my country with a #1 this year. It would be amazing, and it is good to come a few races before, do some races at the end of the Nationals, and be a little prepared for the race.  I don't know what exactly the plan is at the moment. I am just going race by race and see how it goes. Maybe at one of the next rounds I'll feel so good that I can stay and maybe fight for the championship. Or maybe I feel that I don't want to suffer anymore. I just take week by week now and see how it goes.
2022 MXGP HAS NO TONY, NO JEFFREY HERLINGS, AND NO ROMAIN FEBVRE AT THIS POINT, ISN'T IT SOMEWHAT ANTICLIMATIC? Unfortunately, in the MXGP class you only have a few riders battling. You don't have three or four guys who are always there in every moto. It is kind of a battle for Gajser this year now because he is dominating the series, and he does not really have many competitors for the title, but it is still nice. Sometimes I think it is even better and more interesting than last year because Tim Gajser is riding for the championship, and he needs to race very smartly and think big picture. Every year is something different.
JORGE PRADO SEEMED REALLY GOOD WHEN HE WAS YOUR TEAMMATE AND I THOUGHT HE MAY TURN INTO THE DOMINANT MXGP RIDER, WHY HASN'T THAT HAPPENED? When we used to ride together, of course we had good competition with each other, but now he is riding for himself all the time. Maybe he has just lost a little momentum. He had some injuries and pain that slowed him a little bit. But yes, he is not really delivering what his name is now. I hope he can finally figure it out for the rest of the season and try to be back in the battle chase, or challenge for the title next year.  
WHEN I THINK OF ANTONIO CAIROLI, AND THE LENGTH OF YOUR CAREER, I THINK OF LOYALTY. For sure. I really try to stick as much as possible with the people that helped me in the beginning of my career, because they believed in me already from the first moment.  Even if I have another offer that is better money wise, I always try to make it work with my first sponsor. I am proud of that because they are Italian brands. I always try to push my nationality in all the races around the world.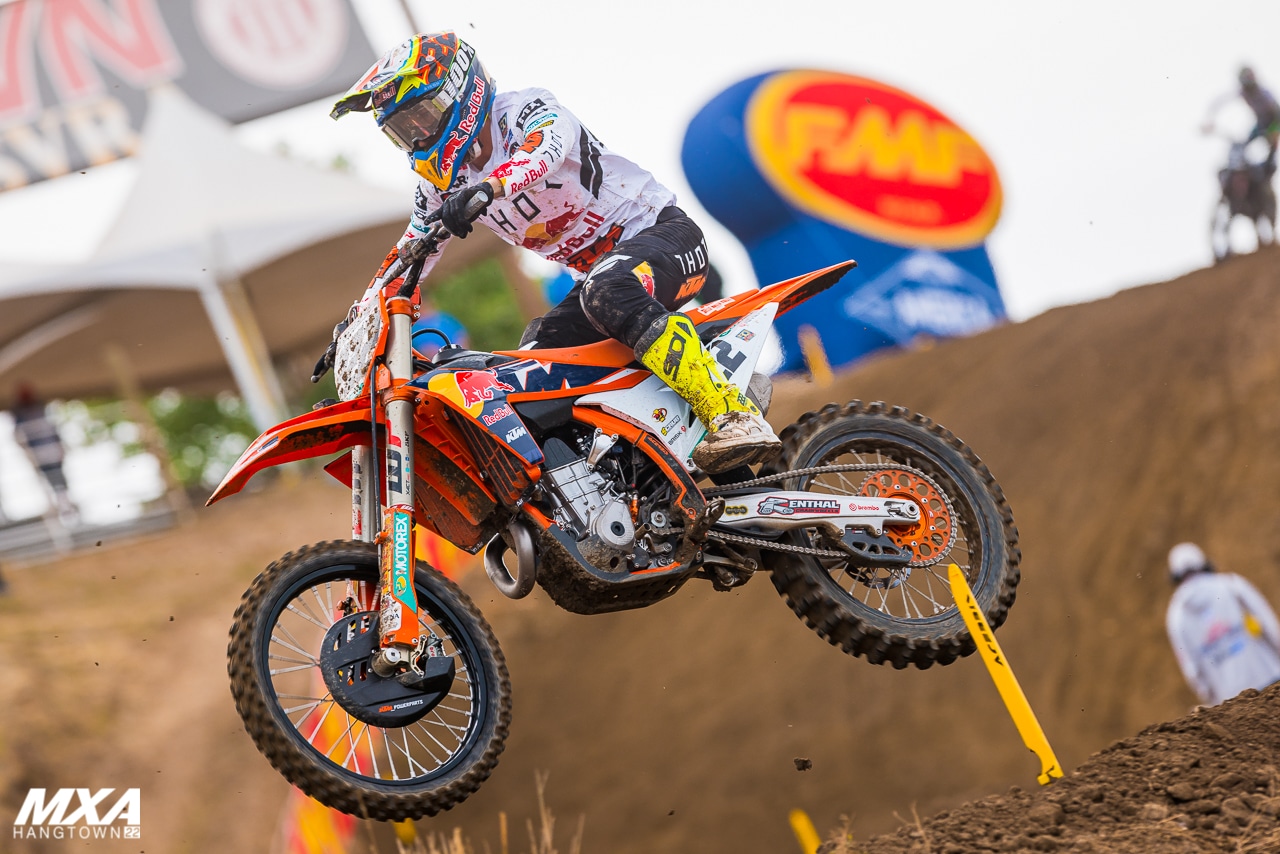 The KTM Legends are tied in the points, Antonio Cairoli and Ryan Dungey.
STEFAN EVERTS HAS 10 TITLES, WHILE YOU HAVE NINE WORLD MOTOCROSS CHAMPIONSHIPS, WILL ANONE CATCH YOU TWO? I don't know. It is difficult of course because you have guys who could make it like Jeffrey Herlings, but his head is a little bit strange. He always wants to go 120 percent every time he is on the track, and it is not possible in this sport. This sport is dangerous and he needs to slow down sometimes and just take whatever comes. For sure he could win more titles than he has already, but everybody is different, and everybody rides with a different kind of motivation.

AT ONE POINT IN YOUR CAREER YOU RACED THE ALL NEW KTM 350, WHILE GENERALLY ALL YOUR COMPETITORS WERE ON 450'S, HOW WAS THAT? It was one of my best experiences because I really believed a lot in that bike. And no one else did except KTM. They made it work for me every year, for five years in a row. It was fantastic and it was a nice moment in my career.  
WHILE MANY AMERICAN FANS FOCUS ON SUPERCROSS, ITS AWESOME TO HEAR SO MANY CHEERING FOR YOU OVER HERE. I like Americans because they have a passion for the sport, and they often cheer for riders who are underdogs, and not racing at the front.
Some riders have a bit of an attitude, believing they are really flying and "I am this and I am that," or whatever. I am not that kind of guy. I am just a guy who lives day by day and tries to do my best. Maybe I win and am the best that day, I just take it day by day. Maybe the next race I finish fifth. The fans like this kind of mentality, and they appreciate my career. They can meet me in America and say hello.
I am just enjoying without thinking too much about the results. I know I am not in my best condition now, so I just enjoy whatever comes.
Tony was on a hot streak for holeshots at Thunder Valley.
OF COURSE, YOU ARE A RACER, AND ALWAYS WANT TO WIN ONE MORE RACE, OR ONE MORE CHAMPONSHIP. ARE YOU SATISFIED WITH YOUR CAREER? For sure, I am super proud of what I have done. Of course, as a rider, I missed out a little bit by not coming to race Supercross because it is a dream for everybody. The only thing I miss from my past is this. But I did not really have the chance to come here when I was a young boy because I was not good enough to ride Supercross. We never practiced Supercross in Europe, basically only a couple times in France. Everybody was always telling me there is no way you will ride Supercross. So, Supercross is the only thing I missed a little bit. Maybe I could have had more chances if I lived in France or somewhere else to ride Supercross – which is a dream for everybody. But overall, I am happy, and I wouldn't change anything about what I have done.
HOW WAS THUNDER VALLEY FOR YOU? I'm really happy about the race. Of course, I know that with my conditioning, all those guys in front are prepared for racing and winning the championship, and last moment only a month ago, I started to really work out to be here and it's not enough. I felt today, I was a little bit worse off with the altitude. We have already a big improvement from the first round so I think we are in a good way and let's move on from here and let's see on the week and next week.
FINISHING UP, WHAT IS NEXT FOR YOU? I KNOW AT ONE POINT YOU WERE INTERESTED IN RACING ON FOUR WHEELS? I love to do the car racing. My next opportunity for automobile racing will be when I quit completely dirt bike racing. I would like to move to the car and try to be full-time driver. I would like to do some races to prepare for this opportunity and then be ready for 2024 or 2025.  We still must check possibilities because the budget you need for this kind of racing is kind of something out of this world, so we will try to find some sponsors and support.