ARIZONA'S SPEEDWORLD MUST CLOSE, SAYS COUNTY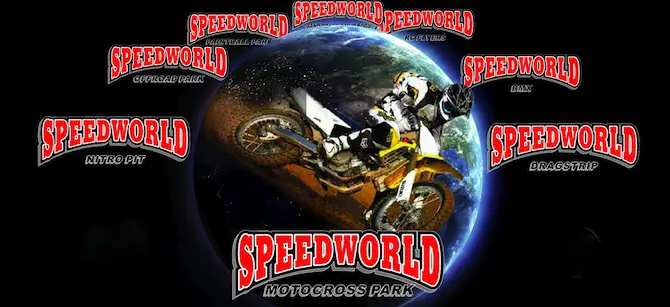 According to the Arizona Republic: The saga of Speedworld's dispute with Maricopa County has all the twists and turns of a motocross track.But county officials have had enough. They say Speedworld owner Dan Matthews has not secured the proper permits, and they have asked him to close the northwest Valley track by today.
Speedworld is a 320-acre racing property off U.S. 60 and Jomax Road in Wittmann. The track started as a drag strip and slot- and sports-car course in 1961. Today, it also includes a motocross course, off-road truck course and paintball range.The site is well-known in the racing community and each year holds nationally televised motocross and off-road truck events.
The problems with the county arose in 2006 when Matthews applied for a permit to run electrical lines to the property. He was told that Speedworld had grown beyond its original special-use permit by 261 acres and that, because of the growth, he would have to file for a new permit that would incorporate the additional land.
The county also informed Matthews that the original 1961 case file was missing and the plan that Matthews submitted in 2006 would be the one on record. Four years later, the county claimed it had documented unapproved construction in April 2009, in addition to the continued use of the disputed land, according to a 2010 letter sent to Matthews. Then, last year, the county found the 1961 site plan. In a Dec. 21, 2011, letter to Matthews, the county said the 2006 approval was based on the assumption that Speedworld had developed according to the original plan. Because this was not the case, approval was rescinded. The letter also said Matthews had continued to develop the site without obtaining construction permits.
Earlier this month, the county issued a compliance offer, valid through today, to rectify all the issues. The agreement gives Speedworld a year to secure proper permits for construction and grading. The offer includes a stipulation that Speedworld must close down while it obtains the permits. Matthews says that is a deal breaker. "I will not make any moves that will voluntary shut down the business," he said. Matthews said he has done no construction on the site and has only opened areas previously used by former lessees. All the buildings on the property are portable sheds, and any grading he's done is to maintain the dirt courses and roads, he said.
"If every time I have to move dirt I had to get a permit, I couldn't run my business," he said. Matthews said he's more than willing to work with the county, but there has to be a way to both stay open and comply. "I don't know why it's escalating to the point where they say the business has to shut down," he said.
Matthews said closing Speedworld would be bad for the surrounding community. The racetrack brings in roughly $1 million a year, and event visitors are a boon to the restaurants and hotels in nearby Surprise and Wittmann, Matthews said. During events, the business employs 50 or 60 part-time employees, he said.
Carolyn Oberholtzer, attorney for Speedworld, said she and her client were evaluating all options on how to move forward, and she had no further comment, other than to say Speedworld has been an asset to the Valley for half a century. "I'm certain there's a solution that will avoid shutting down this business, which employs dozens and dozens of people and has for so long," she said.
Darren Gerard, deputy director of the county's Planning and Development Department, said the issue boils down to the fact that Speedworld has done a significant amount of construction, grading and additions without proper zoning or permits. Even ignoring the 1961 site plan, Matthews has made changes from his 2006 plan that can be seen by aerial photos, Gerard said.
Gerard said Speedworld should not be operating until it has completed the necessary construction permits. "As a public venue, there is no way to tell if it's safe without following proper procedure," he said. "And a lack of permits and unentitled uses are, by definition, a public nuisance," Gerard said.
Gerard said the county has made an effort to accommodate Speedworld and has kept its special-use permit amendment application open despite no response by Speedworld to county suggestions.
"At this point, something needs to light a fire underneath him to make him perform," he said.
If Matthews doesn't accept the compliance agreement, the county will schedule an administrative hearing before a hearing officer, Gerard said.
The Arizona State Land Department, Speedworld's landlord, has not been involved in the permit proceedings with the county but is working with Speedworld about any concerns the state has with the facility, according to Vanessa Hickman, deputy state land commissioner.
"We're reviewing their major amendment to the SUP to make sure we're comfortable with the uses," Hickman said.