ASK THE MXPERTS: HOW TO MAKE A HUSQVARNA BREATHE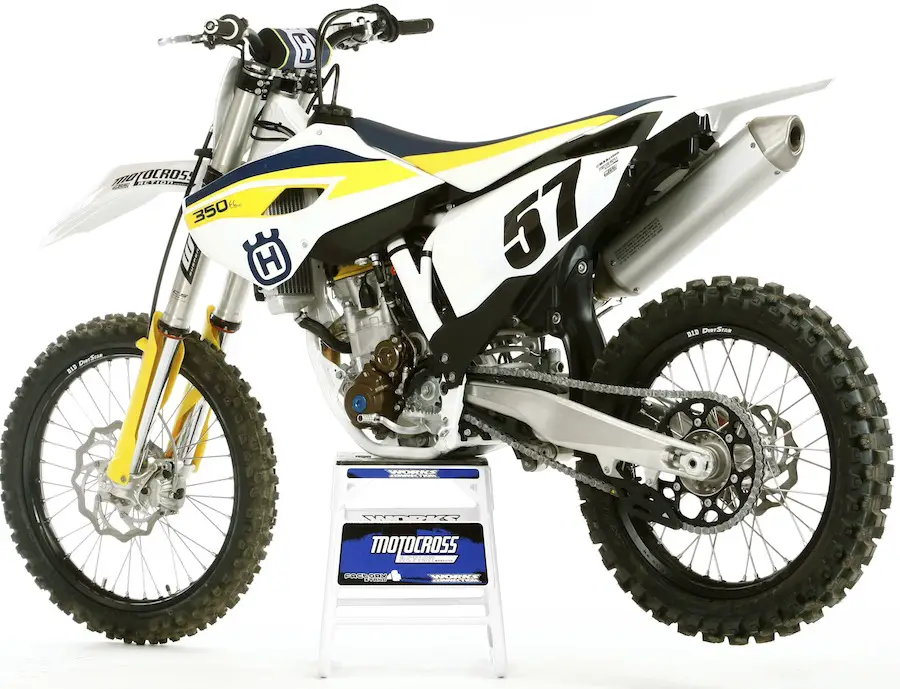 Dear MXA,
    I got the opportunity to ride a Husqvarna FC350 and a KTM 350SXF back to back on the same track. I liked almost everything about the Husky, except for the throttle response and low-end power. It felt very muted compared to the KTM's snappier feel. I have read all the MXA tests, so I know that the plastic subframe/airbox is to blame. But, what are the fixes?
There are fixes for what ails the Husqvarna.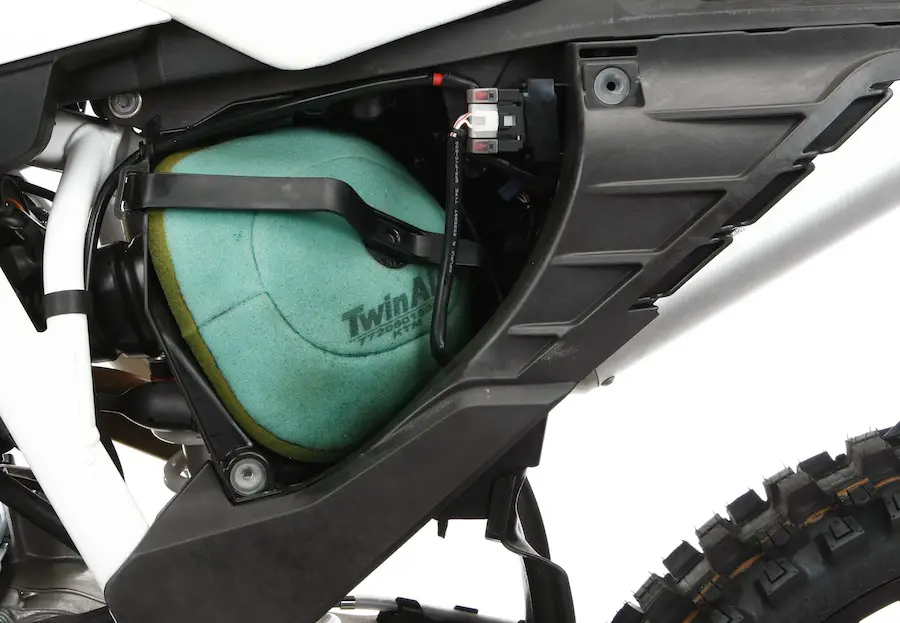 This is the 2014 Husqvarna subframe and airbox. It is also the 2015 FC350 subframe. Once the side panel is put in place, there are literally no openings for air to get into the airbox—save through the battery compartment above the filter.
This is the 2015 Husqvarna subframe and airbox. As you can tell from the photo above and this one, Husky opened up the sides of the subframe for 2015 to help with airflow. The degree to which this helps is not all that obvious, because the Husky side panel blocks this area fully. The new subframe only comes on the 2015 FC450 and FC250. It does not come on the FC350 (or the two-strokes). This new subframe is not only ventilated, but it is also 5mm lower than the previous plastic subframe.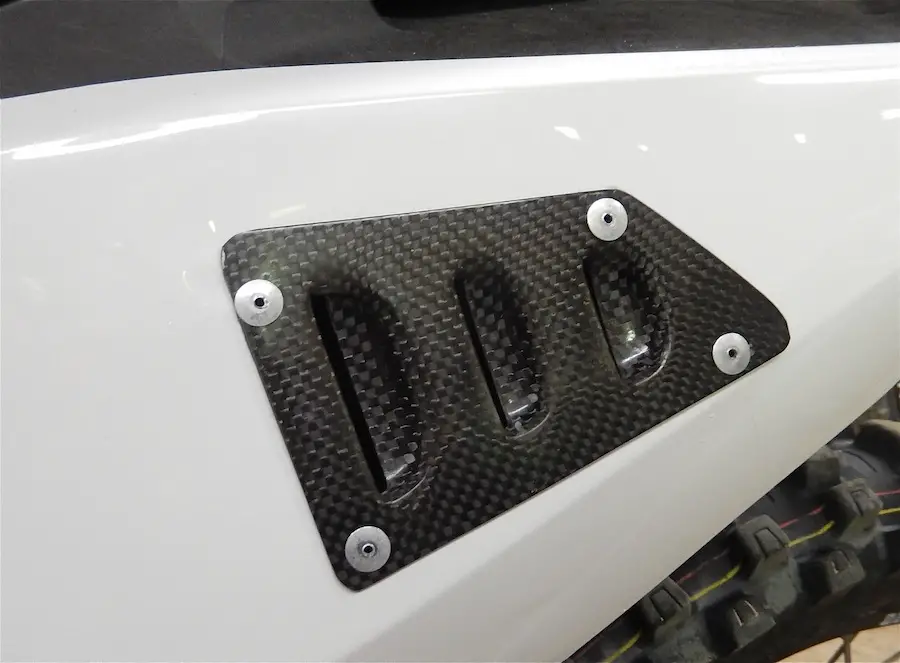 Lightspeed Carbon Fiber makes carbon fiber louvers that help get air into the engine, but where you place the louvers makes big difference. On the 2015 Husqvarna FC250s and FC450s the louver needs to be place over the largest holes in the new subframe. On bikes with the old subframe, you need the holes to be directly over the air filter area. You can reach them at www.lightspeedcarbon.com
Many riders worry about drilling holes in the airbox cover, but if you take a look at a Kawasaki Kx450F, they will see that large holes are fairly common. It is best to drill the largest holes that you can justify, as opposed to lots of little holes. Large round holes flow more air than small holes of the same square inches. The holes in this Husky are drilled along a line that follows the inner shape of the airbox (with a couple extras on top). MXA tested the proper number of holes by riding the Husky without the airbox cover on and then with a drilled airbox cover. We kept drilling until it ran the same with the cover on as it did with the cover off.
If you don't want the holes to interfere with the numbers on your bike, you can drill them on the front edge of the airbox in a vertical formation.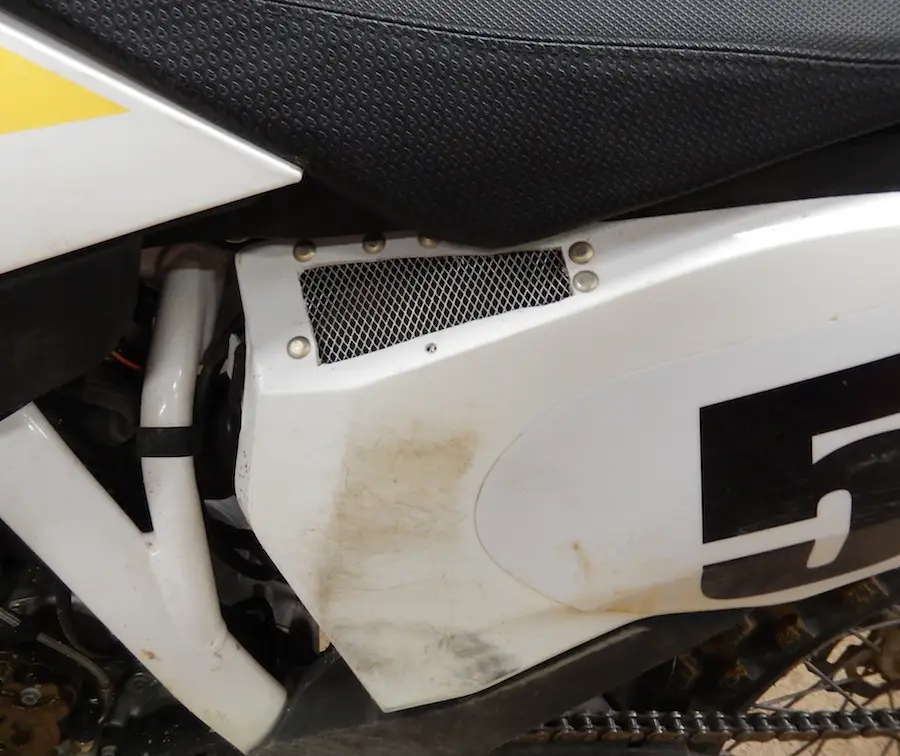 On this Husky a large area is cut out on the top of the side panel and has wire screen pop riveted to keep big chunks of dirt out. The skies the limit.


Click here to subscribe to MXA: https://hi-torque.com/motocrossaction