ASK THE MXPERTS: MORE LIFE FOR SPARE KTM WHEELS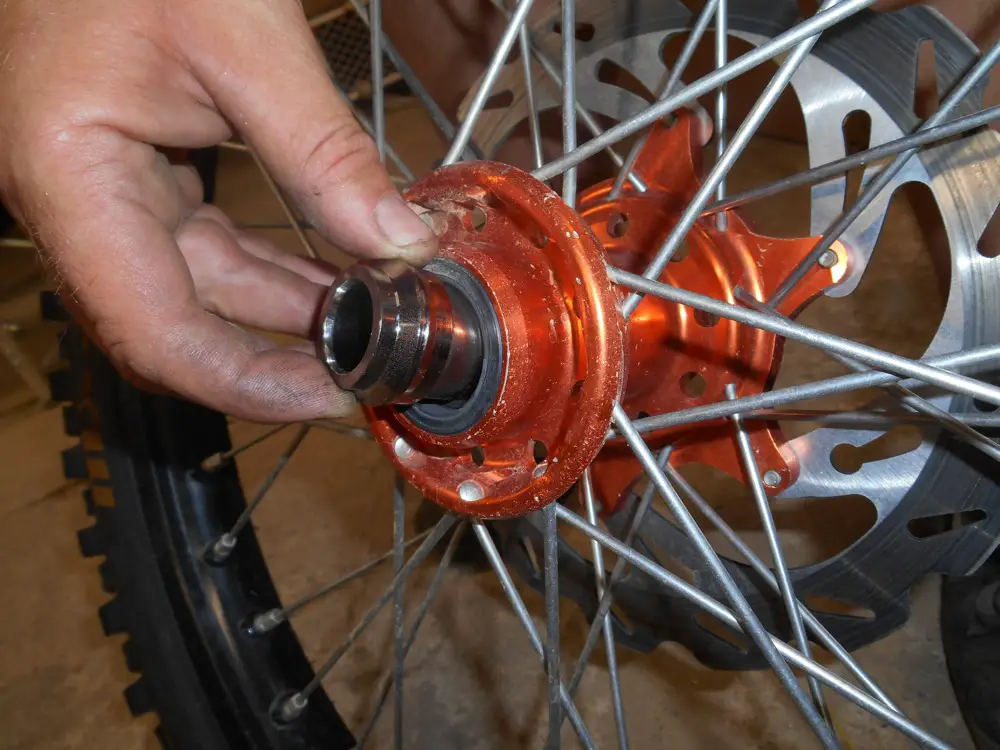 Dear MXA,
    I have a spare set of KTM wheels left over from my 2013 KTM 450SXF. I just bought a 2015 KTM 350SXF and my spare front wheel won't fit. It turns out that KTM switched from the big 2013 axle to a much smaller front axle. Is my perfectly good spare KTM front wheel useless now?
No. Most KTM racers went through this exact same scenario in 2012 when KTM changed from its 20mm rear axle to a 25mm rear axle. Now, for 2015, they dropped the previous 26mm front axle for a smaller 22mm axle (which allows them to change the trail without changing the triple clamp offset).
Your old wheels will fit on your 2015 KTM, but you have to change out the wheel spacers. Unlike a lot of motocross bikes, KTM's wheel spacers run on the bearings, which means that the front and rear will accept different axles sizes by just changing the wheel spacers.

The 2015 axle spacer (left) is 2mm in diameter. The previous wheel spacer was 26mm (right).
You can order 2015 front wheel spacers from your local KTM dealer or just switch the wheel spacers out of your 2015 bike back and forth between the stock wheels and your older spare wheels. The spacers are removed in much the same way as a steering bearing race. Just stick a T-handle or long punch through the hub and hit the inner lip of the wheel spacer to knock it out. They aren't a tight fit, so they will come out easily. Then swap the 2015 spacers over to your 2013 front wheel. The lug-to-lug gap is different on the 4CS forks than it was on the previous WP bladder forks, but have no fear, the 2015 wheel spacers will take up the gap.
For riders who have aftermarket wheels that use the stock KTM wheel spacers, they can easily be converted using the same method. However, if you have aftermarket wheels with proprietary wheel spacers, you will have to send them back to the wheel builder to have new spacers installed.