ASK THE MXPERTS: NO GRIP! NO GLORY! ODI LOCK-ON GRIP TECH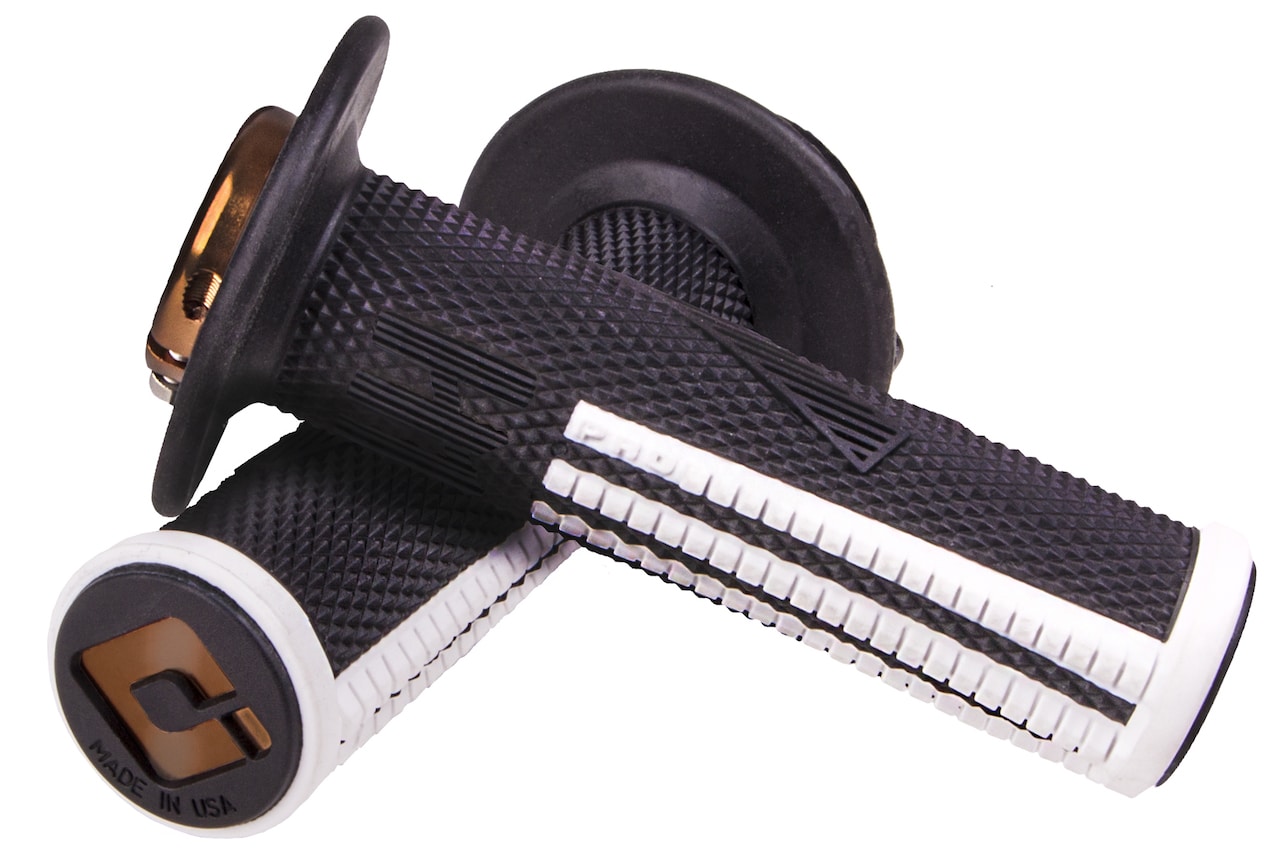 The Emig Pro V2 Lock-On Grips.
Dear MXperts,
I'm trying to decide between Emig V2 Pro Lock-On grips and ODI Emig glue-on grips. Can you tell me the pluses and minuses of each grip?
First of all, the Emig V2 Pro grip is only available in a lock-on version. If you want the unique Emig design, you only have two choices—the $28.95 Emig V2 Pro lock-on grip or the $26.95 Emig V2 half-waffle lock-on grip; however, ODI makes additional models of lock-on grips—the $25.95 MX V2 half-waffle medium grip, MX V2 Pro Soft half-waffle grip and the MX V2 no-waffle grips (with a diamond tread pattern). When it comes to traditional glue-on grips, ODI only makes two models—the $9.95 no-waffle grip (diamond pattern in a medium compound) or the $9.95 Pro Edition half-waffle grip (in a soft compound).
The pluses of lock-on grips are ease of use, no need to glue the grip on, a new throttle tube included with each set of grips, snap-on cams that allow the throttle tube to work with every popular brand, and five different styles of ODI lock-on grips to choose from. The downside is the added expense of buying parts that your bike already has (throttle tube and correct cam). Additionally, because the grip material has to be added to the plastic throttle and clutch tubes, there is less rubber on a lock-on grip than on a glue-on grip.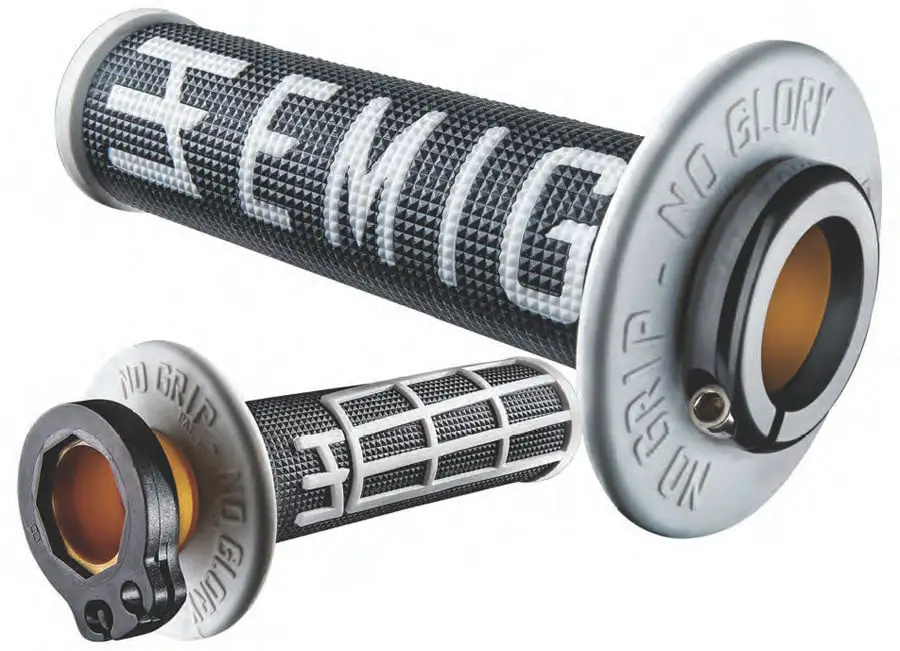 These are the original Emig V2 Lock-on grips and they're still sold today and are priced slightly below the Emig Pro V2 grips. 
The pluses of glue-on grips are that they are inexpensive and have double the thickness of rubber to cushion your hands in the whoops. The downsides are the need to mess with glue (and wait for it to dry), the needed safety precaution of safety wiring the grip on and the common problem of tearing the end off in a crash.
What do we think? Five things:
(1) Thanks to KTM and Husqvarna, previous riders' fears of lock-on grips coming loose are unfounded. As a rule, lock-on grips stay put better than glue-on grips. (2) If you have tender hands, go with glue-on grips, as they have twice the rubber thickness of a lock-on grip (and Neken makes a grip and bar combo that doubles the amount of rubber cushion from a glue-on grip). (3) If you don't want the top-of-the-line Emig V2 Pro grip because it comes in flashy two-tone color combinations, you can order the Emig V2 Pro in a blackout model that doesn't look like an "Emig" billboard when your hands aren't on them. It is the same grip, but it is black on black. (4) The price difference between the different models of ODI lock-on grips is so small (only $3 from top to bottom), you should always go with the Emig V2 Pro grip—in the blackout color combo. (5) The MXA wrecking crew always carries a set of lock-on grips in our toolbox in case we rip a grip off in a practice crash. That way we can slip a new grip on the bars without having to wait for glue to dry before our moto.