ASK THE MXPERTS: WHAT ARE THE BEST 2020 KAWASAKI KX250 SPRING RATES?
Kawasaki's 2020 KX250 suspension set-up is not optimized for the typical 250 racer.
Dear MXperts,
In the "2020 MXA 250 Four-Stroke Shootout" (December 2019), you insinuated that the suspension setup of the 2020 Kawasaki KX250 might be too stiff for the typical 250 four-stroke racer, but you didn't say what to do. I weigh 140 pounds. I need to know, because my 2020 KX250 is brutal to ride in the rough.
Kawasaki's switch from Showa to Kayaba suspension components for 2020 might seem like a bold move, but it was really the only good move that Kawasaki has made on the KX250 forks since adopting Showa SFF forks (Single-Spring Forks) in 2011. Kawasaki never had much luck with the single-spring SFF forks over the last few years. They changed the spring rate every other year, and when they got the valving right, they changed it, too. Considering Yamaha's success with Kayaba SSS forks, it seems like a smart move on Kawasaki's part to switch from Showa to Kayaba.
The hard part for Kawasaki's engineers has always been getting the valving and spring rates correct. For 2020, the KX250 valving is very close, but 5.0 N/mm fork springs and a 54 N/mm shock spring don't suit the average 135- to 165-pound 250 four-stroke rider. Amazingly enough, the KX250 is spec'ed with the exact same fork and shock springs as the 2020 KX450. This is crazy. For comparison, the Yamaha YZ250F uses a 4.7 N/mm fork spring, while Honda uses an even lighter 4.6 N/mm spring rate. Most testers felt the forks were harsh in braking bumps for anyone in the target weight for 250 racers. On smoother tracks with rolling whoops and big jumps, the stiff forks didn't seem to bother test riders.
For the full in-depth MXA race test on the 2020 Kawasaki KX250, click here.
The MXA wrecking crew has 140-pound test riders, so we decided to work with the rear shock spring until we made them happy. We dropped from 54 N/mm to 49 to 48 and eventually to 46. That was the hot ticket. From there, we turned our attention to the forks. We consulted with the Pro Circuit KX250 suspension guys, and they said that we should not waste our time working our way down from the stock 5.0 fork springs, so we went down to 4.6 springs.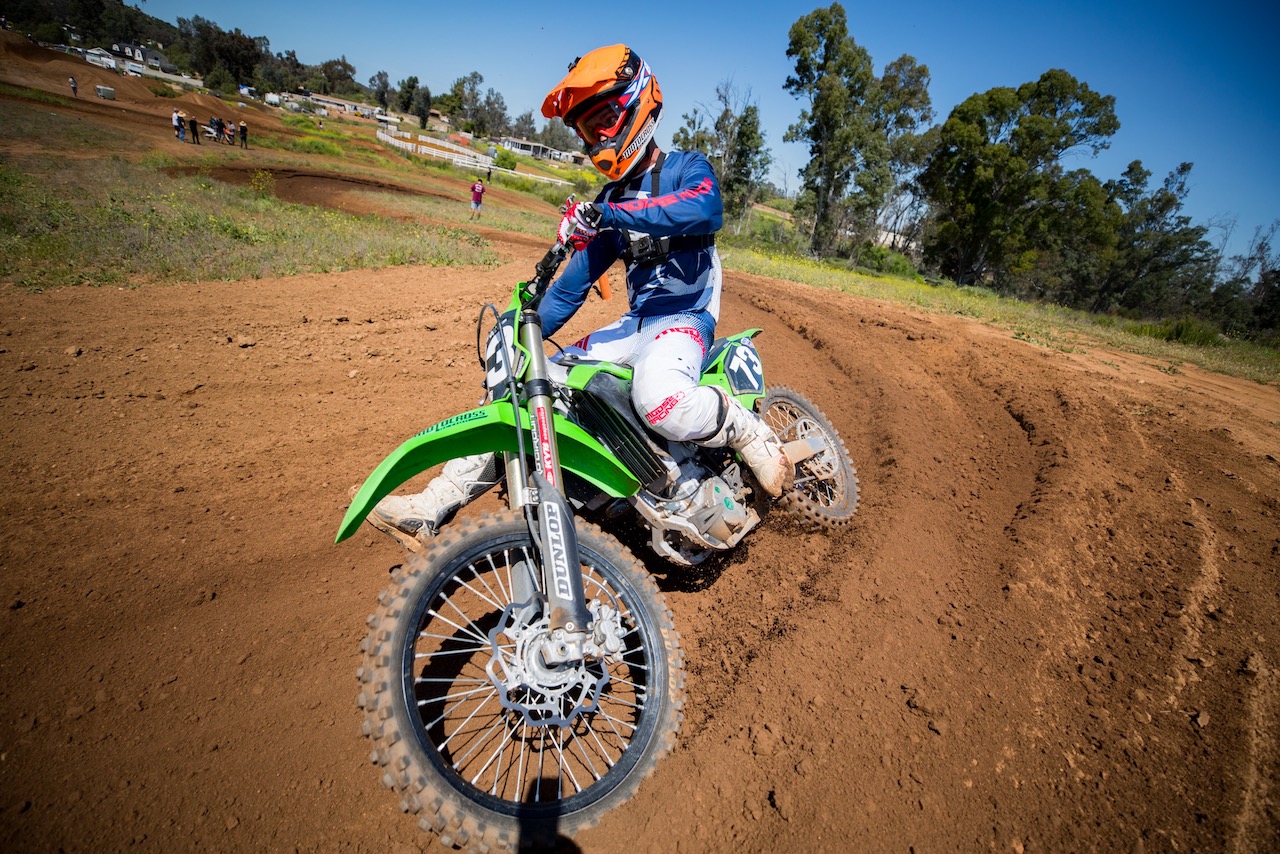 Here Josh Mosiman puts some time on the 2020 Kawasaki KX250 after Pro Circuit installed the softer 4.6 springs.