ATLANTA SUPERCROSS POST RACE PRESS CONFERENCE
The ninth round of the 2019 Monster Energy AMA Supercross, an FIM World Championship, was held at the closest venue North Carolina rider Cooper Webb of the Red Bull KTM team would have to a home race, and he led the race from start to finish to the cheers of 59,107 southern fans. It wasn't an easy win as he had a near constant attack from Red Bull KTM teammate Marvin Musquin and Team Rocky Mountain ATV/MC KTM WPS' Blake Baggett. The 250SX Regional Classes saw the first of two East/West Showdowns of the year, where riders from each series compete for the same points payout in one race. It was Western Regional 250SX Class riders taking the first two positions, with points leader Monster Energy/Pro Circuit Kawasaki's Adam Cianciarulo getting to the checkers first.
450 SUPERCROSS MAIN EVENT RECAP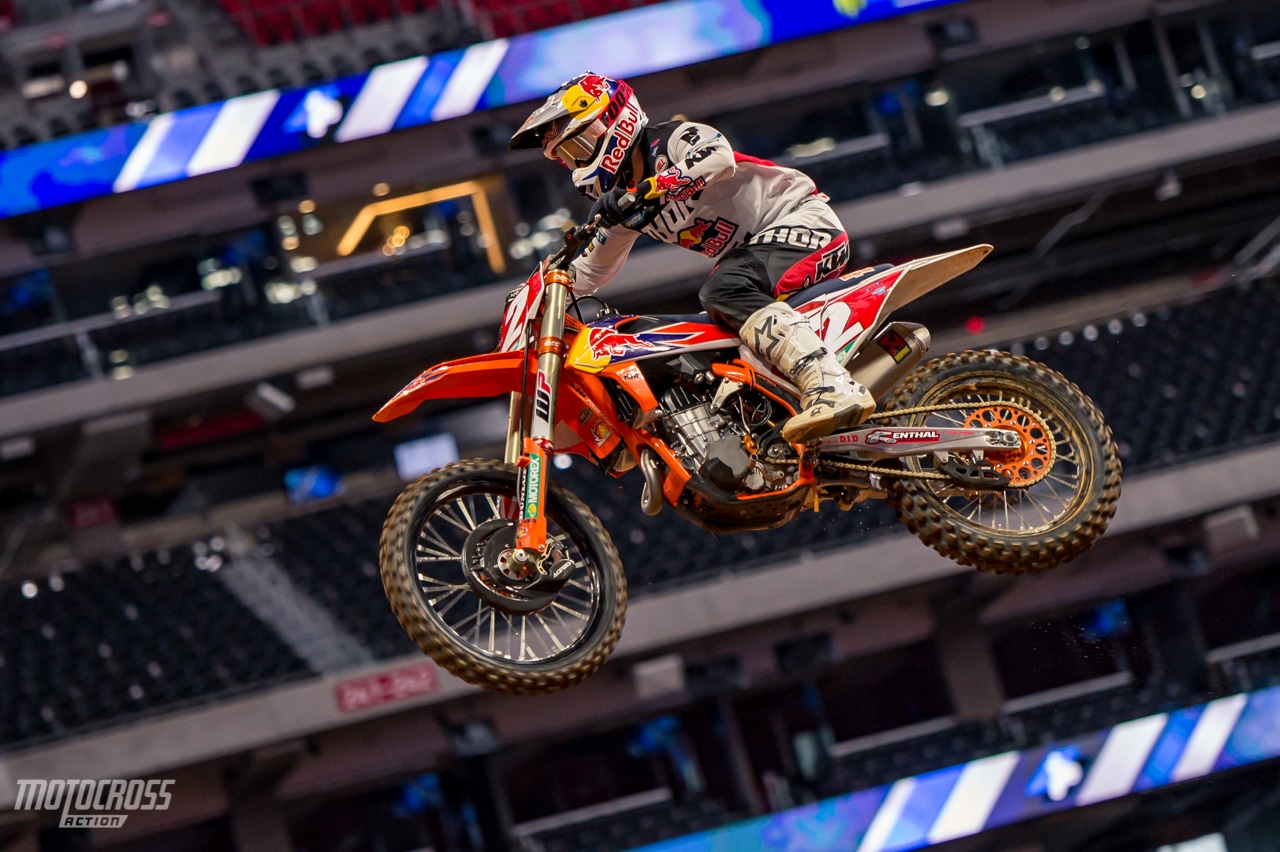 When the 450SX Class Main Event racers emerged from the first turn, it was points leader Cooper Webb emerging with the holeshot. Within a few turns there were three KTMs out front: Webb, Musquin, and Baggett. The rider who sat second in points, Team Honda HRC's Ken Roczen, sat sixth behind Monster Energy Yamaha Factory Racing's Aaron Plessinger. Monster Energy Kawasaki's Eli Tomac, who had a poor gate pick after an eighth place in his Heat Race, was back in thirteenth.
The action was tense at the front. Musquin put in a charge four minutes into the 20-minute plus one lap race; Musquin gained a lot of ground in the whoops section and came in contact with Webb in the following corner. Neither rider went down, but the time it took for Musquin to regain balance and remount gave Webb about a second and a half of breathing room. Three minutes later the top three were bunched up again with each rider seeming to have a speed advantage in a different section of the track.
Just past the halfway mark, Musquin's front wheel went over the inside berm in the sand section and Baggett got by. Baggett put on a charge for the lead, but Webb remained composed on the soft track that was rutting up badly. By the last lap Cooper had what he'd have to call a comfortable lead for this battle – just 1.5 seconds. Behind him Musquin made a last lap charge for second but was unable to pass. The win stretched Webb's points lead to 13 over Ken Roczen.
Cooper Webb:
"Yeah, it was all about lines. For me I had to ride a little defensive but also offensive. I knew there were a couple places they were catching me. I was searching, I was skimming, I was trying all kinds of stuff. I think I got a little tight in the middle but by the end I started finding my groove. I knew Blake was coming, he was strong in the whoops, I'm guessing. But this is incredible: I'm 23, and I came here every year since I was four years old watching [in] the old Old Georgia Dome, raced here on a KTM 50 in front of all these fans with the Junior Challenge and got sixth that night, and now I'm on top. It's pretty cool, [it] just shows, kids out there, don't give up, and follow your heart and follow your dreams. And I just can't even believe it, man. I have so many friends and family here from North Carolina and it's incredible."
Blake Baggett:
"I think it's the track conditions and the sand. It's tough when they put sand in a Supercross event, I'm definitely not for it. You can get a run up to him but then you're going through tear offs so fast you needed to hang back. And then once you've got dirty goggles it was tough to see, you know; you have to pull a tear off and you've got clear vision and you can make another run at it. But [I'm] a little disappointed that I came up that short to be feeling that good at the end of the night."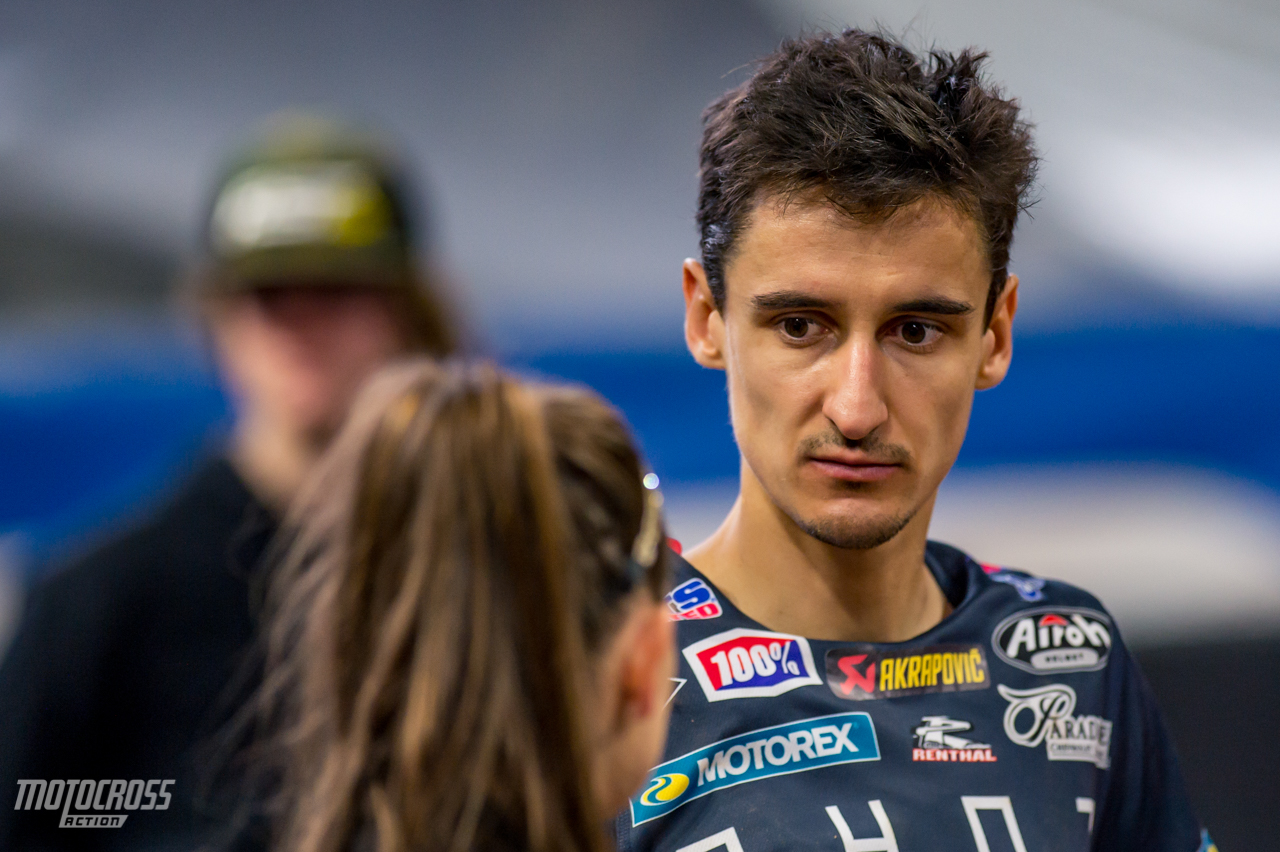 Marvin Musquin: "I got a great start but I wish I got the holeshot, it would have been maybe a different story. But I fought really hard trying to pass Cooper. I think the speed was really good, going through the whoops was good, I was definitely a little faster than him, but I just couldn't make the pass. Some sections I was definitely catching him, but then through the whoops you kind of had to follow the main line to jump [through the whoops], then in the sand you kind of had to follow. And eating sand the whole moto, man, I was pulling tear offs and stuff, I'm full of sand right now [in my gear]. Yeah, definitely frustrating, I'm definitely not happy with the end result. The riding was good but [I] definitely want more and I felt like I was maybe able to grab my first win [of the season] tonight. But made some mistakes through the sand and then Baggett was fast, too, and then I couldn't pass him back. It's tough to see that the riding was great, but very difficult to pass. But anyway, we fight really hard and we never give up, we keep going, so thanks to all my sponsors and we'll see you at Daytona."
250 EAST/WEST SHOOTOUT MAIN EVENT RECAP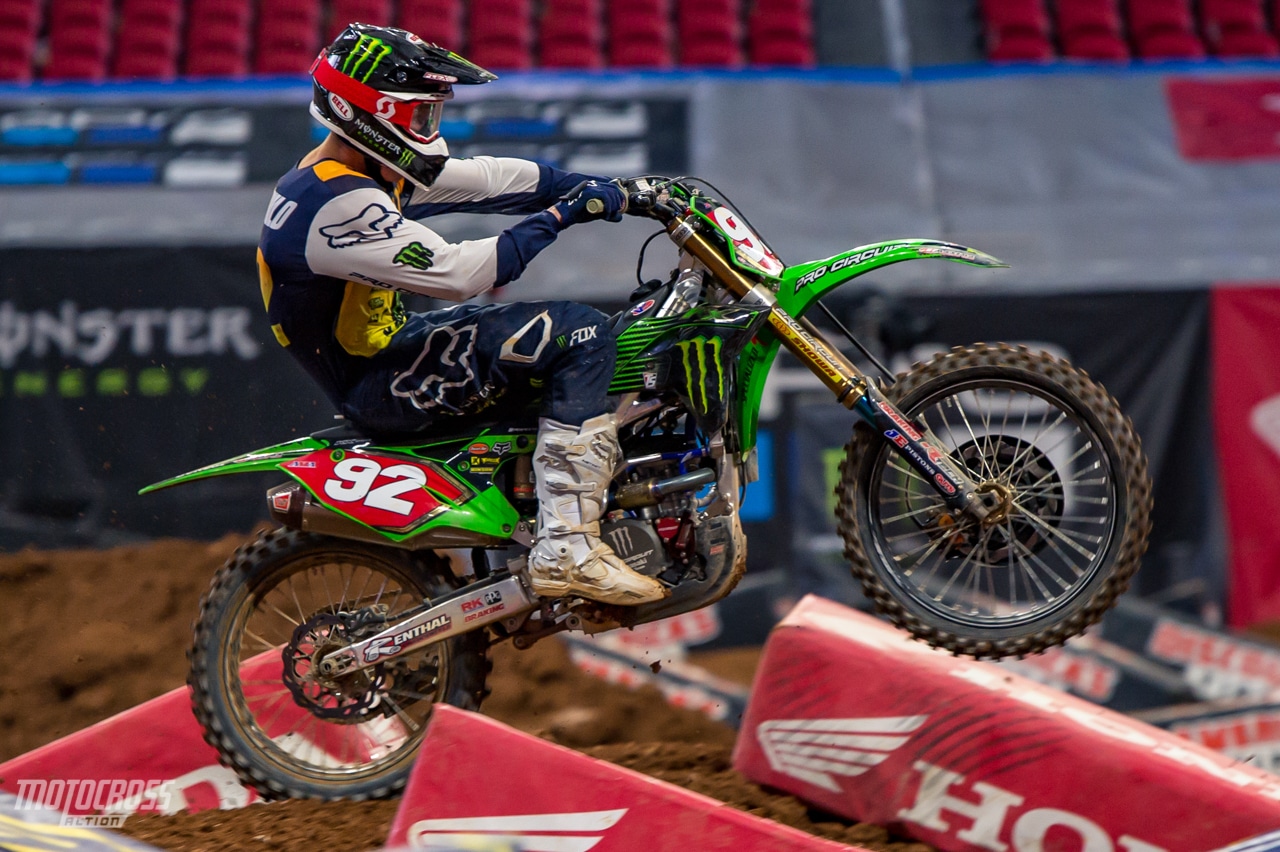 The first of two 2019 East/West Showdowns found the East Coast riders racing their fourth round and the West Coast riders, who have been off for three weekends, competing in their sixth round. Monster Energy/Pro Circuit Kawasaki's Austin Forkner grabbed the holeshot with teammate Adam Cianciarulo right behind. It looked like the teammates, who each led their points in their respective series, would go to battle but GEICO Honda's
Chase Sexton
slipped past into the runner up spot. Cianciarulo stayed close, then pulled back up, and just over six minutes into the 15-minute plus one lap Main Event got back around Sexton and started setting faster lap times than his teammate just ahead of him. Behind them Monster Energy/Star Racing/Yamaha's
Dylan Ferrandis
also got past Sexton. Ten minutes into the race Cianciarulo passed his teammate, and one lap later Ferrandis also went by Forkner. That's where the top three racers stayed, giving the top two spots to Western Regional 250SX Class riders. The unique regional mash up allowed both division leaders to stretch out their points leads over many of their competitors, bringing the East Coast lead to 18 and the West Coast lead to 15.
Adam Cianciarulo:
First and foremost, those guys are riding so good. I can't say enough good things about Chase and Austin both; their pace was unreal. So for me it was just about trying to learn their pace and learn where they're doing better than me, and that's what I'm most proud of in that main. I didn't feel good all day, honestly. I was pretty good in practice and just terrible in my heat and just stayed patient, just told myself on the line, I said, 'Whatever you do, just do your best the entire time. Whatever that is, do your best.' And my best was good enough for a win tonight, and man it feels great. I can't even describe it, it's one of the best rides of my career." Regarding his bloodied knuckles on the podium, he explained, "Austin kinda landed on me there in the beginning and my clutch actually got flipped straight up in the air. And I'm like, 'Man this is a tough way to start the main, I can barely move my fingers right now.' But I don't know, maybe it was a good thing. It worked out."
Dylan Ferrandis:
"It's a little bit like a redemption for me. I [left] last year this stage with a broken arm, a broken jaw – teeth, and it was tough to end a season like [that] with a stupid mistake. And I don't know, maybe I was thinking about this a little bit today because I rode not so great, I was just tight and kind of a little bit riding with fear sometimes. I mean, it was good, I [got] a good start, my bike is amazing, the team decided to make some changes and it was definitely a good choice. Yeah but with this guy [Cianciarulo] we show West Coast guys are better. For sure I would like to finish in front of Adam because he's leading the championship, but it's a good night for me after four weeks out, and yeah, it's good to be on the podium again."
Austin Forkner: "
Yeah, I definitely settled. I had a pretty rough day in practice. I crashed twice pretty hard in the whoops and just wasn't feeling 'em tonight. That's where I was losing my time, obviously, that's where I got passed both times. I wasn't willing to go any faster, as simple as that, I was losing a little bit there but I knew Adam and Dylan weren't in my championship. Obviously, I would have liked to beat 'em to extend my points lead even farther on the East guys, but that's technically a win for me tonight as far as East Coast championship is concerned. That's what I'm worried about. So on not so great of a day, honestly after the crashes I had today I'm just happy to be up here, and happy to be the highest finishing East Coast guy. That's what I wanted. Wish I could have run with those guys, I felt like I had a lot in me, and then they kind of caught me about ten minutes in and I just wasn't willing to go any faster. I didn't want to have a repeat of practice and go down."
For the latest media highlights, please click the links below:
450SX Class Results
1. Cooper Webb, Newport, N.C., KTM
2. Blake Baggett, Grand Terrace, Calif., KTM
3. Marvin Musquin, Corona, Calif., KTM
4. Ken Roczen, Clermont, Fla., Honda
5. Aaron Plessinger, Hamilton, Ohio, Yamaha
6. Eli Tomac, Cortez, Colo., Kawasaki
7. Justin Brayton, Mint Hill, N.C., Honda
8. Dean Wilson, Clermont, Fla., Husqvarna
9. Joey Savatgy, Tallahassee, Fla., Kawasaki
450SX Class Championship Standings
1. Cooper Webb, Newport, N.C., KTM (199)
2. Ken Roczen, Clermont, Fla., Honda (186)
3. Marvin Musquin, Corona, Calif., KTM (182)
4. Eli Tomac, Cortez, Colo., Kawasaki (177)
5. Blake Baggett, Grand Terrace, Calif., KTM (142)
6. Dean Wilson, Clermont, Fla., Husqvarna (137)
7. Chad Reed, Dade City, Fla., Suzuki (124)
8. Aaron Plessinger, Hamilton, Ohio, Yamaha (122)
9. Justin Barcia, Greenville, Fla., Yamaha (120)
10. Justin Brayton, Mint Hill, N.C., Honda (113)
East/West Showdown 250SX Class Results
1. Adam Cianciarulo, New Smyrna Beach, Fla., Kawasaki
2. Dylan Ferrandis, Murrieta, Calif., Yamaha
3. Austin Forkner, Richards, Mo., Kawasaki
4. Chase Sexton, Clermont, Fla., Honda
5. Justin Cooper, Huntington, N.Y., Yamaha
6. Shane McElrath, Canton, N.C., KTM
7. Colt Nichols, Muskogee, Okla., Yamaha
8. Martin Davalos, Tallahassee, Fla., Kawasaki
9. Michael Mosiman, Menifee, Calif., Husqvarna
10. Brandon Hartranft, Brick, N.J., Yamaha
Eastern Regional 250SX Class Championship Standings
1. Austin Forkner, Richards, Mo., Kawasaki (99)
2. Justin Cooper, Huntington, N.Y., Yamaha (81)
3. Chase Sexton, Clermont, Fla., Honda (79)
4. Jordon Smith, Belmont, N.C., KTM (70)
5. Alex Martin, Clermont, Fla., Suzuki (60)
6. Martin Davalos, Tallahassee, Fla., Kawasaki (58)
7. Brandon Hartranft, Brick, N.J., Yamaha (54)
8. Kyle Cunningham, Willow Park, Tex., Honda (51)
9. Mitchell Oldenburg, Godley, Tex., Yamaha (50)
10. Kyle Peters, Greensboro, N.C., Suzuki (46)
Western Regional 250SX Class Championship Standings
1. Adam Cianciarulo, New Smyrna Beach, Fla., Kawasaki (140)
2. Dylan Ferrandis, Murrieta, Calif., Yamaha (125)
3. Shane McElrath, Canton, N.C., KTM (123)
4. Colt Nichols, Muskogee, Okla., Yamaha (120)
5. RJ Hampshire, Wesley Chapel, Fla., Honda (86)
6. Michael Mosiman, Menifee, Calif., Husqvarna (80)
7. Chris Blose, Phoenix, Ariz., Husqvarna (80)
8. Cameron McAdoo, Chesterfield, S.C., Honda (79)
9. Jacob Hayes, Greensboro, N.C., Yamaha (77)
10. Garrett Marchbanks, Coalville, Utah, Kawasaki (74)