AUSTIN FORKNER INTERVIEW: "I DON'T GET PAID TO RIDE, I GET PAID TO RACE"

AUSTIN FORKNER INTERVIEW: "I DON'T GET PAID TO RIDE, I GET PAID TO RACE"
It may be acceptable to compare Austin Forkner's career with Adam Cianiarulo's. Both were amateur champs, Team Green riders, and Monster Energy Pro Circuit Kawasaki riders. Likewise, both have shown so much promise, only to have injuries sideline them for long periods of time. Still, Kawasaki has not given up on Adam or Austin. In 2021 Supercross, Forkner was front runner at the first race, until a broken collarbone took him out at round two. Now healed up and ready for AMA Motocross, Forkner has a point to prove, albeit with a modest goal of continual progress.
Along with this summer's 250 outdoor Championship being a primary goal, Austin may have more to think about with the recent announcement that Eli Tomac will depart the Monster Energy Kawasaki team at the end of the season. Originally, Austin was set to jump to the 450 class for 2022 because he was going to point-out of the 250 class this year. It makes sense that he would take Tomac's place for 2022. But his injury kept him away from the races which meant that he didn't surpass the AMA's 135-point rule and will have another year of 250 eligibility.
By Jim Kimball
AUSTIN, YOU WERE INJURED AT ROUND 2, BUT HAVE BEEN BACK ON THE BIKE FOR SOME TIME NOW. WE THOUGHT YOU WOULD BE AT THE LAST TWO 250 EAST RACES. Well, it was a team decision for me not to race the last rounds. I was up in the air about it, and I was fine either way. I understood if they did not want me to because obviously, they don't want you to get hurt for outdoors, and want you to be healthy for outdoors.  There was that side of it, and then there was the side of it "oh man, I want to race."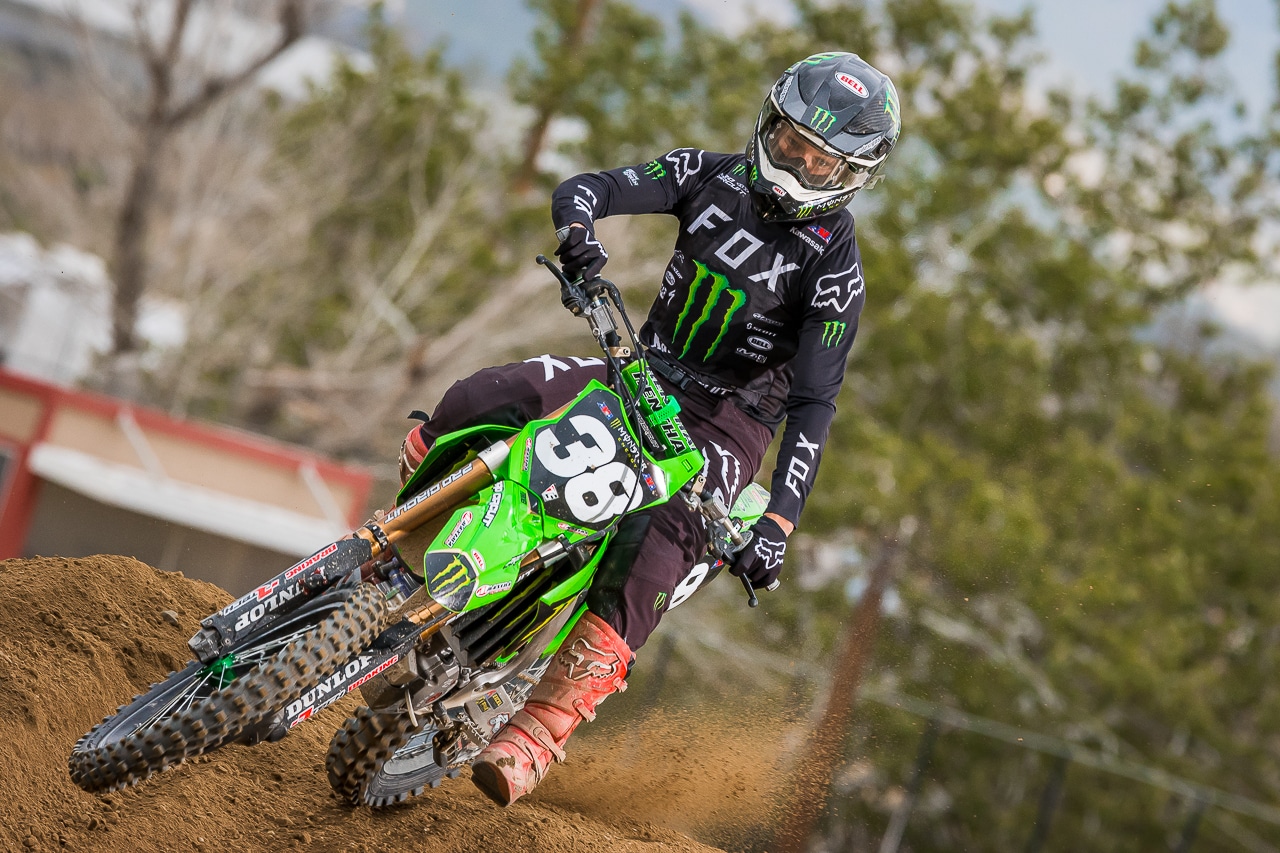 Austin Forkner putting in the work at Glen Helen while testing with the Pro Circuit Kawasaki team. We shared some video clips of Austin riding at Glen Helen and also spoke with him in an video interview a few weeks ago, click here to watch it.
DID YOUR INJURY PLAY INTO THE DECISION? Yeah, I was fine with whatever decision they came up with. My collarbone was a pretty bad break. I pretty much shattered it. I broke it into four pieces. They put a plate and seven screws in, put it back together, and it was fine. But it was not like just miss a couple of races and come back type of thing. It was like "okay we have to let this thing heal thoroughly because it is broken in enough pieces that we have to let all those pieces heal back together." If it was one clean break that you have to heal, its different. But I had four different ones that I had to heal, so we had to give it a little longer. But I am good now, back to riding and training, and back in Oklahoma now. I got some testing done in California whenever I started riding again. The bike is working pretty well.
WHO HELPS YOU MAKE THOSE DECISIONS? It is not just me. It's Mitch at Pro Circuit, Bruce and the guys at Factory Kawasaki are involved. We are a factory team, and they are Factory Kawasaki, so it is not just between Mitch and me. They will probably ask Robbie Reynard (Trainer) what he thinks. It goes through a few different people. Me, personally, I want to race, and I told them that and they were like "this is just what we think is best," and I understood. "We want you to come in fresh for outdoors. We want you to come in ready for that and not have to worry about these last two rounds of Supercross that don't mean anything" was their stance. I understood, but I just felt "I would like to race but I hear where you guys are coming from." Their thought process was "we want you to win an outdoor championship. You are out of the Supercross Championship."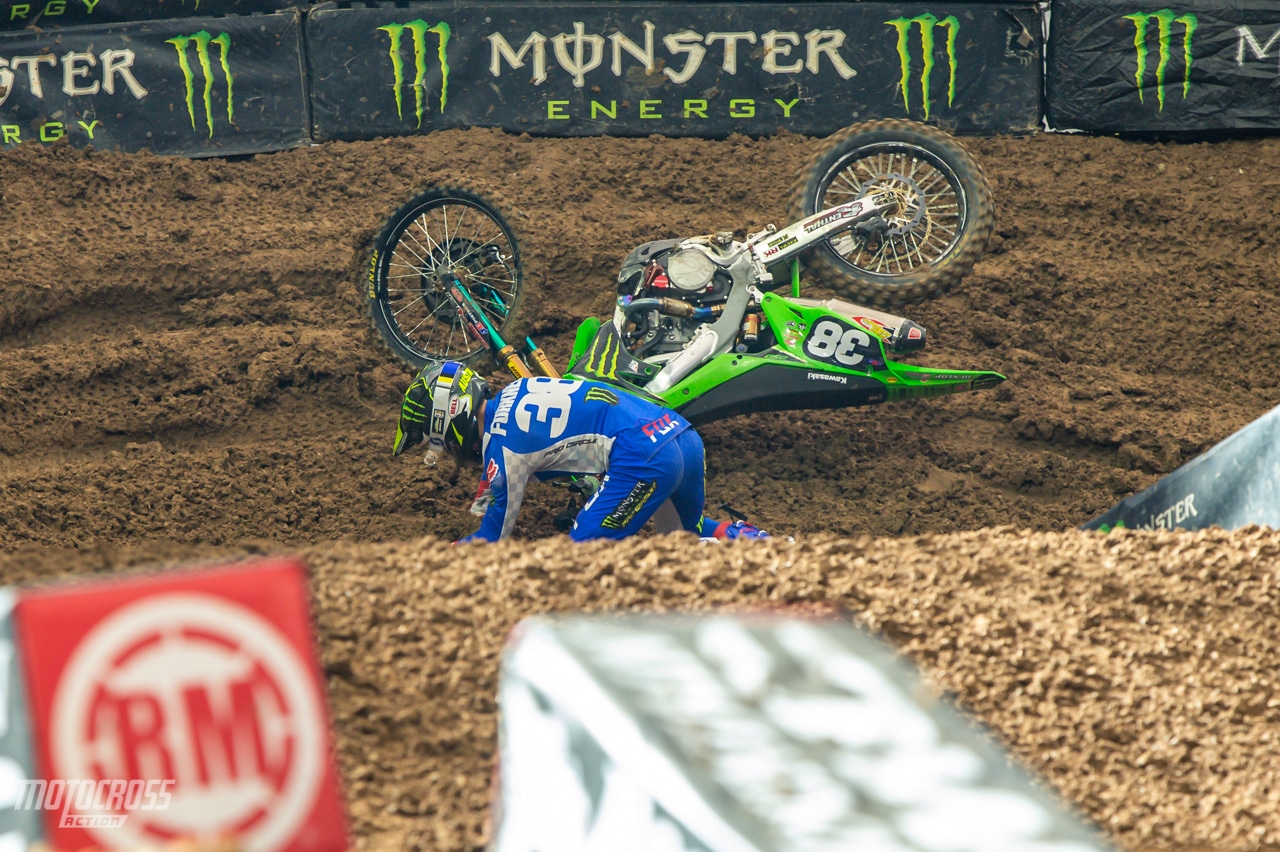 Steep obstacles, ruts and no room for error are just a few of the reasons why Supercross is difficult. Even the best riders have crashes often.
YOU'VE MISSED THE LAST TWO YEARS OF OUTDOORS DUE TO INJURY. WHAT ARE YOU LOOKING MOST FORWARD TO THIS SUMMER? I have not really set many expectations going in. Like you said, I have not raced it for a while, so I really just want to get in, get through the first race, and then make some new goals from there. Obviously, I have an ultimate goal of being in a Championship battle and being in a position to win the Championship. But I just need to get through the first two races to see where I am at and see what I need to work on. I could come out swinging and never have missed a beat over missing a couple of outdoor seasons or I could come out and say, "okay, this is where I am lacking. This is where I need to be better." As I said, I am just going to try to get through the first couple of races first and then reevaluate. Obviously, I have an overall expectation and it is just to have podiums and consistent top five finishes and win and if I do that, that will usually put me in a Championship position.
EVEN IN YOUR ROOKIE SEASON, YOU WERE STRONG, IN FACT YOU TOOK THE OVERALL WIN AT IRONMAN. THAT HAS TO CREATE A CERTAIN AMOUNT OF EXPECTATION. I feel like I have expectations no matter what. I put enough expectations on myself that it does not matter what anyone else expects of me. I expected the most of myself since I went Pro. I did have a pretty good rookie season and even my last full outdoor season that I raced two years ago; I had those four bad races at the end of the season. I was either leading or in a podium position every single one of those times. I should have had a win, or podiums at the end of that outdoor season. I just had straight up bad luck for those races. I was consistently up there at the end of the season and just got taken out by people, but it is what it is. I just remember how good I was riding, more so than the results.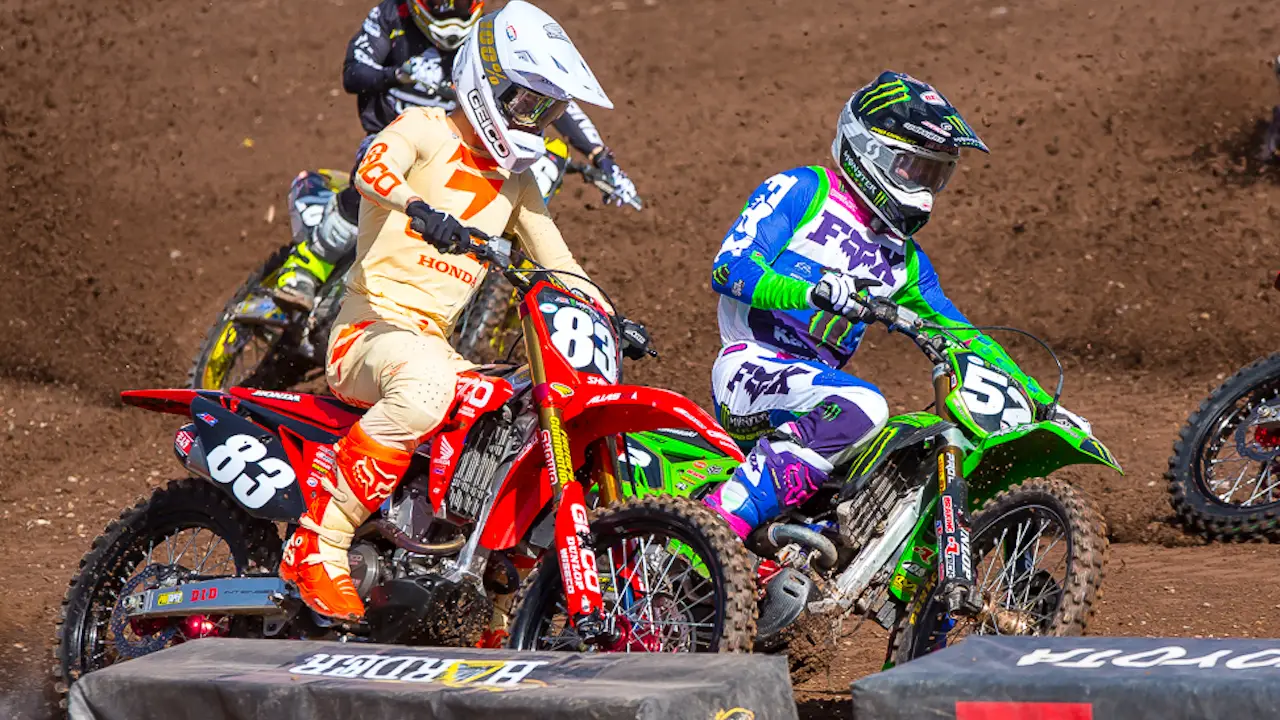 Austin Forkner and Jett Lawrence traded paint a few times in Supercross last year, we're excited to see these two battle at Fox Raceway on May 29th.
LAST YEAR, YOU HAD SOME BIG INJURIES WITH YOUR ABDOMEN. DO YOU HAVE ANY LINGERING AFFECTS FROM THAT? No. I am 100% from that. That was probably my worst injury that I've had. I really do not have any lingering injuries from that, other than a nasty scar on my stomach that is pretty gnarly looking. I was back to riding in eight weeks. I don't have any affects from it.  At the time, it was bad. I was in the hospital for a week. I did not eat, and I lost like 15 pounds.
YOU'VE BEATEN FERRANDIS AND SEXTON BEFORE NOW THEY BOTH HAVE HAD SOME SUCCESS IN THE 450 CLASS. HOW DO YOU FEEL ABOUT THEIR SEASONS? I feel good about that and the success that they have had. Originally it was the plan for me to go to a 450 for 2022, but since I did not point out this year, I will do 250 again next year. Whether it is all year or what, I am not sure. But I am doing 250 Supercross again next year. It is good to see that guys that I have raced against or beat or battled with for Championships or whatever, are in the 450 class and they are doing well. It is good to see, and to think that whenever I go to 450, I should be just as capable as those guys.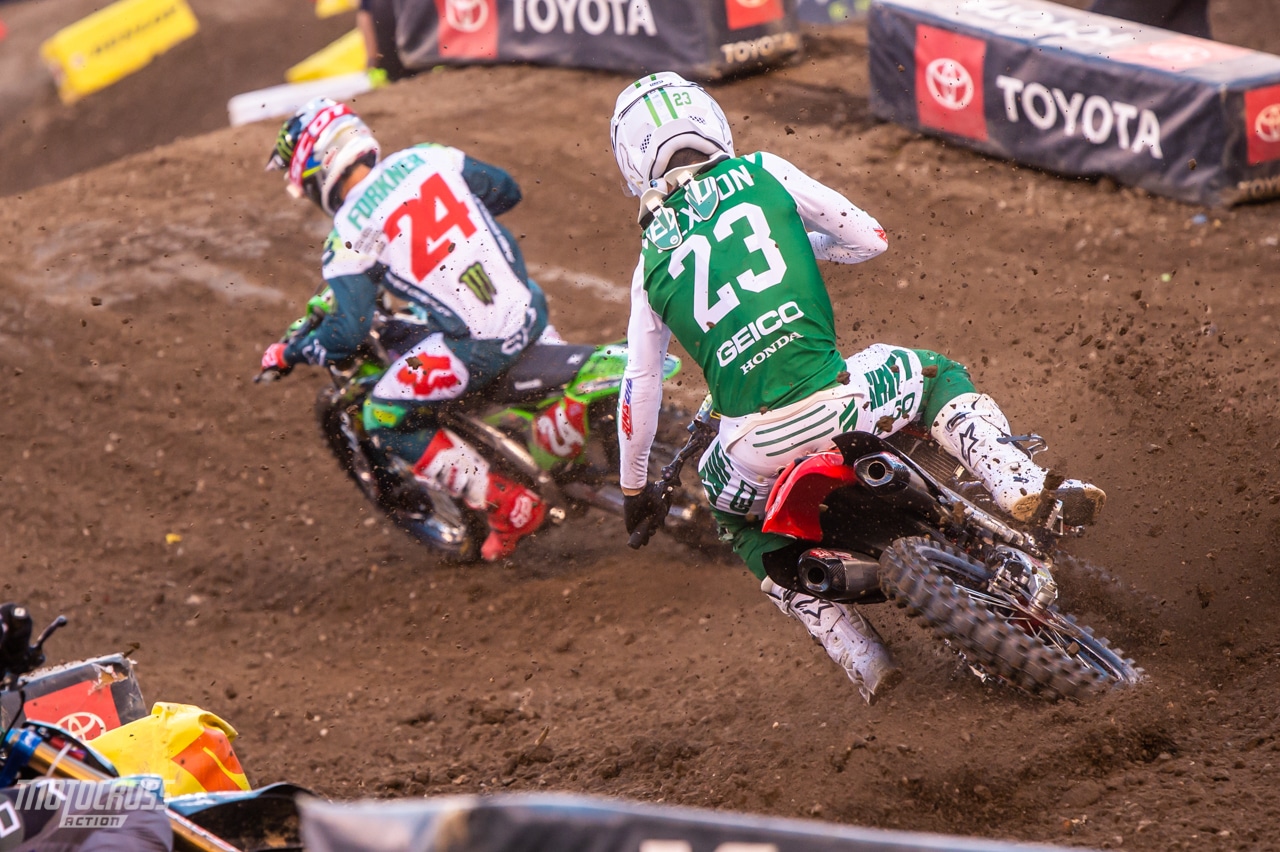 Austin Forkner leading Chase Sexton at the Rutherford Supercross in 2019. Austin led the Championship until he tore his ACL later this night and missed the final races. Chase Sexton went on to win the 250 East title in 2019 and repeat it in 2020 before moving to the 450 class for Outdoors last year.  
LIKE YOU MENTIONED, SINCE YOU ARE PLANNING YOUR MOVE TO THE 450s SOON, YOU MUST KEEP IN CONTACT WITH FACTORY KAWASAKI A LOT. That is what I was saying earlier. Yes, me and Mitch sit down and have a conversation. Pro Circuit is involved, my trainers are involved, and the guys at Kawasaki are definitely involved. Just because we are Pro Circuit Kawasaki and we are not under the Factory Kawasaki tent, does not mean that they are not involved and that they don't have a say. Ultimately, the guys at Factory Kawasaki are pretty much like the head bosses. While Mitch owns our team and he is technically my boss, they are also Factory Kawasaki making a lot of the major decisions as far as the racing teams go. It is definitely not just me and Mitch.

WITH THE RECENT ANNOUNCEMENT OF ELI TOMAC DEPARTING FOR YAMAHA NEXT YEAR, THAT COULD CHANGE THINGS FOR YOU RIGHT? It definitely could change things for me. Obviously, that will be a decision that we have to talk about because we have made decisions for me to stay 250 again next year. Depending on what happens with that, it could or could not affect what happens with me. It just depends. There are a lot of factors that could alter that. Whether I stay 250 all next year or go to 450 a little sooner, I don't know. That is all up in the cards and to be decided whenever they want to talk about it.
Austin Forkner's Pro Circuit Kawasaki KX250. 
OFTEN, YOU HAVE BEEN THE FASTEST GUY, BUT YOU'VE RUN INTO INJURIES. YOU JUST NEED A GOOD, HEALTHY SERIES. I have not had that in two years, so it is going to be nice to ride outdoors. Just go there and do my best and see what happens and make a new goal from there. Make an adjustment, make a change, whatever the case may be. I am excited to get back to racing, and I am grateful for it. I know I am strong and I can do well outdoors, and the goal is the Championship. The goal is consistent podiums, race wins, and just consistent finishes and to make the whole series as well.
AND THEN THERE IS THE FINANCIAL SIDE OF RACING PRO TOO. As much as I would like to, I don't get paid to ride my dirt bike. I get paid to race my dirt bike and I get paid on the results of racing my dirt bike, not just riding. Whenever I am missing as many races as I have, in a way, it makes it feel like I am not doing my job, because I get paid to race. Obviously, there is a lot of bonus money to be made, and there is that side of it too. I missed out on all of the extra money in my pocket and money in the bank which is always good. I know everybody talks about all my injuries and stuff, but I am sick of them too. I promise you; I am 100 times sicker of getting injured than anybody else looking from the outside in. I am over it as well as everybody else. I want to go get the results that I know I am capable of and stay healthy.
Here's Austin scrubbing in his rookie season, 2016. Although Austin missed the 2019 and 2020 Outdoor seasons, we still expect him to be a contender in the 2021 season. 
IT'S BEEN A WHILE SINCE YOU WERE A ROOKIE, BUT LOOKING BACK, DO THE OLDER 250 RIDERS CARRY AN ATTITIUDE OVER THE 250 ROOKIES? I saw a little bit of it for sure, and I see where they were coming from now with me being like a third- or fourth-year guy in the class. I see that attitude a little bit towards the younger kids. You never want someone younger to come in and beat you, but that is just the fact; that there are fast kids coming up and at some point, we will beat you. I never really got it too bad, like super, super picked on. Coming up through the 250 class, I got put on the ground, but I don't remember it being like I was "put through the ringer."  I learned what I guess I was supposed to, and that is what every rookie has to learn.
DO YOU EVER PRACTICE ON A KX450? I have been riding a 450 for the past three weeks, just to mix it up. You use all the different muscles on the 450. It is just good to mix it up and sometimes it makes me have to be more aggressive. The 450 is a lot heavier, and then I get back on the 250 and it is like "wow, this is way lighter, and I can throw it around a lot more."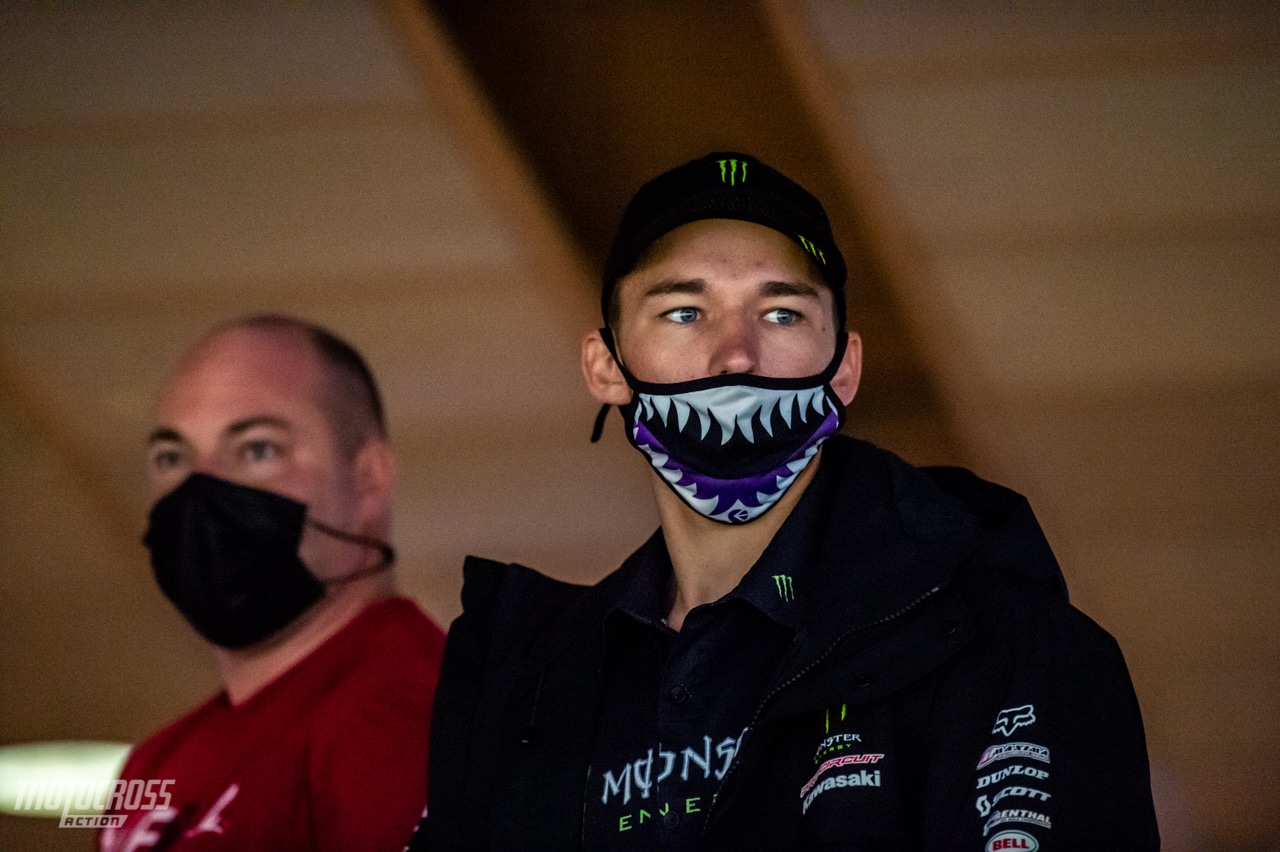 Austin Forkner with his trainer Robbie Reynard at the Houston Supercross earlier this year. 
HOW OFTEN ARE YOU TRAINING WITH YOUR PRO CIRCUIT KAWASAKI TEAMMMATES? I do pretty much my own thing here in Oklahoma. I go to California and I am out there, and I have to be out there for certain times of the year.  At times, it is too cold to ride here but I definitely prefer to be here. This is where my weightlifting trainer is. This is where my riding coach is, Robby. This is where his tracks are. This is where my home is. I have a house here. This is like where everything is at. I feel like in California, I am just out of place there, and am just not comfortable there.
WHAT IS IT THAT YOU PREFER ABOUT OKLAHOMA? To me, the tracks are not near as good out in California. Obviously, the track here is way better and way more realistic to the races. Pala or Fox Raceway is an exception, but all the other races are Midwest, East Coast races. There is Washougal, Pala and Colorado, but even Colorado is really gnarly ruts, not really much like California dirt. Red Bud, Budd's Creek, Southwick, Millville, Ironman are dirt-wise, a lot like I ride here. I prefer to be here but obviously if I have to go out there and Mitch wants me out there or whatever, then he is my boss and I have to do what he says.