AUSTIN FORKNER & RJ HAMPSHIRE OUT FOR 2021 INDIANAPOLIS SUPERCROSS 1
AUSTIN FORKNER & RJ HAMPSHIRE OUT FOR 2021 INDIANAPOLIS SUPERCROSS
The 2021 Indianapolis Supercross is here and unfortunately, we have a few top riders that will be missing from the starting line this weekend. We already knew Chase Sexton would be missing this Saturday's race after his crash at Round 2. Now, it has been announced that Championship hopefuls Austin Forkner and Rj Hampshire will miss this Saturday's race as well due to injuries they suffered during practice at the final Round of Supercross in Houston, Texas. Dean Wilson was also injured during a practice crash this week, but he plans to tough it out and line up for the race this Saturday. Read more about each rider below:
AUSTIN FORKNER: OUT
It looked like Austin Forkner injured his shoulder during practice last Saturday and most experienced motocross riders could tell by watching the video of his crash that he (most likely) broke his collarbone. We wish Austin a speedy recovery.
Kawasaki's statement about Austin Forkner: "After suffering a crash in practice last Saturday in Houston, @pcraceteam's @austinforkner will not be competing in Indy. He is working closely with medical professionals to determine a return to racing."
RJ HAMPSHIRE: OUT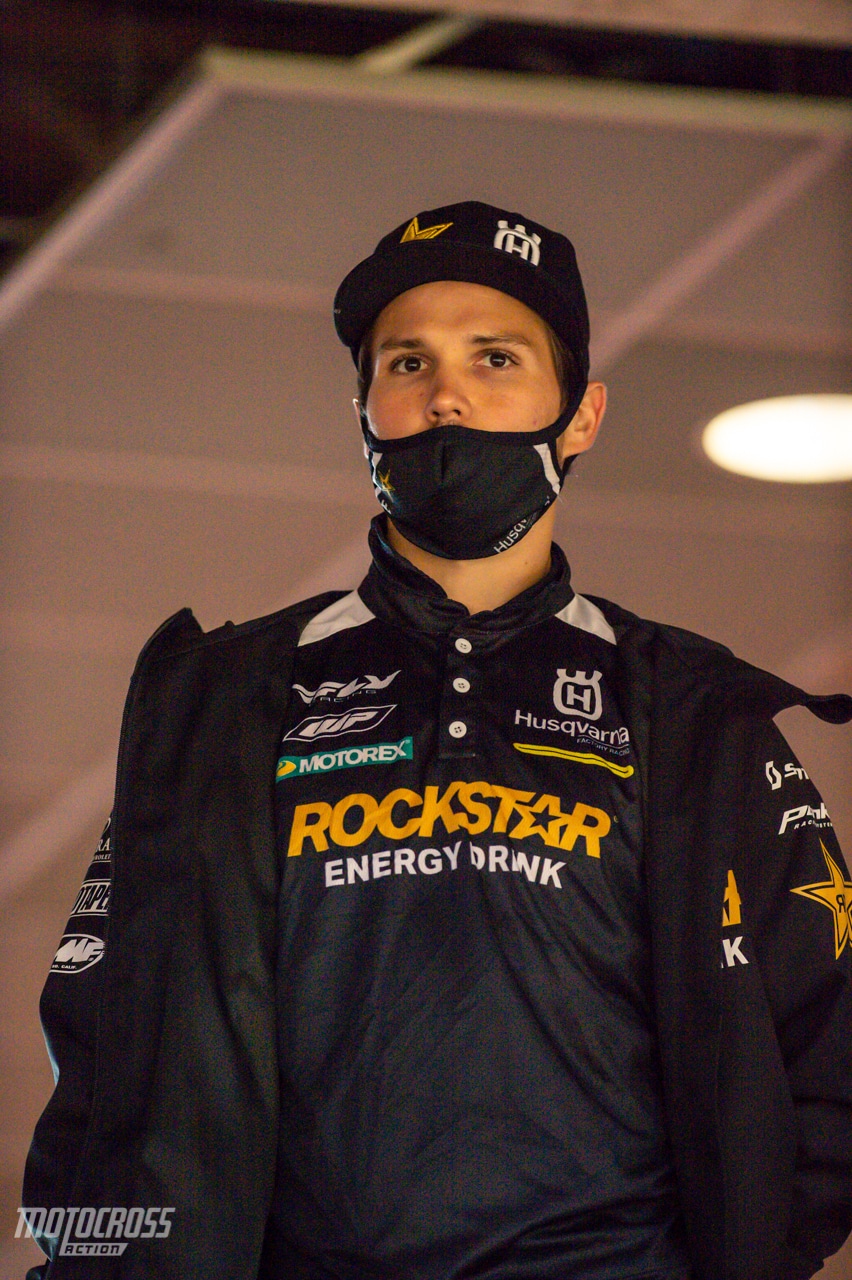 Sadly, Rj Hampshire won't be lining up either.
Rj Hampshire's statement:"Last week was rough. Saturday I had a crash in free practice which resulted in a Perilunate dislocation to my right wrist, chipped my ulna and fractured a metacarpal in my left hand. They reset my wrist in the hospital Saturday but had surgery Wednesday to repair the ligaments. Obviously it's devastating. I'm disappointed in Myself and for the people that support me. All there's to do is continue to be the best person I can be on and off the bike, pick myself up and move on. I have a lot left and will work on being better. I appreciate the support and looking forward to a better comeback!"
CHASE SEXTON: OUT
Chase Sexton hopes to return for the third Round in Indianapolis.
Chase Sexton's statement: "After my shoulder injury from Houston 2, I feel a little bit better. I have range of motion back, but I'm still pretty weak in the shoulder. The MRI results came back good; it's just a really bad strain and contusion in my right shoulder and shoulder blade. I wish I was racing this weekend in Indy, especially it being my home race, but my goal is to be back for Indy 3; that's what we're shooting for. I'm trying to gain strength in my shoulder because I don't really want to come back unless I'm ready to go win—I want to be 100%. It's going to be a tough one, but hopefully we can get back and start competing where we left off—in the lead. I'm looking forward to seeing everybody at the races. It's a bummer I'm missing my home race, but I'm excited to be there next Saturday and finish off the season strong."
DEAN WILSON: IN
Dean Wilson is going to try and race with a broken big toe, sprained ankle and banged up knee. 
Dean Wilson's statement:"Well I'm no foot model but pretty sure it's not suppose to look like this. Unfortunately somehow got a neutral off a jump with 3 laps to go on Wednesday. I ejected off my bike landing on my feet cartwheeling. Ended up breaking my big toe, sprained ankle & got lucky with my knee after getting mri it's just a contusion / bone bruising but had to get 165cc drained out of it. It's Friday and im still at home, I originally wasn't going to go to the race but I'm feeling a little better & will give it a go tomorrow. Thank you everyone that has my back. – Deano"