AUSTRALIAN NATIONAL MOTOCROSS CHAMPIONSHIP: FORD DALE & JOSH COPPINS WIN AT APPIN'S MACARTHUR MOTOCROSS COMPLEX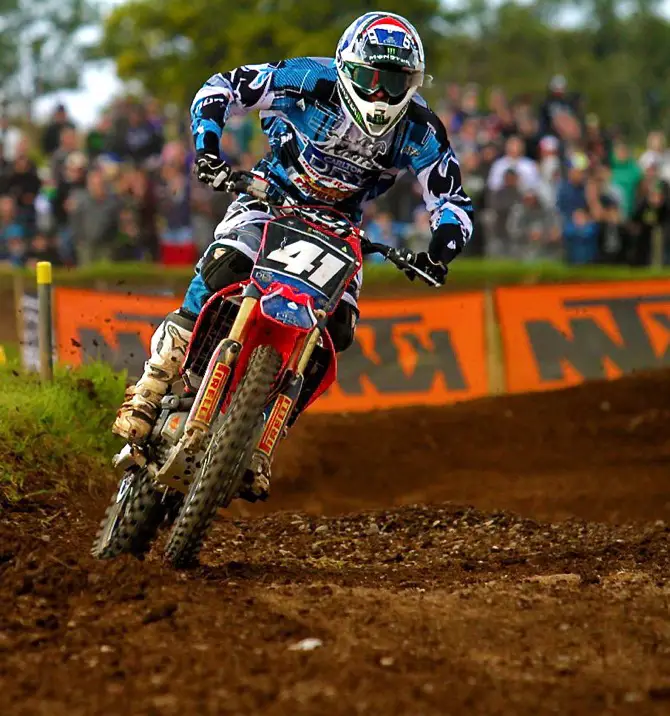 Ford Dale is 31 points behind Luke Styke with three races to go. Ford gained 9 points on Styke at Appin, but probably needs Styke to falter to win the title. Photo: Simon Makker/Makkreative
CDR Yamaha's Josh Coppins has claimed a pivotal third win of the 2012 Monster Energy Australian Motocross Nationals, extending his 450 motocross championship lead to 12 points at Appin in New South Wales on Sunday, 29 July. The former runner-up in the FIM Wolrd Motocross Championship announced his retirement from the sport during the weekend, was fourth in the opening moto, second in moto two and then sealed the overall with a dominant win in the final 30-minute moto.
It was a special win for the New Zealander on an emotion-charged day, while title challenger Todd Waters was second for Motul Pirelli Suzuki. Waters started the round with a victory in the first moto, before claiming a pair of fourths in the final motos. "In the first two motos I struggled with arm-pump, which I was surprised with because the track was really smooth," Coppins said. "It's always good to win and nice to take a few points back in the race for the championship. Hopefully we can keep it up in Moree and not make it too tense at Coolum."
Third for the round was Honda privateer Jake Moss, a rewarding result in what is his home round of the championship. Moss was seventh in moto one, but a third and a second in the final motos landed him on the podium for the weekend. New Zealand's Cody Cooper was fourth for Motul Pirelli Suzuki after winning moto two in fine style, while JDR/KTM Factory Racing rider Dan Reardon completed the top five just one week after announcing his retirement.
250 CLASS


The 250 podium of Kade Mosig, Ford Dale and Josh Caschia. Photo: Simon Makker/Makkreative

The 250 class was won by Carlton Dry Honda Thor Racing's Ford Dale as he attempts to close in on series leader Luke Styke. Dale was a disastrous 10th in moto one, but bounced back to salvage the overall with two wins to complete the weekend. "The first moto didn't go to plan after I went down on the second lap," Dale said. "The second moto was a lot better and I was able to get into the lead on the last lap, so I won that. Moto three was good as well, I just rode my own race and that's how I ride my best."
Moto one winner Josh Cachia was second overall and tied with Dale in a continuation of his recent form, claiming 1-3-5 results for the weekend. Cachia maintains third in the series behind Styke and Dale.
Next round is at Morree in New South wales on August 19.
APPIN RESULTS: 450 class
1. Josh Coppins…65
2. Todd Waters…61
3. Jake Moss…56
4. Cody Cooper…52
5. Daniel Reardon…51
6. Lawson Bopping…45
7. Dean Porter…40
8. Billy Mackenzie…38
9. Jay Marmont…34
10. Brad Anderson..32
APPIN RESULUS: 250 class:
1. Ford Dale…61
2. Josh Cachia…61
3. Kade Mosig…58
4. Luke Styke…56
5. Adam Monea…47
6. Cheyne Boyd…47
7. Kirk Gibbs..46
8. Scott Columb…37
9. Keiron Hall…36
10. Geran Stapleton…26
450 AUSTRALIAN NATIONAL CHAMPIONSHIP POINTS
(after 8 of 10 events)
1. Josh Coppins………480
2. Todd Waters……….468
3. Lawson Bopping…420
4. Brad Anderson…..412
5. Cody Cooper……..388
6. Jake Moss…………311
7. Jay Marmont……..288
8. Daniel Reardon….278
9. Dean Porter………257
10. Daniel McCoy….249
250 AUSTRALIAN NATIONAL CHAMPIONSHIP POINTS
(after 8 of 10 events)
1. Luke Styke…………477
2. Ford Dale…………..446
3. Josh Cachia……….429
4. Kade Mosig………..395
5. Adam Monea………374
6. Cheyne Boyd……..366
7. Kirk Gibbs………….347
8. Scott Columb……..286
9. Justin McDonald…282
10. Lewis Woods…….255