AUSTRALIAN NATIONAL MOTOCROSS TITLES CLAIMED: JOSH COPPINS WINS 450 CLASS, WHILE FORD DALE TAKES 250 TITLE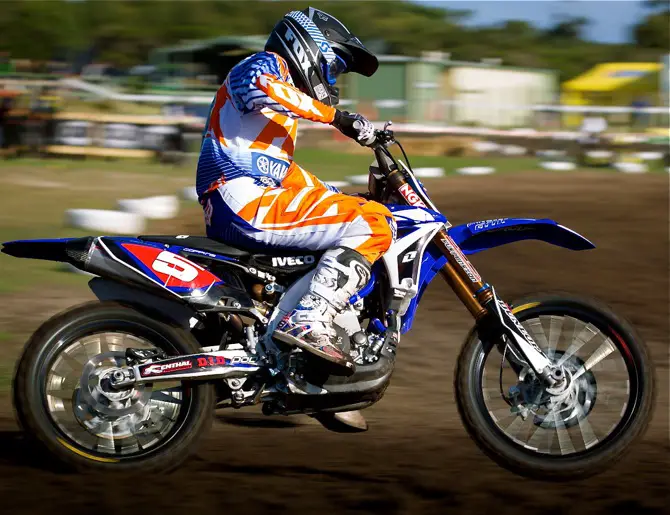 As his final major motocross race, Josh Coppins will represent New Zealand at the MXDN. Photo: CDR Yamaha
The Australian National at Coolum marked the last time that New Zealand legend Josh Coppins competed for a motocross Championship. Coppins announced his retirement from full time racing several weeks ago… and Coolum was the final race (although, like all motocross races, Coppins will be back for the occasional event, including representing New Zealand at the Motocross of Nations).
Josh Coppins spent 15 years at the World Motocross Championships, earning two second place finishes during his GP career and returned to New Zealand two years ago to race locally. Last year Coppins almost won the Aussie title, but a shoulder injured sidelined him at the last round and he lost the crown to Jay Marmont.

Brad Anderson is still the British National Champion, but he didn't defend it, instead choosing to move to Australia where he finished 4th overall. Photo: Simon Makker/Makkreative
This year, Coppins entered the final round with a 14-point lead over Todd Waters. Waters did what he had to do at Coolum when he went 2-1-1, but it wasn't enough because Josh Coppins went 1-2-2, while Cody Copper went 3-3-3. Brit Champion Brad Anderson was fourth with a 4-9-5.
The race marks a turning point in Australian motocross as Coppins, Dan Reardon and Craig Anderson will all step aside to let the younger generation take their place in Aussie motocross.
DALE WINS 250 TITLE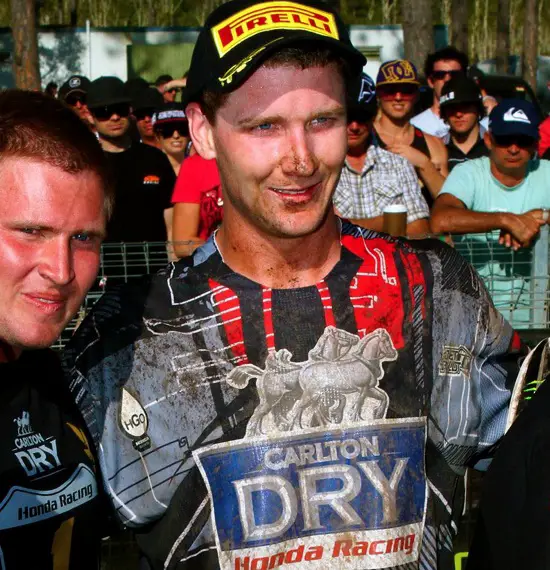 Ford Dale.                  Photo: Simon Makker/Makkreative

Carlton Dry Honda Thor Racing's Ford Dale  won the Australian 250 crown by finishing fourth overall at the final round of the series at Coolum. Dale, who held a 21-point lead coming into the final round of the championship, entered the final moto of the day with a 4-point lead over Yamaha's Luke Styke, but the final moto would have its drama. The first start was red-flagged (with Ford Dale in fourth), and in the restart Dale was back in eighth. Styke was leading, both the moto and the title chase at this point.
By mid race, Dale was up to third and when Josh Cachia passed Luke Styke for the lead the 250 Championship was Ford Dale's ? by a meager two points. Dale said. "This is just amazing. I am totally overwhelmed. I have had my fair share of ups and downs, but if feels so good to finally claim this title. Today wasn't one of my best performances. Nerves certainly got the better of me in the first two races, so I didn't make it easy for myself coming into the last race."
OVERALL 250 RESULTS: COOLUM
1. Josh Cachia…………72
2. Luke Styke…………..69
3. Kade Mosig………….52
4. Ford Dale…………….50
5. Cheyne Boyd……….45
6. Brock Winston……..44
7. Scott Columb……….42
8. Kirk Gibbs……………40
9. Ryan Marmont……..36
10. Justin McDonald…32
OVERALL 450 RESULTS: COOLUM
1. Todd Waters………72
2. Josh Coppins…….69
3. Cody Cooper……..60
4. Brad Anderson…..46
5. Dean Porter……….43
6. Jay Marmont………42
7. Billy Mackenzie…..42
8. Daniel McCoy…….40
9. Lawson Bopping…37
10. Jake Moss……….36
250 AUSTRALIAN NATIONALCHAMPIONSHIP FINAL STANDINGS
(After 10 of 10 races)
1. Ford Dale………………571
2. Luke Styke…………….569
3. Josh Cachia………….565
4. Kade Mosig…………..499
5. Kirk Gibbs……………..441
6. Cheyne Boyd…………411
7. Adam Monea…………409
8. Scott Columb…………360
9. Justin McDonald…….320
10. Lewis Woods……….306

Josh Coppins.
450 AUSTRALIAN NATIONAL CHAMPIONSHIP FINAL STANDINGS
(After 10 of 10 races)
1. Josh Coppins………618
2. Todd Waters………..607
3. Cody Cooper……….509
4. Brad Anderson…….509
5. Lawson Bopping….506
6. Jay Marmont……….374
7. Jake Moss…………..347
8. Dean Porter…………331
9. Daniel McCoy………329
10. Dan Reardon……..320