BENNY BLOSS INTERVIEW: FROM KTM TO YAMAHA TO HUSKY TO TEAM MCR HONDA
BENNY BLOSS INTERVIEW: FROM KTM TO YAMAHA TO HUSKY TO TEAM MCR HONDA
We have now seen the Smartop/Bullfrog Spas/MotoConcepts press release confirming their 2021 race team. While many expected Vince Friese to return, Tony Alessi announced that Shane McElrath and Benny Bloss would be with the team. While Benny Bloss has been racing a 450 for several years, it has usually been with last-minute signings, and fill in rides. Bloss can score very credible finishes, so it will be interesting to follow his 2021 season with MCR. Benny Bloss is happy, team manager Tony Alessi believes in him, and he is on a proven bike. We were able to track down Benny after a recent day of riding to hear more about switching bike brands, moving from the amateur scene straight into the 450 class, and on the MCR honda.
 BY JIM KIMBALL
HOW DIFFICULT WAS IT SWITCHING TO THREE DIFFERENT BIKE BRANDS AT THE BEGINNING OF 2020? I think it would have been harder if the transition had been me going from a KTM to a Yamaha mid-season, but I had ridden the KTM for the previous four years. Going from the KTM to the Yamaha in the off-season was difficult. It was a very different bike, but then when I went back to the KTM, I was comfortable immediately, and I already had that bike dialed in too. We just went back to my old settings. I think it would have been harder had I not spend the past four years on a KTM. The Husky was the same thing, basically the same bike as the KTM, so that was not too hard. Honestly, though, the smoothest transition has been from the Husky to the Honda. Typically, I have always made changes. I have never gotten on a bike and not made changes immediately. I think I made my first change on day four of riding the Honda, which is not super normal for a lot of people. I am really, really enjoying that bike.
SPEAKING OF THE HONDA, WHEN DID YOU START TALKING TO MCR? Probably a couple of races into outdoors. I knew that I did not have anything lined up, obviously, so that was one of the teams that I really, really wanted to try to get on. They seemed like they had a good bike, and the program is good. Now that I am on the bike, it is crazy how good it actually is. Like I said, I am really, really happy.  
TELL US MORE ABOUT THE MCR HONDA. It is a lot different bike than I am used to riding. And the guys at MCR have been making that bike the best that they can for the past couple of years. honestly, I told Tony Alessi the other day that I don't think people realize how good this bike actually is. I love everything about it, and I have not found anything that I can complain about which is obviously really nice for me, especially starting with that. I am sure we will make some tweaks to the suspension here and there a little bit but overall, so far, I am really, really happy with it. I am really happy with the team as well. I like all the guys, get along with everybody, and I think it is going to be a really fun year.
SO THE ENVIRONMENT WITHIN THE MCR TEAM IS PRETTY GOOD. Yes, very much so. Everybody does everything together. We are riding together every day, and we are hanging out as well. There are team dinners during the season. They try to include everybody in everything, and I really like that. Like I said so far, I am getting along with everybody really well. It is nice to be happy because that is something that I have not always been in the past.  Being happy is a huge part of racing, and it makes your job a lot easier. I think that this year, we have a really good team, and I think that everybody is going to get along really well at the races. We are going to be killing it hopefully, and I think people are going to be surprised.  
Being happy is a huge part of racing, and it makes your job a lot easier.
I THINK THE DYNAMICS WITH YOURSELF AND SHANE MCELRATH JOINING VINCE FRIESE SEEM LIKE IT WOULD BE REALLY COOL. Definitely, I think we have a good group of guys. Obviously, Vince has been with the team for a long time and it seems like he has just gotten better and better each year.  I think Shane is going to be really good this year. He looks good so far on the 450. I think we can definitely have four guys in the top ten which would be incredible for the team, for Mike Genova, and for Tony – and that is what we are going to try to do. We want to make the sponsors happy, the bosses happy and have fun while we are doing it.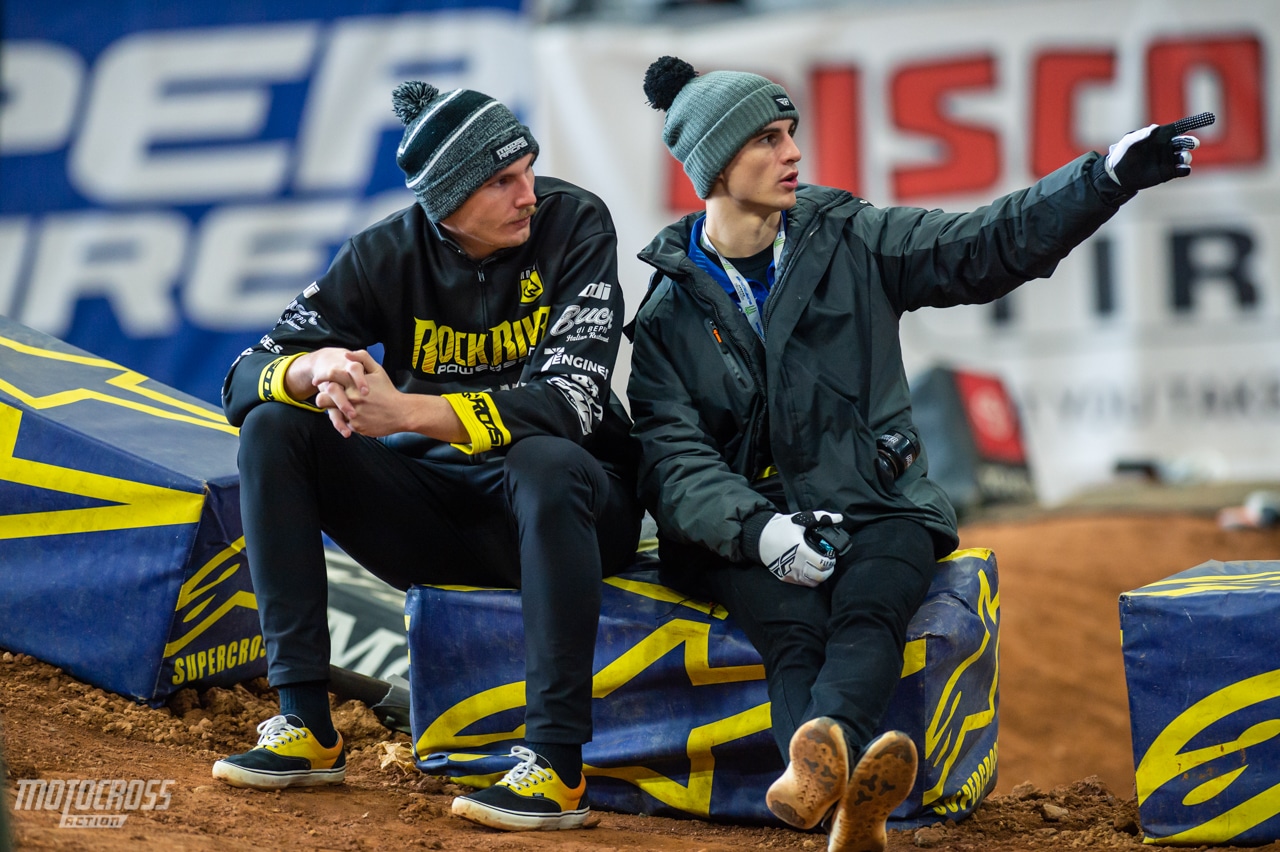 YOU ARE IN CALIFORNIA NOW. IS THAT GOING TO BE YOUR HOME BASE? IN THE PAST, YOU GENERALLY STAYED IN OKLAHOMA, AND TRAINED WITH ROBBY REYNARD RIGHT? Yes, I live in Oklahoma, and that is where my house is. I will be out here in California until February, at least. I have a baby due in March, so I am going to go home.
I will probably go home in February and be there for the rest of the time.  It really just depends after that on how the season is, and where we are going to be racing. Right now, I am in California and doing the off-season out here. It is hard to be away from my wife, but we are just trying to make the best of it. I'm really enjoying being with the guys every day at the track.  It is nice to get to know everybody more and more.  
THAT IS A SIGNIFICANT CHANGE FOR YOU, ISN'T IT? Yes, it really is. I usually stay there in Oklahoma most of the off-season.  Sometimes it will get cold and two years ago, I had to come out here for December, January, and February. Last year, I was only out here a couple of weeks in January. Really, it just depends on the weather. I feel like it is going to be a little colder winter this year in Oklahoma, based on how it has been so far. I think it will be good out here.  It has been really hot out here in California.  I think it was 90 the other day while riding Supercross, which is not normal for me.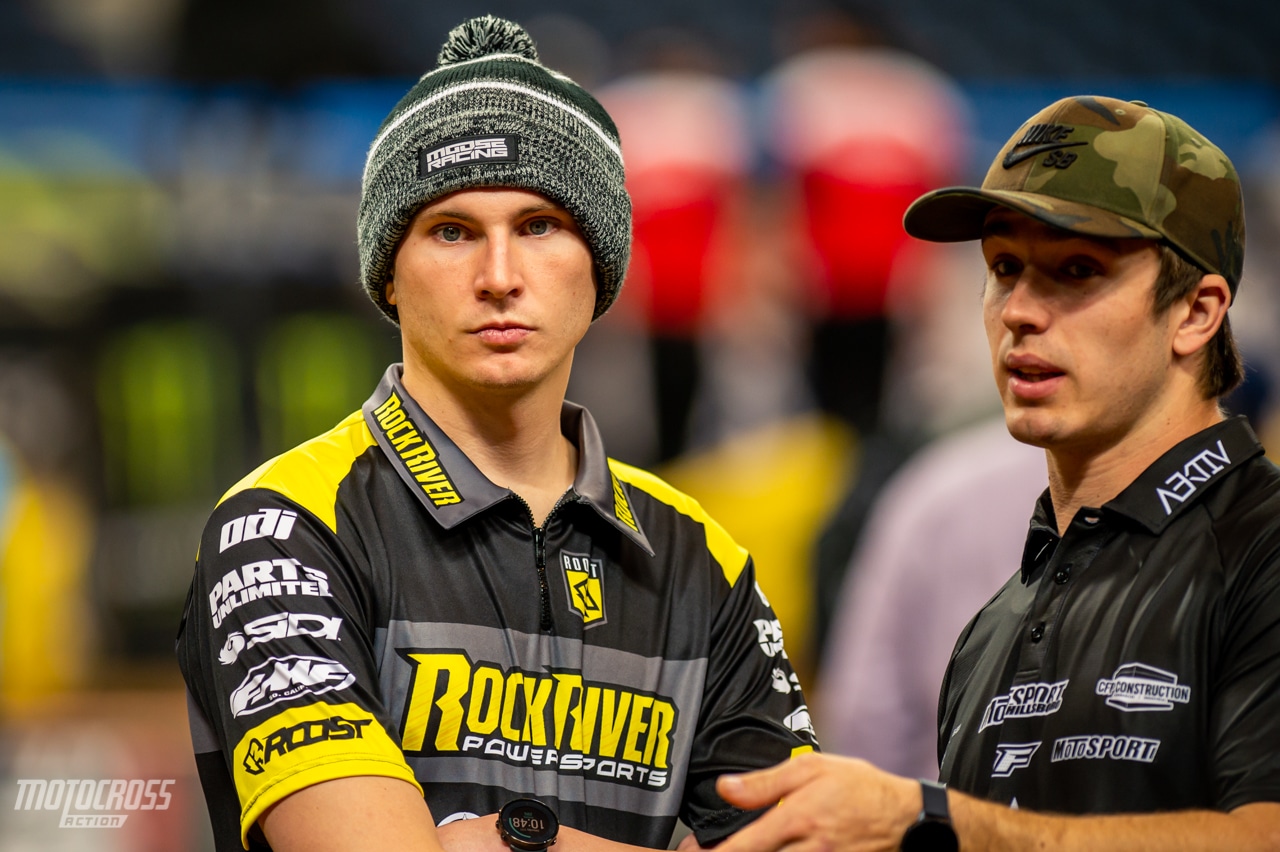 YOU NEVER REALLY HAD THOSE DEVELOPMENT YEARS IN THE 250 CLASS, YOU WENT STRAIGHT TO THE 450 CLASS. HAS THAT BEEN GOOD, BAD OR JUST DIFFERENT? I don't really know, but it is different for sure. Most guys race the 250 class for a long time. I think I raced six rounds in 2016 on a 250 and then I did the last three on the 450. I actually planned on racing for Rocky Mountain, on the 250f in 2017, but I unfortunately ended up getting hurt at the first race. Then later in that Supercross season, I was talking to the team and they offered me a deal to ride 450s, so that is what I did. I think it was just better for me with how big I am. It is going to be much harder for me on a 250f and competing against guys that are 140 pounds. There are not a lot of bikes that I really could ride that have the power that I would need. It is just a situation where I would need to do the 450 to help me grow a little quicker. It is not the same riding the 250 class as the 450, obviously, but you have to kind of handle all situations a little differently.
Then later in that Supercross season, I was talking to the team and they offered me a deal to ride 450s, so that is what I did. I think it was just better for me with how big I am.

IT IS JUST INTERESTING TO ME THE PATH YOUR CAREER HAS TAKEN. I definitely would like to know where I would have been if I had done 250s more. In 250 Supercross you are racing half the guys that we race, good guys at least. It is a little easier if you do better. The 250 class is good so people can get used to supercross and learn how to get into the top five, the podiums and all that. I just never really had that. It is what it is.
WITH SOME VERY IMPRESSIVE 450 RESULTS THROUGHOUT YOUR PRO CAREER, HOW CAN YOU REALLY PUT 2021 TOGETHER? Thank you. I think that staying healthy is going to be the key this year. I believe that I can really surprise people and I really feel like I am going to elevate my level on this Honda. Hopefully we can get my starts dialed in. I think that if there is anybody that can get me to get better starts, it is probably Tony Alessi.  
YOU MENTIONED STAYING HEALTHY. YOU HAVE HAD SEVERAL SERIOUS INJURIES THAT TAKE TIME TO HEAL AND RECOVER FROM. IS THERE ANYTHING YOU CAN DO TO AVOID INJURIES? Yes, you can. You can train, you can make sure you are eating right. But I think that everything happens for a reason.  If something was meant to happen, it was meant to happen. Obviously, if you are a little stronger, you are probably going to be able to take a hit better, but I don't think there is anything you can do to completely eliminate injuries.  
WHERE YOU SHOULD BE OR WANT TO BE AS FAR AS RESULTS IN SUPERCROSS? That has been kind of something that I have really focused a lot on in the past. Obviously, my goal is to be top ten, and I think that is a good goal. The class is really crazy deep right now. But with that said, I am not going to try to put a number out there for this year, going into the first race. I am not going to be like "okay, I need to get this finish".  I am going to go out there and race like I can, try my hardest and see where we end up. I do think if I ride as best as I can, I should be inside the top ten for sure.
I am going to go out there and race like I can, try my hardest and see where we end up. I do think if I ride as best as I can, I should be inside the top ten for sure.
I KNOW THE PRESS RELEASE STATED THAT MCR MAY DO SOME OUTDOOR RACES IN 2021. BUT HOW DID THE SUPERCROSS ONLY CONTRACT APPEAL TO YOU? It appealed to me pretty well. They talked about possibly doing outdoors this year. I honestly do not know if that is a for sure thing or not. I basically had to take my options and see what I had, and I had this opportunity. I love outdoors; I really do, but I am not like "Oh my gosh, I have to ride outdoors". If I can find a team and make good money to do Supercross and do good in Supercross, then that is what I will do. If I need to find an outdoor ride for the summer, I will do that as well. Outdoors is not an "Absolutely, I have to do this type of thing" for me but if you want to go outdoor racing, I am all in.  
YOU SEEM PRETTY CONFIDENT AND HAPPY ABOUT WHERE YOU ARE AT GOING INTO 2021. Like I said, I am very happy, which is obviously a huge plus. I am getting along with the team very well.  I was able to bring my mechanic Alex Harris that I had from Rock River. I am happy to be working with him again and I just feel like I really get along well with everybody on the team and happiness is going to help, that is for sure. But you still have to put in the work, so that is what I am out here doing, and it is going to be a good off-season. I think it will be nice to learn from each other, ride with each other, and help push each other. I am really happy for this season and I think that our team is really good. Hopefully we can go out there, get good results, and make Mike Genova (Team owner) and Tony Alessi happy. I can't thank those guys enough for taking a chance on me. I know there were some other guys that were available as well, but I really, really wanted this job, and I think I made it pretty clear. I called them quite a bit about it, and I'm just really, really thankful to be here. I have a lot of great sponsors as well and I am really, really digging the new Leatt gear, helmet, boots, goggles. Hopefully I can have KT Tape on again as a sponsor for me. It is always good when you feel wanted and they seem happy with everything so far. I am excited so far and I think it is going to be a good partnership.