BEST OF JODY'S BOX: LIVING IN THE LOUELLA MEDIAN TIME ZONE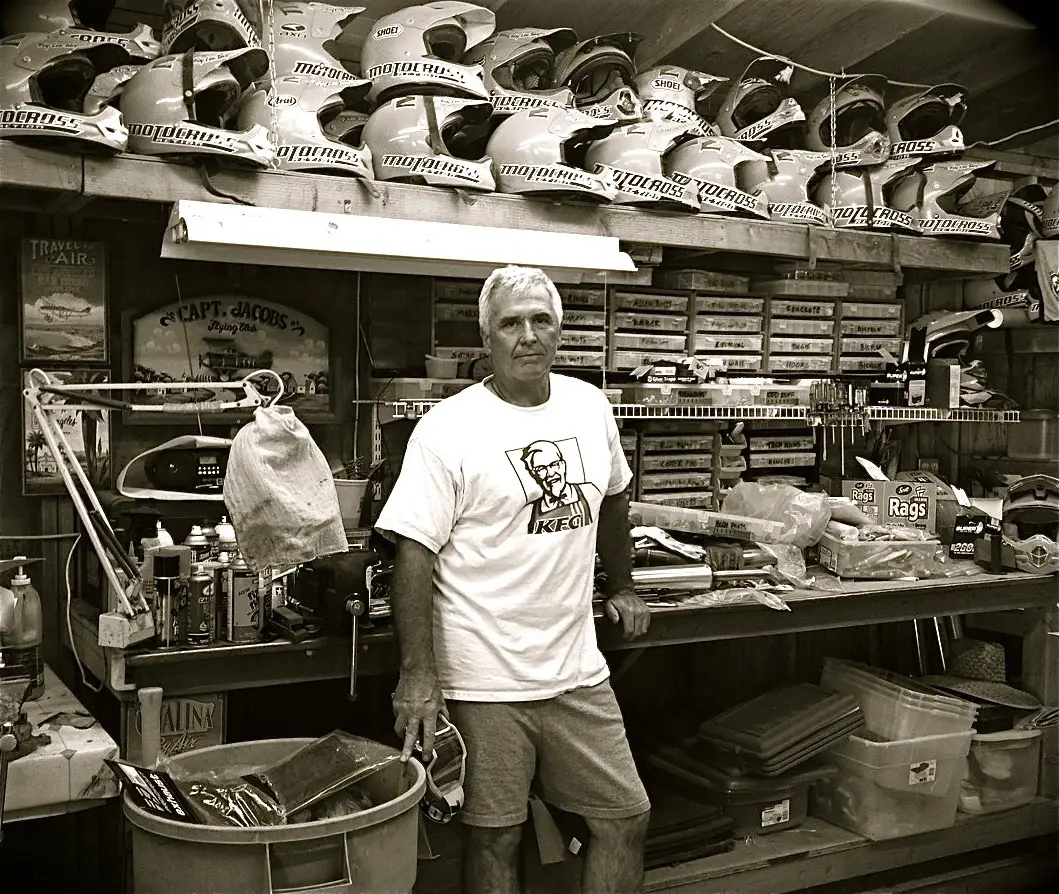 By Jody Weisel
Time was passing slowly as I worked on my bike in the barn. I should mention that when I work on my bike, I do it by something I call "Louella Median Time." When working on a motocross bike, patience is a virtue. Unfortunately, when you live in the Louella Median Time Zone, patience is just another way to say, "Late for dinner."
I could set my watch by lovely Louella's predictability. On the half hour, she calls out from the back door of the house, inquiring if I want anything to eat or drink. I always say, "No," especially after that incident when I mistook the antifreeze for ice tea. Every hour, on the hour, she sticks her head in the barn door and asks, "How's it going?" I normally respond by holding up a page of the owner's manual and asking, "Do you think they printed this upside down by mistake?"
At the two-hour mark, she steps into the barn, gingerly avoiding puddles of oil, and asks, "Are you almost done? Do you need any help?"
Typically, I roll the rear wheel over in her direction and say, "Could you pop the bead on this rear tire for me, Lou."
AT THE SIX HOUR MARK, SHE DOESN'T CALL OUT, LOOK IN OR STEP THROUGH—ALTHOUGH SHE HAS BEEN KNOWN TO PULL THE BARN'S CIRCUIT BREAKER LEVER.
At the six hour mark, she doesn't call out, look in or step through—although she has been known to pull the barn's circuit breaker lever.
I cannot count the number of times in my life when I have struggled with a potpourri of parts, trying to form some semblance of rationality out of their interconnectability. But the longer I ponder the marvel of mechanical parts, the less work gets done.
On this particular night, things were getting done, although not necessarily on my motorcycle. When I needed a 6mm bolt, I got distracted looking for it and ended up sorting all of my miscellaneous bolts into large coffee cans. Later, I reorganized my shop rags by the type, size and quality of the grease stains on them—stopping occasionally to look at a particular pattern of oily rag to see if I could recognize a horsie, moo cow or baby duck in its Rorshach-like blot. I swept the floor, but stopped short of scooping the debris into a dust pan because I thought I recognized a couple of parts that I had lost the month before. While I wasn't actually working on my bike, I knew it would get done, because if I didn't finish it, I would have no use for the mainjets that I had polished on my new buffing wheel.
I WAS BUSY DRILLING A FIFTH HOLE IN MY GOGGLE LENS TO MOUNT A ROLL-OFF CANISTER (YES, I KNOW IT ONLY TAKES FOUR, BUT THAT'S ONLY IF YOU DRILL THE FIRST HOLE IN THE RIGHT PLACE).
"Hey, Jody, need some help?" asked Jimmy as he walked into the barn about 8:00 pm. I hadn't heard him drive up because I was busy drilling a fifth hole in my goggle lens to mount a Roll-Off canister (yes, I know it only takes four, but that's only if you drill the first hole in the right place).
"You bet I do," I answered. "I started on this thing a couple hours ago and I'm getting burned out on it. I picked a bad time to overhaul my bike from top to bottom."
"I can't stay very long," said Jimmy, "but if you tackle the suspension, linkage and chassis, I'll jump on the engine."
I cleared a spot on the workbench next to the lower-end and pointed to the rollaway tool box. Jimmy was a journeyman mechanic—steady, thorough and logical. He was not a big fan of my intuitive mechanical style and couldn't understand how I could scatter parts to the far corners of the barn without rhyme or reason. He was quite happy to have his own little corner to work in as I went back to the chassis in the center of the barn.
We worked diligently for the next two hours and our conversation was limited to the rudimentary language of all mechanics. It went something like this:
"Are these snap ring pliers innies or outies?"

"Did you see a nut go flying by?"
"No ice tea for me, thank you, honey."
"Who's got the eight T-Handle?"
"Isn't this my torque wrench?"
"I wonder where this thing goes?"
"Could you pop the bead on this front tire for me, Lou."
"Who chose this radio station?"
"Can you hand me a 12? I mean 14. Make that a crescent wrench."
"Doesn't this rag's oil stain look like giraffe?"
"What idiot designed this part?"
"Do you have an Easy-Out?
"Hey, who turned off the electricity?"
Jimmy Mac and I were a flurry of activity, but we didn't seem to be getting anywhere. You'd think that two guys working at different tasks could do the job in half the time, but it wasn't happening. Not that we didn't try. Every now and then, I'd hand him a part and ask if he could work on it while I finished some other assignment. Whenever I had a spare moment, I'd pitched in on the engine and Jimmy would return the favor when I was stuck with the suspension.
It was frustrating. After three hours on Louella Median Time, I stood up to stretch and realized that the job was too big for one night. "Forget it, Jimmy Mac, " I said. "We'll never get this thing apart."
That's when Jimmy looked at me and said, "Apart?"