BEST OF JODY'S BOX: MY ENGINE RESEMBLED A PINE CONE SITTING ON TOP OF A WATERMELON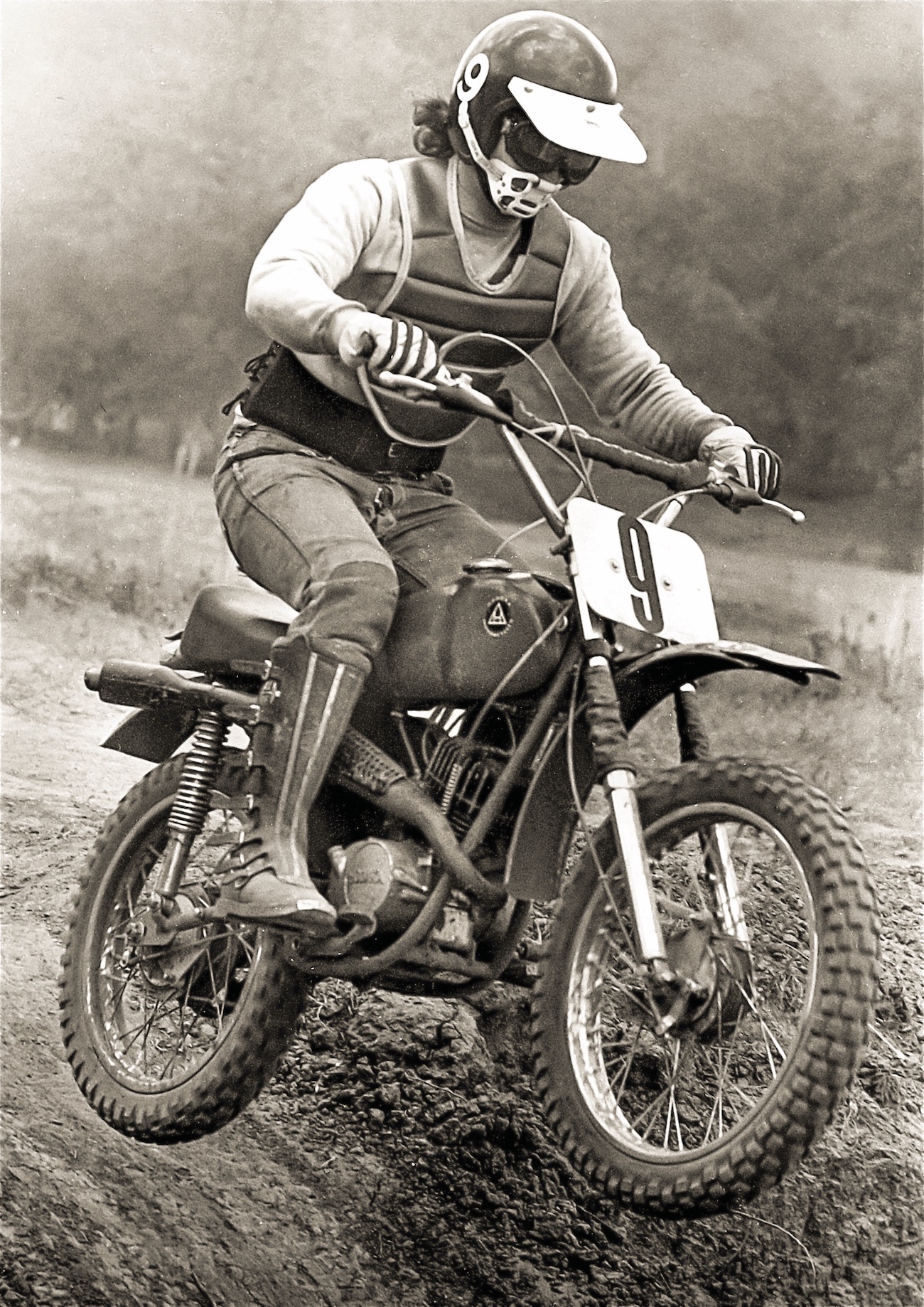 By Jody Weisel
When I started racing in the late 1960s, there were no real minicycles and the majority of racers were on big British four-strokes. Oh, I'm not complaining because I was lucky to have been born at a time that allow me to start my career at the same time as the beginning of the first two-stroke era. I say "first two-stroke era," because if the sport is to continue into the future it needs to develop a new generation of low-cost, easy to maintain and fun dirt bikes again. I know that if I had been forced to race a BSA, Matchless or Triumph thumper I would never have become a motocross racer. My racing career was made possible by the availability of inexpensive dirt bikes.
My father bought me my first motorcycle. It was a used Italian-made 125 two-stroke. It was a not a dirt bike, but didn't take much to turn it into one…a very poor one. My 125 came from the Benelli factory, but was sold by Montgomery Wards (and had "MW" on the ignition cover to prove it). It had a three-speed, two-stroke engine that resembled a pine cone sitting on top of a watermelon. Racing that Montgomery Ward/Riverside/Benelli was a totally enjoyable exercise in futility — made possible only by the ineptitude of my competition's Triumph Cubs, Parilla 125 Scramblers and BSA Bantams.

The engine of Jody's first dirt bike resembled a pine cone sitting on top of a watermelon.
I needed a better bike if I wanted to get anywhere, but my dad wasn't thrilled that I had stripped the Monkey Ward's 125 down to its bare essentials. He said if I wanted a new bike I would have to buy it myself. I skimped and scraped to buy a used Sachs 125 from a friend, who had tried racing and didn't like it, for $300. The Sachs 125 was a thing of beauty. Sachs also owned DKW and would later rebadge all the Sachs 125s as DKWs, but they all had Sachs engines (famous for having six-speed transmissions with 12 neutrals).
I SET MY SIGHTS ON HODAKA. NOW, YOU MIGHT WONDER WHY I DIDN'T AIM FOR A BIG FISH LIKE HONDA. AND THE ANSWER IS SIMPLE, HONDA DIDN'T MAKE TWO-STROKE MOTOCROSS BIKES UNTIL LATE IN 1973.
With the Sachs I set the world on fire (it was a very small world). It was a real race bike and made me into a real racer. And, the fact that I purchased it myself had two effects. First, it made me feel independent from my father and, second, it made my dad feel independent of having to pay for my motorcycle habit. If I wanted to keep going I had to get some kind of deal…or a job. I went looking for sponsors. I set my sights on Hodaka. Now, you might wonder why I didn't aim for a big fish like Honda. And the answer is simple, Honda didn't make two-stroke motocross bikes until late in 1973. I wasn't about to go back to try to modify a Honda SL100 four-stroke into a motocross bike. My local dealer, who carried about six different brands, said he would make me a deal on a Hodaka Super Rat, give me a free jersey and 10 percent off on parts. I gave him $425 (he knocked $70 off list) for a brand-new bike and the rest is history—not world history but personal history.
My life in racing was made possible by the availability of affordable motorcycles. I entered the sport, embraced the sport, tested 2000 motorcycles over my career and spent my life in motocross because the sport embraced me. It was a sport that teenagers could afford — even ones with no actual job. I know what you are thinking. You might think that a $425 motorcycle 50 years ago would cost about the same as a brand-new bike today. Not true! Not even close. The $425 that I shelled out back then would be worth $2350 in today's dollars. Even if I had been bucks up and paid twice as much — that would still only translate into $4400 today.
MODERN BUYERS AREN'T BUYING A MACHINE, THEY ARE BUYING A LIFESTYLE. THEY WANT THE BEST BIKE THEY CAN GET WITH THE MOST CACHET OF PROFESSIONALISM POSSIBLE.
Today's motorcycle prices don't compute if we want motocross to continue to grow. We can argue about why things cost more in today's business climate, but every product has a tipping point. The tipping point is when the price exceeds the desire. In my opinion we are very close to that now. If I was young and stupid again, the least expensive competitive 125cc motocross bike I could buy would cost me $6500.
I don't want people to think that the solution is to build more two-strokes, even though they cost less to build and logically less to buy, because if you build it they won't come. Modern buyers aren't buying a machine, they are buying a lifestyle. They want the best bike they can get with the most cachet of professionalism possible. Once James Stewart put his KX125 away and switched to a KX250F, two-strokes sales went in the tank.
The sport, from the manufacturers to the promoters to the race teams, have to get behind the idea of growing the sport or they will be the kings of very small fiefdoms. There is no doubt that the constant barrage of AMA rules that favored four-strokes over two-strokes were wooden spikes in the heart of inexpensive racing. And, every time the powers-that-be refused to incorporate low-cost racing into the major Pro series – they made affordable bikes less likely.
It's strange that the promoters supported a no-growth field like Women's Pro motocross, but not something that would increase the base far beyond 30 women. If the sport wants to sell more bikes, get more people involved and save the future they need to support a 125cc two-stroke series at the AMA National level. If you put 125cc two-strokes in prime time, wrote advancement rules that fill the starting gates with competitive 16-to-21 year old riders, you would invigorate low-cost racing at every local track in the country. And, when you make low-cost bikes high profile, you make them part of the lifestyle. As it stands right now, two-strokes are fringe and if that doesn't change, the sport itself will be fringe in few years.
My dad bought me a used Montgomery Ward's Riverside 125 because it didn't bust the family piggyback— he wouldn't have bought me a bike that cost 12 times as much.