BEST OF JODY'S BOX: THE DAY THEY PRESENTED ME WITH MY TOMBSTONE
By Jody Weisel
It is often said that "a picture is worth a thousand words," which is true—unless you are the kind of guy who wears suspenders to keep his belt up. Much like Mark Twain, who once patented his own suspender design, I like to gaze at a photo and then read a thousand-word explanation of what I'm looking at. As a preface, the photo above is of the giant banner that hung over the 2018 Edison Dye Lifetime Achievement Award ceremony where famous announcer Larry Huffman presented me with a crystal trophy, polished granite stone (which I said looked like a tombstone) to be imbedded in the Walk of Fame near my buddies Feets Minert and Lars Larsson, a chance to say thank you and the uncomfortable feeling of standing in front of a packed house.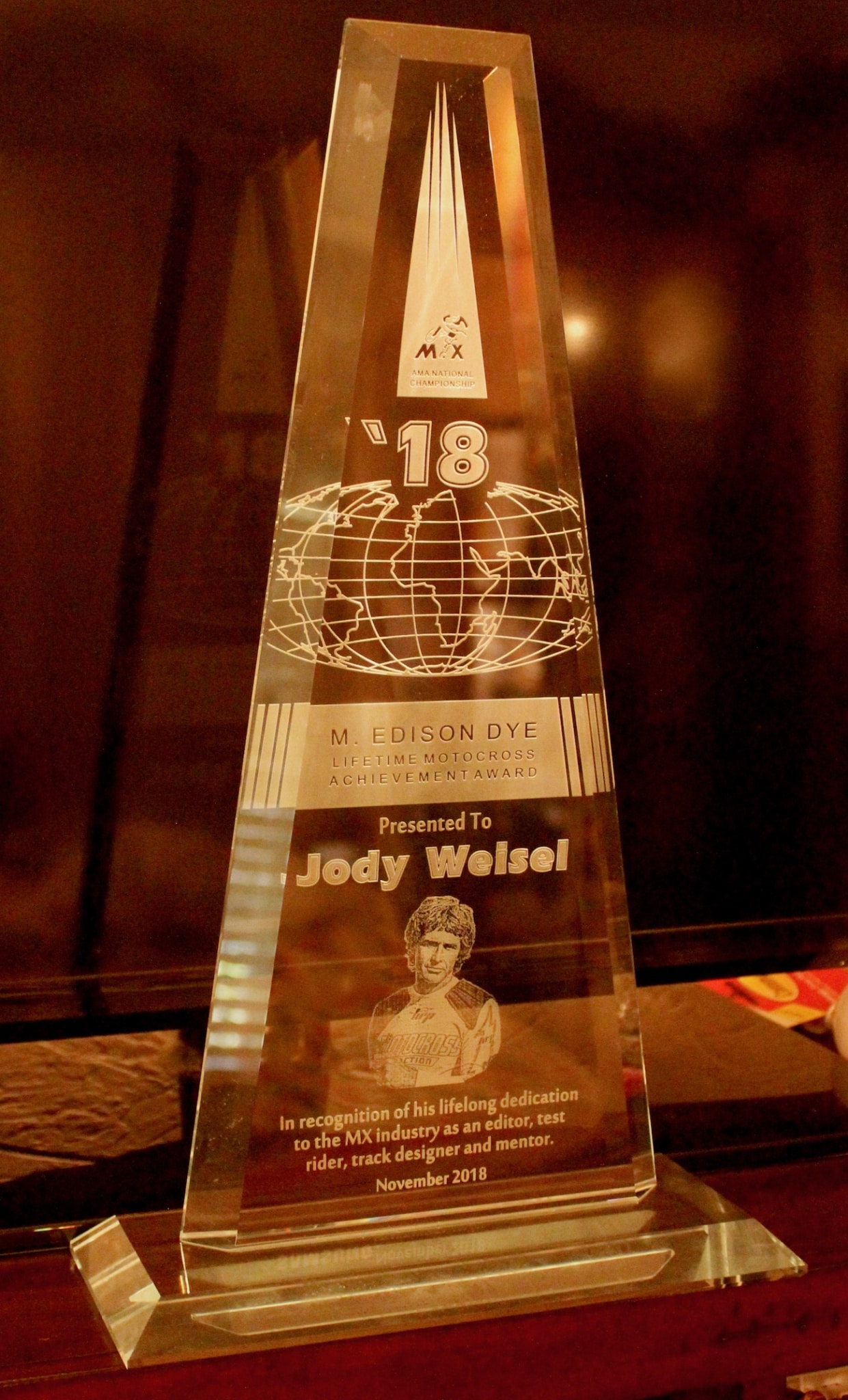 THERE WAS A DEEP EMOTIONAL PULL WHEN I HEARD THAT AMA HALL OF FAMER AND HEAD OF THE LIFETIME ACHIEVEMENT AWARD COMMITTEE TOM WHITE HAD TOLD THE OTHER COMMITTEE MEMBERS TO GIVE ME THE 2018 AWARD JUST BEFORE HE DIED
The photos on the banner are a compendium of my history, a story with more twists and turns than can be told in a thousand words. Yet, to say that, short-changes all the people whose lives intertwined with mine. It's no secret that I didn't want to be honored. In fact, my wife, friends and colleagues conspired to keep the news of the award from me right up until the press release came out.
Once it was announced, I couldn't refuse. There was a deep emotional pull when I heard that AMA Hall of Famer and head of the Lifetime Achievement Award committee Tom White had told the other committee members to give me the 2018 Award just before he died. There was duty involved in honoring my friend's wishes. I had been at the 2014 AMA Hall of Fame ceremony when Tom White was inducted, and he had said very nice words about me from the podium. I owed it to Tom to do the same thing for him. So, I tightened my belt, stiffened my upper lip and fretted over what I was going to say.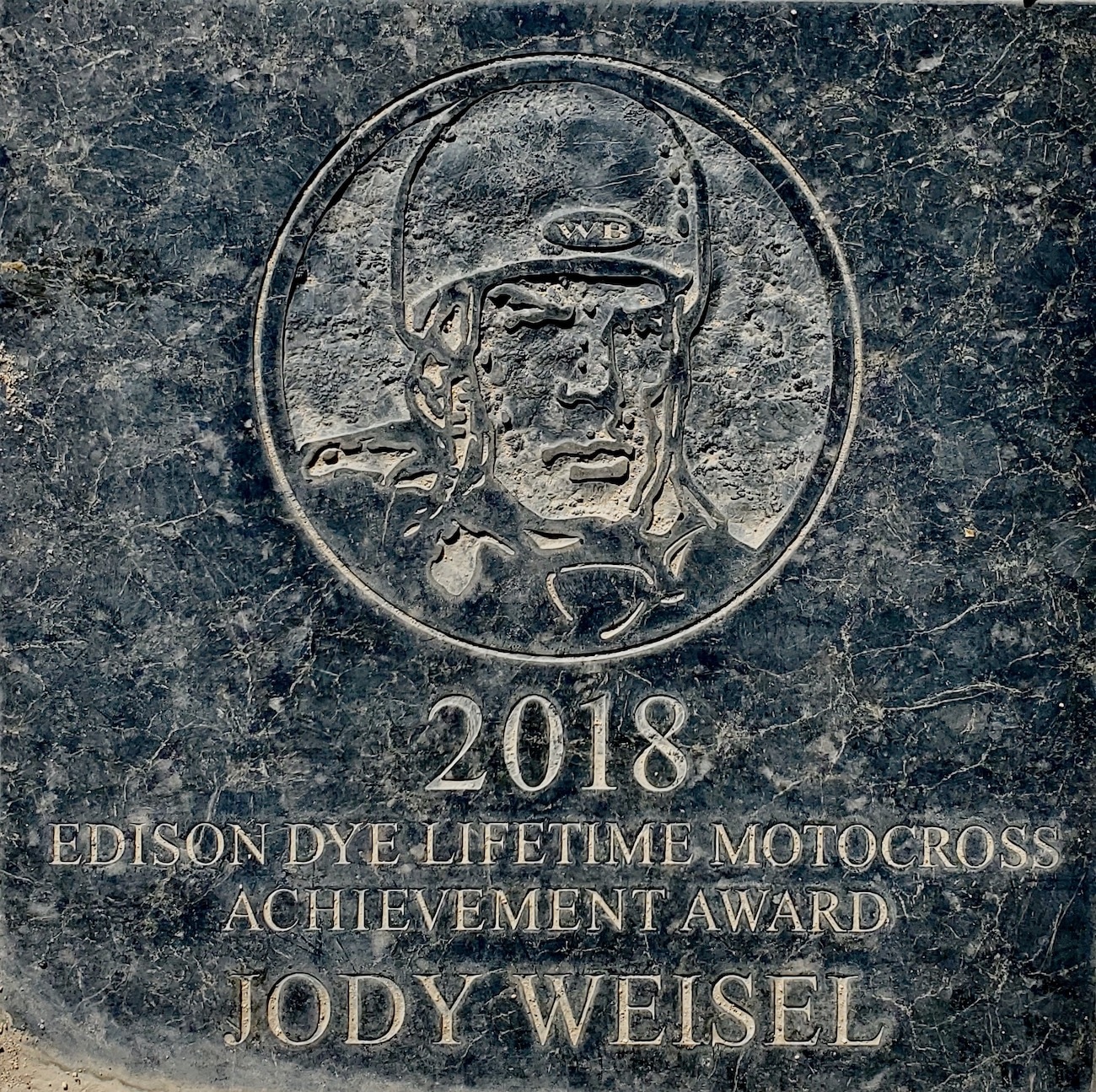 Luckily, Larry Huffman made it easy for me by asking questions, which I answered without thinking—a common problem I have and why I refuse to do interviews. Looking out across the museum hall, filled with an international crowd, I couldn't believe two things. (1) That so many past MXA test riders, competitors and heroes of mine, including Roger DeCoster, Mitch Payton, Gary Jones, Chuck Sun, Broc Glover,  Lance Moorewood, Donnie Hansen, Lars Larsson, Bob Rutten, Alan Olsen, Bones Bacon and all the past MXA guys had come from so far away to be there, and (2) that not a single one of them had the common courtesy to tell me the secret so that I could have refused. I saw familiar faces, many that I hadn't seen in years.
And, of course, I caught a glimpse of "Lovely Louella," beaming proudly with tears running down her cheeks. There were so many faces. So many memories. So many races.
I had to wonder what all the fuss was about. I didn't see my motocross life as being so special. Being an MXA test rider is the greatest job in the world, and I have been handsomely rewarded for it. When the presentation was all over, they gave me the giant banner, and I told Louella, "I'm gonna hang it in our bedroom." She stopped beaming and gave me the look.
JODY WEISEL'S EDISON DYE LIFETIME ACHIEVEMENT AWARD