MXA SMOKE FILES: 10 STEPS TO A RACE-READY 2007 SUZUKI RM125
Click on images to enlarge
Just like the latest Taylor Swift song and the presidential race, two-strokes have taken the country by storm. The motocross industry is no longer focused solely on futuristic technology, thanks to a rejuvenated populace of oil-and-gas riders who are turning to antiquated machines in order to sustain their need for speed. How strange it must seem for the used-motorcycle market to do a 180-degree turn and go from flat to gangbusters thanks to two-strokes. Avid motorcycle enthusiasts have taken a ride in Mr. Peabody's Wayback Machine to a time when two-strokes were king and four-strokes weren't yet in fashion.
DON'T USE MXA'S BUDGET AS AN EXAMPLE OF WHAT IT TAKES TO BUILD A RACE-READY TWO-STROKE. WE SPEND GREENBACKS LIKE THEY GROW ON TREES, BUT OUR GOAL IS TO SHOW YOU ALL THE POSSIBILITIES.
As a result, finding a smoking deal (no pun intended) on a used two-stroke is getting harder. Sellers have become wise to the fact that two-strokes are hot commodities. What was once a buyer's market has now become a seller's opportunity to turn a sizable profit. Good inventory is drying up faster than a snow cone in the Sahara. Smart riders mothballed their faithful two-bangers, hoping that one day they would serve a useful purpose. Just like high-waisted jeans and black lipstick, two-strokes are de rigueur again.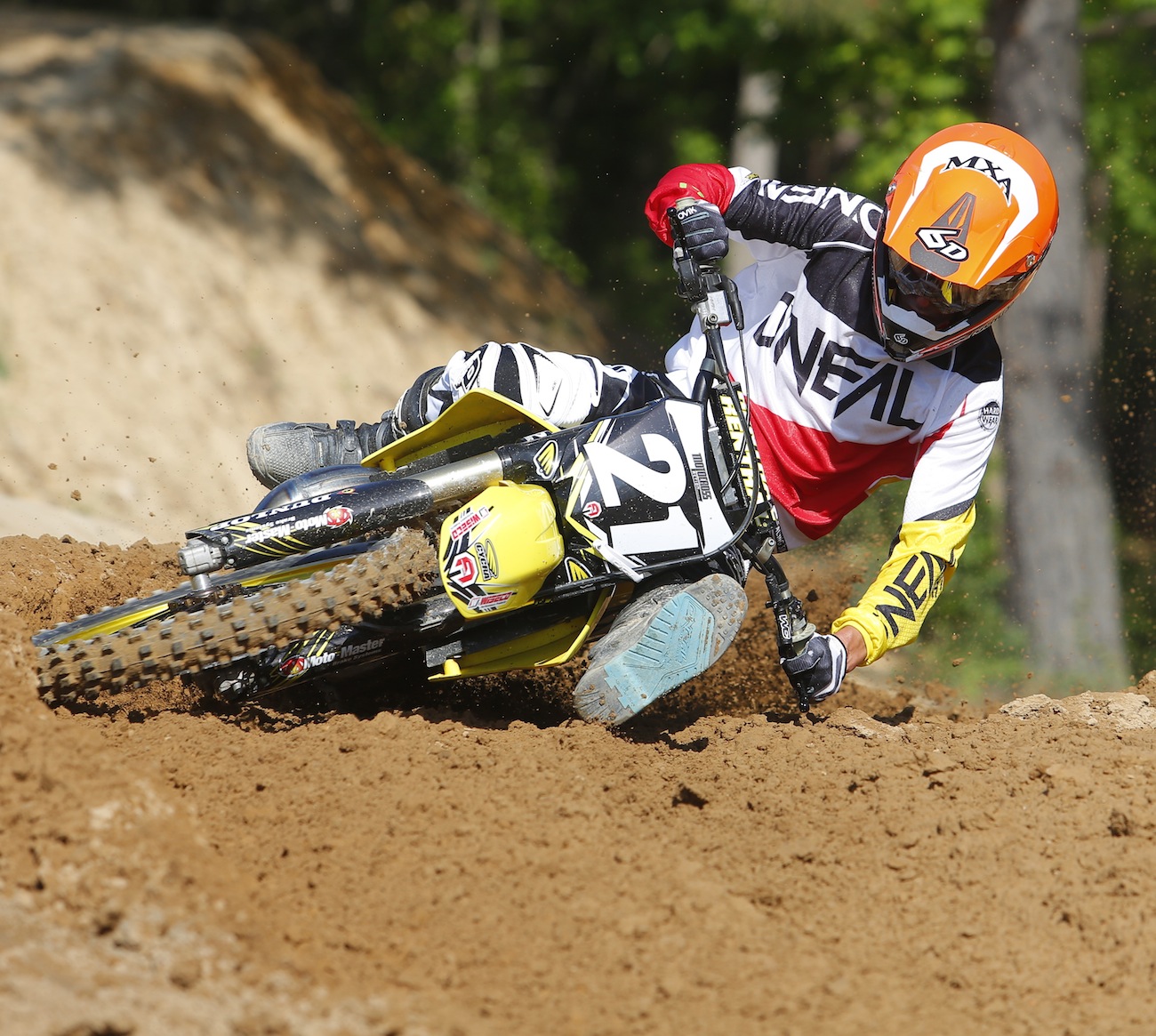 We didn't expect our project Suzuki RM125 to light the world on fire, especially given that it was not the best 125 in 2007. However, every test rider had a blast wringing it out. There is no substitute for two-stroke fun.
This is what led to MXA's 2007 Suzuki RM125 project. Believe it or not, we were wise to the idea that 125cc two-strokes were still useful. And for the last 10 years, we have sat on our sad and abandoned RM125, waiting for the day it could be returned to service. We believe two-strokes will always be valuable tools in racing circles. Not only are they fun, but 125s bridge the gap between minicycles and 250 four-strokes. We decided to rebuild our decade-old Suzuki RM125 with minicycle transplants in mind, although we couldn't exactly neglect the older and more experienced in our group. For those reasons, we set our sights on improving the overall package with a focus on durability and power.
UNFORTUNATELY, SINCE THE 2007 SUZUKI RM125 DIDN'T SELL VERY WELL, THE AFTERMARKET COMPANIES DIDN'T MAKE A LOT OF ACCESSORIES FOR IT—AND THAT INCLUDES TITANIUM FOOTPEGS.
What did we do to bolster performance on our 2007 Suzuki RM125? Don't use MXA's budget as an example of what it takes to build a race-ready two-stroke. We spend greenbacks like they grow on trees, but our goal is to show you all the possibilities. We leave it up to you to pick and choose which mods you want to spend money on. Our biggest expense was the Dubya wheelset, which cost $1484.90. In total, our renovation bill was in the neighborhood of $5000; however, you don't need to do all of the modifications (and one of the upgrades was free). Follow these steps for a race-ready replica of MXA's 2007 Suzuki RM125.
MXA kept our 2007 RM125 tucked away in the corner of the workshop waiting for ten years. It still ran, but we rebuilt it with Wiseco GP top-end kit just to be safe.
Step one. The years hadn't been kind to the plastics, grips and frame on our test bike. Rust had taken hold, and ozone had broken down the tires. We began by tearing down the engine. The crank was in spec and the cylinder looked brand new. Those were good signs, considering we viewed recommended service intervals as mere suggestions a decade ago. In place of the old heart went a Wiseco GP-series top-end kit ($231.37). We've had good luck with Wiseco's forged pistons in the past, and we like that Wiseco offers bore sizes up to 58mm. We stuck with the stock 54mm bore.
Step two. If you're looking for the easiest way to boost power in a two-stroke, look no further than a pipe and silencer. While manufacturers have learned how to develop excellent exhaust systems for their four-stroke lineups, stock two-stroke expansion chamber development has stagnated. We opted for an FMF Factory Fatty ($249.99) mated to a Shorty silencer ($129.99). In stock trim the 2007 RM125 didn't produce very good power. Suzuki had made drastic cylinder changes to the bike in 2006, but they weren't all that successful. The engine lived in the midrange and worked best in the top end. FMF's exhaust spread the power throughout the whole range and increased over-rev. We should note that nothing short of a complete cylinder overhaul would create the bottom-end surge that we really desired. Still, there was a noticeable difference between the stock exhaust and the FMF Factory Fatty.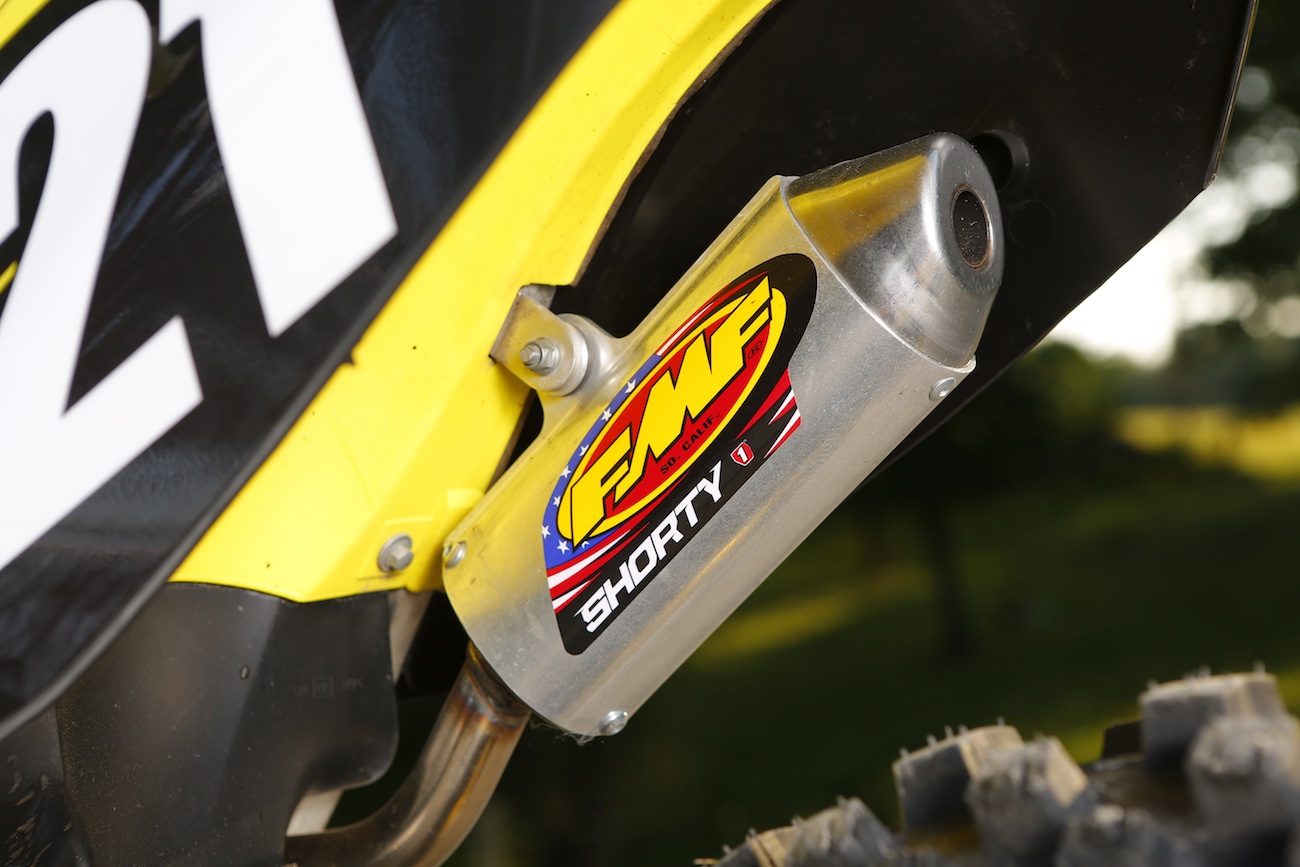 An FMF shorty silencer, in conjunction with the Factory Fatty pipe, added all-around power.
Step three. In order to maximize the performance of the engine and exhaust modifications, we drop-kicked the stock reed block for a Boyesen Rad Valve ($179.95). No modifications were required, and the one-piece design increased flow velocity to the combustion chamber for better power and throttle response. It's a smart investment for any two-stroke.

Step four. MXA test riders demand superior braking power. In the good old days, front-brake systems were antiquated. While it's true that small-bore two-strokes might not demand the same pucker power as a 450 four-stroke, we still believe it's necessary to have as much pucker power as possible. There are a variety of great oversized front-brake systems on the market. For our RM125 build, we opted for the Moto-Master 270mm Flame rotor ($175). The rotor is lighter than stock, provides greater stopping force, is self-cleaning and looks like it was designed by NASA engineers. Moto-Master sells the required adapter bracket separately ($74.95).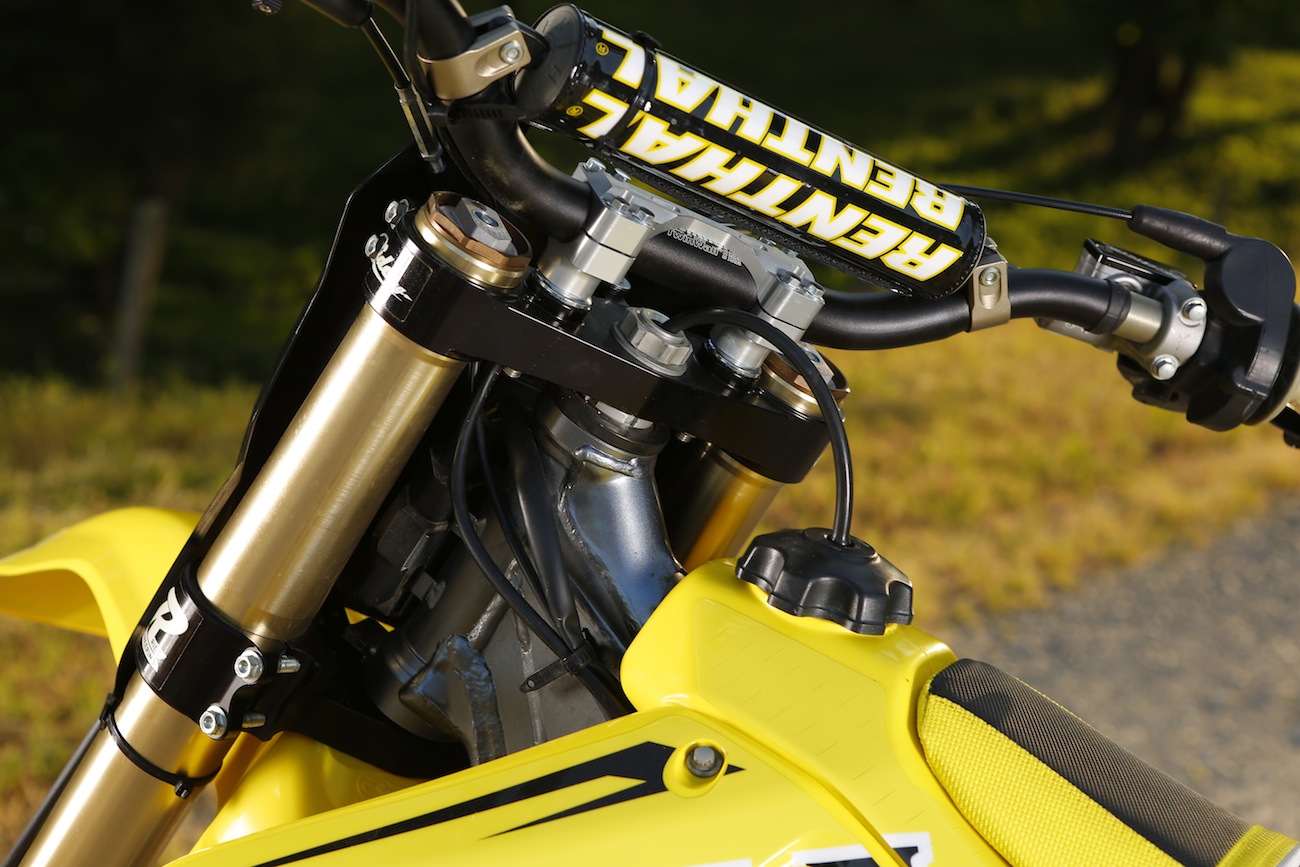 Step five. Ride Engineering makes a number of triple-clamp offsets to replace the stock 22.5mm offset. The RM125 corners well, but we were looking for more turning precision on tighter tracks. We opted for 22mm of offset ($499.95). What's especially nice about Ride Engineering's clamp set is that the steering-stem bearing is already pressed in. Installation is a breeze. We also utilized Ride Engineering's fourth-generation, one-piece oversized bar mount ($99.95). The mount has incredible strength and torsional resistance in the event of a crash, meaning that it won't bend like Gumby when you hit the deck.
Step six. Pro Pegs, out of the Netherlands, makes a flawless set of titanium footpegs for most makes and models. At 60mm wide and just over 12 ounces for the set, Pro Pegs offer great traction for your feet. Unfortunately, since the 2007 Suzuki RM125 didn't sell very well, the aftermarket companies didn't make a lot of accessories for it—and that includes titanium footpegs. Fortunately, KTM footpegs will bolt right on to the RM125. Harry van Lier, owner of Pro-MX Racing and Splitstream, made us aware of the crossover. As a result, we swapped out the archaic stock pegs for a set of beefy Pro Pegs ($268.00).
Step seven. As the old adage goes, "Dress for the crash, not the ride." For that reason, we ponied up and ordered a set of Dubya wheels ($684.95 front, $799.95 rear). We chose Takasago Excel rims, Talon magnesium hubs and sturdy black spokes with spline-drive nipples. We could almost land from the height of the Hubble Space Telescope and not buckle the wheels.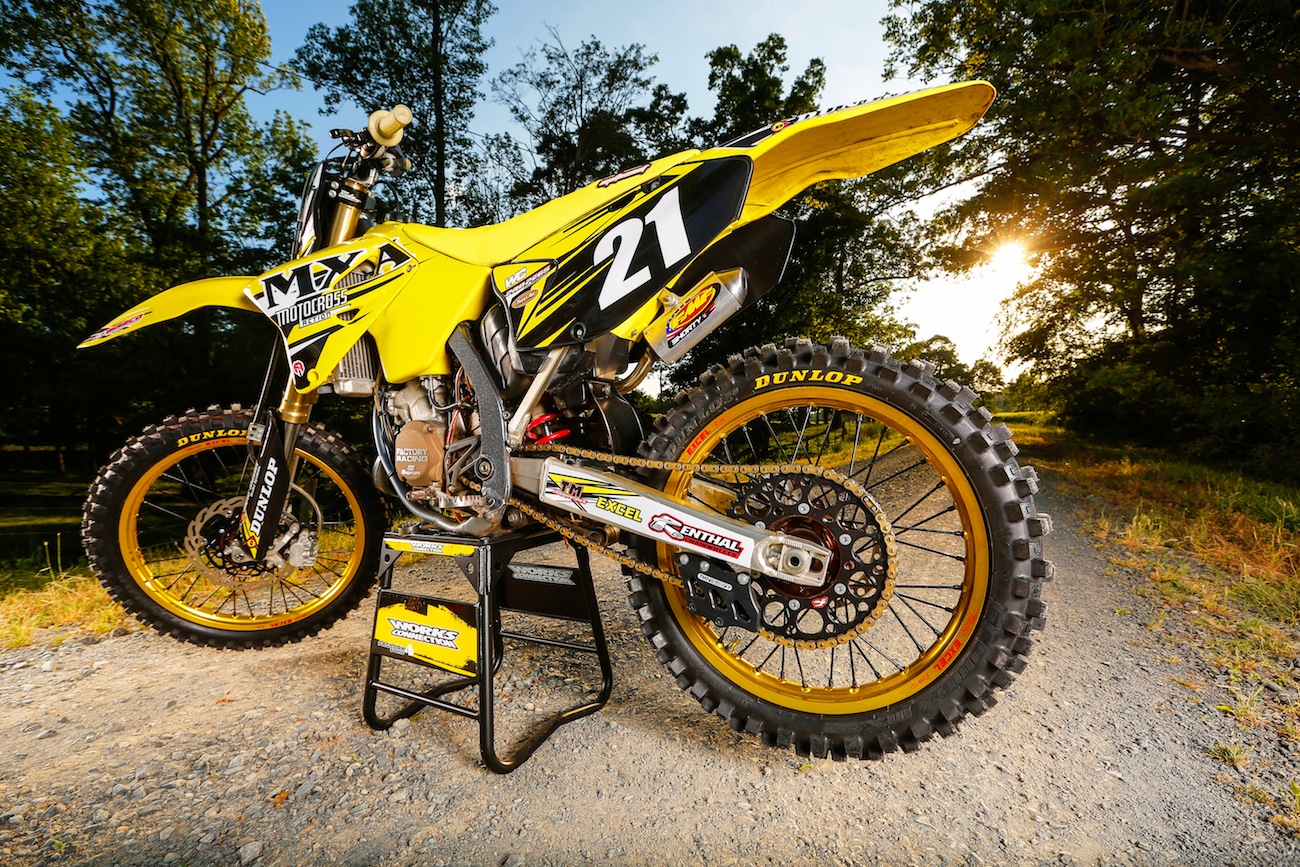 Step eight. Yamaha's two-stroke lineup benefited from aftermarket support, thanks to the overwhelming popularity of the YZ125 and YZ250. While research and development have been stagnant for a decade, plastics companies like Cycra Racing and UFO have designed restyled kits for these bikes. Sadly, the RM125 has been neglected. The good news is that it's easy to trim down the side panels on any later-model RM125 or RM250. Best of all, it's free. We had Cycra Racing cut the lowest edge off both side panels for a more streamlined look. A Cycra Stadium front number plate ($29.95), fork guards ($39.95) and Cycralite front fender ($39.95) gave the RM125 a facelift. We added a MotoSeat Rib Accent Traction seat cover ($64.95) so that we didn't slide around on the seat. Armored Graphix, out of Monroe, North Carolina, buttoned up the package with its semi-custom Command graphics kit ($219.95).
Step nine. Every rider enjoys creature comforts, and MXA test riders are no different. Renthal's TwinWall 997 bend handlebars ($119.95), Renthal Ultra-Tacky grips ($19.95), a Works Connection Elite clutch perch ($155.85) and forged front brake lever ($37.95) along with Dunlop MX3S tires (check dealer for pricing) made us feel at home. We had peace of mind with a Twin Air PowerFlow kit ($149.95), TM Designworks Factory Edition two-stage chain Slide-N-Guide kit ($179.95), and Boyesen's ignition ($86.95) and clutch covers ($94.95). Factory Effex frame grip tape ($19.95) added traction for our boots and hid wear spots on the painted frame. As for the drivetrain, we chose a Renthal Ultralight 12-tooth countershaft sprocket ($32.95), 52-tooth rear sprocket ($69.95) and R1 520 Works chain ($95.95). Adding an extra tooth to the rear sprocket helped bridge the gap between second and third gear—given the RM125's propensity to live in the penthouse of the powerband.
Step ten. It's important to point out that we didn't change the clutch or suspension valving. Sure, we could have gone whole hog with a complete Hinson clutch and modified suspension, but the parts bill would have ballooned. Instead, we installed a new stock clutch pack and serviced the suspension oil.
This smattering of performance upgrades enhanced what we already knew about the 2007 Suzuki RM125—it's a fun bike. It's true that you will be hard-pressed to keep pace with the newest KTM 125SX, Husqvarna TC125 or Yamaha YZ125, but you'll probably have more fun. Why? MXA's project RM125 feels like a dream in tight corners and runs like a scared bear at full tilt. It's forgiving enough for a minicycle transplant, but still a barrel of monkeys for any experienced two-stroke rider. Our build enabled us to magnify the positive traits of the 2007 Suzuki RM125. Our RM125 looked like a beauty queen in the pits and a ran like a banshee around the track. As for the total bill, you could spend less than $2000 and still come away with an awesome machine.
MXA SUPPLIER CONTACTS:
Dunlop: www.dunlopmotorcycletires.com
Armored Graphix: www.armoredgraphix.com
Boyesen: www.boyesen.com
FMF Racing: www.fmfracing.com
Cycra Racing: www.cycraracing.com
Renthal: www.renthal.com
Moto-Master: www.moto-master.com
Twin Air: www.twinairusa.com
Ride Engineering: www.ride-engineering.com
Pro Pegs: www.motostuff.com
Works Connection: www.worksconnection.com
Excel: www.rkexcelamerica.com
Dubya: www.dubyausa.com
Wiseco: www.wiseco.com
TM Designworks: www.tmdesignworks.com
Factory Effex: www.factoryeffex.com
MotoSeat: www.motoseat.com

[/nextpage]