MXA RIDES RIDE ENGINEERING'S 2016 KAWASAKI KX450F
Click on images to enlarge photos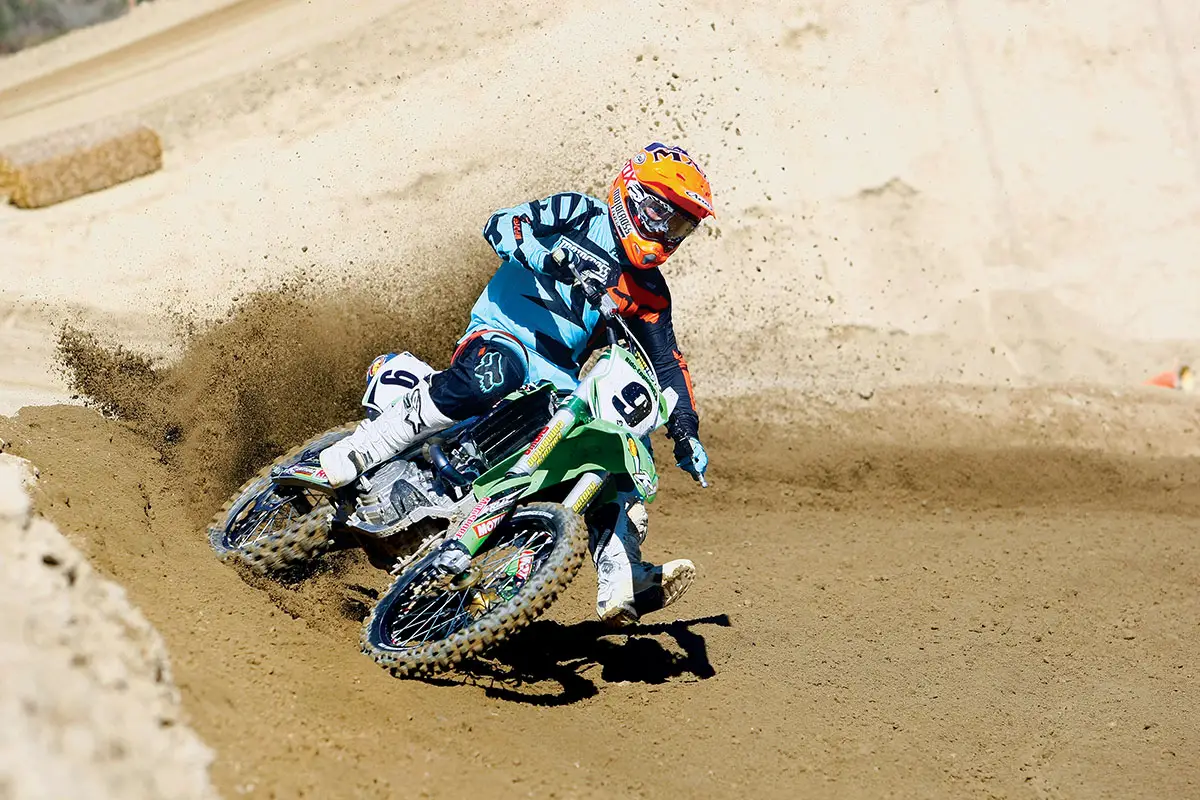 Do you remember the epic baseball flick Field of Dreams? In it, a baby-faced Ray Kinsella, played by Kevin Costner, has a vision of building a baseball diamond in his Iowa cornfield. The idea seems insane, but by Hollywood magic—not to mention ghosts of past baseball legends—Kinsella's dream becomes reality. The catalyst for his decision to mow down his cash crop comes after an apparition mutters, "If you build it, he will come." What does a fictional biopic about America's favorite pastime have to do with motocross? Everything and nothing.
"Kawasaki made major improvements to the 2016 KX450F. Gone is the stodgy feel of an overweight bike."
Motocross is a sport for gearheads, daredevils, athletic types, men of a certain age who yearn for a taste of their youth and those with deep pockets. MXA can relate to every demographic, because our wrecking crew is a melting pot in the crucible of motocross. Any personal differences are washed away when the gate drops. Racing is a great equalizer. The rich don't always win, even if they can afford the most horsepower. At the end of the day, it's all about a person's willingness to twist the throttle and apply skills learned through dedication to the craft.
Sometimes a rider transcends one particular group. Ride Engineering owner Adrian Ciomo is one such man. He's a gearhead, developing and testing wares that he sells to the public. Naturally, he's a daredevil, willing to leap over tall buildings. Then again, a licensed psychologist would suggest that every motocross racer has a screw loose. Ciomo is also a seasoned rider—that is to say, he's in the meat of his Vet years. And while we don't know how much the Ride Engineering owner clears in any given year, we'll hazard a guess that Adrian is keeping the lights on at night.
Adrian Ciomo is a dreamer, much like Ray Kinsella. Ciomo had a vision, so he begged a 2016 Kawasaki KX450F off Scott Russell, owner of Motosport Motorcycles in Hillsboro, Oregon. What if he could build a project bike that had more power, performed better and was lighter? That's exactly what he did, believing that if he built it, the MXA wrecking crew would come.
KX450F BUILD: ISAAC NEWTON & THE APPLE
The 2016 Kawasaki KX450F finished third in MXA's "450 Four-Stroke Shootout." Not far off from the front runners—the KTM 450SXF and Husqvarna FC450—the KX450F is a better machine than in previous iterations. Unfortunately, it is stunted by a pedestrian powerband, a strange consideration given that past KX450F engines were rocket ships. Kawasaki did fix a host of glaringly obvious issues on the 2016 model; however, Ride Engineering saw room for improvement and addressed the following areas:
(1) Handling. Ciomo replaced the stock 23mm offset clamps with Ride Engineering 20mm clamps with Ciomo's signature anti-twist bar mounts, soft polyurethane cones, and a Showa steering damper. He also tested a longer pull rod but didn't like the weight bias. As a result, Ride Engineering will not be selling a longer pull rod for the 2016 KX450F. It's admirable that Ciomo refuses to sell products he doesn't believe in.
(2) Front brake. For 2016, Kawasaki upsized to a 270mm front brake that leaves a lot to be desired. Adrian installed his billet brake caliper with larger pistons and a steel-braided line for better stopping power. The Braking 270mm rotor was left untouched.
(3) Suspension. Kawasaki has the best Showa TAC forks in the group. They work for a wide array of riders, but they're not perfect for everyone. Ride Engineering had Factory Connection re-valve the forks for the MXA gang. Factory Connection recommended more air in the balance chamber with the valving change.
(4) Power. Adding a tooth to the Renthal rear sprocket results in more punch off idle and shortens the gap between gears. Coupled with an FMF titanium exhaust system with Megabomb header and Factory 4.1 muffler, the change bolstered performance in the bottom end and midrange. Ciomo threw on a RK MXZ4 black chain for good measure.
(5) Weight. Ride Engineering was determined to drop weight off the KX450F. Granted, Kawasaki had already shed heft off the 2016 model, lowering it to 231 pounds. The KX450F is the lightest Japanese 450 four-stroke, with the caveat that KTM's 2016 450SXF is 4 pounds lighter. Ciomo dusted off his trusty scale and weighed every aftermarket part before installing it on the project KX450F. His fascination with weight savings bordered on maniacal. Did you know that adding a tooth to the rear sprocket requires a chain with two extra links, which equates to a gain of 1-1/2 ounces? Or that a Bridgestone Battlecross X30 front tire is 6 ounces heavier than a Bridgestone 403, because the 403 is a single-ply tire? Adrian Ciomo shaved 4 pounds off the KX450F, all without using titanium fasteners. That's admirable.

(6) Accessories. Adrian installed Pro Taper Fusion handlebars (he removed the cross bar to save weight), a pleated SDG seat cover, Think Technologies seat foam (a savings of 12 ounces), and Raptor titanium footpegs. Ciomo wrapped the sterling package up in a Flu Designs graphics kit, complemented by Ride Engineering bling and an aluminum fastener kit from Motostuff that saved 4 ounces. Last but not least, Adrian sent the stock wheels to TCR, where the hubs were turned down and anodized and the wheels were trued.
MXA TEST: THROTTLE THERAPY

Kawasaki made major improvements to the 2016 KX450F. Gone is the stodgy feel of an overweight bike. The handling has been sharpened in an effort to resolve the understeer sensation that always occurred at corner initiation. We were equally surprised at the Showa TAC air fork settings, which are worlds better than most other air designs on the market (and light years ahead of the 2016 Suzuki RM-Z450 configuration). Yet no bike is perfect, and the 2016 KX450F has its fair share of warts. Ride Engineering addressed our issues for the most part. Here is what our test riders thought of the Ride Engineering KX450F.
(1) Handling. In past years we preferred Ride Engineering's 21.5mm offset clamps on the KX450F because reducing fork offset sharpened handling traits. Scientifically, the opposite effect should result with increasing trail, but results don't lie. Ride Engineering still sells our favored offset for the KX450F, as well as the 20mm version that came on the project bike. We were impressed with the razor-sharp handling with the 20mm clamps, although they gave up stability in high-speed sections. In a perfect world we would use Ride Engineering's 21.5mm clamps at fast tracks and opt for the 20mm offset at tighter, jump-laden, Supercross-style tracks. We also noticed that shorter and lighter riders preferred less fork offset. All testers liked the optional Showa steering damper, because they could decrease head-shake when the conditions called for less handlebar input.
(2) Suspension. Factory Connection handled the suspension duties, and they have good baseline settings for a wide range of riders. Ride Engineering did the grunt work by dialing in the KX450F suspension for us. The only problem was that Adrian Ciomo weighs 150 pounds soaking wet. Blame it on the Christmas sweets, because we tipped the scales at 185 pounds. Fortunately for us, Factory Connection switched the valving specs and rear shock spring to suit us. While the balance air pressure was a tad high, we were able to find a happy setting after a few air-chamber adjustments.
(3) Front brake. Ride Engineering sells a billet front-brake caliper that has larger pistons, a flex-free body and cooling fins for improved heat dissipation. We've had good luck with the billet caliper in the past. A steel-braided brake line improved feel and stopping power. This system was considerably better than a stock KX450F setup and on par with a KTM 450SXF Brembo kit. Good stuff.
(4) Power. Sure, Ride Engineering could have tuned the KX450F powerplant to a standstill. Instead, Ciomo relied on a gearing change and an FMF exhaust system to bolster performance. The combination worked for Novice and Vet riders. Anyone faster will want to hop-up the engine. We like that Ciomo didn't pour thousands of dollars into engine mods, though. Most people will be satisfied with the benefits of an aftermarket pipe.
(5) Weight. Ride Engineering went to the trouble of weighing every aftermarket part and comparing it to the stocker. Adrian Ciomo's goal was to cut weight while improving performance. He succeeded. It's amazing that Adrian chopped 4 pounds off the KX450F, and he did it without using titanium fasteners. His painstaking effort yielded a lighter bike at a fraction of the price of titanium. MXA test riders noticed the difference, especially in corner initiation and in the air.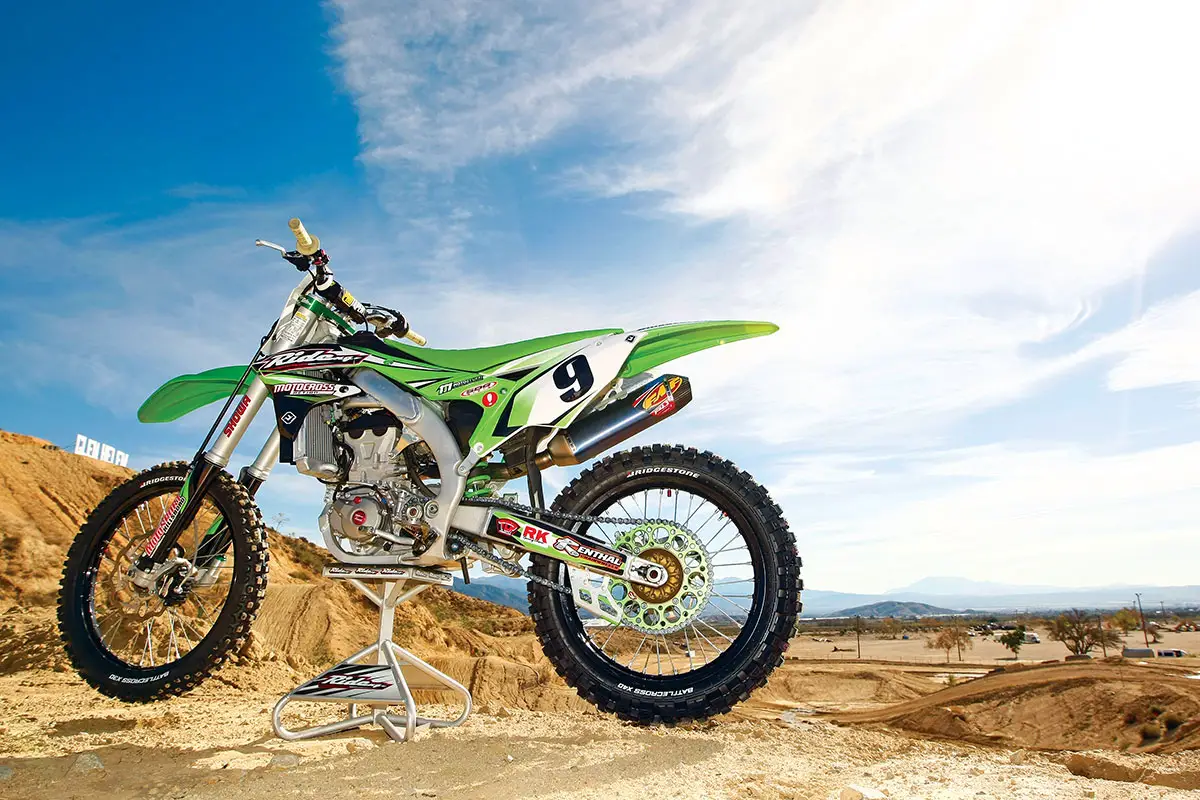 Ride Engineering's KX450F weighed 227 pounds, thanks to lightweight seat foam, titanium pegs and a gram-by-gram modification program. That is down from 231 pounds.
WHAT DO WE REALLY THINK?
Ride Engineering's 2016 KX450F is a winner. Key areas have been improved, 4 pounds have been shed, and these revisions were done for less than $5000. Riders on a budget could get the meat and potatoes version for around $3500. Simply put, the Ride Engineering KX450F is the bike that Kawasaki should have unveiled for 2016. For more information, please visit www.ride-engineering.com.
KX450F SUPPLIER LIST
Factory Connection: www.factoryconnection.com or (800) 221-7560
FMF Racing: www.fmfracing.com or (310) 631-4363
Motostuff: www.motostuff.com or (503) 830-6433
Renthal: www.renthal.com or (877) 736-8425
TCR: www.tcrwheellacing.com or (209) 386-9800
Think Technologies: www.thinktechnology.com or (949) 379-4450
RK Chain: www.rkexcelamerica.com or (760) 732-3161
Flu Designs: www.fludesigns.com or (888) 519-2313
MotoSport Hillsboro: www.hillsboromotorcycles.com or (800) 809-6686
Bridgestone: www.motorcycle-karttires.com or (877) 668-6872
SDG: www.sdg-innovations.com or (949) 752-5227
Pro Taper: www.protaper.com or (951) 736-5369
TM Designworks: www.tmdesignworks.com or (541) 772-4161
DT1: www.dt1filters.com or (805) 777-7601
Motul: www.motul.com or (888) 676-8853
Ride Engineering: www.ride-engineering.com or (949) 722-8354