The 2021 CRF250 doesn't shine in any area of the power curve. It is lethargic off the bottom, needs a wake-up call in the midrange and doesn't take off until the upper echelons of the powerband.
We ride and talk about the new 2021 Husky FC250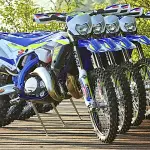 If they ever wanted to switch to making motocross bikes, they could build a powerhouse team of French riders
Justin Barcia's Geico 2012 Honda CRF250 ripped, the brakes were sensitive and the suspension was set up for a 144-pound man-child.
What Rockstar Energy Suzuki has managed to accomplish in 2013 was a major feat—they built a super-competitive bike, developed one-off parts and hired the best racer possible
We finally have the KTM 250 in the MXA stables. Here's what we thought of the updated bike after day one
Yamaha YZ250F owners should rejoice, because while Webb's bike is graced with a handful of unobtainable parts, the vast majority of parts that make Cooper's steed run are readily available
Short of making it happen at gunpoint, the easiest way to get your hands on a works bike is to be Daytona winner or an MXA test rider
The 2021 Yamaha YZ250F looks the same, but it has over 30 new part numbers for 2021
For 2021 Suzuki offers all the things it has been famous for over the years