The 2023 Yamaha YZ450F is all-new and they've changed practically everything we've ask for. Josh Mosiman tests the bike at the Star Racing Yamaha GOAT Farm
The MXA wrecking crew tests the 2023 Honda CRF250. Surprisingly, this bike is down on horsepower compared to the previous generation bike from two years ago, but it feels faster
The 2010 Husaberg FX450 was too heavy, too slow and too weird to be taken seriously by hardcore racers. On the other hand, it is like no other machine on the planet—and because of that, it deserves some attention as it fades into obscurity
We track Bones down at the Pro Circuit Supercross track to hear his history with Honda's legendary Trail 125
After the dreadfully long break-in period, the 2023 KTM 250SXF handles great. The straight-line stability and suspension action under braking at corner entrance are vastly improved
The 2022 Suzuki RM-Z450 is not the best bike on the race track, but it offers a ridable, raceable and enjoyable bike for someone who wants to get in on the motocross experience without having to file for bankruptcy. As it sits, it is still the best bargain in dirt bikes
Overall, even with a stronger midrange, the FC250 engine is still a high-rpm screamer
It seemed unfair to test a National caliber race bike against a stocker, so we didn't go to a National caliber track to give the stocker a boost
It is rare that the best hop-up tip for a brand-new bike is more break-in time. Too little and you'll pay for it, but we haven't found the too much limit yet
The RMZ250 is still the slowest bike in the class and it still has a kick starter, but it's not all bad. Josh Mosiman and Brian Medeiros talk all about it here
The 2023 Kawasaki KX450 has a lot going for it, but the MXA wrecking crew isn't an easy bunch to please
There is something about the lowered suspension that makes this bike feel special. It rails corners and floats through the air. It is sweet
The 2023 Kawasaki KX250 looks the same on the outside, but underneath the hood, it has updates to the intake, piston, valves, transmission, flywheel, exhaust, suspension settings, foot pegs and more. We compared it back-to-back with our 2022 KX250
The MXA test crew takes the 2023 GasGas MC350F for its maiden voyage and it gets a thumbs up for its intended audience—which might be you!
Money was no object, but we didn't want to build just another project bike, we wanted to do things differently this time. Plus, it was on someone else's dime
The Kawasaki KX450SR will return in 2023 in greater number, but with Showa suspension components and a sky high price tag—last year's KX450SR was awesome
Grant Langston's 2007 Yamaha YZ450F was the easiest to ride AMA National bike we have ever tried
We loved Weston's engine. There were no hiccups, dips or dead spots. And although powerful, it was easy to ride
Honda's aluminum frame looked cool, but it vibrated like a dentist's drill and, in Honda's hands, didn't shown a single advantage over its chromoly steel competitors
When a small, underfunded race team with minimal support from its manufacturer (bikes and parts only) turns head with its results that is a feel good story—MXA wanted to test this feel good machine
Short of making it happen at gunpoint, the easiest way to get your hands on a works bike is to be Daytona winner or an MXA test rider
Instead of a first ride video, it's actually more like the 200th ride on the GasGas MC250F because it was unchanged for the 2023 model
The one 2023 model that didn't need any changes—they fit their target demographic perfectly already
The 2023 Honda CRF450 comes with a healthy list of little updates. Do these changes fix the issues we had with last year's bike? Learn what we think about the new model so far in this video
We compare Jo Shimoda's factory Pro Circuit Kawasaki KX250 race bike to a stock Kawasaki KX250 in a head-to-head comparison
MXA has always believed that the production bike is better than the Factory Edition model that preceded it—that is the benefit of a couple of months of added test time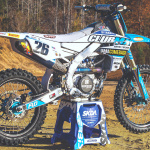 Watch the video about a bike that was built for a troll and that graced the cover of Motocross Action magazine
The MXA wrecking crew had no time limit on this factory bike and took full advantage of it. Learn all about Cairoli's 450 in this video
The YZ450F brings a new look for 2023!
The written word! Or, should that be the "ridden word?" MXA logged a lap time 3.5 seconds faster than the stock KX250 in back-to-back tests
Why the long dreamed of Great American Motocross Hope was a total flop
Little brother to the 2022 -1/2 450SXF Factory Edition and older brother to the 2023 KTM 250SXF
It started life as the brain child of the Vertemati brothers, but the Vertemati/VOR breakup was probably a good thing for buyers—because the 503MX did improve under VOR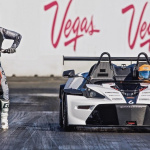 The MXA wrecking crew matches its motocross skill against the KTM X-Bow
A really good entry-level race bike at an affordable price — Not for everyone, but it's flaws are fixable and its power is manageable
Suzuki has the know-how to build a world-beating RM-Z450, but they spent the greater part of the last decade watching its competition pull away with new technology
MXA had asked Honda about testing Ricky Carmichael's 2004 CRF450, but after RC announced that he was switching to Suzuki for 2005, we crossed it off our list. Surprise! It was about to be crated up sent to the Honda Museum in Japan when Honda told us "Yes!"
On the track, the Husky was smoother, mellower and easier to ride at the crack of the throttle, where the KTM 450 Factory Edition was more responsive
The door opened for Husqvarna in 1960 with the demise of Monark. This freed up Monark and Lito designer Nils Hedlund to develop a state-of-the-art 500cc motocross machine for Husqvarna
KTM engineers wanted to move motocross design forward with advancements in bodywork, electronics, ergonomics, power, ease of use and overall design. We tell you how they did
The TM SMX 450FI was built with a single purpose, which was paradoxically to be dual-purpose
When WORCS went to Lake Havasu, MXA knew it would be the place to test our YZ450FX and CRF450RX cross-country bikes, even if we had to ride through the lake
Not just one of Stefan Everts Championship bikes, but both of them at the same track on the same day
Honda wouldn't give us Sexton's or Roczen's works bikes for the weekend, but Honda's Johnny Campbell gave us one
80 percent of Ryan Villopoto's 2007 bike was made, modified or reconfigured in the Pro Circuit race shop. Not even the frame was left alone
If there is one takeaway from the Works Edition for Honda CRF450 owners, it is to spend less time hopping up the CRF450 powerband and more time mellowing it out—it will handle better.
Honda celebrates their 50th Anniversary Edition
Check out the e-start, EFI two-strokes and the updated four-strokes
Learn all about the new 2023 KTM four-strokes
Kawasaki shares the details on the KX450, KX112, KX85 and KX65 models—which are all the same as last year
The 2023 Kawasaki KX250 has received some significant upgrades for the new model season
MXA'S Daryl Ecklund didn't just ride Febvre's Grand Prix YZ450FM, he got to ride it all by himself on the Maggiora track in Italy
After practicing starts at the KTM test track against Marvin Musquinwith LitPro data monitoring his starts, Freddie has found that he got better starts without using launch control
With Alex being just 5-foot-4 and weighing only 145 pounds, his bike featured raised footpegs, a cut-down subframe and lowered seat. MXA test riders are used to riding oddly configured race bikes, but Alex's custom tailored "rider triangle" was a challenge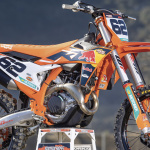 All the stuff that no one told you about, some stuff that you don't need to know and a few things that are dazzling technology
We're not shy. The KTM 350SXF (and its white and red stablemates) are the best all-around motocross bikes you can buy
KTM could have made the GasGas MC 450F as responsive and powerful as the KTM 450SXF if the Austrian brain trust had wanted to, but they already had one of those
You haven't lived until you've ripped into a tight berm on the FC450's lowered chassis — it sucks you to the ground like no other 2022 motocross bike
Thanks to its Kayaba SSS suspension, incredible reliability and broad powerband, the YZ450F is a good value for guys who doesn't want to spend hard-earned cash post-purchase
We love this bike, and we think that you will, too. It's fast, light and low. It works with you to make you best that you can be.