BIKES YOU'VE NEVER SEEN BEFORE: 1956 GILERA 500 SATURNO CROSS
1956 Gilera 500 Saturno Cross had a small skid plate bolted under the frame, which was necessary because of the engine's large oil sump.
Giuseppe Gilera who was born in 1887 started at the age of 15 an apprenticeship with the Bianchi motorcycle company as a mechanic, he went on to further his skill with the Italian branch of the Swiss Moto Reve company including working at the factory in Geneva. At the age of 22 Giuseppe Gilera built the first motorcycle in his small shop in Milan. In 1911 he started a modest Gilera racing team and participated in many regional races.
1956 Gilera 500 Saturno Cross.
At this point in his career, Giuseppe met a man who was having trouble with his Harley-Davidson. Giuseppe Gilera fixed the Harley's problem and the man introduced Giuseppe to some wealthy investors who financed the start up of the Gilera Motorcycle brand. On a side note, Gilera's real name was Giuseppe Gellera, but he always called his motorcycles Gileras (and even had his name officially changed to Giuseppe Gilera in 1939).
As always, the Italian craftsmanship in the castings, cases and construction were first-rate.
Gileras are best know in the racing world for Grand Prix road racing with World Champion Geoff Duke. Duke won six World Championships and six Isle of Man TTs. Three on Nortons and three on Gileras. Thanks to Gilera's road racing success in the early 1950s, the best known and most successful large-capacity Gilera model of the 1950s was the Saturno. The 499cc, overhead-valve, four-stroke single entered production in 1946 as a street bike. In 1951 it got a revised engine, telescopic front fork and hydraulically damped rear shock absorbers and stayed in production with several variant for decades.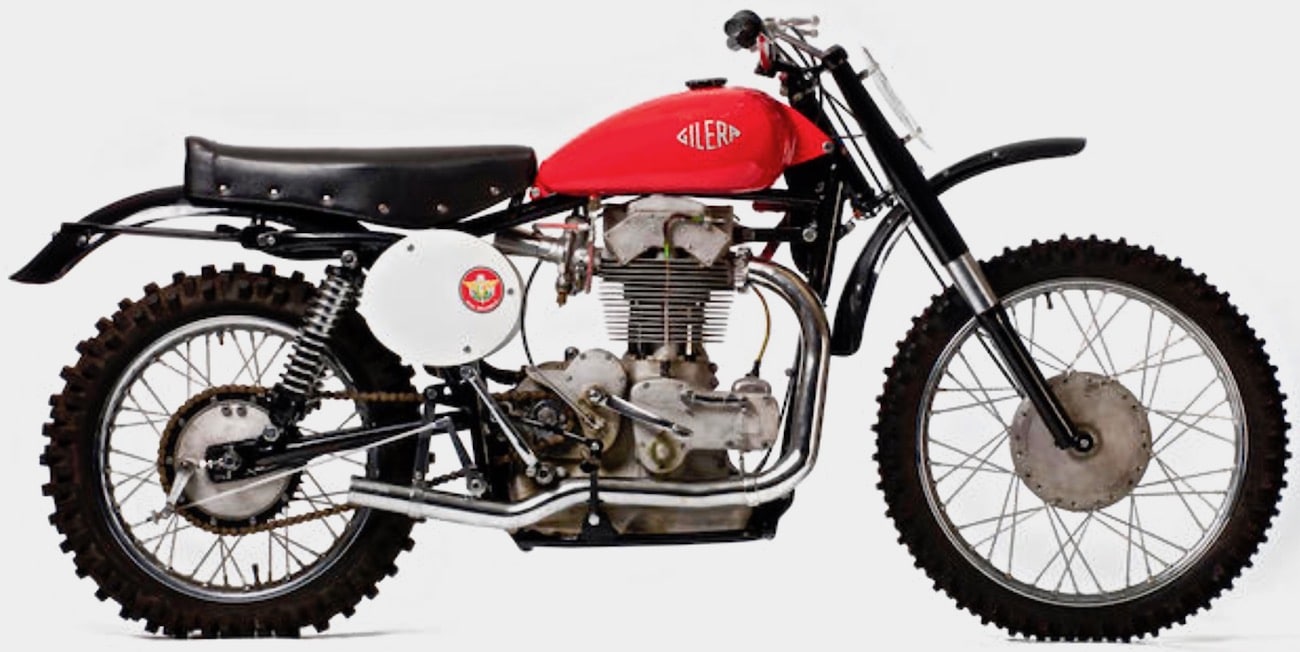 1956 Gilera 500 Saturno Cross.
Following some successful ventures by motocross privateers on modified Saturnos, the factory introduced a motocross version of the Saturno in 1952. Based on the Corsa road-race version, the Saturno 500 Cross was basically the road race model with a 21″ front wheel, knobby tires, straight-through exhaust; skid plate, leading-axle front forks, and smaller motocross tank, seat and mudguards.
The Gilera Saturno 500 Cross had a 498.8cc displacement, 7.1:1 compression ratio, 38mm Dellorto carb, four-speed gearbox and an 84mm x 90mm bore and stroke.
Domenico Fenocchio was a three-time Italian 500cc Motocross Champion on his factory Gilera 500 Saturno Cross.
The Gilera's top factory-backed motocrosser was Domenico Fenocchio, who was also the winner of the 1955 Milan-Taranto road race. Fenocchio was the Italian 500 motocross champion in 1953, 1954 and 1955. Fenocchio also won ISDT Gold Medals at the Six Days in 1954, 1956 and 1958. Fenocchio died in 2007 at 94 years old.
\