BIKES YOU'VE NEVER SEEN BEFORE: 1966 DUCATI 250 DESMO SCRAMBLER

The right-side shift, left-side kick start, Ducati 250 Scrambler weighs 305 pounds and had a 19-inch front wheel and an 18-inch rear.
Long before the race winning 1972 Ducati V-twins hit the pavement, Ducati produced the traditional single-cylinder street and race bikes that every other Italian manufacturer made in the 1960s. Some Ducati's were pure street machines, more utilitarian than flashy, while others had chassis and engines tuned to win the biggest races on track or dirt. But don't think of Ducati as a classic Golden Age motorcycle manufacturer. They weren't. In fact, Ducati did not build any motorcycles until after the Second World War.

Take off the headlight and tail light and the Ducati 250 Scrambler made a pretty clean dirt bike.
In 1926 Antonio Ducati and sons Adriano, Marcello and Bruno began producing radio tubes and condensers at the Societa Scientifica Radio Brevetti Ducati  in two factories—one in Bologna and one in Borgo Panigale, Italy. During WWII the allies bombed the Ducati factories because they were making military parts. Ducati's electronics business resumed after the war, but since they had production space in their remaining Bologna factory, they partnered with SIATA (Societa Italiana per Applicazioni Tecniche Auto-Aviatorie) to develop a 48cc, push-rod, four-stroke engine that was sold in a box and could be attached to a bicycle. It was called the Cucciolo (little puppy) and was a tremendous success in war-ravaged Italy.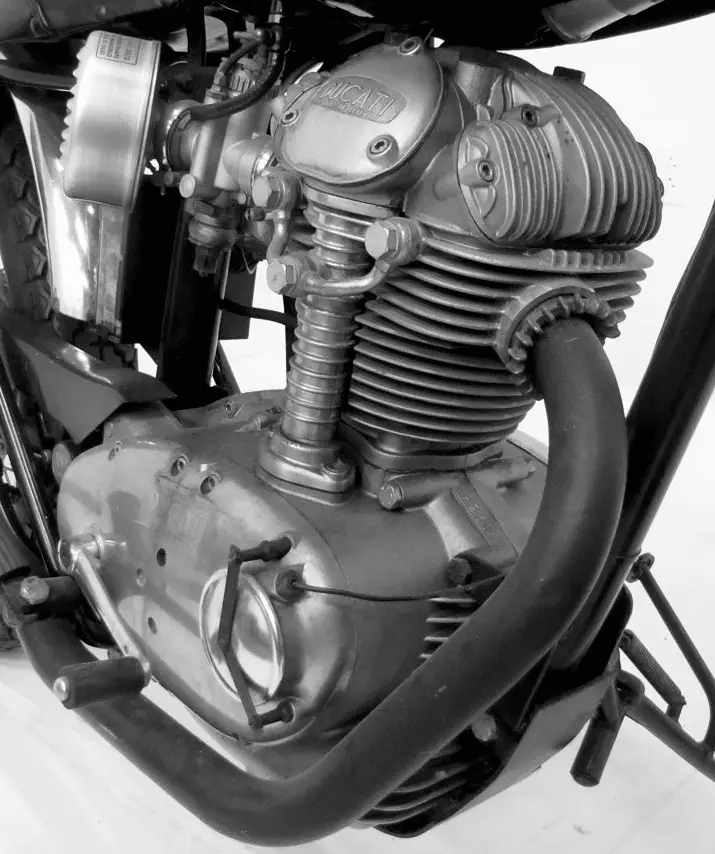 The Desmodromic head highlights the Ducati engine, but the little frills, rills and ridges give the engine that Italian look. The transmission is a five-speed.
The Ducati clan decided to build complete motorcycles and split the electronics company and motorcycle company into Ducati Meccanica SpA and Ducati Elettrotecnica. Ducati built its first complete motorcycle in 1949 around a big-bore 60cc Cucciolo engine, but soon expanded the line into 125cc, 175cc and 200cc machines. Starting with the Cucciolo in 1946, for about 25 years Ducati focused on sporting and utilitarian single-cylinder bikes up to 350cc's, then in 1972 they made the move to 750cc V-Twins.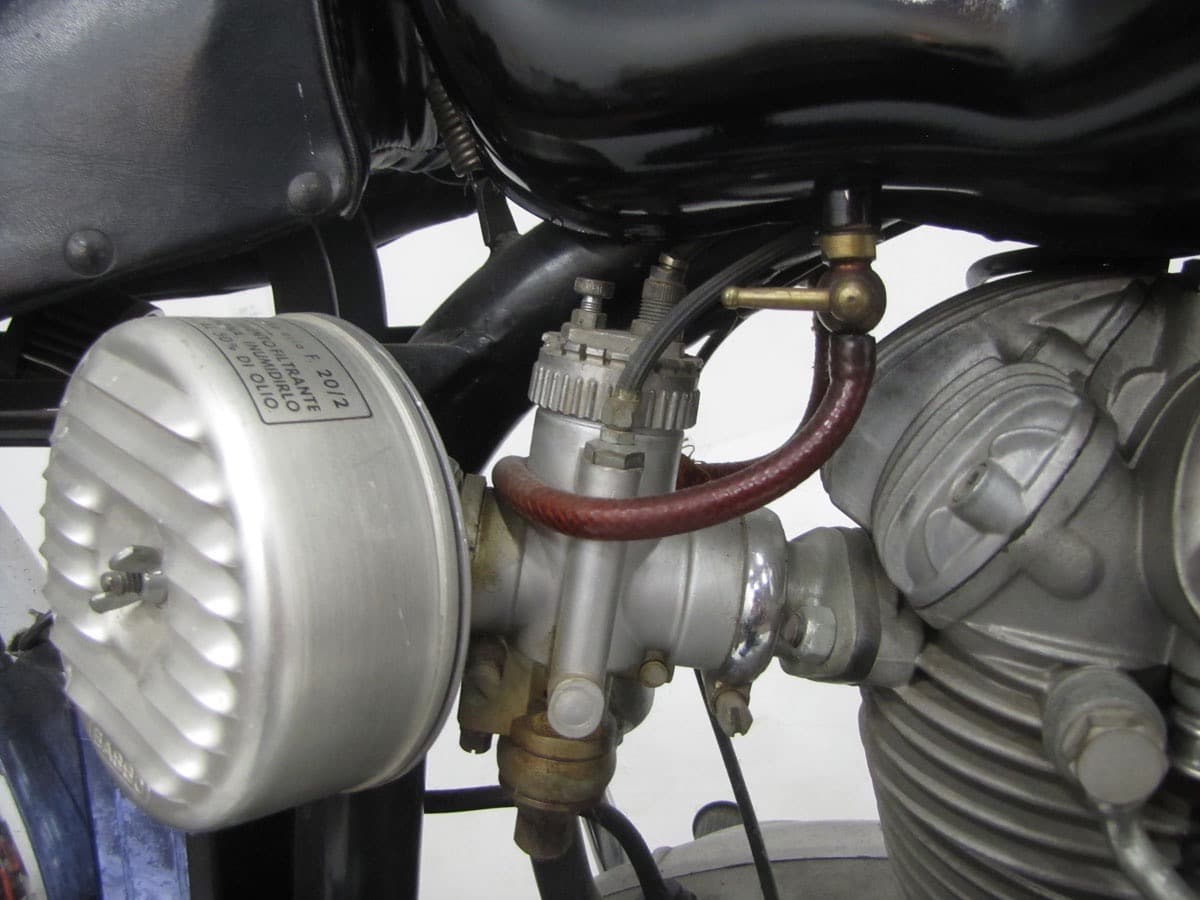 The 29mm Dell'Orto  carb breathes through a canister air filter and into the engine via a seriously pinched-down intake tract.
Their focus before the War was electrical devices like condensers, radios, shavers, calculators and cameras, even refrigeration equipment. Transforming bicycles into motorcycles, filling the needs of the Italian population, getting them to work after the devastation of World War II is what drove Ducati to its success in motorcycle manufacturing.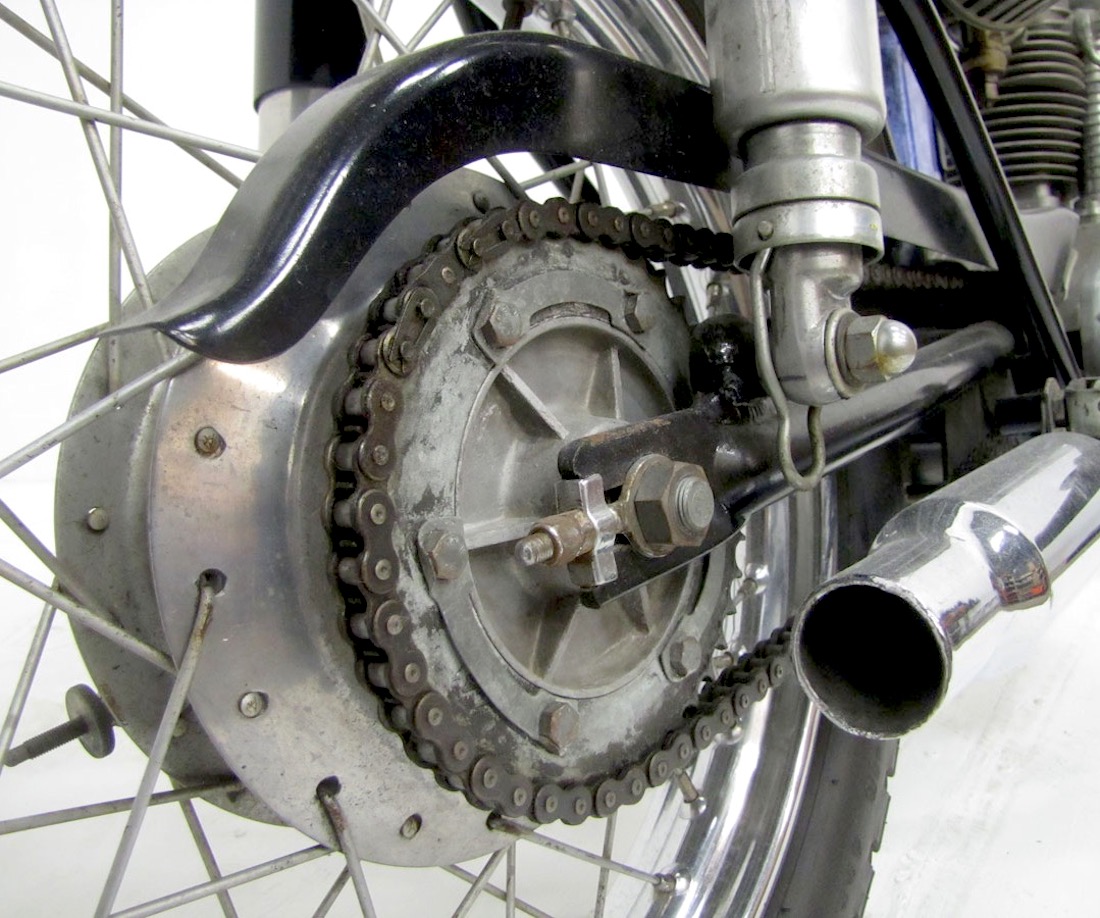 The rear wheel houses a 160mm drum brake on the left side and a slip-on rear sprocket that is held in place by six bolts with locking tabs on every set of two bolts.
With the 1966 model year, Ducati made the move to design machines with the off-road look that was popular with young Italians in the mid-1960's. This "narrow case" 250 was derived from the Diana street bike. Hence it was not a serious contender in scrambles or dirt track racing events, but offered a trim performance look then popular in Europe, England and the United States. In 1971 the much more potent Ducati 450R/T single, designed solely for the U.S. motocross and off-road, pushed the Diana-based Ducati 250 scrambler out of the limelight.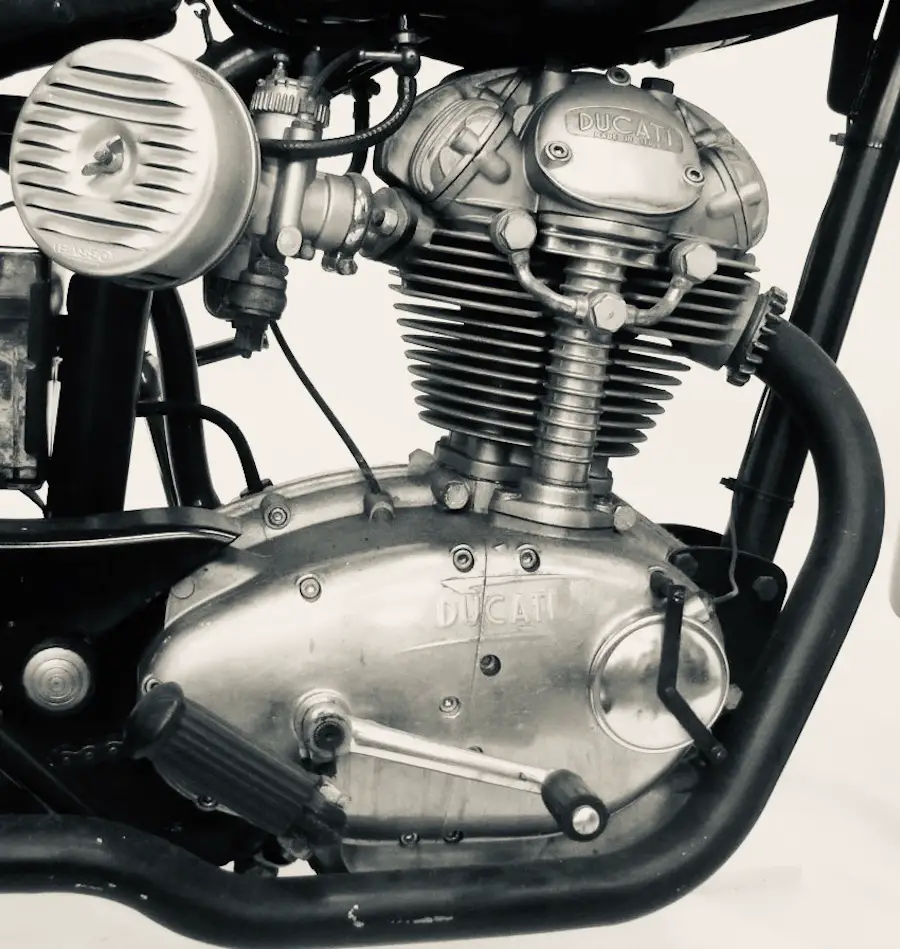 The 1966 250 scrambler used a Desmodromic valve train. Designed by engineer Fabio Taglioni, the demo design controlled valve float by having the valves positively opened and closed without valve springs—using dual rocker arms on each valve.  Desmodromic valve trains use two cam lobes to control the opening and closing of each valve; one cam lobe opens the valve, the second cam lobe forces the valve shut. Most engines use one cam lobe to open the valve, but a coil spring to close it. Fueled by a 29mm Dell'Orto carb, the 249cc engine had a 74mm by 57.8 bore and stroke. The compression ratio was 9.7:1 and it produced a claimed 18 horsepower. This Ducati 250 Scrambler is on display at the National Motorcycle Museum in Anamosa, Iowa.
\