BIKES YOU'VE NEVER SEEN BEFORE: 2004 HAYES M1030-M1 DIESEL-POWERED KAWASAKI
BIKES YOU'VE NEVER SEEN BEFORE: 2004 HAYES M1030-M1 DIESEL-POWERED KAWASAKI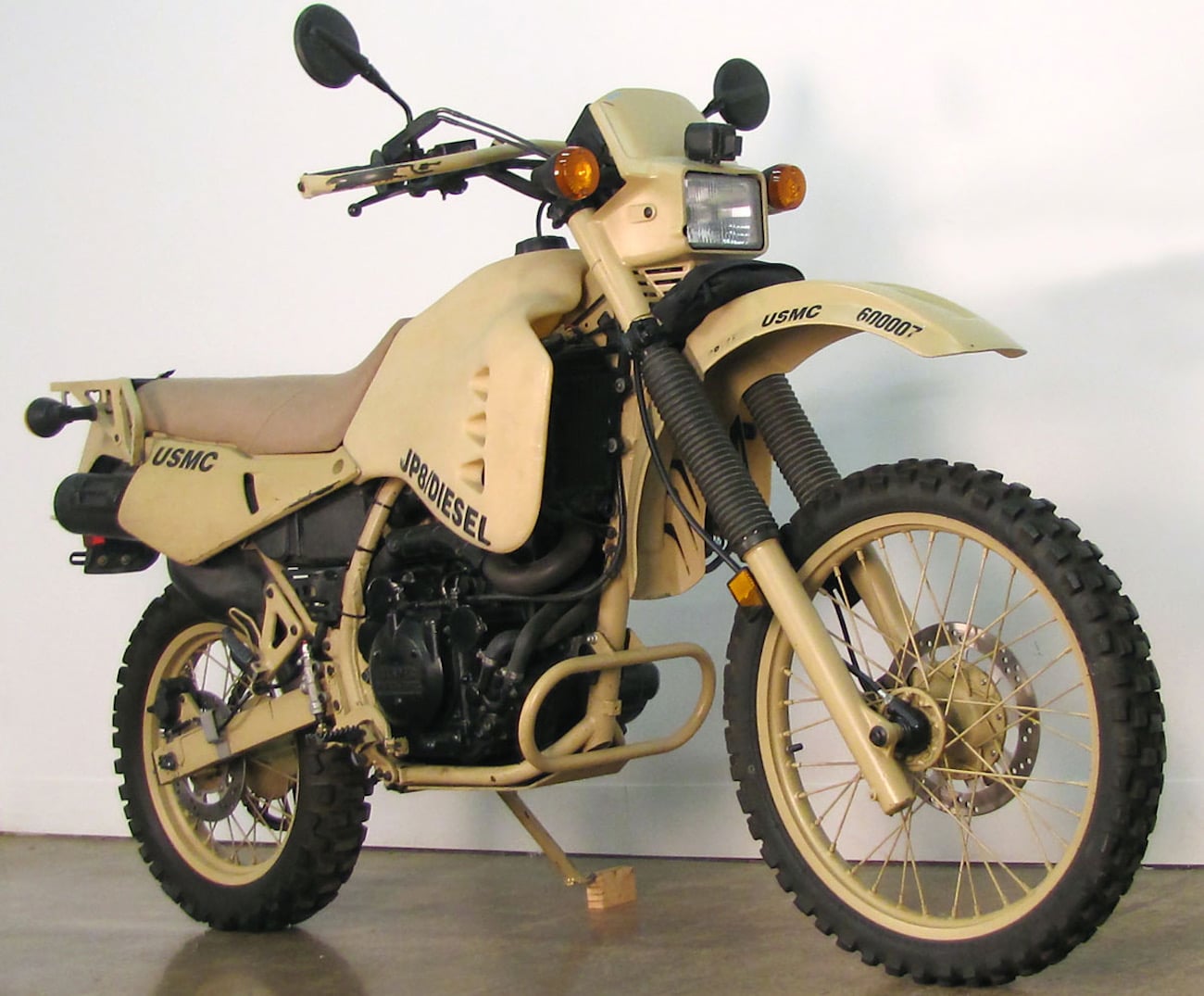 The Military Specification 2004 Hayes-DT M1030-M1 Started Life as a Kawasaki KLR650.
Dressed in desert camouflage, the Hayes M1030-M1 is actually a Kawasaki KLR650 with a engine converted to run on military-issue fuel by Hayes Diversified Technologies (HDT) of Hesperia, California. All of the military organization in NATO (North American Treaty Organization) require all of their vehicles to be able to run on diesel fuel or biodiesel in peace time, and on JP8 aviation fuel or kerosene in time of war. That requirements means that everything from tanks to jeeps to jets can use the same fuel, lessening the confusion of supplying and transporting different types of fuels. Thus, the U.S military motorcycles had to run on diesel.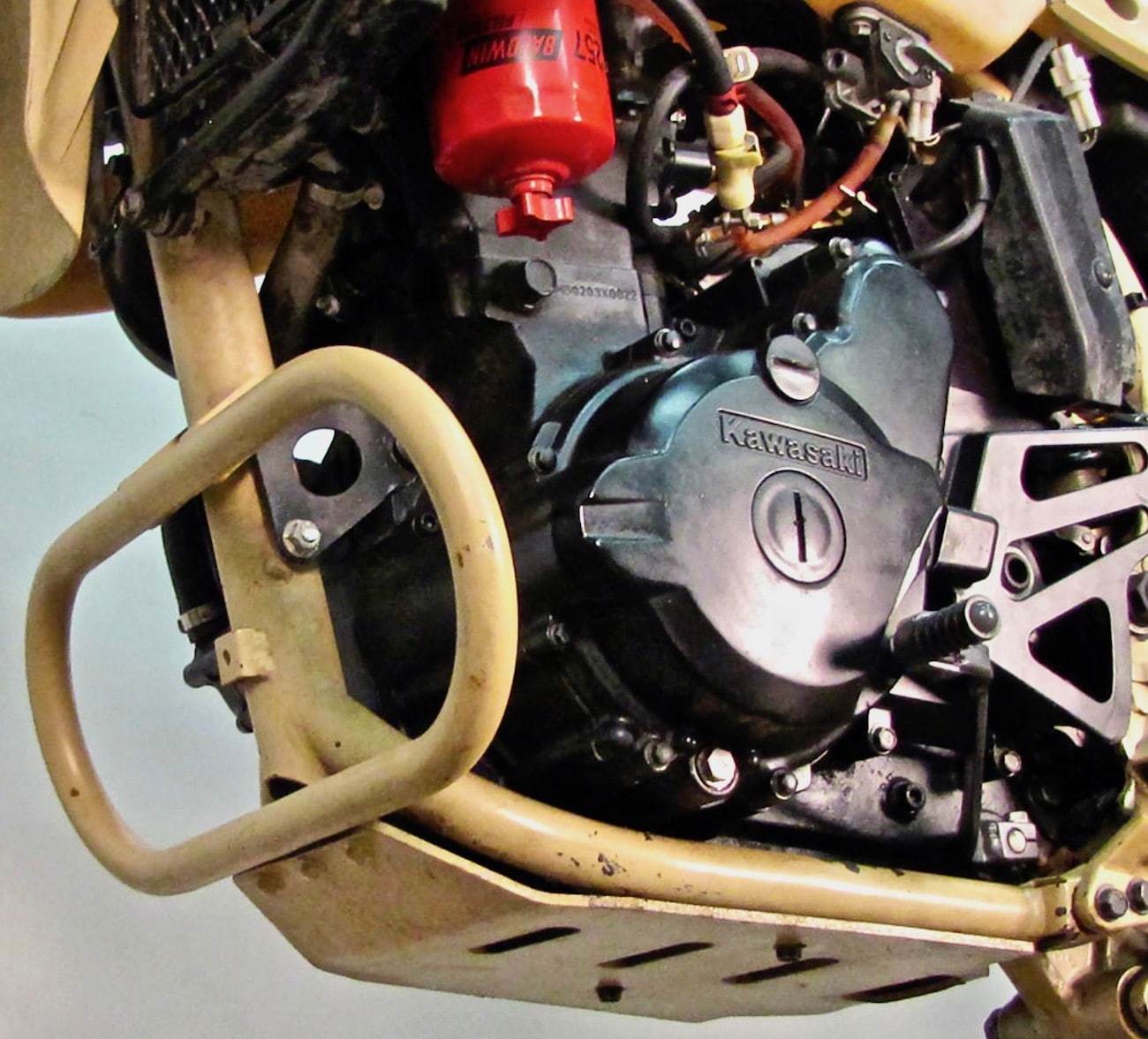 Hayes Diversified Technologies (HDT) started with a water-cooled Kawasaki KLR650 and used the stock Kawasaki main cases and five-speed transmission, down-sized the displacement to 584cc (some model's engines were 611cc) with a new piston, cylinder and 100mm by 83mm bore and stroke. Other components were changed to accept the very high compression ratio that diesel engines demand. This is not a high horsepower powerplant. It makes approximately 30 horsepower, but because of its torque it has good pulling power and could reach 85 mph if necessary. Although Hayes Diversified Technologies built a 670cc version for the Bonneville Salt Flats that went 121.2 mph. Then owner Fred Hayes entered it in the Vetter Fuel Challenge as a streamliner and it got 162 miles per gallon on diesel. Hayes won his class from 2010 to 2014.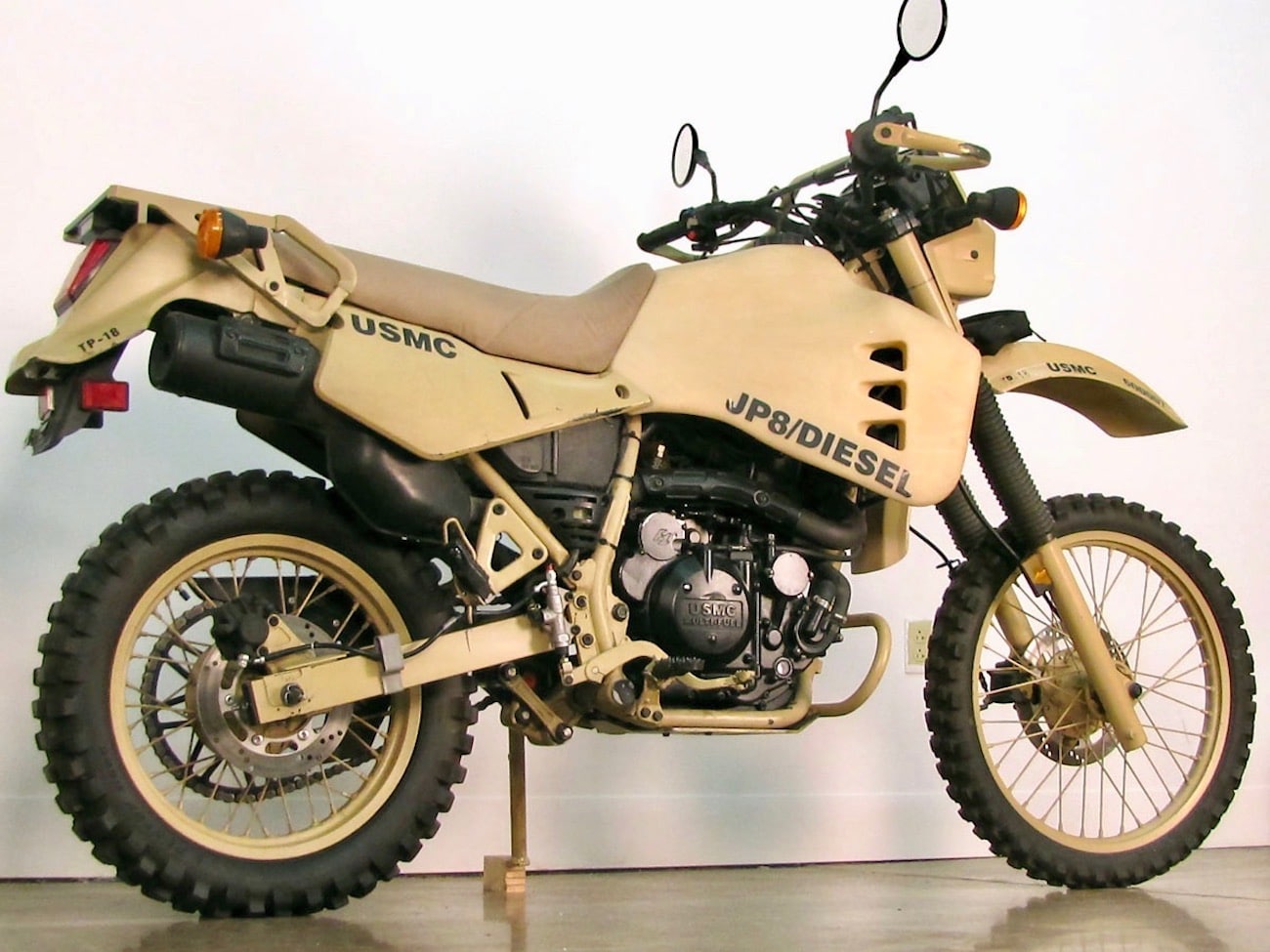 As with all military motorcycles, the HDT M1030-M1 has to meet the rigorous requirements of Army and Marine Corps life. It has to be able to cross streams that are two-feet deep, be equipped with black-out lights and be able to travel 400 miles on a tank of fuel. It has a 280mm front rotor to stop the 390 pound machine.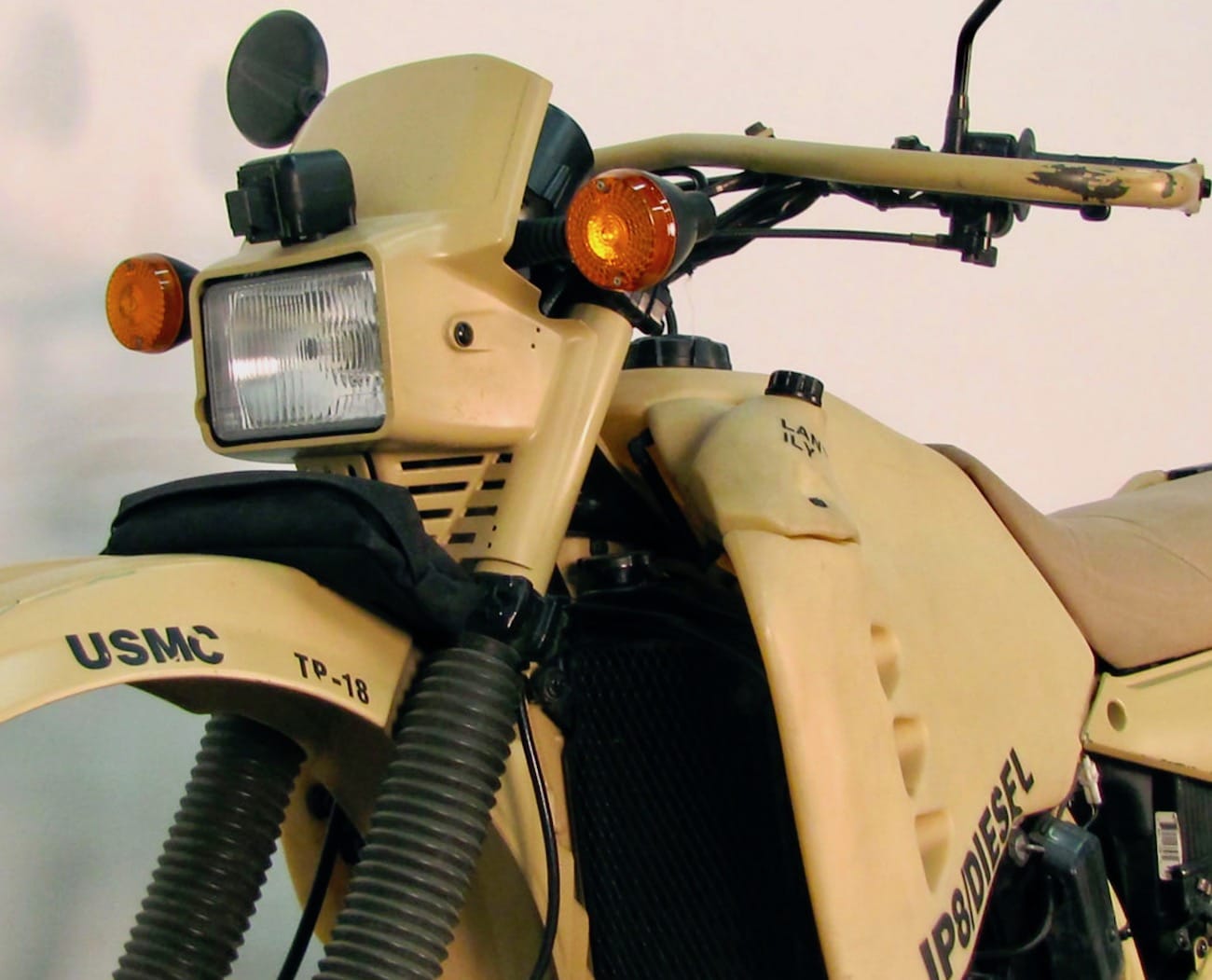 Motorcycles were very big with the U.S. Army in World War One. The government bought 41,000 bikes during WWI, the majority were Indians, for which they paid $187 and an extra $47 for a sidecar. Harley-Davidson made some 15,000 motorcycles for the war effort.
During the Second World War II, Harley-Davidson produced 88,000 machines to supply all branches of the armed forces—and Canada, China, Great Britain, Russia and South Africa. Indian made 42,000 motorcycles cycles for the government. None of these bikes were considered off-road worthy. Most of the motorcycles that went to war zones were used in the European theatre, as the Pacific was not conducive to motorcycles. The German Army made wide use of the motorcycles and had 20s motorcycle infantry battalions during WWII.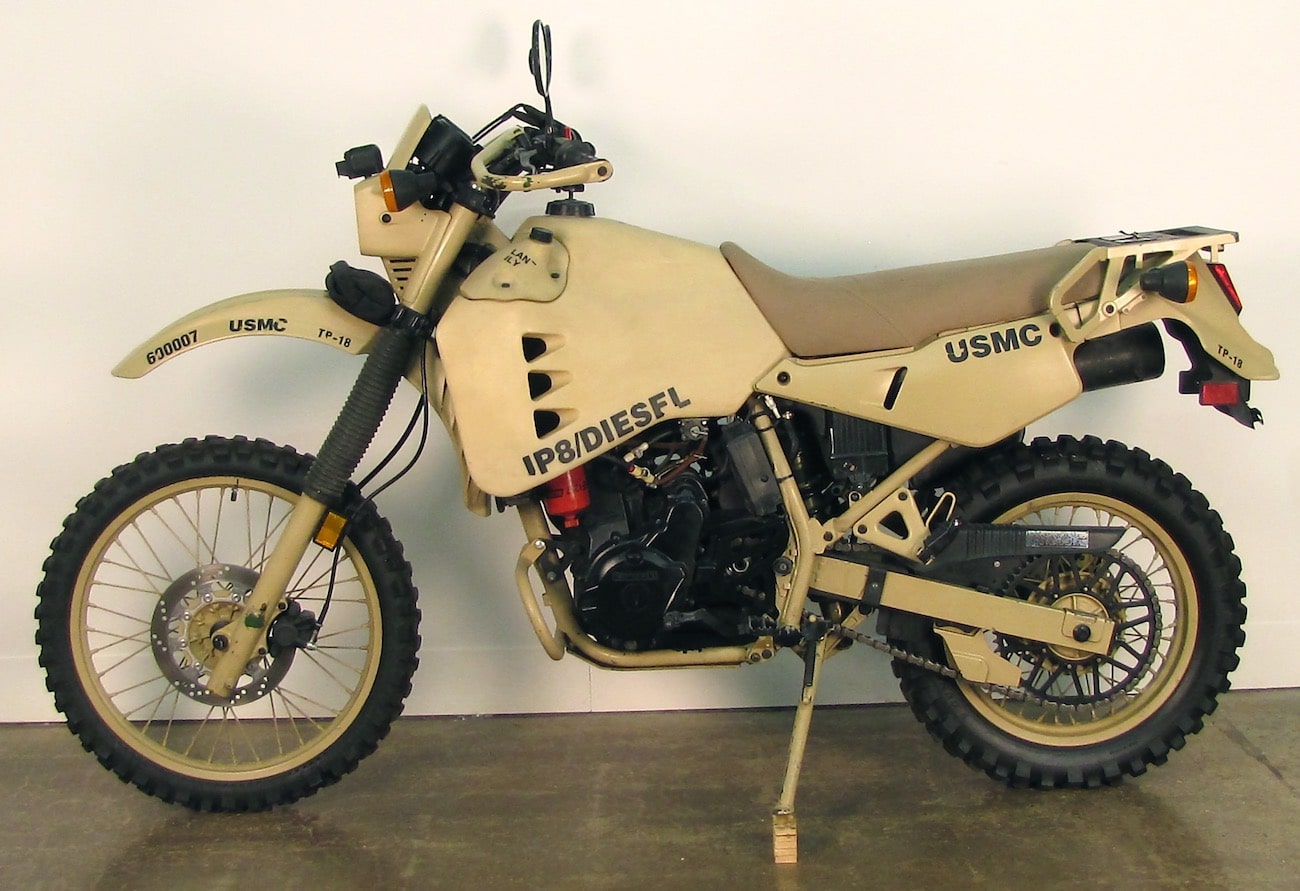 It wasn't until the 1980s that the U.S. military took motorcycles seriously again. Harley-Davidson got the government contract and since they owned the British Armstrong motorcycle company, they supplied the off-road capable MT500 and, in the 1990s, the MT350. But the Armstrong's ran on gasoline. Which is where Hayes entered the picture with the HDT M1030-M1 to produce diesel motorcycles from 2004 to 2008. The U.S. Marine Corps bought 440 M1030-M1 models. British and European NATO countries bought an unspecified numbers. Hayes tried to market the 670cc version in 2010 and they no longer make military motorcycles.
HAYES DIVERSIFIED TECHNOLOGIES WAS THE METTCO PENTON TEAM IN ANOTHER LIFE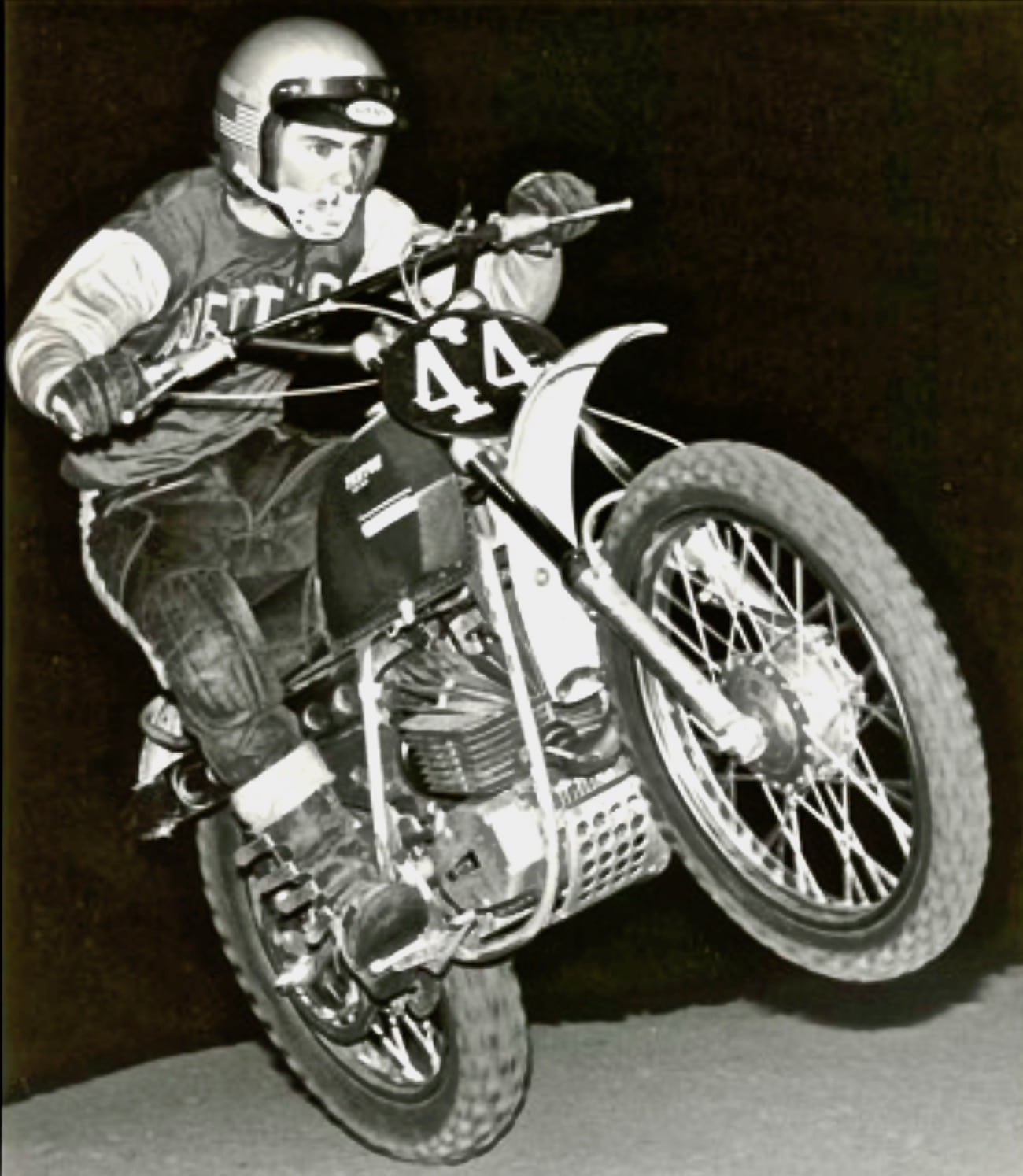 Chuck Bower in 1973 on the Mettco Penton. In 1974 Bruce switched to Team Honda and finished third overall in the 125 AMA National Championship.
For the old school guys, HDT was originally called Mettco in the 1970s and had successful Penton and Honda race teams with riders Bruce McDougal, Danny LaPorte and Chuck Bower.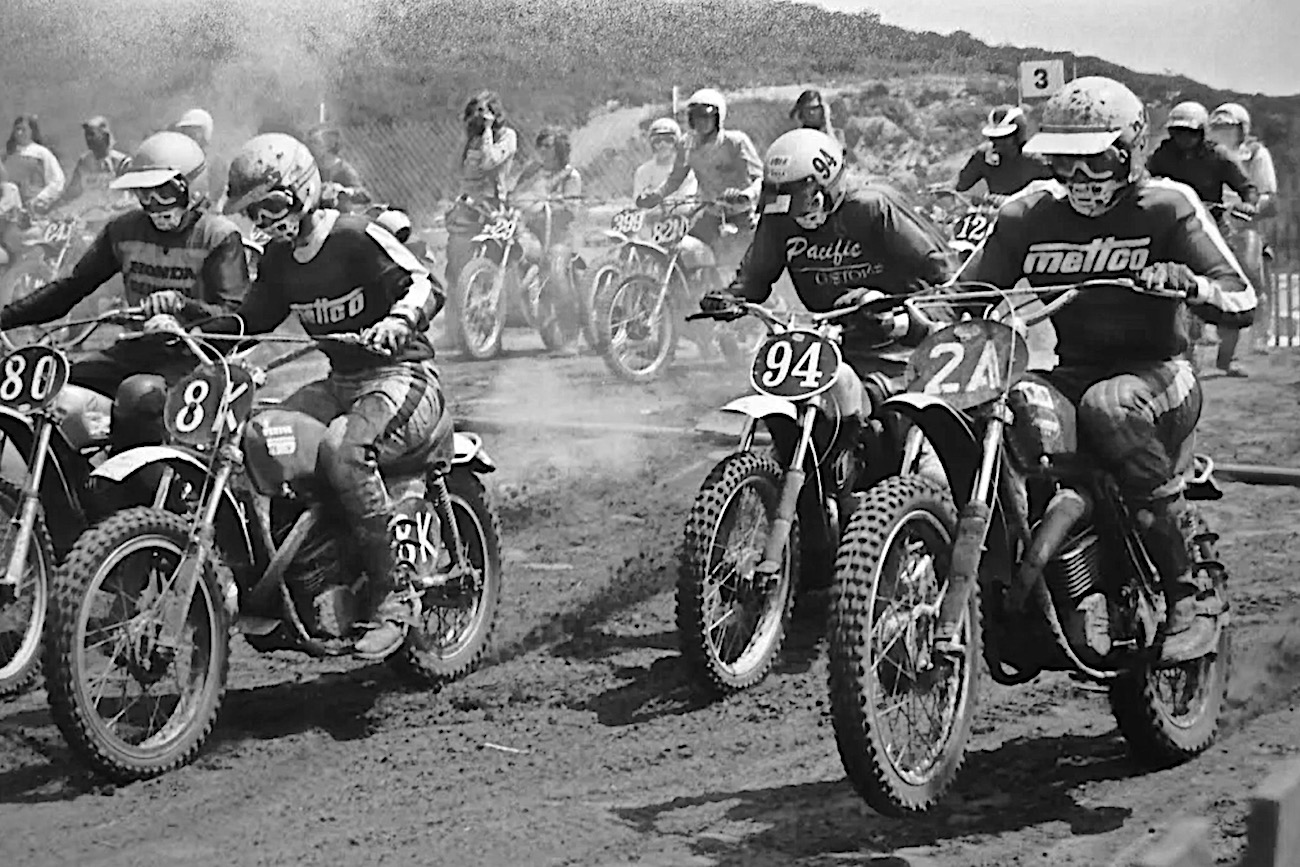 Chuck Bower (8K) and Bruce McDougal (2A) at Carlsbad in 1972 on their Mettco Pentons. Bruce McDougal finished second overall in the 1974 AMA 125 National Championship behind Marty Smith and ahead of Chuck Bower in a Honda CR125 1-2-3 sweep.

Chuck Bower (7) Bruce McDougal (11) and Danny LaPorte (far right) flying the Mettco flag. Danny would go on to the 1979 AMA 500 National Championship and the 1982 FIM 250 World Championship.

Photos: National Motorcycle Museum, Penton & Mettco