BIKES YOU'VE NEVER SEEN BEFORE: 2009 WRM 450 MX1 CROSS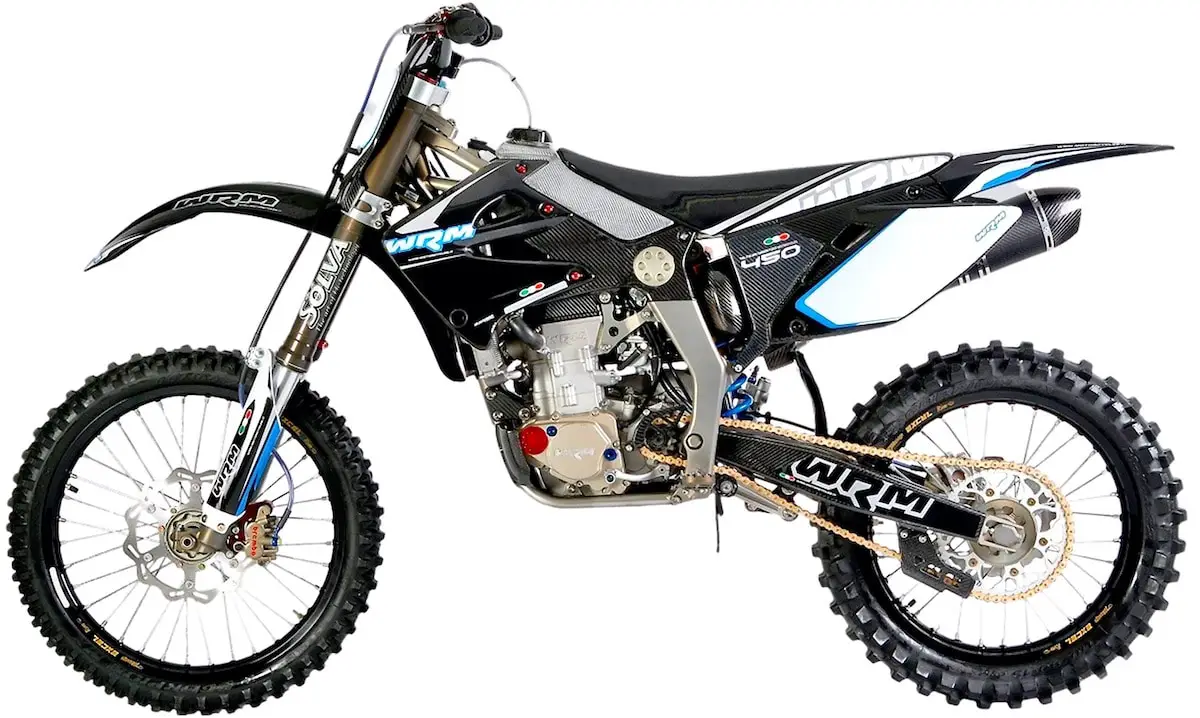 The $25,000 WRM MX1 Cross was designed as a very limited-edition machine and the production line has not been very busy in the last couple years.
WR Compositi was founded by brothers Alex Balestra and Yuri Balestra to show off their ability to work with carbon fiber—which they did in quantity with high-end bicycles. Back in 2005 there were exotic motocross bikes from Vertematti, VOR and TM and the Balestra brothers wanted to join the European exotic production bike field with their WRM 450 motorcycle. It was is designed and built in Italy with a special hand-made 450cc single-cylinder engine. The WRM is a truly hand-built bike that uses the company's own engine and frame – all made in house. The Balestra brothers didn't want to use someone else's engine. So they made their own.

Under the skin you can see the radical chromoly/aluminum/carbon fiber construction.

The retail price of a WRM 450, if you could find one is $25,000, is a very rare machine, although prototypes were built as early as 2007 and it went into limited production in 2008 and claims to have made bikes up to 2015, but that doesn't means they made more than a handful. Its claimed weight is 222 pounds. It uses a single-cam 449cc engine with a 96mm x 62.1mm bore and stroke. The WRM engine has a four titanium valves and, by choice, a Keihin TPS carburetor instead of fuel injection. There's a Vortex ignition with 10 programmable maps and a slipper clutch (because it had its greatest success in SuperMoto).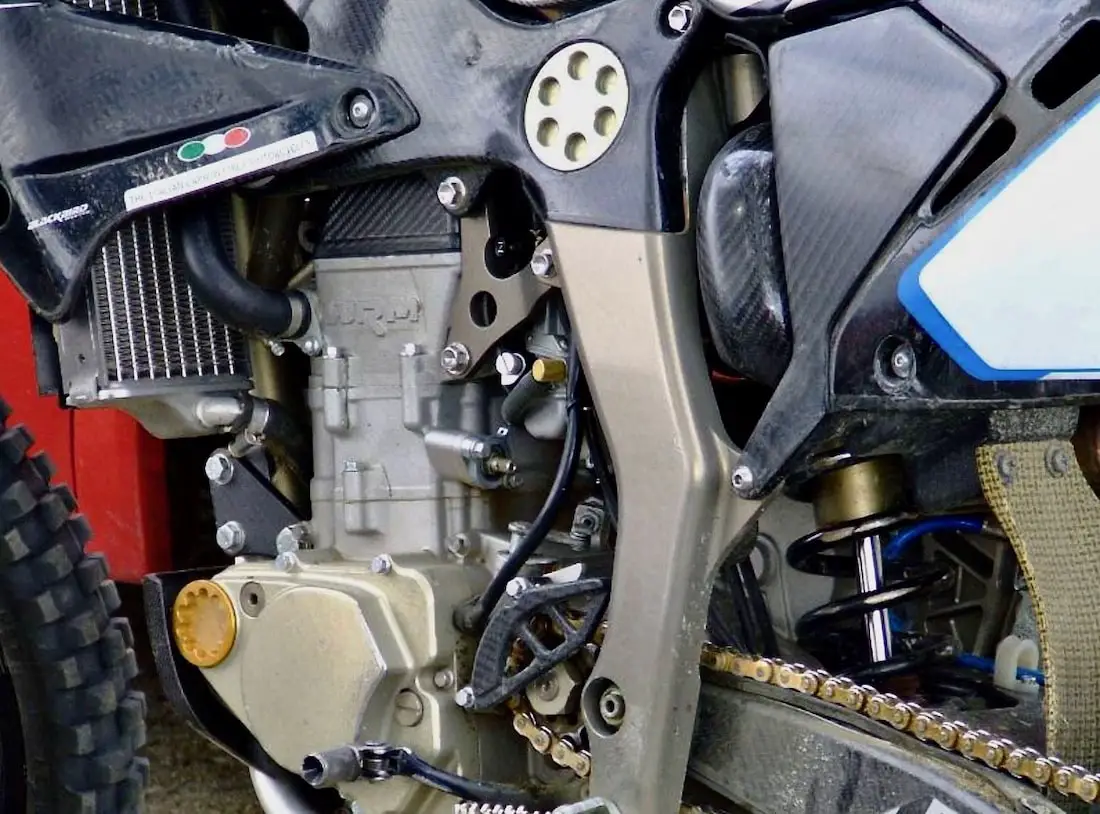 As far as the frame goes, carbon fiber is only used to bridge the aluminum spars to the trellis-style head tube. Most of the carbon fiber is in the gas tank, airbox and side panels
The WRM frame is a combination of chromoly steel, cast aluminum and carbon fibre/ kevlar composite. The front part of the frame is a chromoly trellis-style frame. The engine cradle is made from chromoly steel tubes, that bolt to the cast, upright, aluminum spars. A molded carbon fiber bridge connects the cast aluminum spars to the head tube. Additionally the swingarm, gas tank, side panels and airbox are also made of carbon fiber.
Besides the swingarm which is entirely made of carbon fiber (save for the axle blocks), the engine is completely designed by the Italian company. Moreover, the motorcycle is equipped with a five-speed gearbox and a chain final drive. The 2009 bike uses Solva forks and shock, Brembo brakes and lots of hand-made parts including a cone-section exhaust system. The bolts are titanium to keep weight to a minimum. There is no doubt that WR Composti has very little interest in building serial production motorcycles and seems to have settled into being in the carbon fiber bicycles business.
\