BIKES YOU'VE NEVER SEEN BEFORE: ALOOP XMX 250 FREESTYLE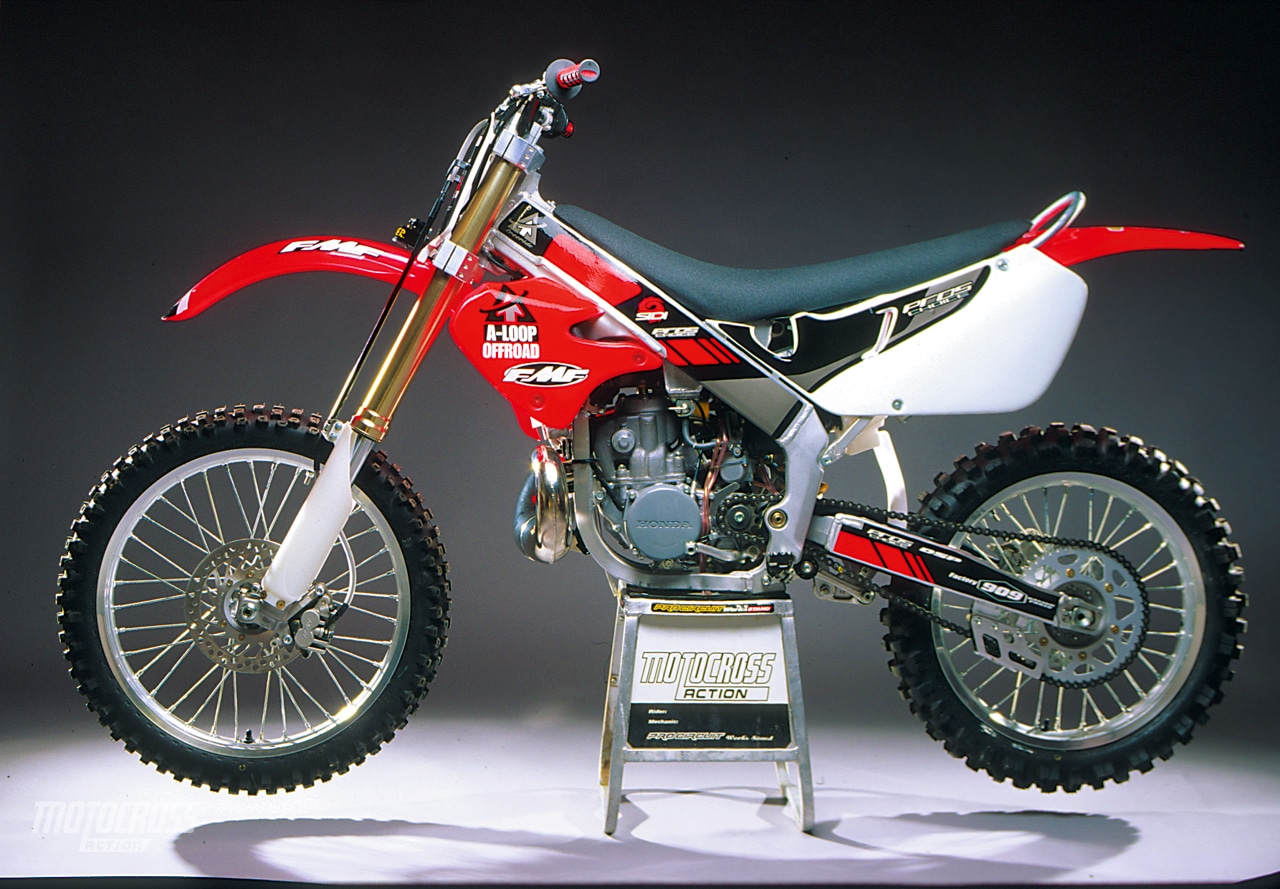 Everybody knows that Freestyle Motocross is only a fad, right? But, it refuses to die—Just like JT's pink pants, glitter covered Scott goggles and mullet hair cuts. Okay, so maybe mullet hair cuts can't be killed, but they should be. The real question is, why would a 40-something off-road racer from the Colorado mountains set out to build the ultimate freestyle bike? The answer? Because his two teenage sons, Scott and Chris, both like freestyle motocross. Plus, Pete Denison is one happenin' old-timer–wrist tattoo, fedora and all.
HOW THE IDEA GOT GERMINATED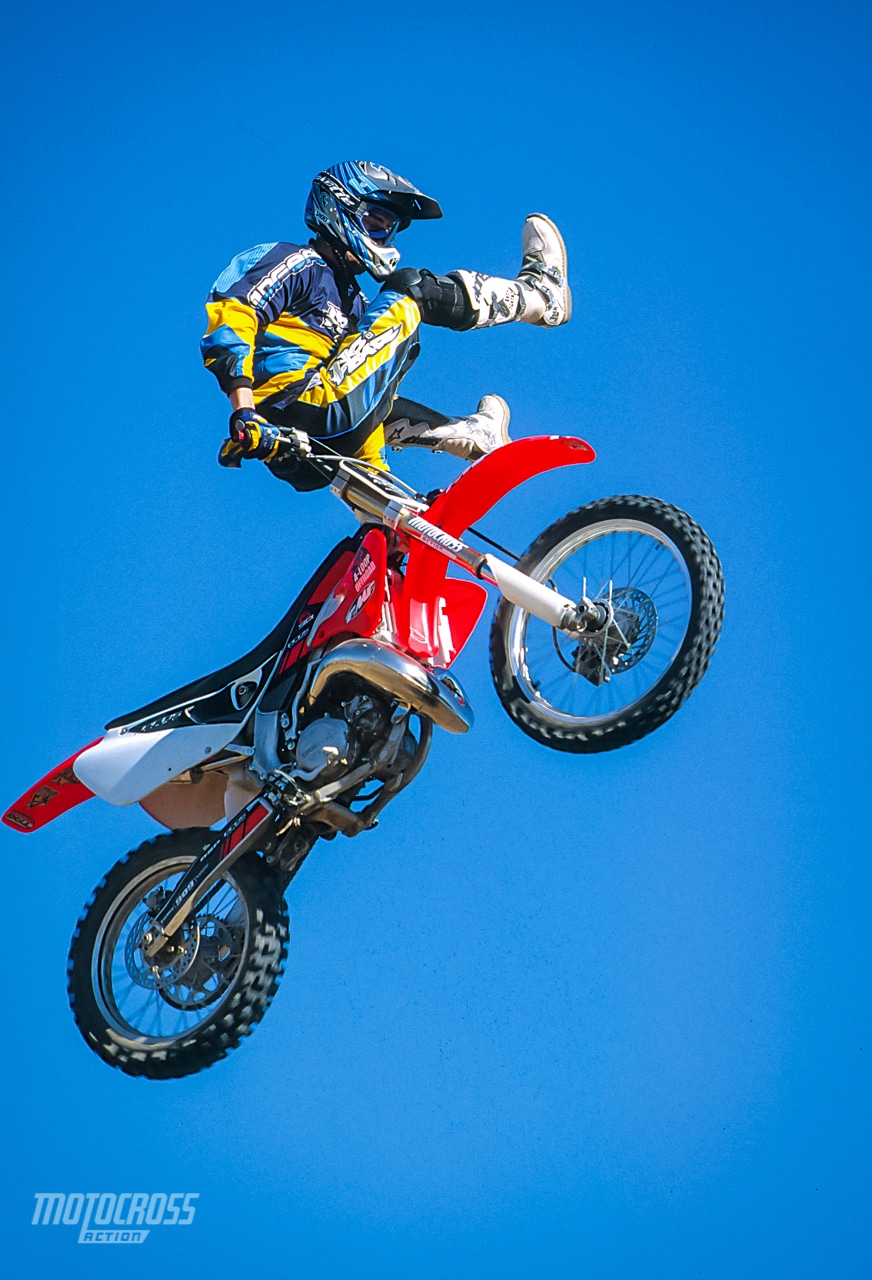 Mike Metzger testing out the Aloop FMF freestyle bike. 
Did the world need a special freestyle bike? No more than handheld PCs, cell phones that work with Coke machines or automobile TV sets. But, in 2000 no one had tried to do much to their bikes, but after watching endless hours of Crusty, Moto XXX and Terrafirma videos, Pete Denison and his sons had a pretty good idea about what hindered standard motocross bikes when it came to freestyle. Their conclusion? The tank and seat had to go. With tricks like the can-can (and all its variations), Cordova, cliff-hanger, Saran wrap, bar hop and the McMetz, sleeker is better.
Aloop, by happy circumstance, was one of the few aftermarket companies that is capable of popping out a totally redesigned tank and seat combo. Aloop has risen to fame with their special XR400 tank/seat combos, so coming up with a freestyle tank was no problem.
HOW TO DO IT?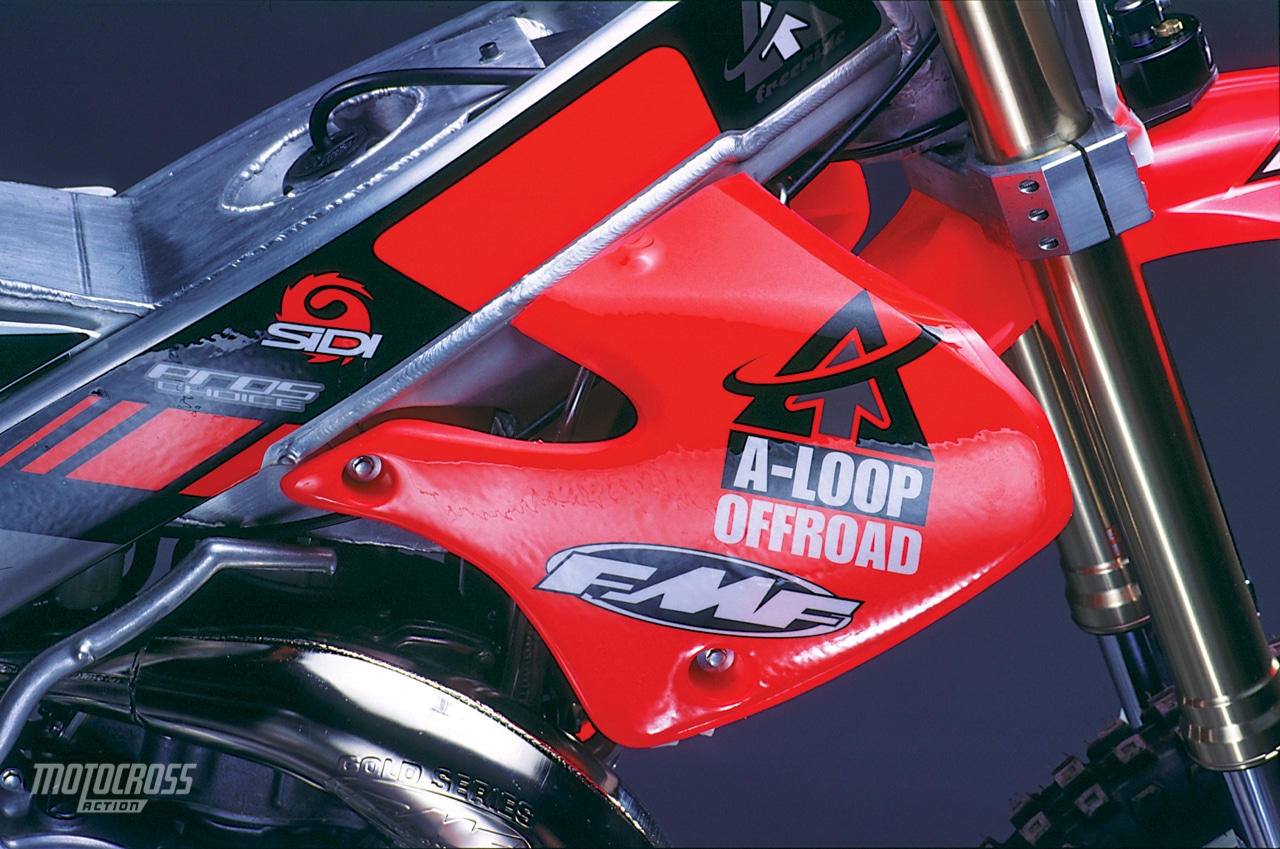 Step one: Remove the stock 2.0 gallon gas tank and replace it with a smaller, less obtrusive and lower gas tank (after all, most freestyle events take about 90 seconds to complete).
Step two: Build triple clamps that won't break (even under Seth-style impacts). Also, make the top triple clamp with a gull-wing design so the bar mounts are out of the way.
Step three: Add a rear grab bar for doing tricks like the Superman seat grab and Indian air.
Step four: Bolt on a WER steering damper so the bike won't get a massive case of headshake after the rider tries to pull off a no-hander landing with the bars not exactly straight.
Step five: Create an aerobatic smoke system (using ink and the heat of the exhaust) to leave a trail reminiscent of an airplane.

THE FINAL RESULT
After countless of hours tinkering, the Aloop XMX Freestyle bike was ready for the MXA wrecking crew. At first glance, the Aloop XMX looked like an aluminum-framed '99 CR250–minus the gas tank and with a seat spread out from the rear fender all the way to the triple clamps. If it sounds uncomfortable, don't worry. Freestyler's only spend a small fraction of their time turning and even less time sitting down.
When Aloop delivered the bike to the MXA wrecking crew, the gang drew straws to see who would jump it first. Somehow, though, every test rider had the same length straw. Volunteers were asked to step forward, but instead they all stepped back. Our solution, call up our old buddy Mike Metzger. Didn't think the MXA wrecking crew knew Metz did you? Wrong. Before Mike made his money on the jump circuit, he raced every weekend at the same tracks as the MXA gang. We like Mike—as a racer and as a jumper.
Unlike the wrecking crew, Mike was anxious to fly the untested XMX through the SoCal airways. For Pete Denison's sons, this was a dream come true. Not only was their bike going to be ridden, but they were going to get to see one of the greatest jumpers in the world test their bike on a super-secret freestyle course.
THE METZ CRITIQUE
What was Metzger's initial reaction to the XMX (XtremeMotoX)? How about amazement, bewilderment and the adamant refusal to ride the bike until the rear grab bar was removed. It seems that Clifford Adoptante was the only freestyle rider to ever use a grab bar and, on occasion, Clifford got hung up on it. While Pete unbolted the grab bar, Metz decided to make a few practice jumps on his personal YZ250. Big mistake! Metz came up terrifyingly short on his first try. So short, in fact, that the champ had to take a quick breather to reclaim his confidence and still his rapidly beating heart.
A few huge no-footed can-cans later, however, Metzger was ready to try out the Aloop XMX bike. He started off small and ended up pulling everything in his repertoire, including his newly named McMetz (which can best be described as an act of lunacy which requires the rider to put both legs over the bars going through his arms and then let go of the handlebars and swing his legs around the handlebars and back on the pegs as well as get his hands back on the bars).
So what did Metzger think? He wanted his YZ250 modified with the XMX kit. Not only did the XMX kit make the tricks easier and safer to do, but it created the opportunity for new tricks. Just to prove the point, Metzger pulled the first-ever surfer nac-nac (a combination of a surfer, where the rider simply stands on the seat, and a nac-nac).
So there you have it. The first purpose-built freestyle bike–courtesy of a Colorado enduro rider and his two persistent sons. Aloop built XMX kits for 1997-2000 CR250s and 1998-2000 CR125s.