BIKES YOU'VE NEVER SEEN BEFORE: BRITISH-BUILT 1982 WILCOMOTO 500
The Wilcox family didn't borrow parts from other motorcycles, they built the complete Wilcomoto 500 in the British countryside—and that includes the frame, engine, swingarm, shock, forks and hubs. Photo: Chris Montignani
The Wilcomoto 500 was the vanity project of the Wilcox family, Tom and sons Steve, Mike and Brian. It was almost wholly built in the family shop in Hereford, England. The Wilcox family was heavy into motocross when they decided to design, manufacturing and market their own 500cc two-stroke with almost every single part made in-house. This was not a frame kit that you put a borrowed engine from another brand is, it was a completely British built race bike—engine and all. The exact number of bikes to roll down their production line is unknown, but perhaps fewer than 30 were ever made.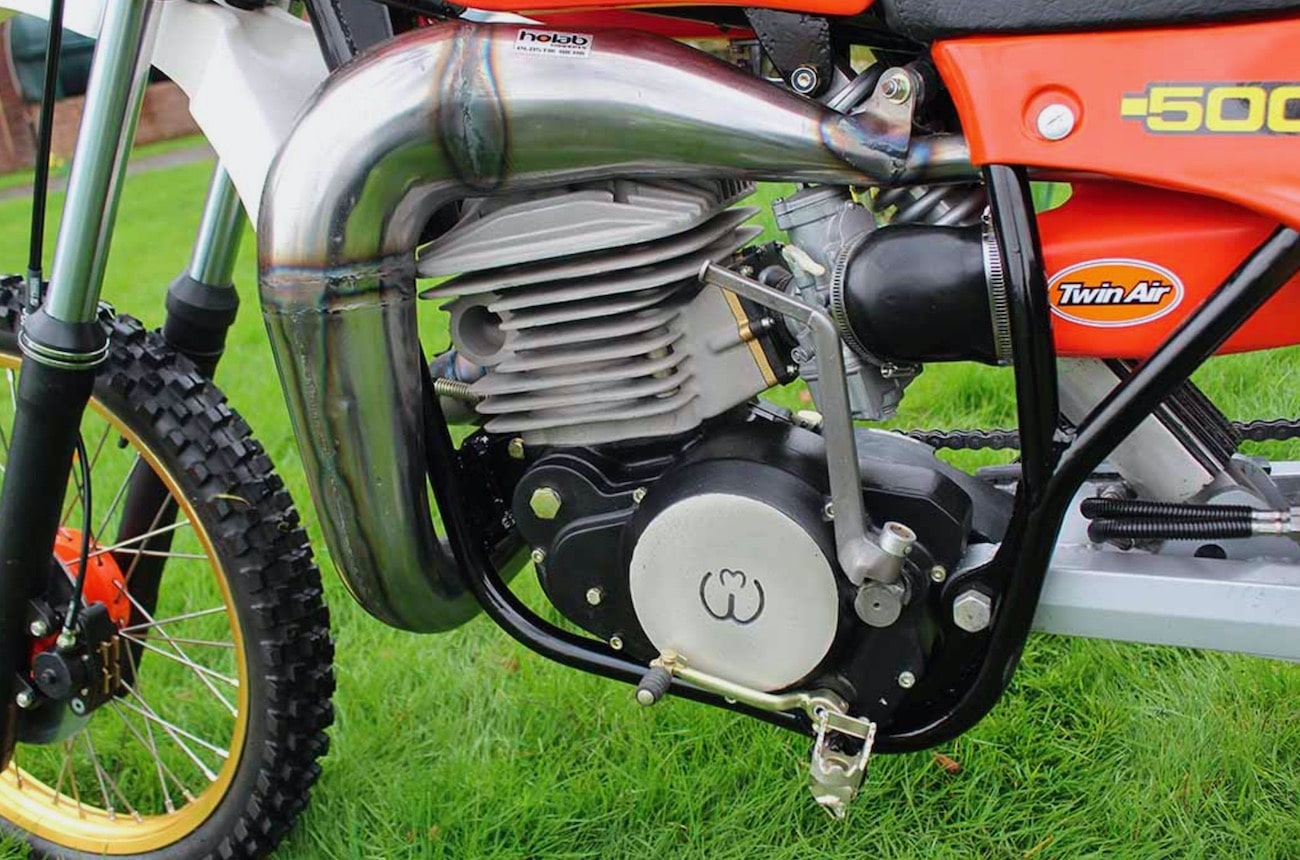 The 498cc two-stroke, four-speed is cast in magnesium and fed through a 16-petal reedvalve via a 41mm Dell'orto carb. Note the two lines going to the remote shock reservoir. Photo: Chris Montignani
The Wilcomoto 500 is very unique in that it used a lot of magnesium in the rear shock, triple clamps, 42mm fork legs, crankcases, front brake caliper and hubs. The Wilcox's were skilled craftsmen and jigged up their own Reynolds 531 chromoly frame. The engine design was sent out of be cast in magnesium. When it came back, it was machined in the Hereford factory, along with all of the gearsets, flywheel and cases. It had a 87mm x 83mm bore and stroke, with a reed valve and 41mm Dell'orto carb. The claimed dry weight was 225 pounds.The cylinder even had a machined port in it to install a power valve, although they never got the chance to built that parts. The also never built the follow-up 250cc engine. The brake rotors were cast in aluminum and hard chromed. The four-speed Wilcomoto 500 displaced 498cc.
The 1982 Wilcomoto 500s are very rare. When one shows up at a British bike show they draw a crowd. Nobody knows how many were built or how many still exist.
It retailed for around $3000 in 1982, which was more expensive than the 1982 Honda CR480. Unfortunately, the Wilcomoto factory reportedly burned down in the early 1980s, destroying the Wilcox famlily's machinery, tooling and stock of Wilcomotos 500s.