BIKES YOU'VE NEVER SEEN BEFORE: 1957 MOTO GUZZI FALCONE SPORT 500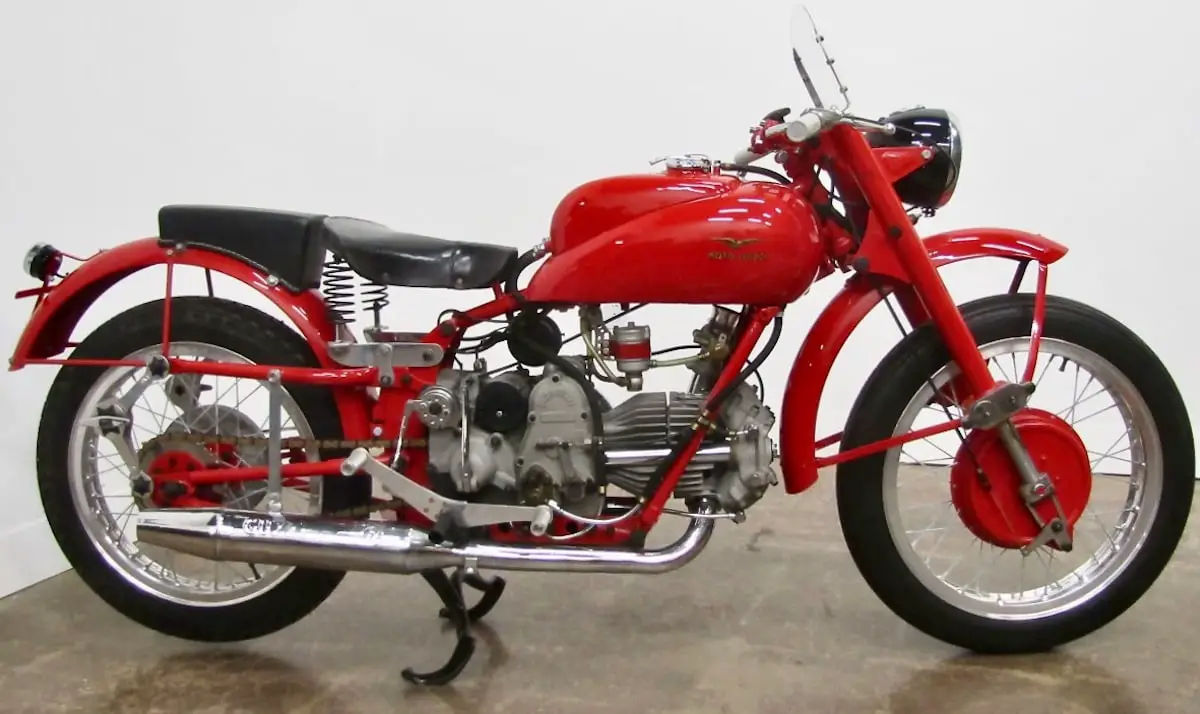 A close look at the 1957 Moto Guzzi Falcone Sport 500 is dazzling in its uniqueness.
Aircraft mechanic Carlo Guzzi, and aviators Giorgio Parodi and Giovanni Ravelli all served in the Italian Air Corp during WW1, at their home base they conceived the idea of a post-war motorcycle company. Guzzi would design the bikes, the wealthy Parodi would contribute start-up capital, and Ravelli would race them. Sadly, Ravelli was killed in the last days of the conflict, but his spirit would be commemorated in the Guzzi's eagle wings logo. Undaunted, Guzzi and Parodi set up shop in Mandello del Lario on the eastern shore of Lake Como.

The knee action rear suspension linkage allows the shock spring to be hidden under the engine.
The first production Moto Guzzi was the 1921 500cc Normale. Advanced for its time, Moto Guzzi introduced its first rear suspension system in 1928. It used an interesting "knee action" friction damper system typical of early cars, and placed the springs almost out of sight under the transmission. In essence the rear suspension was very similar to the original Yamaha monoshock, except that the triangulated swingarm didn't push on a shock hidden under the gas tank, but pulled on a shock under the engine. Also interesting is that Moto Guzzi used what we now call "upside down forks" to reduce unsprung weight.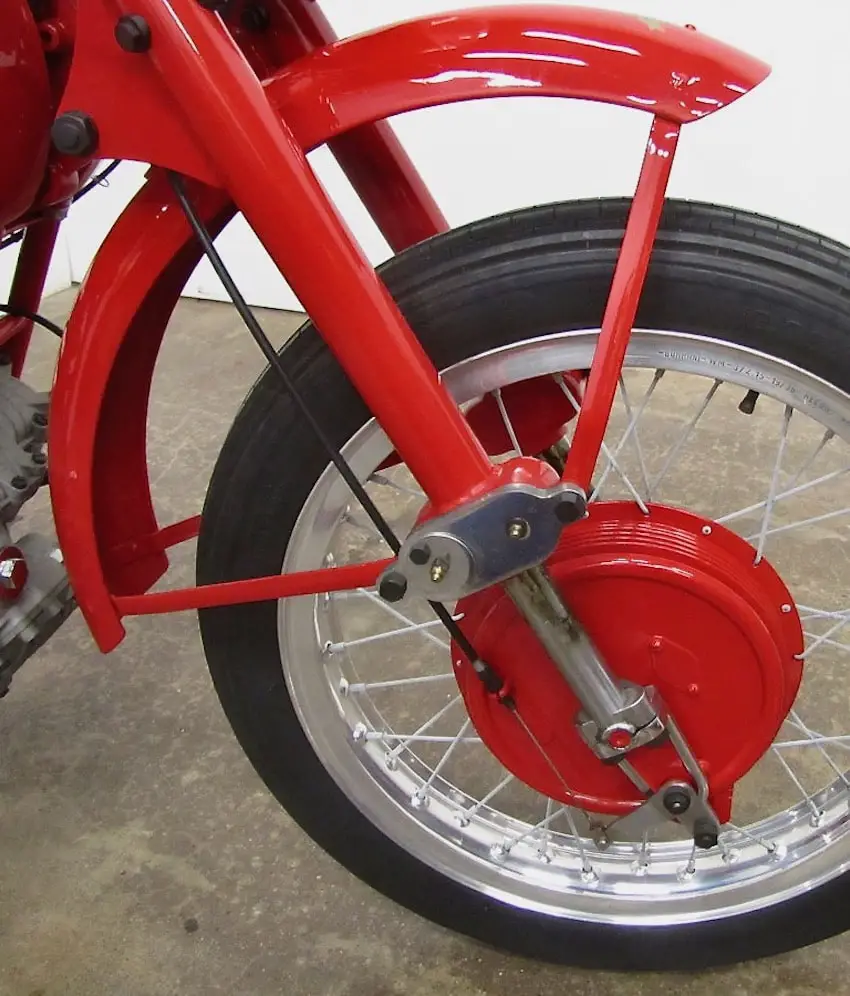 True to life upside-down forks from 64 years ago.
Soon after it was formed in 1921, Moto Guzzi began making and competing with racing motorcycles as a form of advertising. Over time they took eight Grand Prix championships and won 11 Isle of Man races. Also to their credit they developed an exotic 500cc V8 grand prix engine for a "dust bin" era road racer!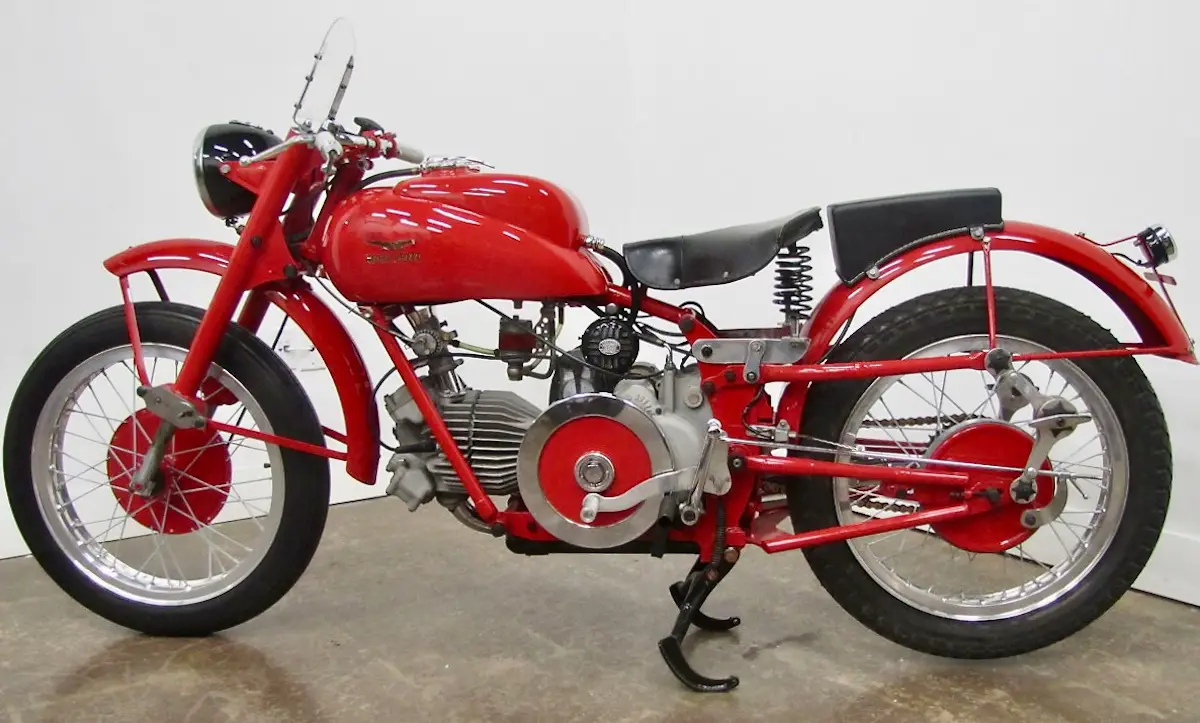 Moto Guzzi's most noticeable and longest lasting design element is the orientation of the engine. The 1957 Falcone Sport's engine has a horizontal cylinder with a double overhead camshaft (DOHC) layout. Also unusual was their design which put a large flywheel on the outside of the engine, which after a time earned the motorcycle the "bologna slicer" nickname.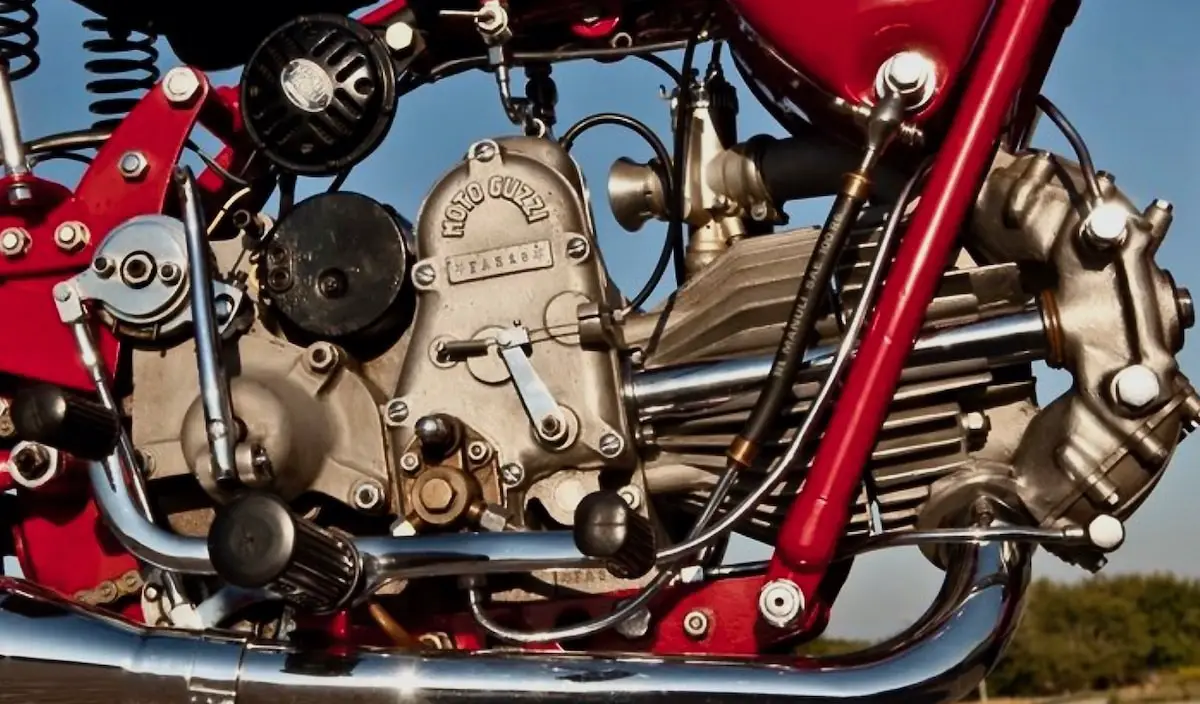 The horizontal 500cc four-stroke engine is a thing of beauty.

The external flywheel spins right next to the rider's left leg with only the brake pedal as protection.
With a very low center of gravity, small frontal area, and a huge external flywheel that made the inadequate 23 horsepower produced by the 500cc engine seem powerful, the Falcone was nimble, durable, flexible and handled well. It was produced from 1950 to 1967 and 20,000 units were built with much of production going for police and military use. Today, Moto Guzzi's shaft drive, longitudinal crankshaft, V-Twin that was developed in the late 1960's remains the flagship of the Guzzi line-up. This Falcone Sport 500 is in the National Motorcycle Museum in Iowa.