BRAGGING RIGHTS: WHO CAN CLAIM WHAT IN THE 2018 NATIONALS
With one race to go, the big bragging rights go to the Champions—not to mention the money, contract security and a place in the record books. Behind the Champs come a host of riders who just want to make the 40-man main, just want to finish two motos, juts want to earn a point, just want to make the top ten, just want to grab a holeshot, just want to be on the podium. Everybody hangs their hat on small achievements–because they see the small steps as the path to the top step. Here are some thing to brag about in 2018.
THE 450 CLASS LEADING UP TO CRAWFORDSVILLE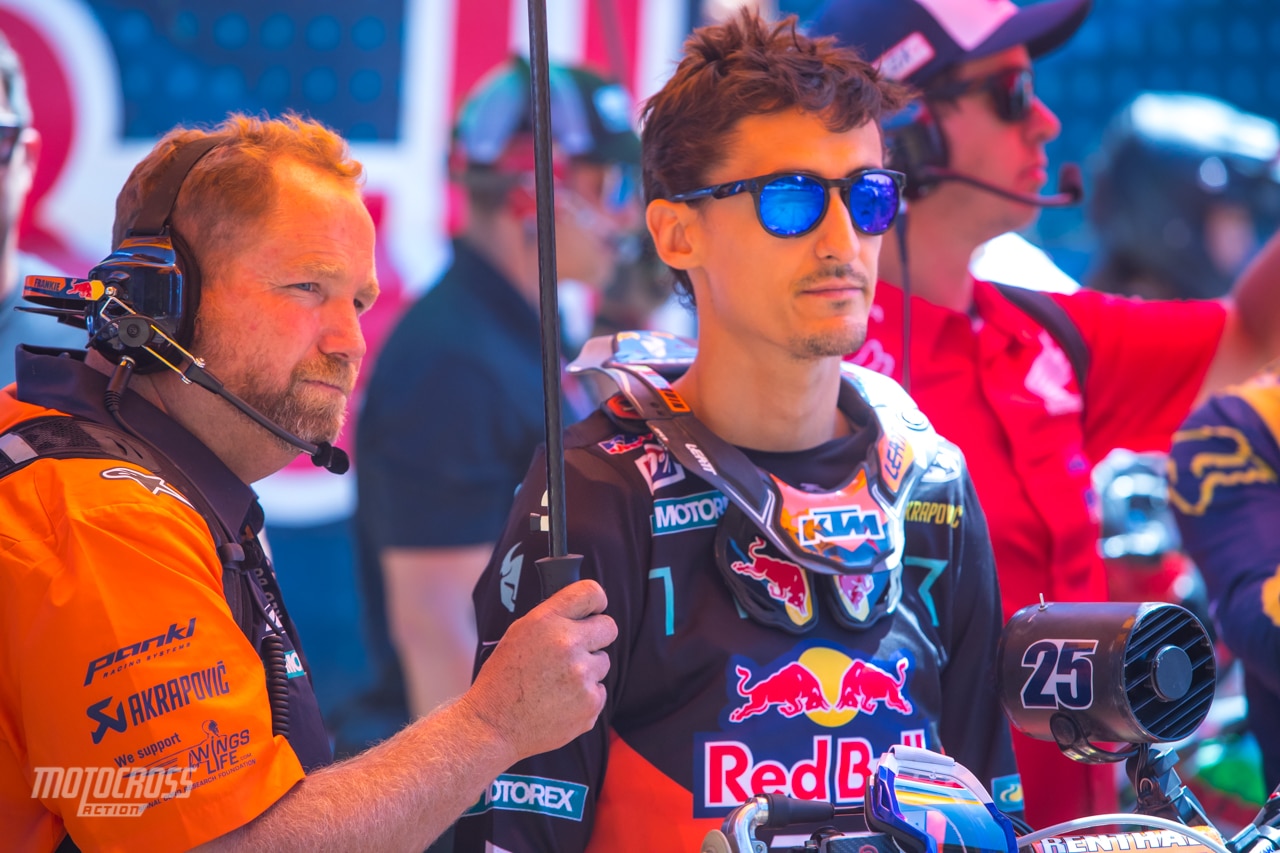 With 3 wins to Eli Tomac's 8 wins, Marvin Musquin (above with Frankie Latham) kept Eli honest until the end.
450 OVERALL WINS
1. Eli Tomac…8
2. Marvin Musquin…3
450 MOTO WINS
1. Eli Tomac…15
2. Marvin Musquin…5
3. Ken Roczen…2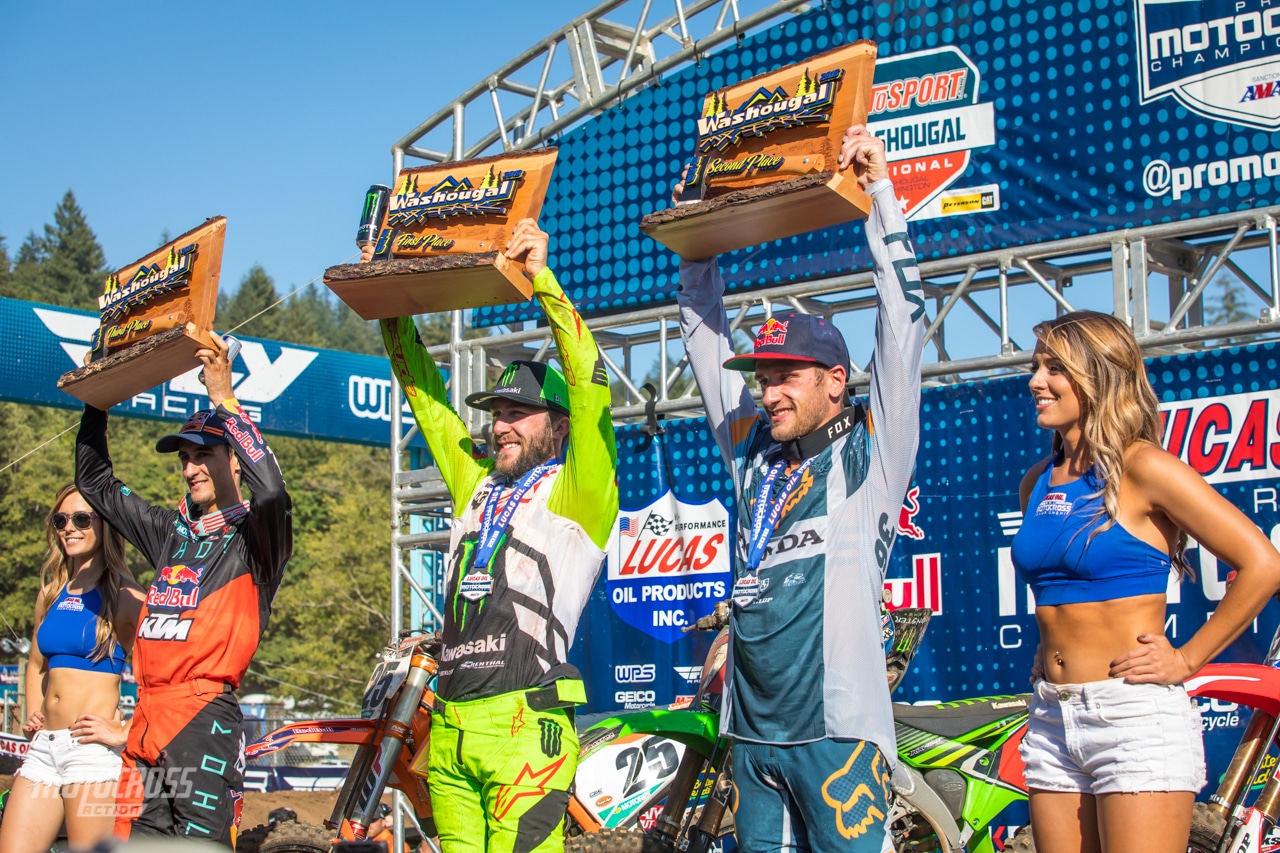 Tomac (center) and Musquin (left) stood next to each other on the podium 10 times each. Ken Roczen (right) was there 5 times.
450 PODIUM FINISHES
1. Eli Tomac…10
2. Marvin Musquin…10
3. Ken Roczen…5
3. Justin Barcia…5
5. Jason Anderson…1
5. Blake Baggett…1
5. Phil Nicoletti…1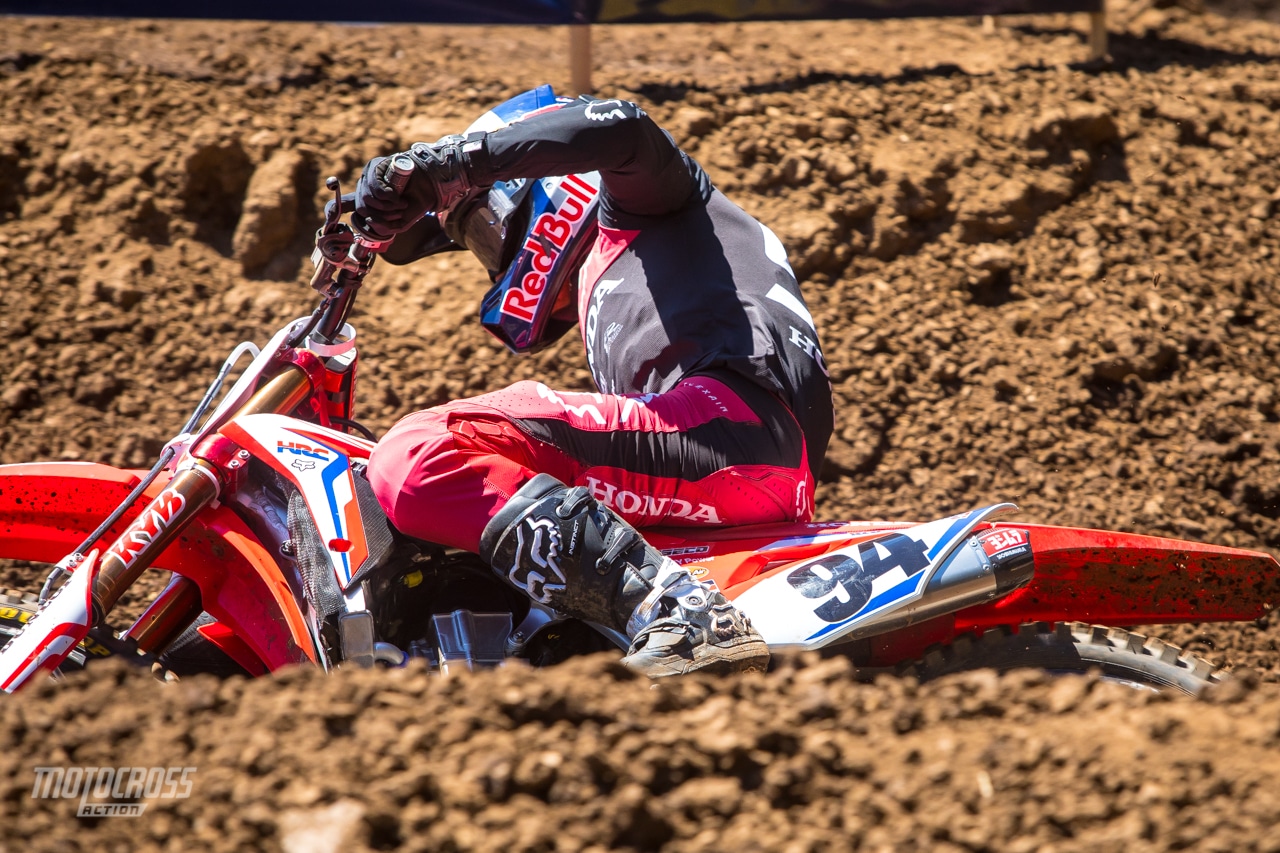 Ken Roczen surprised everyone as he not only raced into fitness from his arm injuries, but led 79 laps.
450 LAPS LED
1. Eli Tomac…138
2. Marvin Musquin…95
3. Ken Roczen…79
4. Jason Anderson…19
5. Justin Barcia…11
6. Justin Bogle…3
7. Phil Nicoletti…1
7. Christian Craig…1
Justin Bogle was the holeshot king of 2018. He had a terrible year with injuries, but 6 glorious moments.
450 HOLESHOTS
1. Justin Bogle…6
2. Ken Roczen…4
3. Justin Barcia…2
3. Christian Craig…2
3. Marvin Musquin…2
3. Phil Nicoletti…2
7. Blake Baggett…1
7. Dylan Merriam…1
7. Eli Tomac…1
THE 250 CLASS LEADING UP TO CRAWFORDSVILLE
Zach Osborne only last until the third race of the season before getting injured, but his name appears in every category.
TOTAL 250 WINS
1. Aaron Plessinger…5
2. Dylan Ferrandis…3
3. Zach Osborne…1
3. Shane McElrath…1
3. Jeremy Martin…1
3. R.J. Hampshire…1
250 MOTO WINS
1. Aaron Plessinger…9
2. Dylan Ferrandis…4
3. Zach Osborne…2
3. Jeremy Martin…2
5. Shane McElrath…1
5. R.J. Hampshire…1
5. Justin Cooper…1
5. Austin Forkner…1
5. Joey Savatgy…1
Aaron Plessinger led in overall wins, moto wins, podium appearances, laps led and holeshots—that's why he is the 2018 AMA 250 National Champion. He will be in the 450 class in 2019.
250 PODIUM FINISHES
1. Aaron Plessinger…8
2. Alex Martin…5
3. Dylan Ferrandis…4
4. Justin Cooper…3
4. Shane McElrath…3
4. Jeremy Martin…3
7. Chase Sexton…2
8. Zach Osborne…1
8. R.J. Hampshire…1
8. Austin Forkner…1
8. Joey Savatgy…1
8. Mitchell Harrison…1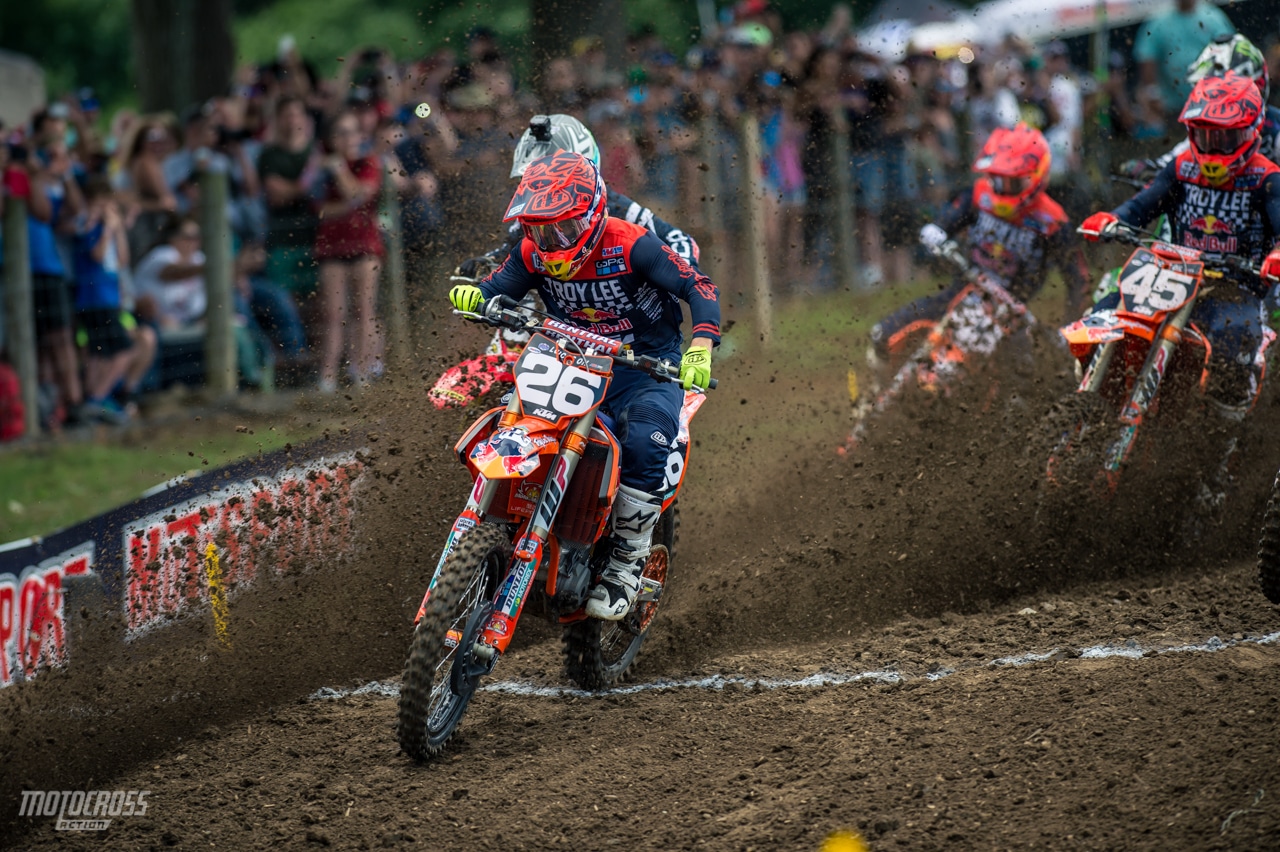 Alex Martin (26), Austin Forkner and Shane McElrath tied for the third most laps led.
250 LAPS LED
1. Aaron Plessinger…129
2. Jeremy Martin…36
3. Alex Martin…26
3. Austin Forkner…26
3. Shane McElrath…26
6. Zach Osborne…23
7. Dylan Ferrandis…19
8. Justin Cooper…15
9. Joey Savatgy…14
10. R.J. Hampshire…12
11. Mitchell Harrison…5
12. Cameron McAdoo…4
12. Michael Mosiman…4
12. Jordon Smith…4

Depending on the length of the start and the angle of the gate (in relationship to the first turn), anyone of 40 men can get the holeshot—11 did in the 250 Nationals.
250 HOLESHOTS
1. Aaron Plessinger…4
1. Alex Martin…4
3. Justin Cooper…3
4. Joey Savatgy…2
4. Austin Forkner…2
4. Shane McElrath…2
7. Jeremy Martin…1
7. Mitchell Harrison…1
7. Cameron McAdoo…1
7. Michael Mosiman…1
7. Zach Osborne…1
Photos by Daryl Ecklund & Brian Converse