BREAKING NEWS FOR SOCAL RACERS: REM MOTOCROSS AT GLEN HELEN CANCELED UNTIL APRIL 3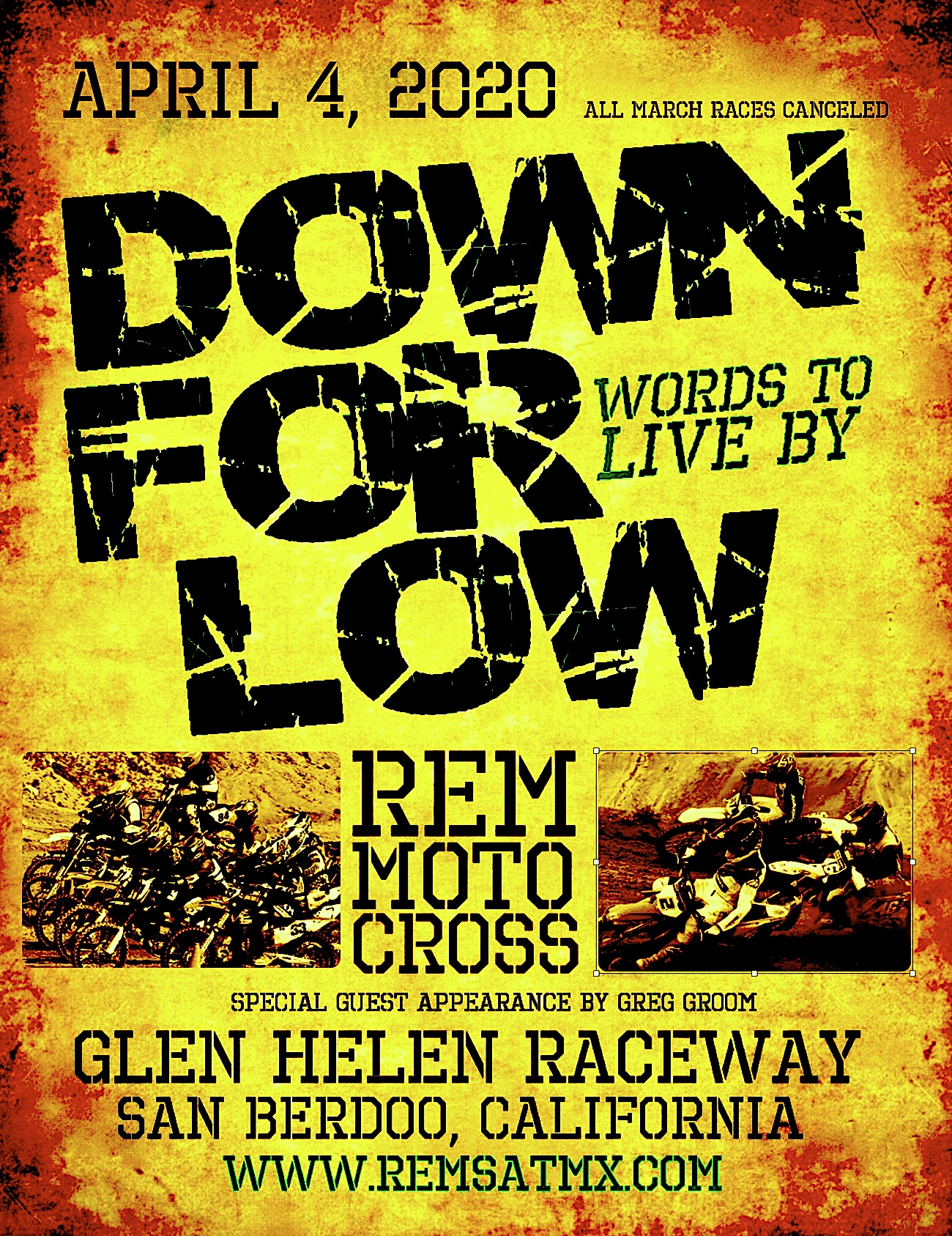 REM hopes to hold their next regularly scheduled race on April 4.
REM's Frank Thomason posted this on REM's Instagram page Wednesday, March 18. "These are some strange times. Things are changing every day. All of us are in uncharted territory with what is going on not only in our neighborhoods but on a world-wide scale. As such, REM was going to take the high moral ground and cancel our races at least through the rest of March. Our feelings are that while "racing is life" to many of us, it really isn't worth the risk of spreading this virus to our families or friends. We were going to announce this afternoon after letting all of our partners know what we were doing.
"But the county stepped in and shut down Glen Helen Raceway through April 3, 2020, due to the risk of spreading Covid 19 to others.The county's memo took the decision out of our hands. We agree with this decision and support our government in their efforts to keep as many people safe and alive as possible. While this is an inconvenience for a whole lot of people, saving lives is the greater good. Anyone who has ever had pneumonia knows all to well how serious this can be.
"Someday soon this will all be a bad memory and we will hopefully be able to get on with our lives. We don't know when that will be, but we have penciled in April 4th as our return. But as we have seen no one knows what tomorrow will bring let alone two weeks from now. Please be safe, protect yourselves and your loved ones. REM is a family more than a race." For more info go to www.remsatmx.com
GLEN HELEN RACEWAY TO BE CLOSED UNTIL APRIL 3
Glen Helen press release: "Due to the rapidly evolving developments involving the international Novel Coronavirus (COVID-19) outbreak, Glen Helen Raceway has made the necessary decision to temporarily close. The closure will take effect immediately and plan to re-open on April 3rd. The health, safety and well-being of our staff, riders, and the spectators are always our top priority. We will keep you updated about this temporary closure, including any change in the date of our re-opening, through our website and social media channels. We deeply appreciate your understanding during these unprecedented times. We ask that you please stay safe and adhere to the guidelines being issued by public health officials to protect yourself and your loved ones by limiting the spread of the Coronavirus. We look forward to seeing you all very soon." For more information go to www.glenhelen.com