BREAKING NEWS! SHIMODA JOINS PRO CIRCUIT KAWASAKI AFTER CLOSING OF GEICO HONDA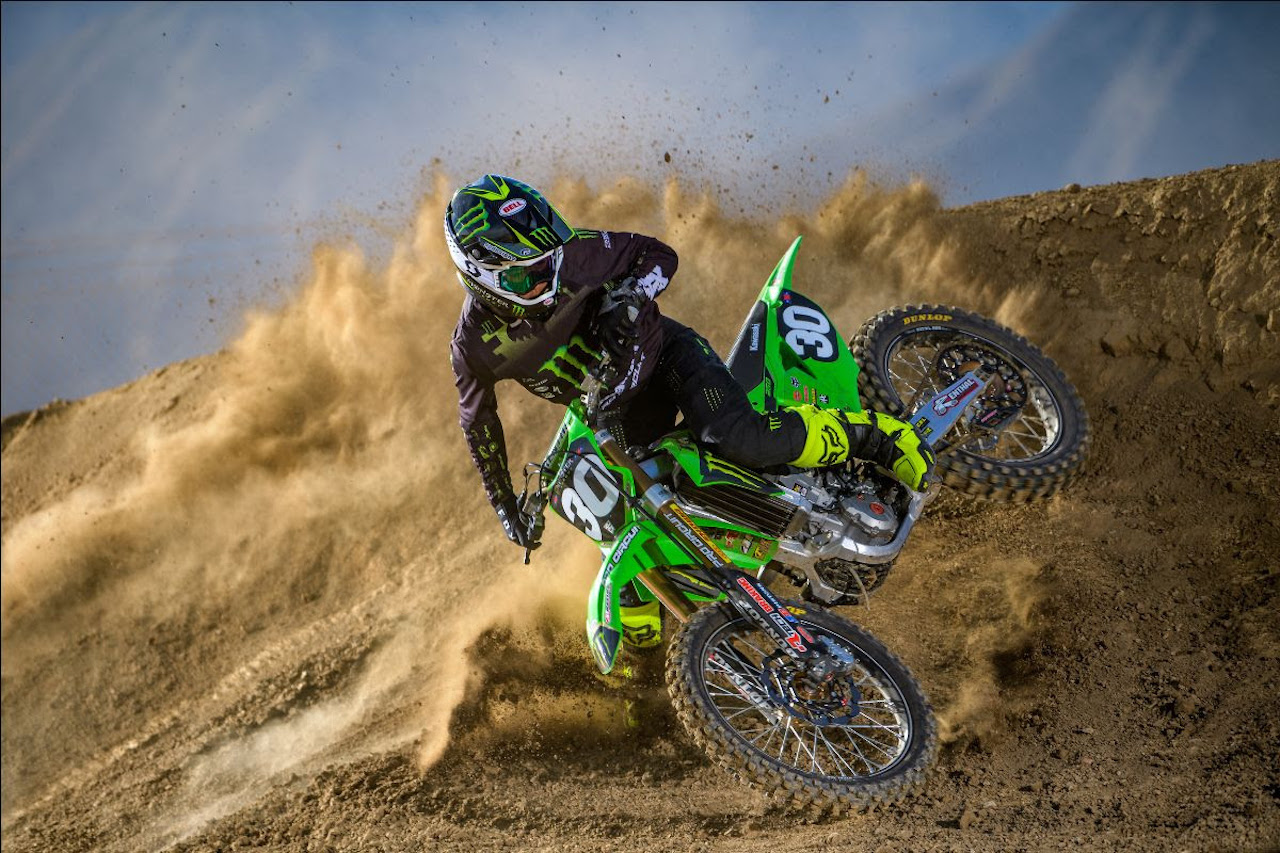 BREAKING NEWS! JO SHIMODA JOINS MONSTER ENERGY PRO CIRCUIT KAWASAKI TEAM AFTER CLOSING OF GEICO HONDA
Ever since the Factory Connection Geico Honda team announced their departure from Pro racing at the end of the 2020 National season, it has been a last minute scramble for the former factory Honda CRF250 riders to figure out plans for the 2021 racing season. Things were up in the air for a while, but eventually the cards fell where they did. Here's where each of the former Geico Honda riders ended up:
Christian Craig was a long-time Geico Honda rider and he was the only Geico rider who didn't have to stress about which team he would ride for in 2021 because he worked out a deal to ride for Star Racing Yamaha long before Geico pulled their sponsorship from the Factory Connection Honda team.
Jeremy Martin was a hot ticket for 2021 and he was deciding between Pro Circuit Kawasaki or his old ally, the Star Racing Yamaha team. Eventually, even though he had bad blood with the Star which led to his departure, Jeremy and the team talked through their issues and were able to work out a plan to go racing together again in 2021. Click here to read our latest interview with Jeremy talking about his decision.
Jett Lawrence and his brother Hunter Lawrence got a unique opportunity with the factory HRC Honda team. Formerly, the HRC tent was 450-only, but now they've made two positions for the Lawrence brothers to keep them on red in 2021. Click here to read the details.
Carson Mumford announced that he will be riding for the Honda-supported Chapparel Honda team for 2021. Check out the latest MXA video with Carson riding his new bike by clicking here.
Lastly, Jo Shimoda's deal with the Monster Energy Pro Circuit Kawasaki team became official today, December 10th, just five-weeks before the first Round of the 2021 Monster Energy Supercross season. Read the official Kawasaki press release below:
Official Kawasaki press release: Foothill Ranch, Calif. (December 10, 2020) – The decorated Monster Energy®/Pro Circuit/Kawasaki team adds depth to an already stacked roster with the addition of the 2020 Monster Energy Supercross 'Rookie of the Year' award recipient, Jo Shimoda for the 2021 racing season. Shimoda joins long-time Team Green™ racer Austin Forkner along with Jordon Smith, Cameron McAdoo, and the most recent Monster Energy Kawasaki Team Green amateur motocross graduate Seth Hammaker aboard their all-new 2021 KX™250 motorcycles.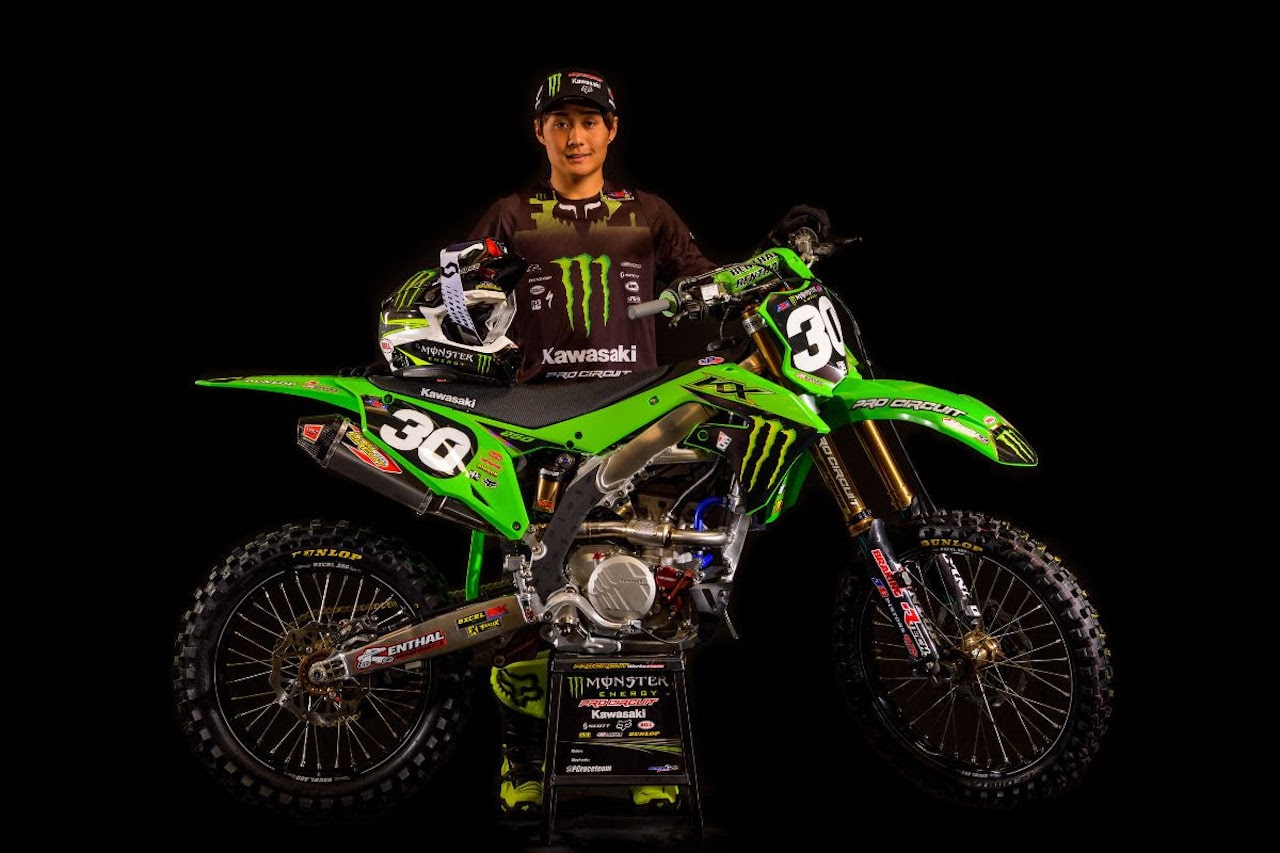 Jo Shimoda with his new number and his new ride.
"Jo Shimoda became available late last season," said Mitch Payton, Pro Circuit owner. "We feel that with his tremendous talent and the new 2021 Kawasaki KX250, it will be a recipe for success. Jo showed flashes of brilliance in his rookie supercross season and finished out the motocross season with a career-best moto podium finish. We're looking forward to Jo mixing it up with our four other talented riders and seeing them all work toward their goal of becoming a champion next season."
The Monster Energy Pro Circuit Kawasaki line up for 2021. From left to right, Jo Shimoda (30), Cameron McAdoo (31), Austin Forkner (38), Seth Hammaker (150).
Honestly, I wasn't too sure what next year would look like for me, but thanks to the Monster Energy/Pro Circuit/Kawasaki team and Mitch Payton, I couldn't be more excited for next year," said Shimoda. "It feels really good to be with such an iconic team like the Monster Energy/Pro Circuit/Kawasaki race team and to know that they believe in my ability enough to give me a chance this year. I was able to test the all-new KX250 a couple of times and on my first day, I was over jumping everything because of how fast it was! I am just really thankful and excited for this opportunity and I plan to make the most of it."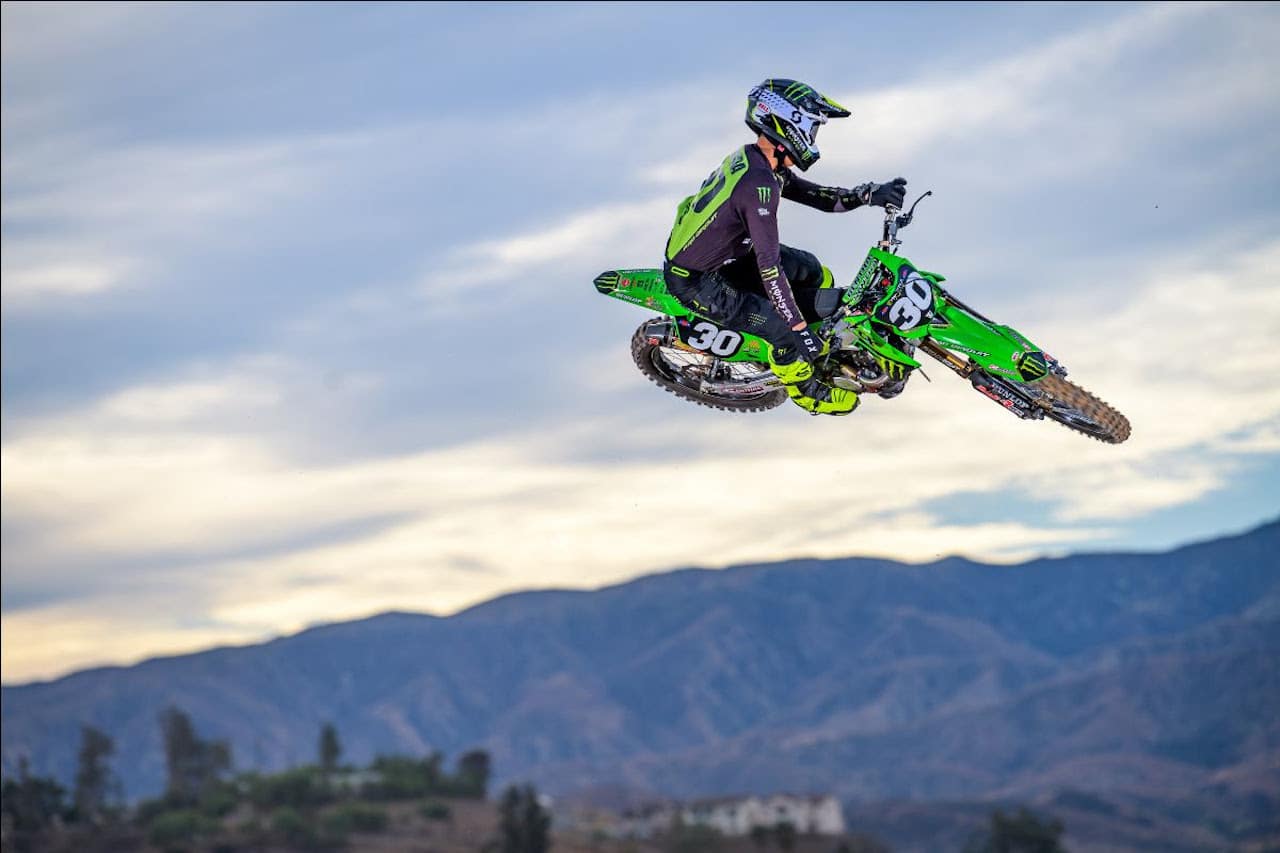 Jo Shimoda looks comfortable on his new bike already and we know he's been riding it for a few weeks.
Shimoda and the 2021 Monster Energy/Pro Circuit/Kawasaki racing team are positioned for another championship campaign and have begun preparations for the 2021 Monster Energy AMA Supercross, an FIM World Championship, and AMA Pro Motocross Championship.