BRINGING THE HEAT & COOLING THE COMPETITION AT REM

Photos by Debbi Tamietti, Rich Stuelke and Dan Alamangos
Click on images to enlarge
Could you win the 450 Pro class on an eight-year-old bike? Dominic DeSimone did just that at this week's REM motocross. DeSimone raced a 2008 Honda CRF450, with a carburetor, to a 1-1 sweep. Photo: Dan Alamangos
That aluminum thingie behind Dominic's boot is a Keihin FCR carburetor. Winning on a old bike is an impressive feat, but everyone knows that a 2008 Honda CRF450 is still a very good bike. Photo: Dan Alamangos
Everybody talks about the weather, but nobody does anything about it. SoCal had an incredibly warm winter (there were 100 degrees days in February at Glen Helen), followed by a very cool spring and a summer that has changed from cool to boiling hot every other week. The past two weekends at the REM motocross races have been over 100-degrees. But racing motocross at REM is something that is not damped by hot weather. In a strange twist, more SoCal motocrossers will show up for a 105-degree race than for a 65-degree race (because in SoCal 65-degrees is just above the freezing point). A point proven by a healthy turnout at this week's century mark race.
R.J. Wageman was mounted on a Suzuki RM-Z450 and went 2-2 for second overall in the 450 Pros. Photo: Debbi Tamietti
While the Pro classes are typically the draw at local races, and this week's Pro turnout included Jared Hicks, Sean Lipanovich, R.J. Wageman, Ryan Surratt, Michael Rodriques and Dominic DeSimone, most of the attention at REM is focused on the older classes—especially the Over-50 classes. Why? 60% of REM racers are over the age of 40. While the speed of the riders in the Pro class impresses them, they grew up watching the former Pros in the Over-50 and Over-60 class—thus they feel a kinship with them.
The most intense race of the day was between 450 Pro winner Dominic DeSimone (595) and 250 Pro winner Ryan Surratt. As you can see, they let it all hang out. Photo: Dan Alamangos
The biggest class of the day was the Over-60 Experts. Hard to believe for most tracks, but there were 20 racers born before 1955 on the line at REM (there was even one born in the 1940s). They included a former AMA National Champion, two AMA Hall of Famers, a couple Baja 500/1000 winners and a bunch of guys who have raced each other since 1968. Hollywood Stuntman and Former AME number one Will Harper took the win just inches in front of Baja hero Bob Ruttten with Jim Latendresse, Ken Ehlers and four-time 250 National Champion Gary Jones rounding out the top five.
Sean Lipanovich (505) checks his six. Well, more accurately his nine on his way to third overall in the 450 Pro class. Photo: Dan Alamangos
The second biggest class of the day was the Over-50 Novices. Mike Hillion went 1-1 in front of a top five of Lonnie Paschal (2-2), Ted Kukla (3-4), Dave Halverson (7-3) and Mark Moore (9-5). Also in the field was the one-and-only Greg Groom (6-14), Dentist of the Stars Marc Crosby (16-9), "Art of Moto" film maker Mark Homan (14-12) and Arizona's Chris Goodman (15-13).
Kuwait is the strongest motocross nation in the Middle East, largely because their riders come to SoCal to train and race. Big news back home was that Kuwaiiti Meshari Aboushibah (86) swept both motos of the 450 Novice class at Glen Helen. Winning any class in America is a big deal in Kuwait. Photo: Dan Alamangos
The third biggest class of the day was the Over-50 Experts (with two Over-50 Elite riders thrown into the mix). There was no surprise that the Over-50 Elite riders were the class of the pack as Andy Jefferson and Jon Ortner have been engaging in a back-and-forth battle for supremacy over the last few weekends. Both are hindered by the fact they that can't get a good start against the fast starting Over-50 Experts (none of whom want to get moved up to the Elite class, but still want to beat the Elite guys — if only to the first turn). Jefferson worked his way through the Experts quicker than Ortner to go 1-1 to Jon's 2-2. Meanwhile, Luther French went 1-1 to take the Over-50 Expert victory over a top five of Dave Eropkin (2-3), Bryan Friday (7-2), Val Tamietti (5-4) and Ron Shuler (4-5). Over-60 Expert winner Will Harper also raced the Over-50 Expert class and scored a 6-6 day. "Jungle Jim" Chamberlain, former Carlsbad Pro and AMA National team manager, has returned to racing, but made a mistake, one that every REM racer has made at least once, by selecting the wrong angle out of the hip jump from the back of the track to the front. If you jump at the wrong angle you hit a cliff. Sometimes you bounce off and keep going and sometimes, like Chamberlain, you go down. Jim got up to finish the race and will never make that mistake again.
The "Greg Groom Creative Line Award" goes to Tom Holmes (510) as he cuts well inside the corner marker that Kent Reed (62), Tom White (80) and the rest of the pack are going around. There are a lot of KTM's in this photo. Photo: Dan Alamangos
This week's brand breakdown was thus: Yamaha 28%, KTM 26%, Honda 22%, Suzuki 11%, Kawasaki 8% and others (Husky/TM/Beta) 5%. These are big gains for Yamaha and KTM over the last few years, with Honda losing the largest share. Suzuki has stayed relatively stationary, neither growing nor shrinking, while Kawasaki is mainly represented in the young classes (minis and Novices).
South African Alan Jullien (70) wasn't old enough for the Over-50 Experts, but they agreed to let him race with them. With the benefit of ten years and great starts, Julien won both motos. In this photo you can see Val Tamietti (31), Jungle Jim Chamberlain (170), Jon Ortner (63), Andy Jefferson (17) and Will Harper (7) choosing their next line. Photo: Rich Stuelke
REM races again next Saturday, September 4. For more info go to www.remsatmx.com. Until then, enjoy the photos.
Jon Ortner was second overall in the Over-50 Elite class, which was won by Husqvarna's Andy Jefferson (last week Ortner was on the top step of the podium). Photo: Debbi Tamietti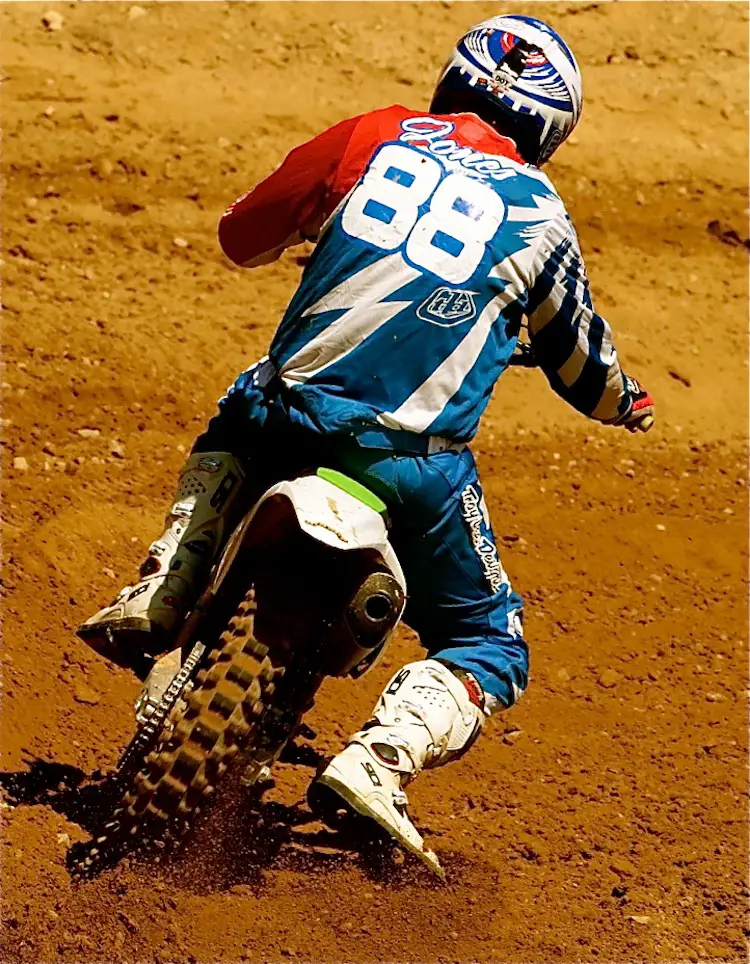 Four-time 250 National Champion and AMA Hall of Famer Gary Jones came back from a long layoff to go 6-5 in the Over-60 Experts behind Will Harper, Bob Rutten, Jim Latendresse and Ken Ehlers. Photo: Rich Stuelke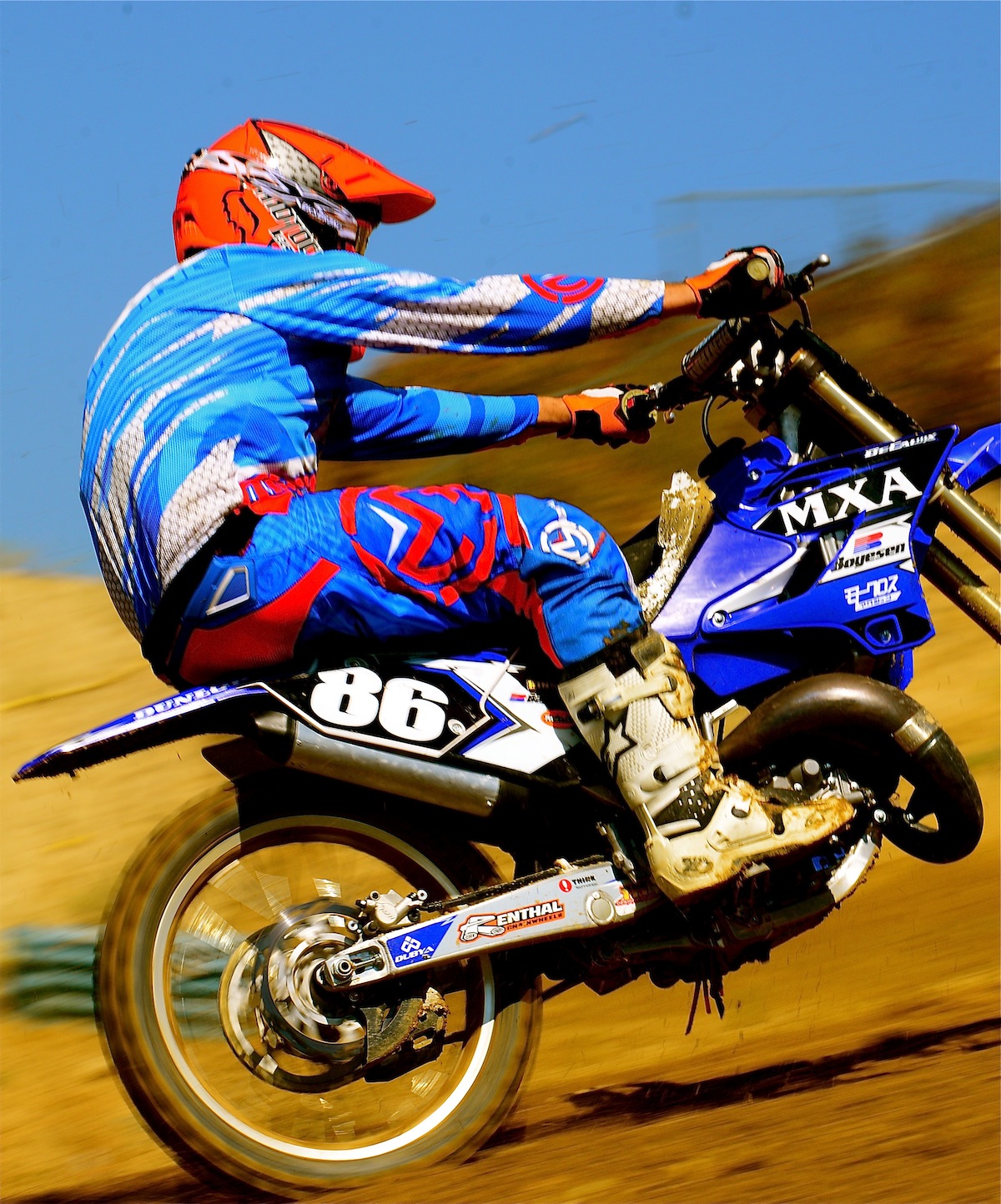 How fast was Chris Alamangos going on MXA's YZ125? Fast enough to peel the graphics off the gas tank. Photo: Dan Alamangos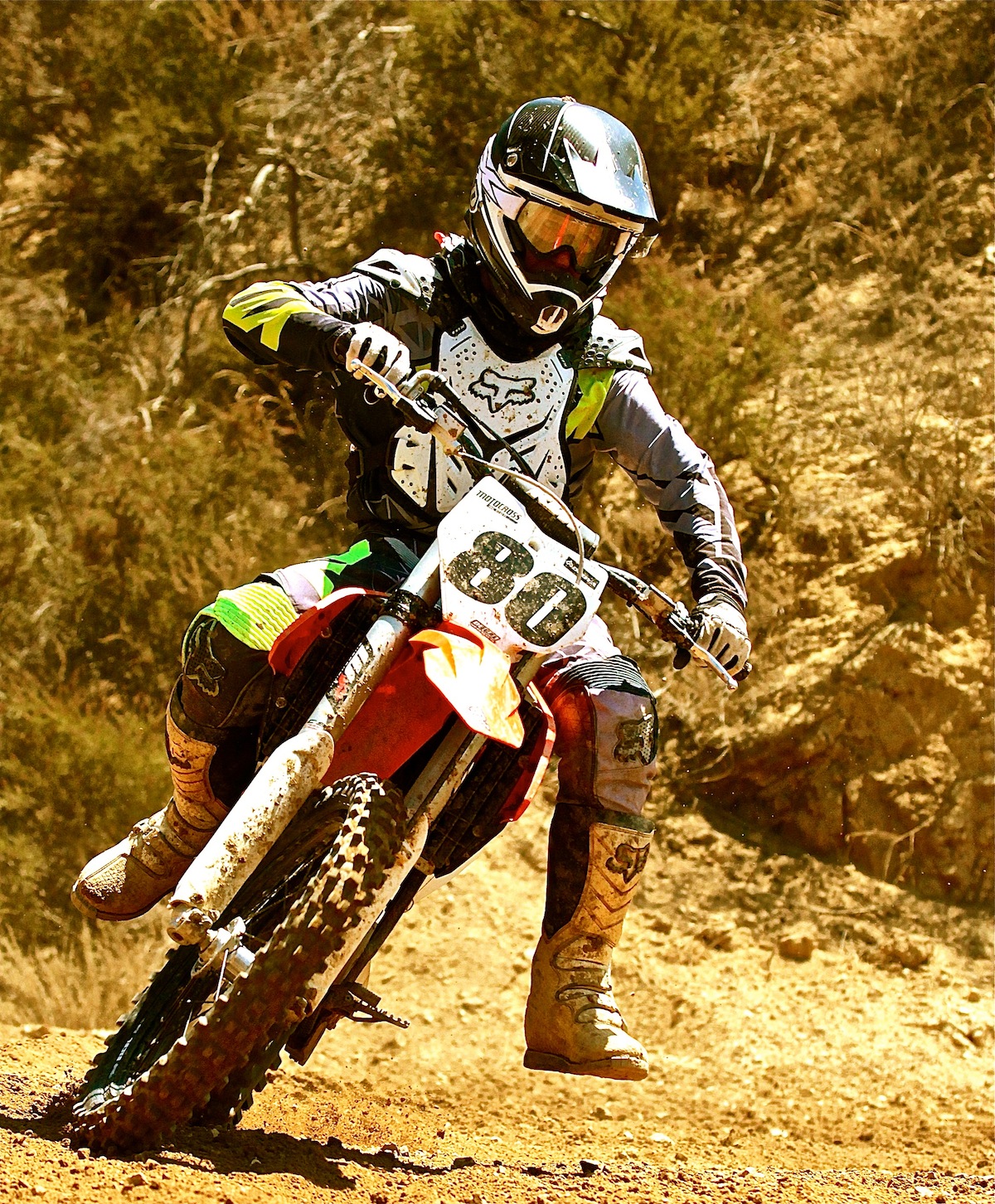 Another AMA Hall of Famer was in the Over-60 Expert class. Tom White went 12-11 for 10th. Photo: Debbi Tamietti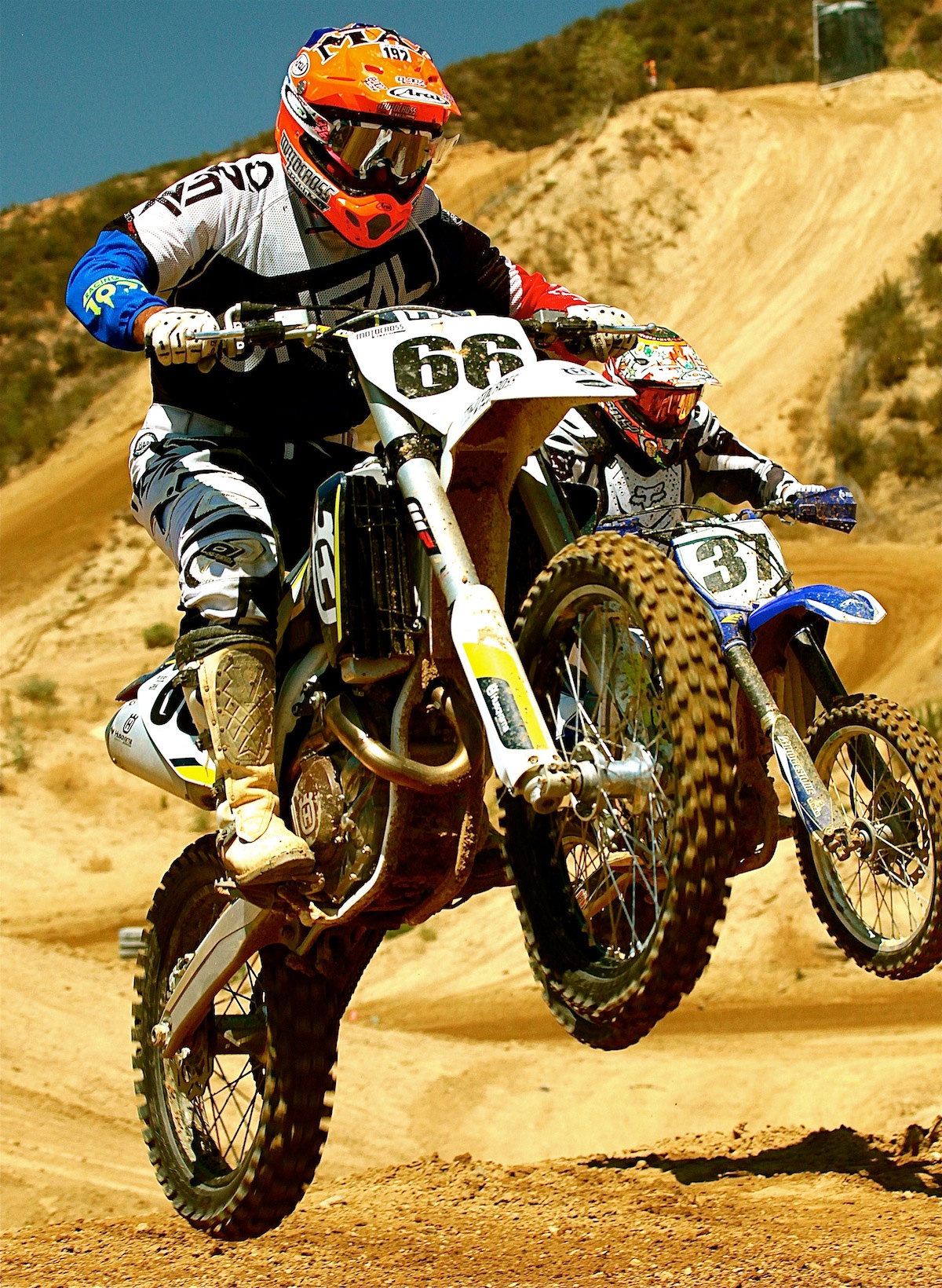 Dream job? In the last month Jody Weisel has raced a YZ450F, RM-Z450, CRF450, KX450F, KTM 350SXF and KTM 450XF (often swapping bikes between motos). This week he was on a 2016 Husky FC450. Here, Jody (66) and Bill Seifert (37) duel. Unfortunately, this duel ended with Seifert in the hospital after a last lap crash. He will be okay. Photo: Debbi Tamietti

Casey Gunzi (15) gets a run up Mt. Whitney on his way to a 2-3 day in the 250 Novice class. Photo: Dan Alamangos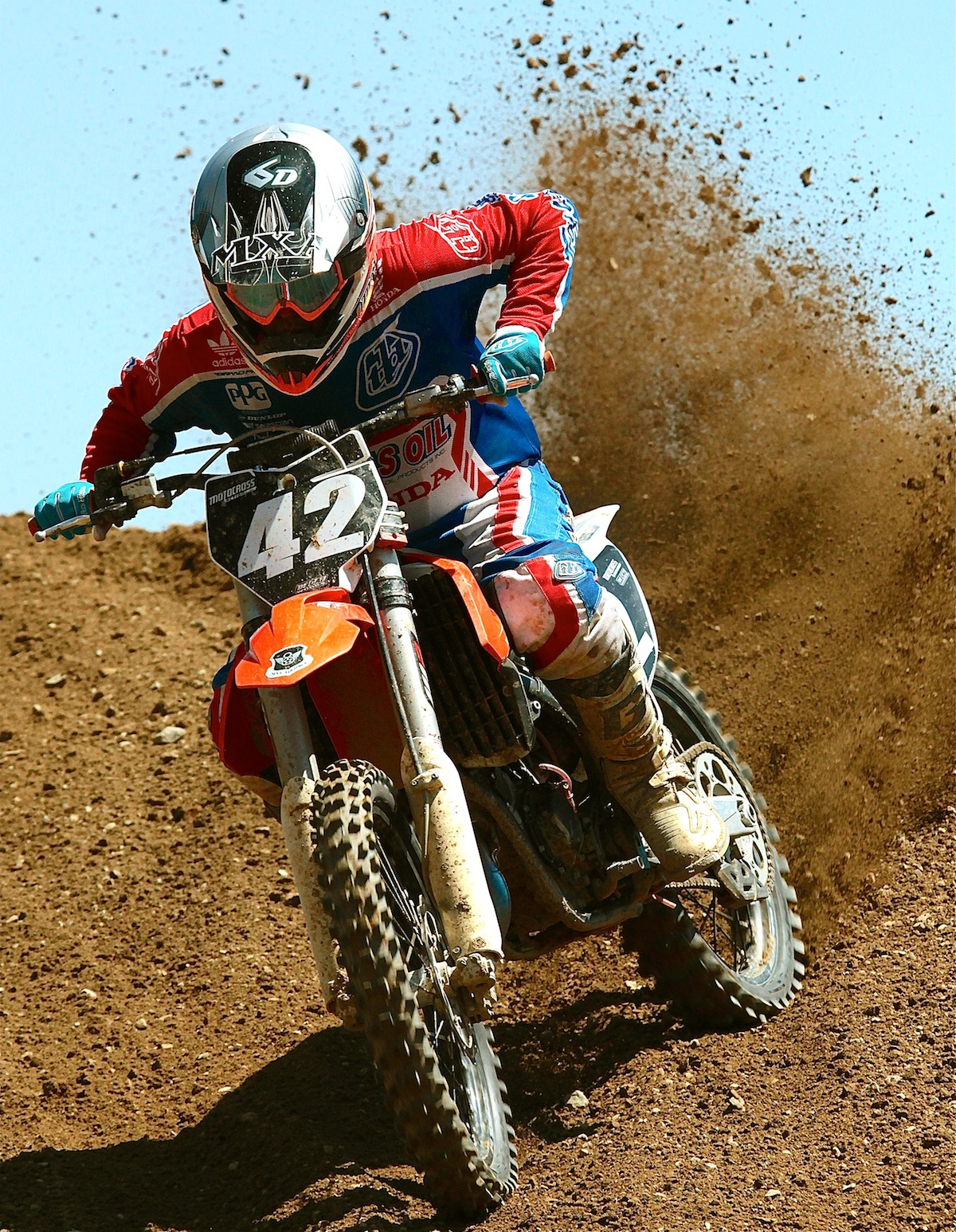 Last week Ernie Becker was in China driving cars for AMG Mercedes, this week he's throwing up a dirt wall at Glen Helen. Becker finished 7th in the Over-50 Intermediates on a KTM 125SX two-stroke. Photo: Debbi Tamietti
Ralf Schmidt (73) is the TM importer and he know how to demonstrate his product. The Dutchman went 1-1 to win the Over-40 Intermediate class. For more info go to www.tmracing-usa.com. Photo: Dan Alamangos
Former AXO and Alpinestars designer Kenny Safford (101) gets cheered on by his son Cole. Photo: Debbi Tamietti
NEVER BEEN TO REM: THIS IS WHAT IT LOOKS LIKE