WE BUILD THE ULTIMATE POWERPARTS KTM 450SXF
Click on images to enlarge
Forget for a minute that your dad is a pharmacist and your mom is a school teacher. Imagine that instead of being Steven Parker Jr., Scott Pasternak Jr. or John Doe Jr. that your name is Stefan Pierer Jr. You attended Munderfing High School, enrolled at the local Mattighofen Community College and worked a part-time job at one of the factories in your local town. However, your imaginary dad, Stefan Pierer Sr., is the owner of KTM, Husqvarna, Pankl and WP. He is, at this very moment, the most powerful executive in the motorcycle world—as his companies are on the verge of giant breakthroughs in MotoGP, fuel-injected two-strokes, high-tech motocross bikes and, of course, AMA and MXGP racing.
Your imaginary dad is a loving father, and when you bring home an A+ from your class in History of the Austro-Prussian War, he is justifiably proud. So proud that he hands you the keys to the KTM factory and says, "Son, go down to the race shop and pick whatever you want from the KTM production line, PowerParts showroom and WP suspension catalog. Then, build the bike of your dreams. If you need any help, I'll fly Tom Moen and David O'Connor in from KTM North America to build it for you."
Sadly for you, your dream dad is a figment of your imagination. It isn't going to happen—no bike of your choice, no "Supermarket Sweep" through the KTM PowerParts catalog and no rummaging through the WP race shop to pick works forks. Sorry, Charlie.
"SON, GO DOWN TO THE RACE SHOP AND PICK WHATEVER YOU WANT FROM THE KTM PRODUCTION LINE, POWERPARTS SHOWROOM AND WP SUSPENSION CATALOG AND BUILD THE BIKE OF YOUR DREAMS."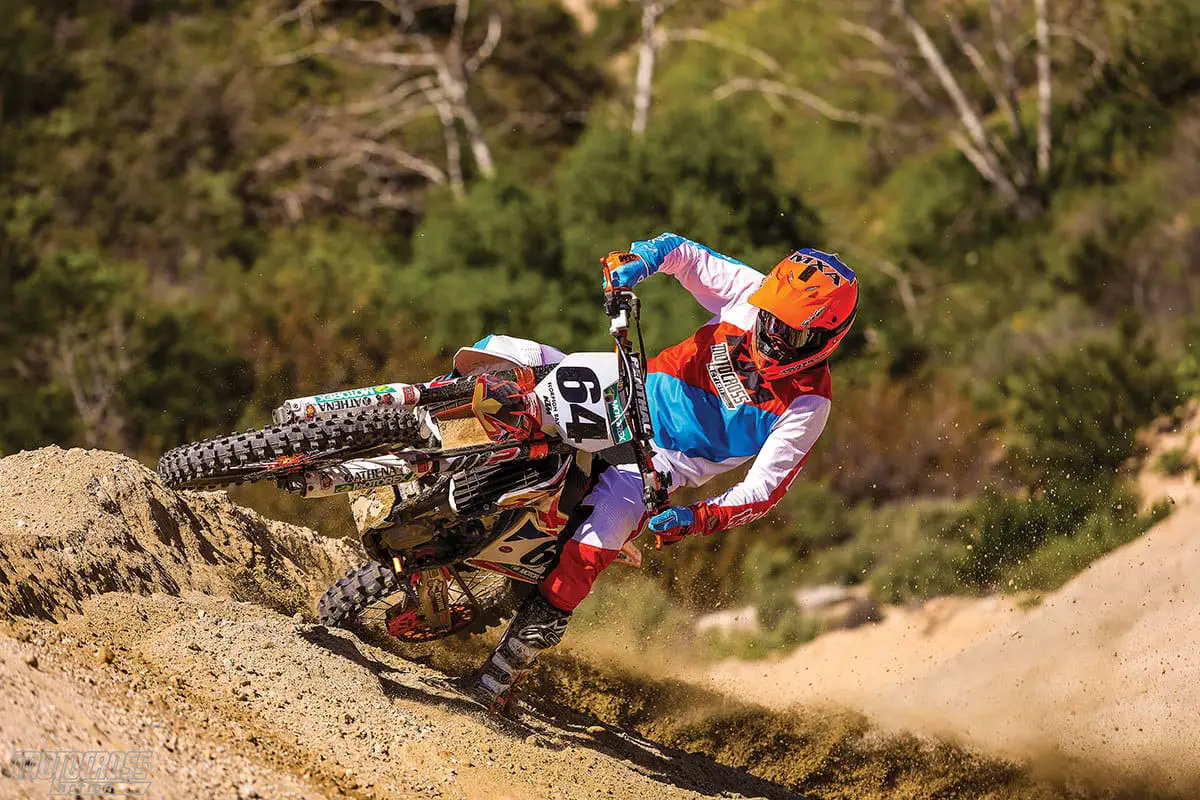 However, daddy dearest did hand the keys to the KTM factory, PowerParts product line and WP warehouse to the MXA wrecking crew. It should be noted that KTM didn't exactly say, "Son, go down to the race shop and pick whatever you want from the KTM production line, PowerParts showroom and WP suspension catalog." In truth, they didn't use the word "Son," but they did tell MXA that we could do whatever we wanted—as long as the bike, parts and suspension we chose were available to the public through their friendly local KTM dealers. Where would you start if you were us?
Step one was to pick the perfect machine that imaginary daddy offered us. Without hesitation, we selected from KTM's incredible lineup of motocross machines a 2017 KTM 450SXF. It was the "2017 MXA 450 Shootout" winner and a no-brainer.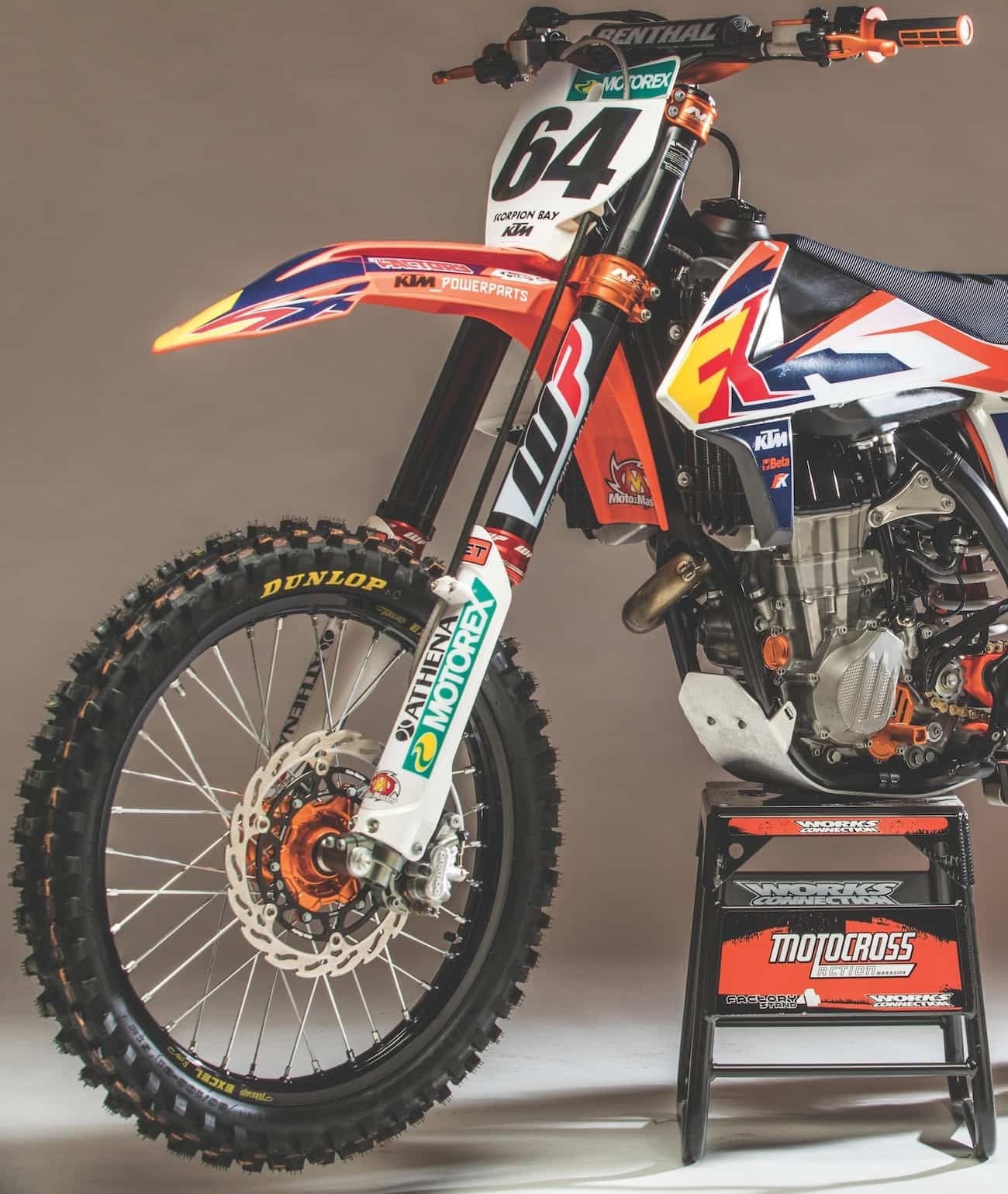 Step two was to get the suspension we wanted from WP Technologies. New for 2017 are WP's AER Cone Valve air forks ($3400). The MXA gang has considerable experience with the coil-spring-equipped WP Cone Valve forks, and the new AER version is 3-1/2 pounds lighter than the spring version. Since price was no object, we also elected to go with a WP Trax drop-out rear shock ($2000). It is easily recognizable as a works part by its dual adjusters on the top of the piggyback reservoir. To top off the shock, we installed an X-Trig worm-drive shock preload adjuster (out of the PowerParts catalog) to make spring preload changes easier. It allowed us to change preload in seconds thanks to a battery-powered drill (without having to hit the stock nylon preload ring with a hammer).
WHILE WE WERE DROOLING ON OUR HIGH-END WP SUSPENSION, WE REMEMBERED HOW MUCH WE LOVED THE NK SFS SUSPENSION TRIPLE CLAMP.
While we were drooling on our high-end WP suspension, we remembered how much we loved the NK SFS suspension triple clamp ($1049). It offers a half-inch of energy-absorbing air suspension for your hands. It is a very creative design, and since we were running Cone Valve air forks, we thought it was only fitting that we mounted them to air-suspended triple clamps. PowerParts offers it in KTM orange. Guess what, PowerParts also offers orange Renthal TwinWall handlebars ($129). We selected a slightly lower-than-stock 999 bend, because the air-suspended bar mounts raise the stock bars up above our comfort zone.
Step three was to select a wheelset from KTM's massive PowerParts catalog. We zeroed in on the wheels that the Red Bull Factory KTM bikes run—Factory PowerParts wheels ($618 front, $749 rear). They are comprised of orange-anodized Kite hubs with 36 spokes laced to black-anodized Takasago Excel rims. We spiffed the wheels out with a 270mm Moto-Master Flame rotor ($175 rotor, $99 bracket) and a 220mm rear Flame rotor ($112). The 270mm front rotor comes with the adapter bracket to align the larger size.
Now, you might be wondering why we didn't choose to do anything to the KTM 450SXF engine. That's simple. We're happy with it, and, better yet, it didn't require any internal modifications to get any extra oomph that we might desire. We went for easy bolt-on power in the form of an exhaust pipe. PowerParts offers both FMF and Akrapovic exhaust systems. We went with the full-titanium Akrapovic Evolution system ($1299). We chose it for the simple reason that it is the pipe that Ryan Dungey, Marvin Musquin and Trey Canard run on their Factory KTM 450SXFs.
We went wild on pages 57, 58 and 59 of the 2017 PowerParts catalog. That's where they show the orange-anodized doodads. In our purest sense, we are opposed to unnecessary cosmetic changes, but when faced with the possibility of putting lots of them on our bike, we cracked. Purity went out the window in favor of window dressing. On the engine alone we added a CNC-machined oil-pump cover ($29), oil-filter cover ($24), oil-filler cap ($19), high-flow water-pump cover ($144) and 7mm-wider shifter tip ($34). From the non-orange category we mounted a black-anodized KTM factory clutch cover ($72) and an aluminum gas cap ($59).

Other major changes include swapping out the stock guide and buffer pad for a PowerParts-licensed version of the TM Designworks parts, a Factory seat cover from the 2017-1/2 Factory Edition ($72), orange/black ODI clamp-on grips ($26), a WP holeshot device, a titanium brake-pedal tip ($34), rear-brake reservoir extender ($31), Flex foldable brake and clutch levers ($132), Akrapovic Ti footpegs ($399), Dunlop MX3S tires, PowerParts aluminum skid plate ($99) and an orange 49-tooth Renthal rear sprocket ($71).

The final touch on the bike was to run KTM PowerParts Factory graphics ($129). They look like a combination of the stock graphics combined with the team's Red Bull graphics, minus the Red Bull signage. The orange/blue/yellow look is attractive.
We didn't want to forget the test riders. They had to look their best on our PowerParts KTM 450SXF. KTM's PowerParts division has a separate entity called PowerWear; you can see the catalog at the www.ktm.com website. Troy Lee Designs private-labels special runs of KTM PowerWear gear exclusively for KTM dealers. Our choice was KTM's SE Air Slash pants ($189), jersey ($69) and gloves ($39) in white/orange/blue, but it is also offered in black/orange/blue.
The real question boils down to whether our sugar-daddy KTM 450SXF was all it could have been. Where did we go wrong? Where did we go right? Where did greed get the better of us? And, most important, would you choose the same parts?
Every MXA test rider is different, as are riders in the general motocross population. While 100 percent of the MXA test riders liked the way our PowerParts bike looked and oohed and ahhed at it, one-third of them were unimpressed with about one-third of the changes we made. The other two-thirds of the crew loved the bike but would have made some small changes. Not a single one of these fickle riders would have made 100 percent of the changes that were made.
WHERE DID WE GO WRONG? WHERE DID WE GO RIGHT? WHERE DID GREED GET THE BETTER OF US? AND, MOST IMPORTANT, WOULD YOU CHOOSE THE SAME PARTS?
The big hits? The Cone Valve AER air forks were a hit. They were more complicated than either the stock AER air forks or the coil-spring version of the Cone Valves, but simpler than Showa TAC forks or Kayaba PSF-2 units. Once we learned the secret formula to getting the main air pressure and balance chamber pressure dialed in, we loved the forks. Because there are two air pressures to set, you have twice as many opportunities to make a mistake on the AER Cone Valve air forks, but once we got our Pro riders in the ballpark, we just reduced the air pressure for Vets and Novices, keeping the balance pressure, which is accessed from under the left fork leg set at 10 psi more than the main pressure.
In our opinion the coil-spring Cone Valve forks work better than the AER Cone Valve air forks. The coil springs followed the ground better, tracked more accurately and had a natural, organic feel. As good as the air Cone Valve forks are, they still feel like air forks, which isn't a compliment. However, the weight savings needs to be factored in for riders looking to stay near the AMA's 220-pound weight limit.
THE REAL QUESTION BOILS DOWN TO WHETHER OUR SUGAR-DADDY KTM 450SXF WAS ALL IT COULD HAVE BEEN.
Trax shock: The WP Trax shock was hit-or-miss. Only the Pro test riders, who rode the bike harder, liked the feel of the Trax shock. Its dropout feature helped the rear wheel follow the ground. Novices and Vets didn't like the shock, preferring to revalve the stock WP shock (and save the $2000 for elsewhere).
Wheels: The Kite wheels were a big hit. They looked cool and offered 36 spokes worth of security at speed. Additionally, every test rider liked the NK SFS air triple clamps, especially after they rode the bike back to back with and without the suspended bar mounts.
Exhaust system: The Akrapovic pipe got mixed reviews. It seems like exhaust systems are a matter of personal taste almost as much as grips—although every test rider liked the ODI clamp-on grips. Whether you choose an Akrapovic, Pro Circuit or FMF exhaust system, the difference in powerband usability makes some riders happy and others sad. Surprisingly, some Vet test riders prefer the stock pipe's power delivery over all aftermarket units.
Seat: We carried two seats with us, because not every rider liked the gripper bands on the PowerParts Factory seat cover. "It pulls my pants down," was the biggest complaint.
Brakes: The jumbo-sized 270mm rotor did provide more stopping power, and while it was assumed that some test riders would find it too powerful, that wasn't the case. If we had used test riders who never raced a KTM before, they might have felt that way, but every MXA test rider likes KTM's 260mm stock rotor and the 270mm one even more. However, the orange-anodized Flex levers left half of the test riders cold because the lever profile was blockier than stock, so it wasn't unusual to see a stock clutch lever on one side and the Flex lever on the  brake side, depending on the test rider.
Looks: As for the look, it gathered crowds who wanted to ogle every nook and cranny. Of course, the graphics and the glittering orange color drew them in, but the trick front end kept them around.
At the end of our project bike build we gave the keys to the building back to KTM, and they handed us a bill for $11,550 in parts. Thankfully, it was a joke. If you'd like to build your own PowerParts KTM, but are not even a distant relative of the Pierer family, your local KTM dealer can help you—almost like a father.