MXA'S 44-HORSEPOWER KTM-FIGHTER 2016 HONDA CRF250 TEST
Something profound happened in 2016. The game changed. The rules were rewritten. The expectations were raised. The status quo was broken. The pecking order was flipped. The things we thought we knew were called into question. What are we talking about?
IT'S NOT UNCOMMON FOR LOYAL HONDA CRF250 OWNERS TO TELL MXA THAT ONCE THEY PUT AN AFTERMARKET PIPE ON THEIR CRF250, IT WAS JUST AS FAST AS THE KTM. SORRY TO BURST YOUR BUBBLE, BUT THERE ISN'T A PIPE ON THE PLANET THAT PUMPS SIX EXTRA HORSES INTO ANY ENGINE.
When the dust settled after the release of all the 2016 motocross bikes, the 250cc world was divided into haves and have-nots. The cause of the cataclysm was the horsepower numbers of the Austrian-built KTM 250SXF (and its Husqvarna FC250 brother). Suddenly, many of the Japanese-built deuce-and-a-half engines were obsolete. In a class that has always been about horsepower first and everything else second, the Austrian engines were pumping out 44 horsepower. That is a big number, a number that was reserved for work bikes five years ago, and a number that the Honda CRF250 and Suzuki RM-Z250 can't touch—with a 10-foot pole.
How big of a horsepower hole has the 2016 Honda CRF250 found itself in? It gives up almost 5-1/2 horsepower to the bikes from Mattighofen (as for the RM-Z250, it is over 6 horses down).
It's not uncommon for loyal Honda CRF250 owners to tell MXA that once they put an aftermarket pipe on their CRF250, it was just as fast as the KTM and Husky. Sorry to burst your bubble, but there isn't a pipe on the planet that pumps six extra horses into any engine. Which leaves the question of just what would it take to build a 44-horse Honda CRF250? That is what MXA set out to do.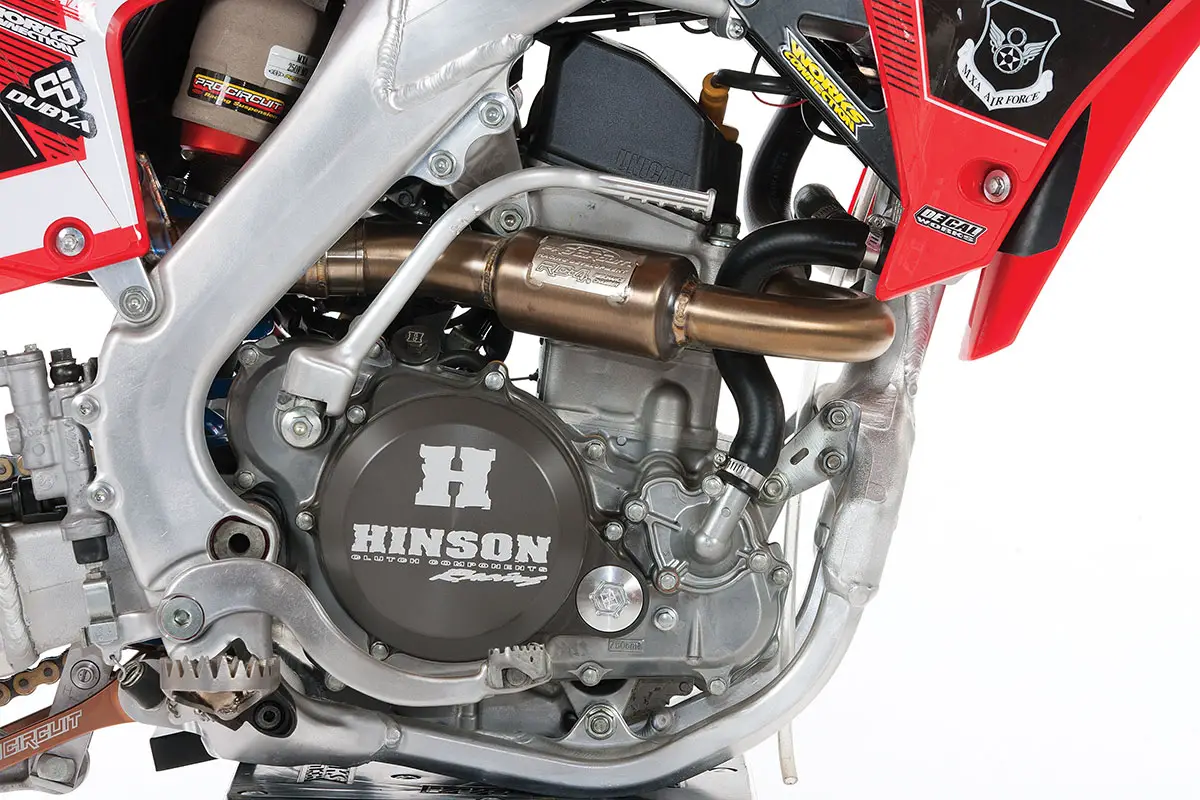 The obvious caveat is that after spending beaucoup bucks to get our 2016 Honda CRF250 to produce 44 horses, we will only achieve equilibrium. So, we consulted with our friends at the factory-backed 250 teams to find out what it would cost to build an engine that wouldn't just match a stock 2016 KTM 250SXF but beat it. Hold on to your hats! The minimum cost to get a Honda CRF250 engine to run head to head with a KTM 250SXF engine was estimated to be $8000 to $10,000 in parts, labor and trickery (much of it unavailable to regular folk).
We accept that this is out of the wheelhouse of most aspiring AMA Pros, Loretta Lynn wannabes or garage-queen home builders. But, if eight grand is too steep, how much money would it take to get a solid 44-horse Honda CRF250? MXA set out to build a KTM fighter—on a budget. A $5000 budget.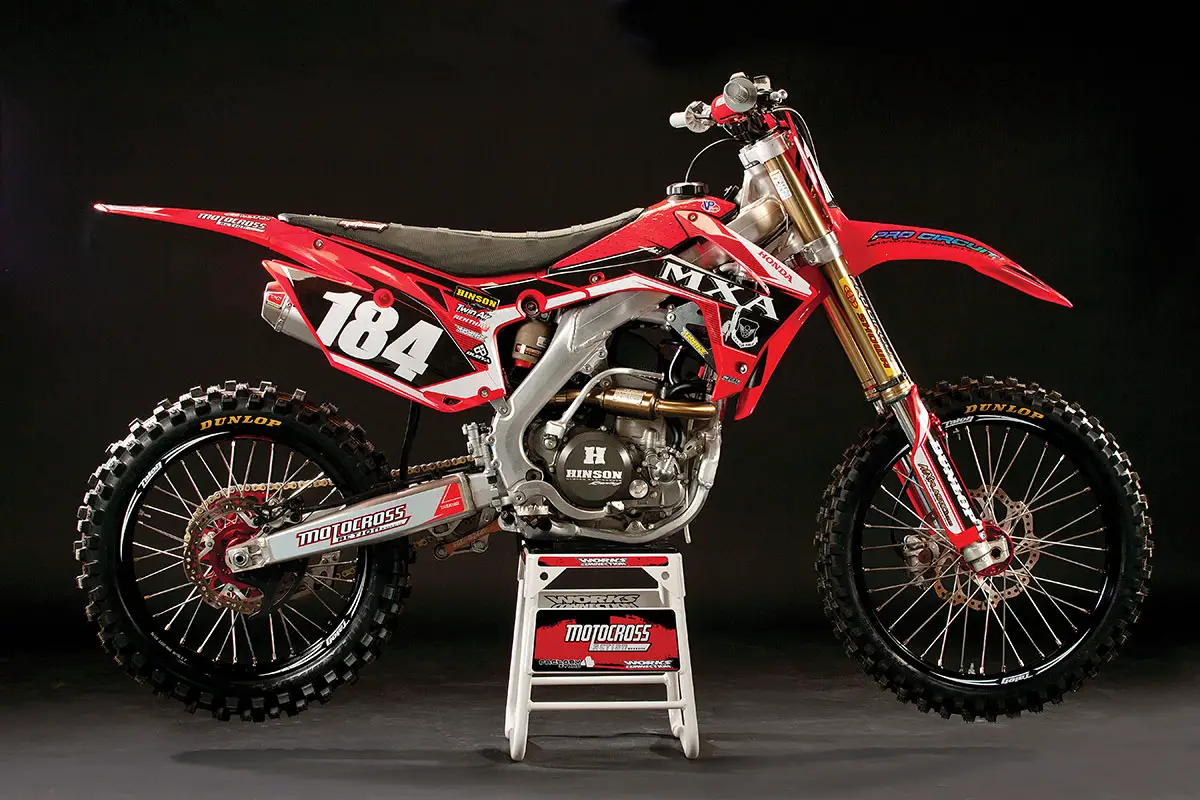 STEP ONE: CALL MITCH
Step one was to send our engine to Mitch Payton at Pro Circuit. There was no point in doing it ourselves. We needed a Pro from Dover, a certified genius and a master tuner to help us. That is Mitch. We asked him to build us a 44-horse Honda using only readily available aftermarket parts and labor. No special cranks, Devcon'ed ports, tumbled transmissions or fancy ignitions. And we asked that the engine be capable of running on pump gas without detonating itself to death, but still be able to get the most out of VP Racing MR-12 race gas. Oh yeah, we also told Mitch thatwe didn't want to spend more than $5000 on the enginbe. It seems strange that we could put a five-grand limit on how much money to spend on an engine and still leave ponies on the table. Que sera, sera.
WE EXPECTED MITCH TO PORT OUR CRF250 CYLINDER HEAD BY HAND, AS HE HAS ALWAYS DONE IN THE PAST. SURPRISE!
Cylinder head. We expected Mitch to port our CRF250 cylinder head by hand, as he has always done in the past. Surprise! He wanted to have the head machined on a five-axis CNC mill that ran a computer program that mimicked each and every stroke of Mitch's porting hand. Mitch was enthusiastic about the CNC head mods because they were consistent, flawless and perfect every time. The price was $659 for the porting (and $359.95 in labor to pull the engine down).
Camshaft. We thought we would be saving money on the Honda CRF250 camshaft because the Unicam engine only has one cam. The problem is that one cam is designed for both normal bucket-over-shim actuation and the Unicam rocker arm. That's a lot of lobes. The single CRF250 cam cost $659.95.
Valve springs. Because of the more aggressive lift and cam profile of the Pro Circuit camshaft, it can't be used without stiffer and stronger valve springs. $379.95 got us valves springs that would stop flutter and float.

Valves. With the cam and the valve springs, it was obvious that new valves were a necessity. Pro Circuit's titanium intake and exhaust valves are built to their spec by Formula 1 supplier Del West. They are precision ground and sprayed with a thermal-nitride coating. The two intake valves cost $357.95 and so do the two exhaust valves. We spent $715.90 on valves.
Piston. We added a high-compression piston to round out the drivetrain package. Pro Circuit's pistons are manufactured by JE Pistons to improve low-end torque and high-rpm performance. The piston came with rings, a coated wrist pin and circlips for $379.95.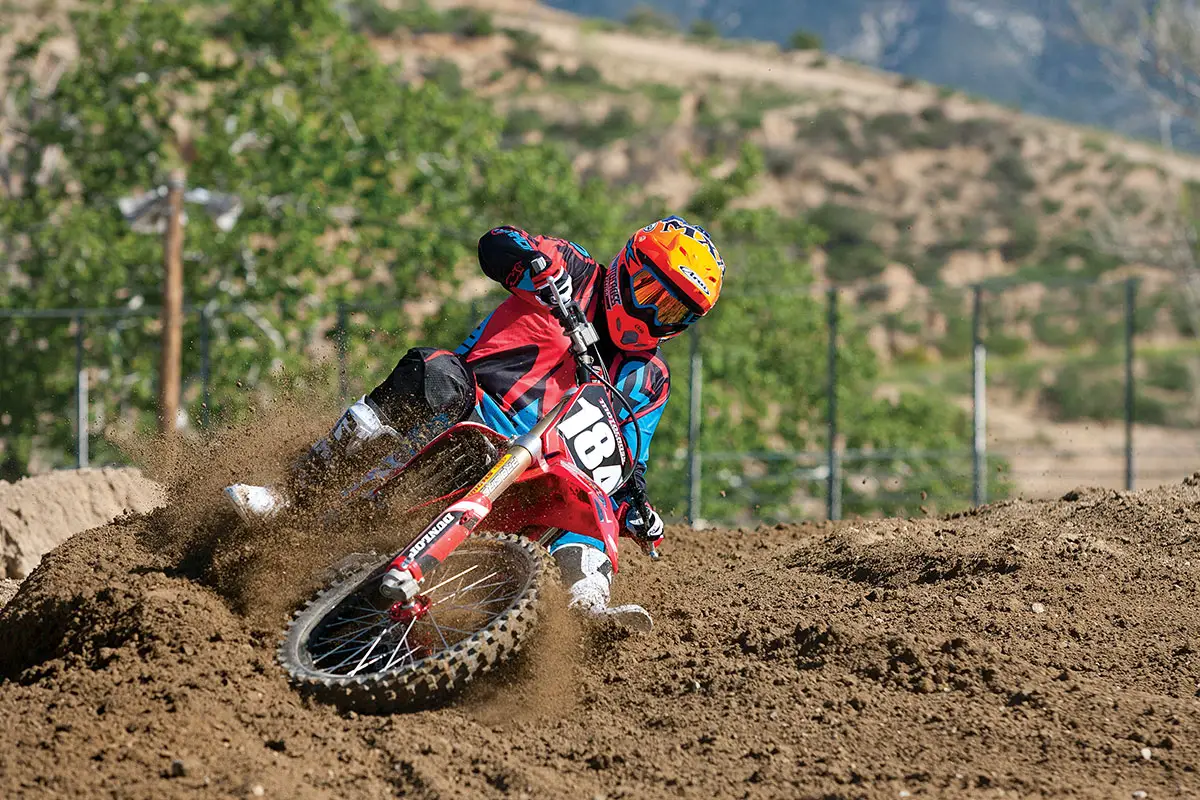 Exhaust pipe. Pro Circuit makes three different versions of its 2016 CRF250 exhaust system: the Ti-6 Pro (AMA sound test legal), Ti 6 (titanium construction, carbon fiber end cap, AMA Amateur legal) and T-6 (stainless steel construction, aluminum mufflers, stainless end caps, AMA Amateur legal). The Ti pipe runs $1259, while the stainless T-6 is $895. Since all three pipes have the same dimensions (save for the quieter end caps on the Ti-6 Pro), we opted for the $365-cheaper T-6 stainless system.
Clutch. All of our engine work would have been wasted if we had tried to drive the added power through the stock CRF250 clutch. We needed the best clutch possible. So, we added a complete Hinson Billetproof clutch kit (basket, inner hub, pressure plate, fibers, metals, springs and Hinson clutch cover) for $1154.99.Miscellaneous. We also spent $60 on coolant, gaskets and Haz-Mat fees.
The high cost of racing. How much did we spend on our engine—and the engine only? $5265. It wouldn't be an MXA project if we didn't go over budget, but the $265 overage is a drop in the bucket.
STEP TWO: DYNO DAYS
Step two was to take the Honda CRF250 to the dyno, where it had just been the day before in stock trim. Our plan was to run it with pump gas and then with VP MR12 race gas.
Stock engine. Of the six most popular 250cc four-stroke motocross bikes, the Honda CRF250 ranks fifth out of six in peak horsepower. Its rather weak 38.89 horsepower does have one highlight—the CRF250 is very responsive in the low-to-mid transition, which is a good trait to have when hopping the engine up.
Pump gas. On pump gas our full-race 2016 Honda CRF250 pumped out 43.60 horsepower with more power everywhere on the curve. Under hard riding we did notice some ping—and felt that we needed to add a splash of race gas to the pump gas as a safety measure.
MR12 race gas. We cracked the 44-horsepower barrier with the help of race gas at 44.56 horsepower. We elected to run VP MR12 because it has a reputation for making solid power and has just enough octane to end the pinging. MR12 is not an AMA Pro-legal fuel, but it is legal for AMA Amateur racing.
We were very happy as the bike rolled off the dyno. We had gotten KTM-style power out of our 2016 Honda CRF250, and closed a 5-1/2-horsepower gap. Yes, it cost us $5265 dollars—and that was without the money we spent on suspension, wheels, tires, sprockets, radiator braces and graphics. It is true that we left power on the table, but we also left money in MXA's bank account.
WHAT'S IT LIKE TO RIDE  A 44-HORSE HONDA
MXA test riders are a fickle bunch. We knew after the dyno runs that our CRF250 made competitive power—and should be able to run with any bike on the track (except those that had $6000 spent on their engines). Every test rider came back with a smile on his face after the first round of tests, but MXA's AMA Pro test riders weren't as enthused as we expected. They thought that the Honda was going to be totally reinvented as a red KTM 250SXF. They wanted more rev and a longer pull. We showed them the dyno charts, but they still harped about one part of the powerband or the other. As for our Novice, Vet and Intermediate test riders, they couldn't stop gushing about how broad the powerband felt. It's as though the two groups were riding different bikes.
We needed a tie-breaker, so we decided to start racing the CRF250 with as many different test riders as possible—from slow to blazing fast (and we brought along guest test riders, chosen because they raced CRF250s). Guess what? Under racing conditions, they all became one voice. The Pros realized that the Honda wasn't a KTM; it didn't build power up to 14,000 rpm, but instead made solid power in the middle and produced a linear pull that worked well. The Vets loved every minute on the 44-horse Honda. They always liked the feel of the stock Honda but hated getting passed on Glen Helen's big hills, LACR's long straights and Cahuilla Creek's high-altitude loam. With our hopped-up Honda, they weren't at a deficit no matter the altitude, length or height of the track. As for our guest testers, they couldn't believe how fast a CRF250 could be—and that goes for the ones who had their engines done by someone else. The elephant in the room is that if we spent $5265 on a KTM 250SXF engine, the tide would probably shift again, but until then, we are happy to be at parity.