CAMERON MCADOO INTERVIEW: PREPARING FOR THE ANAHEIM 2 SUPERCROSS TRIPLE CROWN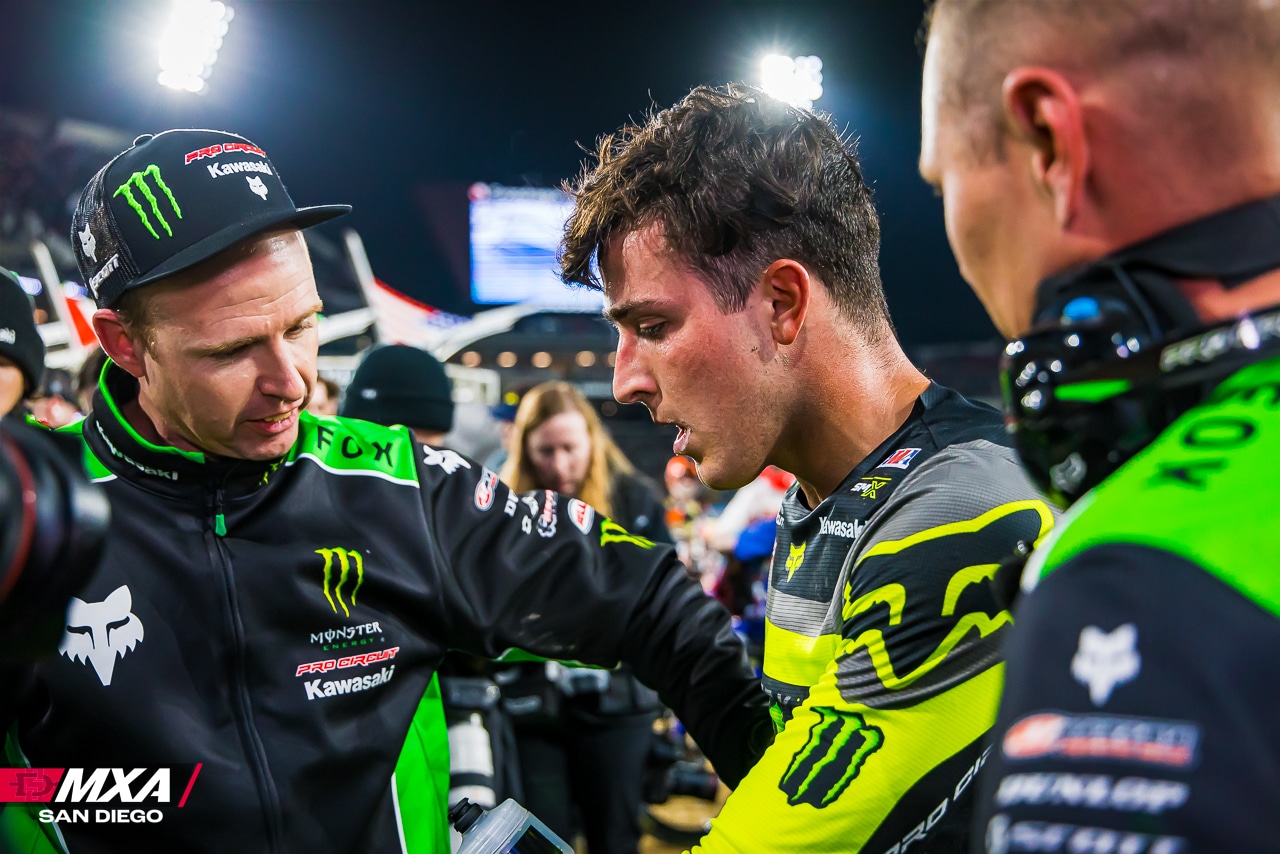 CAMERON MCADOO INTERVIEW: PREPARING FOR THE 2023 ANAHEIM 2 SUPERCROSS TRIPLE CROWN
With two third place finishes so far this Supercross season, it's no surprise that Monster Energy Kawasaki Pro Circuit rider Cameron McAdoo is a solid third in the championship. While third is good, the 25-year-old wants to win. All it could take is one significant race win to help McAdoo overcome Supercross/motocross phenom Jett Lawence and make this series a true championship battle. We talked to cameron after the race in San Diego to get his take on his season so far.
BY JIM KIMBALL
CAMERON, TWO SUPERCROSS ROUNDS IN, AND TWO PODIUMS. ARE YOU HAPPY? I'm looking to improve, obviously. I think that there are some things that I could have done better tonight for sure, and even at Anaheim 1. I am happy to be on the podium, happy to be in it, and consistently being on the podium is great, but we always want more. I am excited to get to work this week and try to capitalize on being better and get the opportunity to go race for some wins at the Triple Crown.   
FOR A WHILE IT LOOKED LIKE YOU WERE CATCHING THE LEADER, JETT LAWRENCE, WERE YOU? Yes, a little bit. After I got into second, from fourth off the start, I had a good pace and some decent lines in some areas. It was nice to be able to start moving up then. But when we got into some lappers, I made a couple of not the best choices navigating through them, and that got me off his back wheel a bit. Then I had a couple mistakes that put me back further. Then R.J. Hampshire got up onto my rear wheel, passed me, and that was how I ended up in third.  
Cameron McAdoo making his way passed Brazilian rider, Enzo Lopes, for second. 
YOU ARE NOT A BAD STARTER, BUT JETT HAS BEEN STARTING GREAT. I think I started second in my heat race, and in my Main Event in Anaheim. I got into a bad gate pick today because of some drama in the heat race. So, I think my starts are good, although obviously it would be great to start first. I know I can do that, so we are going to see a lot better starts in the next couple of weeks.  
IT IS ONLY TWO ROUNDS IN, BUT BOTH THE PODIUM HAS BEEN THE SAME IN THE 250 CLASS. WILL IT COME DOWN TO YOU THREE FOR RACE WINS? I don't think it is safe to say that. I think we must respect everyone, their speed and what they are working for too because there are some more fast guys than just us three. You can guarantee that us three are going to battle hard for it and we are going to race hard all the way to the end of all the Main Events this year. But you can't count out four or five other guys that are riding well too.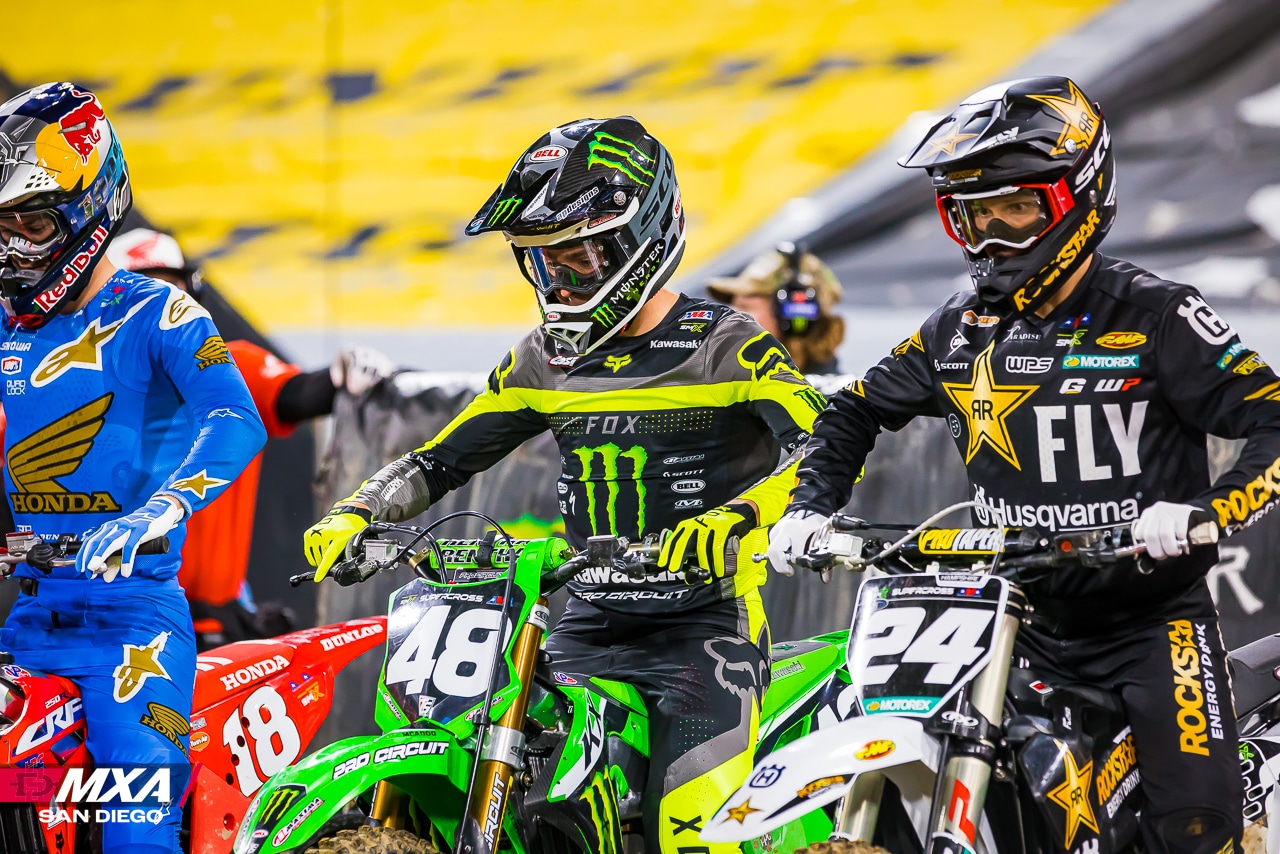 GENERALLY, THE MONSTER ENERGY KAWASAKI PRO CIRCUIT TEAM HAS AT LEAST TWO RIDERS ON EACH COAST. WITH YOU BEING THE SOLE RIDER RACING THE WEST COAST SERIES RIGHT NOW, HAS THAT PUT ANY MORE PRESSURE ON YOU? No, I put enough pressure on myself. I work and race to win, no matter what, whether there are five guys under our semi or just one. They hired me to do a job and I am going to do it the very best I can. Obviously, it is very unfortunate for Austin (Forkner), as another competitor and someone who puts in the work that we put in. I see him every day at the track, and I feel for that. It is a very unfortunate deal that he got injured in the very first straightaway of the very first race. That is the tough part of our sport and the part that we all must always respect. I hate seeing that happen but for me, I still have the same job to do no matter what. Whether we have all the guys or none of them.
WE HAVE THE TRIPLE CROWN COMING UP AT ANAHEIM 2 AND YOU WON A TRIPLE CROWN LAST YEAR. DO YOU PREPARE ANY DIFFERENTLY FOR THE TRIPLE CROWN? We really don't. But we will change some laps. We might do a Triple Crown simulation day, one day but it is all very similar. Get a good start and race to win but instead of doing it once, you do it three times.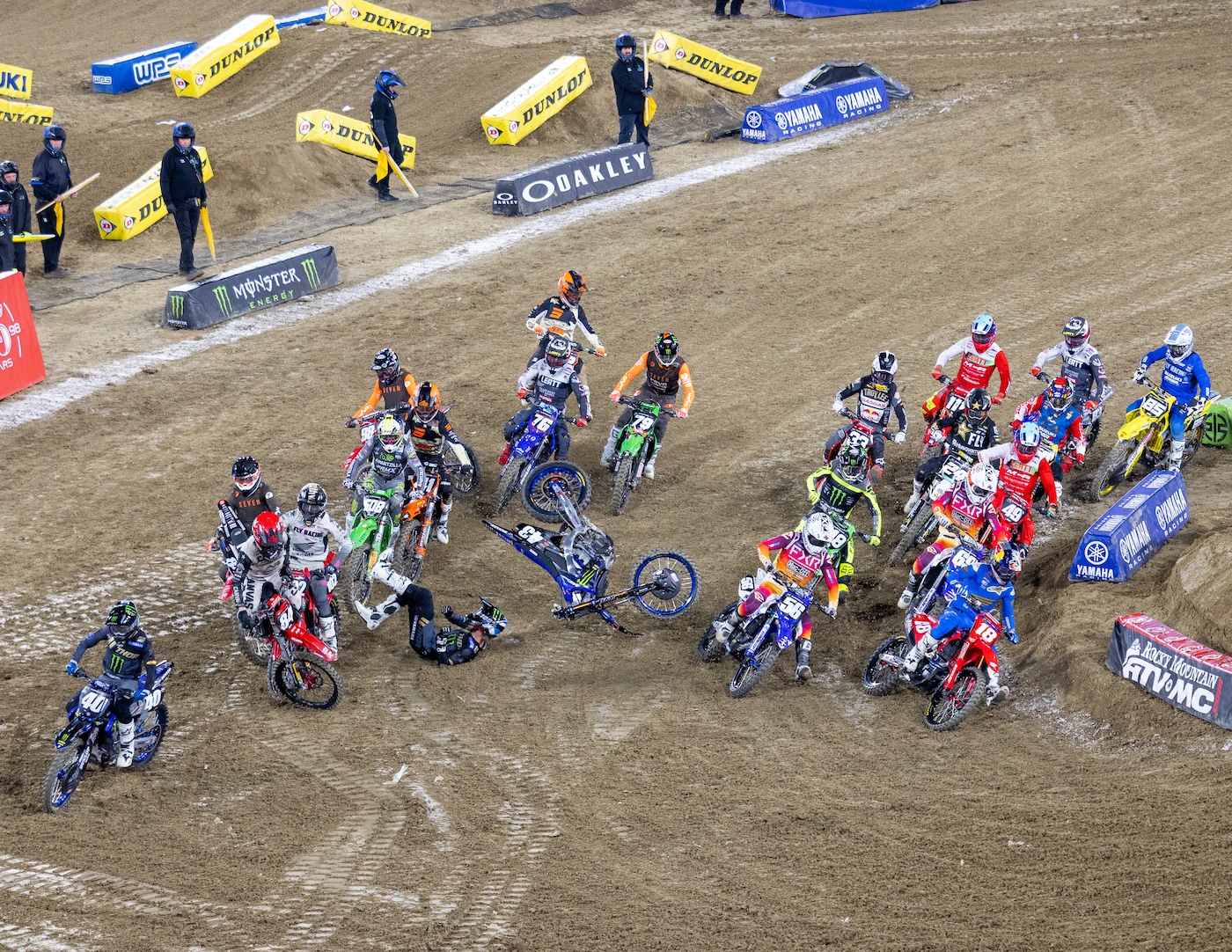 The 250 Main Event started off with a big crash from Levi Kitchen (43) that also took out Mitchell Harrison (84) and Wilson Todd (102). Luckily for Cameron, he was on the inside. (Photo by Mark Riker)
DO YOU LIKE THAT FORMAT MORE THAN THE NORMAL FORMAT? For a fan's perspective, the Triple Crown is cool. For a racer it can be stressful because you must execute three times, but I think no matter what the format is, the cream always rises to the top. 
YOU GOT MARRIED LAST FALL, CAME INTO 2023 HEALTHY, AND ARE ON A GREAT TEAM; ARE YOU IN A GOOD SPOT RIGHT NOW? I really am, life is awesome. I feel grateful that I get to wake up, go train, and go race my dirt bike for a living. As I get a little older and a few more years into my career, I get more of an appreciation for what I do, and what I get to do and don't have to do. Being married has been great. I told my wife tonight that when I am really frustrated, things go bad with racing or whether it was last year when you get injured, you have that person to turn to. Instead of it just being my family, like my mom, my sister and my dad, I have someone at home, and whether I got fifteenth tonight or if I would have won the race, she is going to love me the same. It is great to have the way my home life is.