CHAD REED IS COMING BACK TO FINISH OUT THE 2020 SUPERCROSS SERIES…ON A KTM 450SXF
CHAD REED IS COMING BACK TO FINISH OUT THE 2020 SUPERCROSS SERIES…ON A KTM 450SXF
This is a classic Chad Reed photo by Brian Converse from earlier this year. Chad may be jumping the jump, but his muffler insert is bailing out.
MXA has history with Chad  Reed. A few year ago, we lent him a box-stock KTM 450SXF and a full-race version when he was trying to decide what to do after his last factory gig disappeared. Chad rode the two MXA bikes at Glen Helen in a secret test and liked the KTM. He wanted to make a deal to race KTMs, but when he told Roger DeCoster that he had to race with Showa suspension. Roger told him that for them to sponsor him he'd have to run WP Cone Valves, after all KTM owned WP and couldn't see putting a high-profile rider on a bike with someone else's suspension on it. Chad decided to buy Honda CRF450s and had a successful run on Hondas, before switching to Kawasaki and then Team Yamaha and then to a privateer Husqvarna for a season. In the 2020 AMA Supercross series, he raced Hondas from Mountain Motorsports.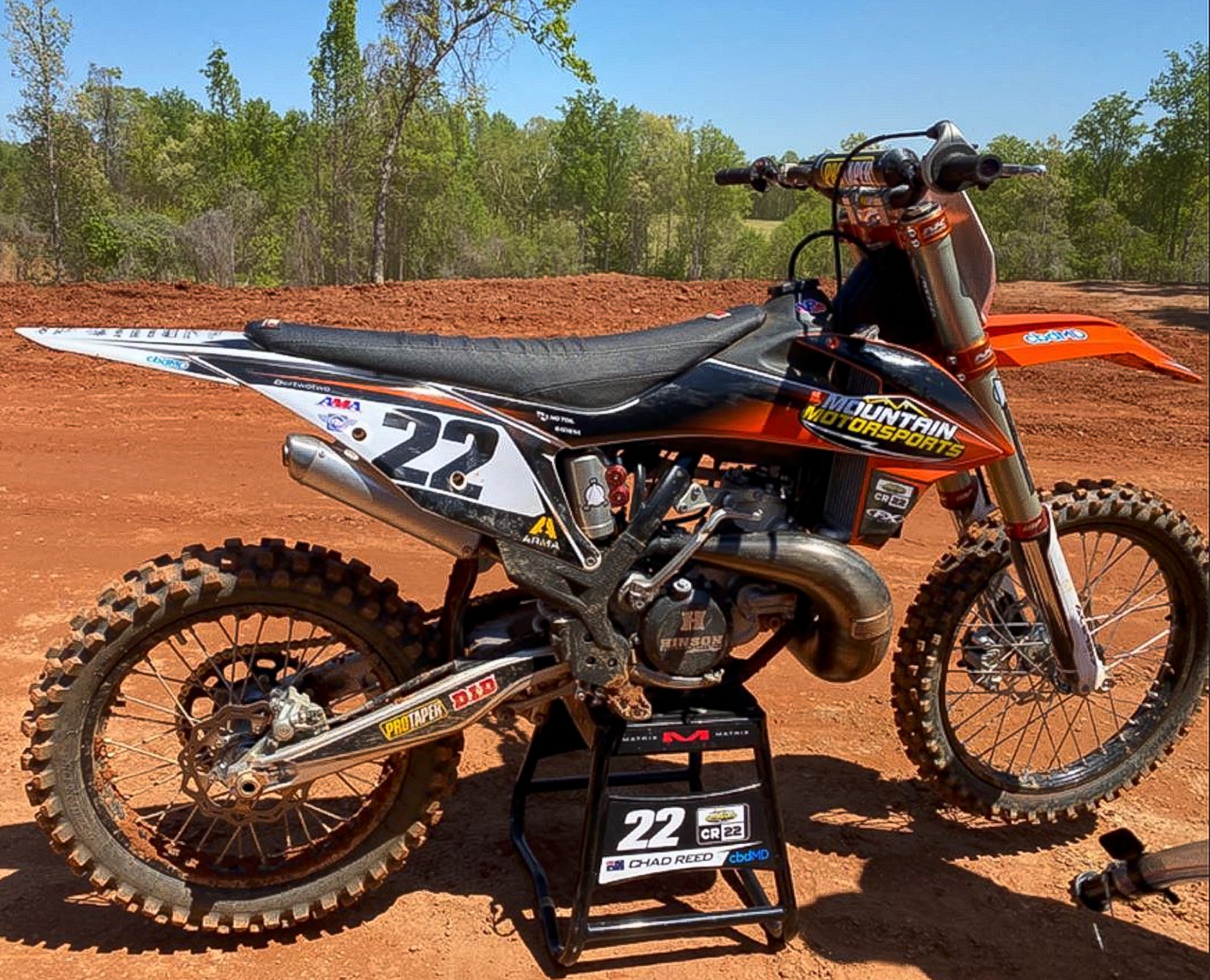 Chad didn't just decide to race a KTM 450SXF to finish out this Supercross season, he also bought a KTM 250SX two-stroke to play on.
But, when the 2020 AMA Supercross series starts back up (either in May or in September), Chad will be racing a KTM 450SXF. How do we know? We lent our box-stock 2020 KTM 450SXF to Chad's team so that he could have a special exhaust system made for his race bike. When Chad actually races the KTM in an AMA Supercross, he will have raced a Yamaha, Kawasaki, Suzuki, Honda, Husqvarna and KTM in AMA Pro races. If he wanted to race in 2021, he could extend that brand streak by racing a Gas Gas.