CHAD REED'S MODIFIED KTM 250SX TWO-STROKE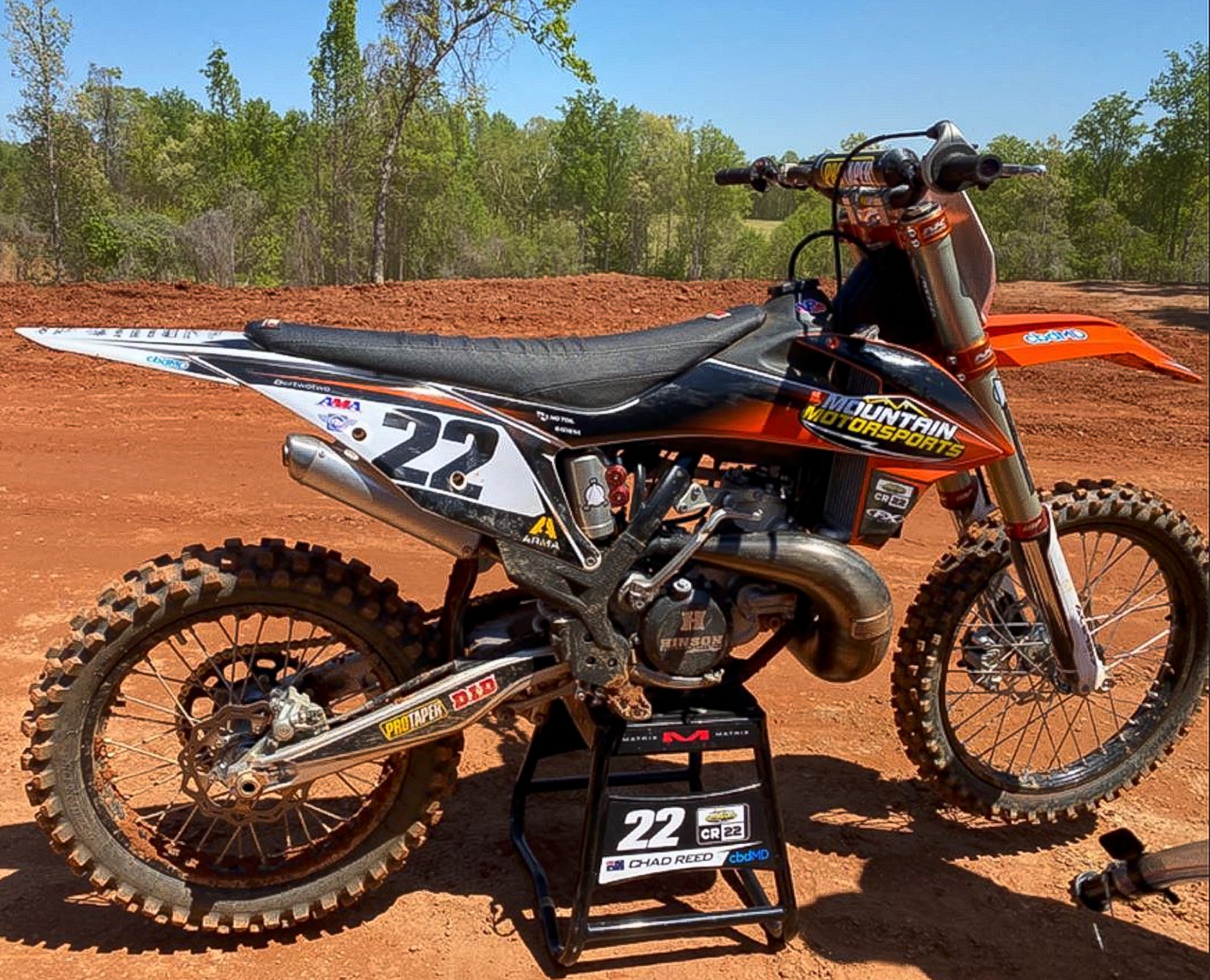 CHAD REED'S IS OUT RIDING HIS MOUNTAIN MOTORSPORTS 2020 KTM 250SX TWO-STROKE
Chad Reed has upgraded his new KTM 250SX two-stroke with a variety of aftermarket products and on Wednesday, he went riding with seven-time GNCC Champion Kailub Russell and a few others at Kailub's new track in North Carolina. We've been dying to see some video footage of Chad riding the two-stroke, but he has kept us waiting.  Although, he did post two short videos on his instagram story, but they were shot from far away. From what we can see, Chad has added a Pro Circuit pipe and silencer, Hinson Clutch cover, Neken triple clamps, ProTaper bars and WP Pro components for his suspension. In the photo below Chad shows off his WP Pro suspension boxes after he got them back from Research Engineering Performance in Menifee, California. The real question is, what will Chad Reed do next? How cool would it be if Chad raced this two-stroke at the next round of Supercross?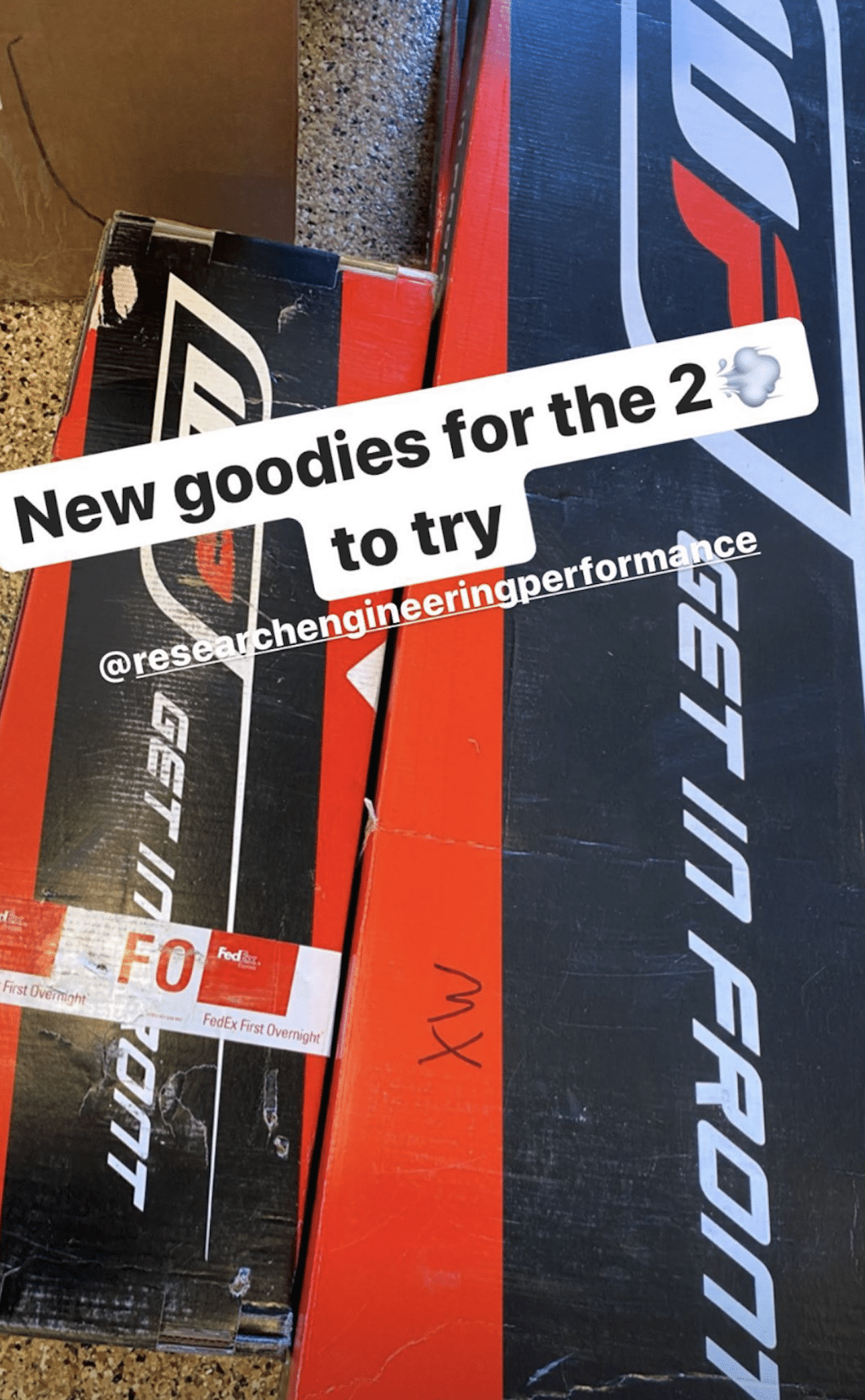 ---
Original post from April 8th, 2020:
CHAD REED IS SELF ISOLATING WITH A 2020 KTM 250SX TWO-STROKE
The Coronavirus outbreak has been taking it's toll on the health of many. It's not only the victims who have the virus that are suffering, but the mental health of people who are now forced to stay at home, stay away from their elderly family, stay away from work and away from the track. Now, all many are left to sit at home and watch people point  fingers at each other on the news channel. In this wild time to be alive, we were happy to see that Chad Reed is riding still and this time it's not on a four-stroke and it's not on a Honda, Suzuki, Husqvarna, Yamaha or Kawasaki, but a KTM 250SX two-stroke!
Chad Reed said via instagram: "Got the 2 stroke dirty today, what a blast! Must say I was surprised how fun and good this bike is. (Mine currently only has jetting and @procircuit78 pipe/silencer) This has rekindled my love for 2 strokes again"
Chad Reed is sponsored by Mountain Motorsports and while he was picking a bike for his son Tate and one for his wife Ellie, Chad decided to grab a KTM 250SX as well. Chad posted via instagram about his decision to pick up a KTM 250SX: "As for my 250 2 stroke I'm so excited to ride modern ergonomics on an old school sound and feel. Keep ya posted.."
As of right now we only have seen the photo above of his bike and no riding footage, but we're hopeful that will come eventually. This photo was taken at Daxton Bennick's ranch in North Carolina. The Bennick's compound is a dream to ride at and MXA's Assistant Editor Josh Mosiman was lucky enough to be able to stop in there and ride there twice while traveling the Outdoor National circuit. Daxton and his family are some of the nicest people you'll ever meet and their compound is next level featuring two motocross tracks, one with clay dirt and the other sand and now they have a full-blown Supercross track as well. Daxton is an up and coming amateur rider in the Supermini class with many amateur national championships to his credit. He currently rides for the Orange Brigade KTM team as well as Red Bull.
CHAD REED'S INSTAGRAM POSTS
CHAD REED IS BACK TO MIXING GAS WITH MAXIMA K2 OIL