CHASE SEXTON: "I DON'T KNOW IF I HAVE EVER BEEN THAT DEPRESSED" (AFTER WATCHING 2018 MXON)
CHASE SEXTON INTERVIEW: TEAM HONDA ATMOSPHERE, RACING MXDN & MORE
While he may not have won the 450 class at Red Bud, Honda's Chase Sexton still retains the red plate after finishing second in both motos. After battling with the usual suspects to make his way to the front, the nearby Illinois native was only bested by Eli Tomac. While his points lead has whittled down some, Chase was in great spirits after the race where MXA contributor Jim Kimball was able to catch up with him and get his thoughts on Honda, Eli Tomac, and the upcoming 2022 Motocross des Nations. 
BY JIM KIMBALL
---
CHASE, IS THE SERIES DEVELOPING INTO A TWO-MAN BATTLE BETWEEN YOU AND ELI? It is always going to be a deep field. The last couple of weekends, Eli and I have been pretty good, but it makes it tough because when Eli gets good starts, it is hard to run him down. Again, it is so deep out there. On any given weekend, Kenny (Roczen) can come out and win. Today, I figured out that I had to pass pretty much all the good guys, and that was tough. You just must stay on your toes and keep knocking off good starts and keep it on the podium.  
WHAT ABOUT THE MOTOCROSS DES NATIONS. YOU HAVE NEVER RIDDEN THE MXDN, BUT YOUR NAME IS INCLUDED IN THE MIX. Last year, I was supposed to go but they did not go. That is a dream come true for me. I want to be on the team, especially here. Red Bud is the home track for me, the fans are unbelievable. I get chills talking about it actually. I hope I get picked.  Obviously, there are a lot of guys to choose from. I think I could come here and win for the USA, and I believe I would be a good choice.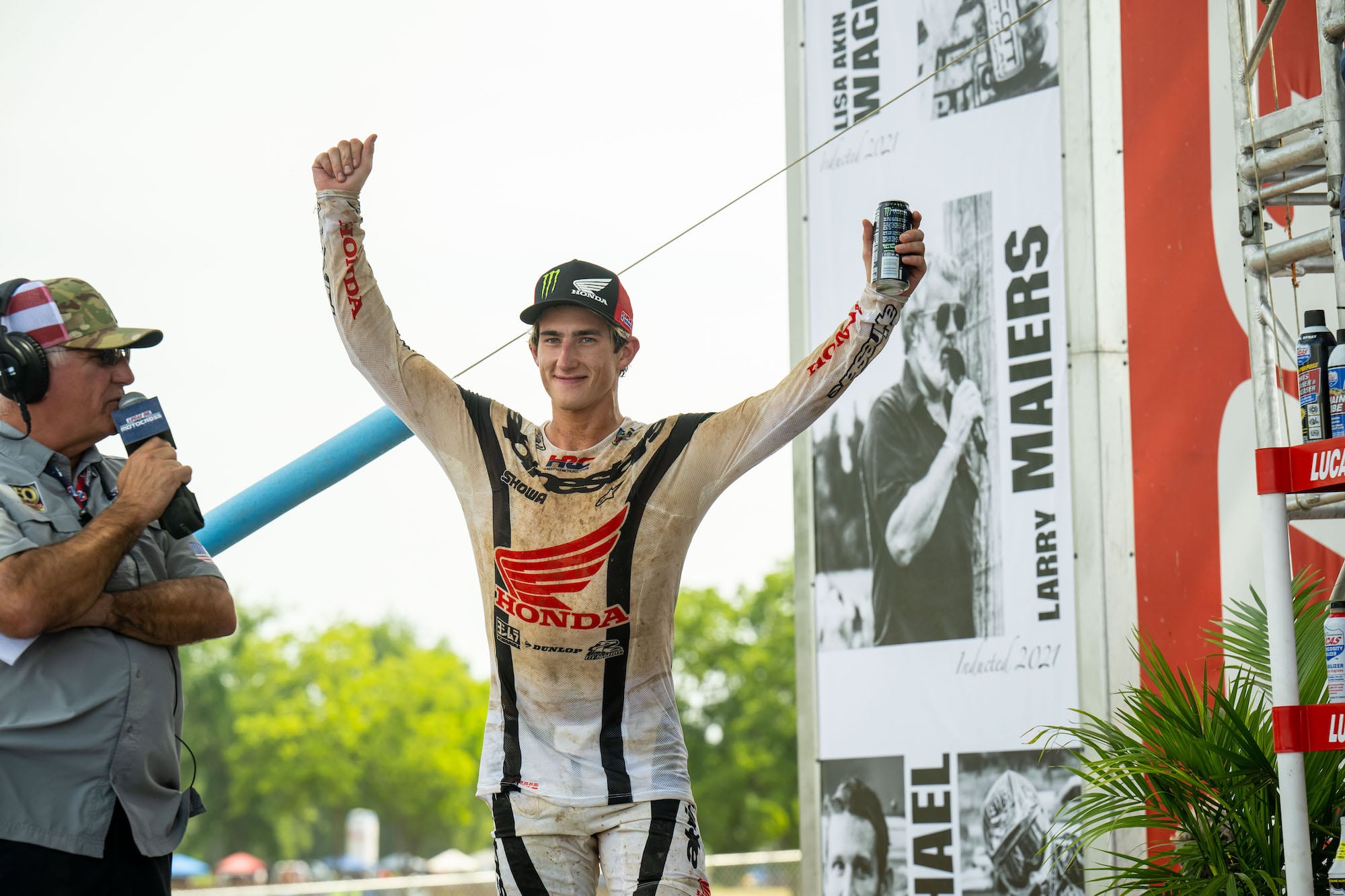 YOU SHOULD BE A TEAM USA SHOO-IN. I have so much pride for this country. Obviously, I want to win for myself, but I want to see this country win again. I came to the MXDN in 2018 and watched. We did not have good race, and I don't know if I have ever been that depressed after a race. I did not even race, but I was so sad, just for the team because they did not get the results they wanted to, and obviously we were on home soil. This year I want to change that, and I think there are a few guys that are really good candidate for it. If I get picked, that would be awesome.
HOW IS THE ATMOSPHERE AT TEAM HONDA? UT GAS BEEN A GREAT MOTOCROSS SEASON FOR HONDA. Yes, we have had some rough times in Supercross, we were not getting the results and team morale was a little bit down, but right now, it is hard not to be happy. We are all doing well. I am happy with my bike right now. It is the first time since I moved up to the 450 class that I have been comfortable on my bike, and I think that shows. The team is good. It is cool to have so many good guys and get the competition level up. I think it is helping us right now.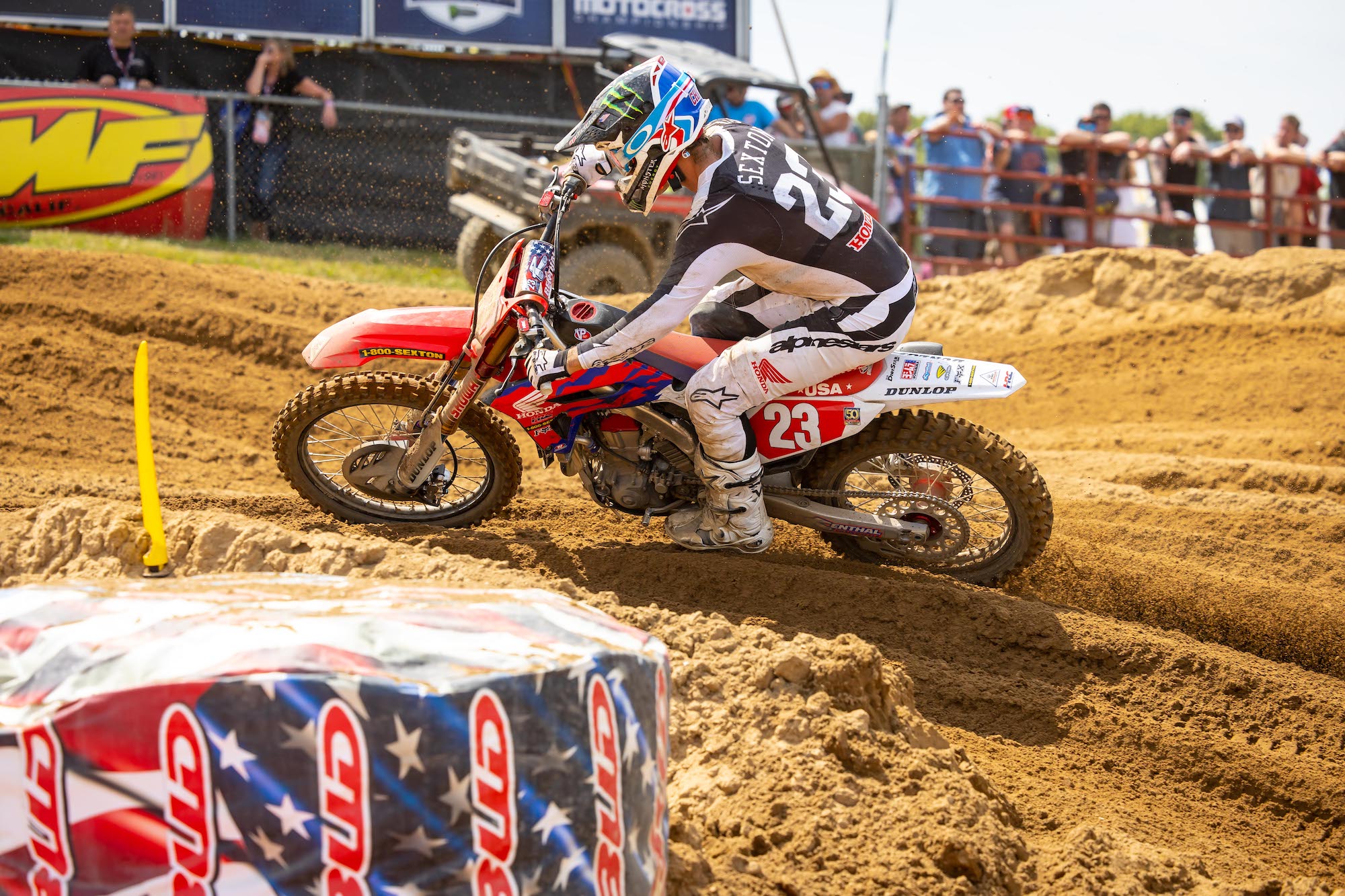 IS THERE BIG COMPETITION BETWEEN YOU AND KENNY TO BE TOP DOG ON THE 450 TEAM? No, it is not so much a competition. Obviously, I want to go out there and win. I know I am going to be racing him for the win because he is good. Our relationship, at this point, is probably the best it has been since I moved to the 450 class. He has been more open, and I think it has been good for our relationship because I have always loved Kenny. When I was on the 250, he always helped me and was kind of my mentor. It is just cool to be friends with him. Obviously we want to beat each other, and we race each other hard too.  It is fun racing him. He always races clean, and I don't think there is any competition within the Honda pits. We want to win, so that is the goal. 
WHAT UPCOMING TRACKS AREN'T YOU LOOKING FORWARD TO? In the past, I have not been really that comfortable with my bike going into Southwick and that is not good because that track is super rough. But this year, the sand sections have been my strong point, so I am looking forward to turning Southwick into a strength, instead of a weakness. In my rookie year, on 250's, I had my best race there. So, if we can go there and do that, I would love to win. I think Eli loves that track also and I think that my sand riding is good right now from riding at Tyla Rattray's track. All the tracks from there on out, I am a fan of.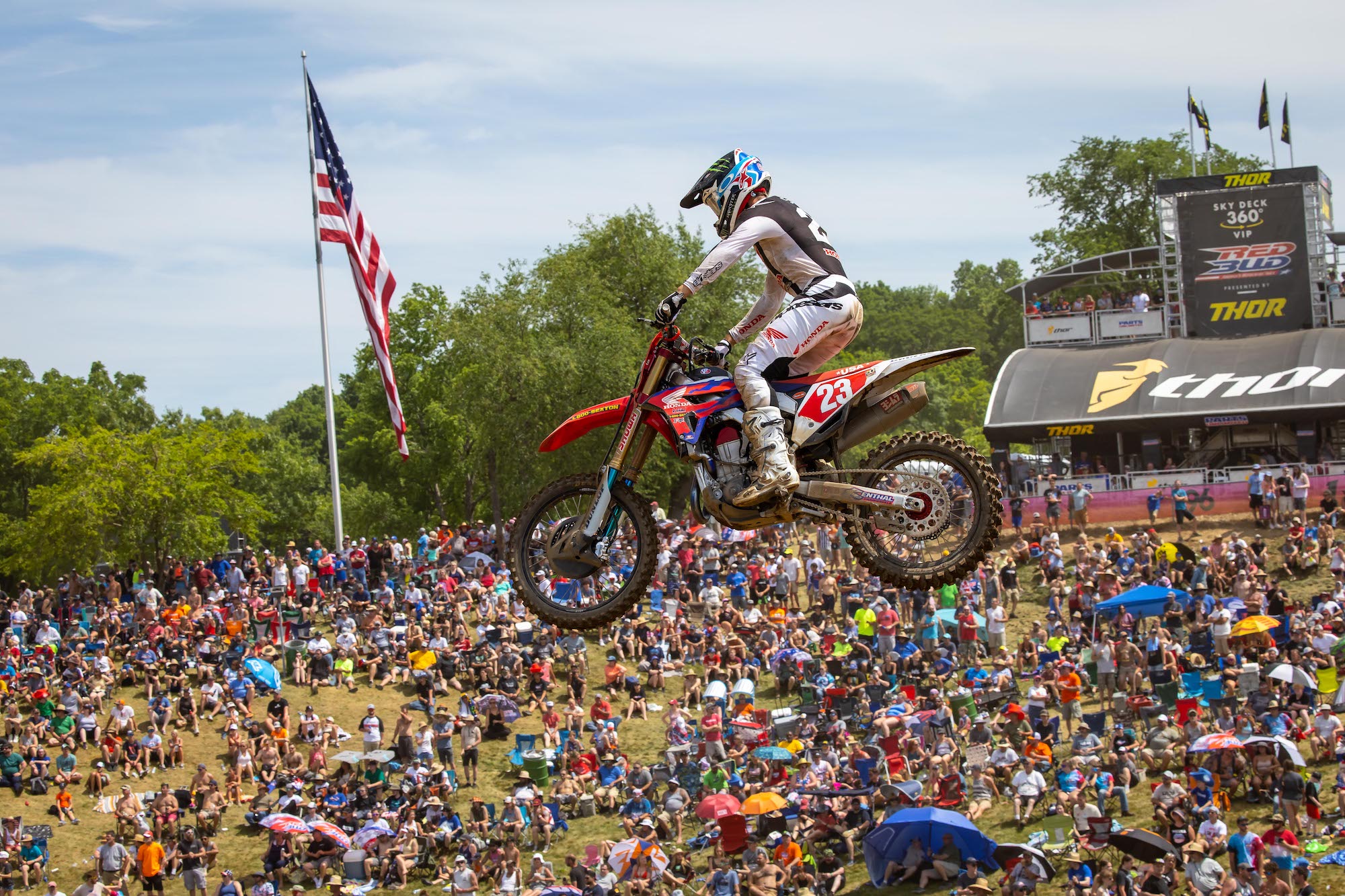 MANY FANS THINK THAT ARE SEEING A CHANGING OF THE GUARD WITH YOU REPLACING ELI TOMAC AS TOP AMERICAN. Maybe, but first of all, I have the utmost respect for Eli. He is actually one of my favorite guys to race. He races clean. He is not going to cross jump you. I grew up watching him race. It is surreal for me to be racing for race wins and overalls with him. I think this might be his last outdoor season, so I am pumped to be able to race him —especially if this is his last year, I love racing him, but I want to beat him.
AS A FINAL WRAP UP, ARE YOU HAPPY WITH WHERE YOU ARE AT? I really feel like I have the whole package right now. This gives me the confidence at this point. Even when I don't get a good start, I have my speed. My fitness is good, better than it has ever been, and my bike is good. No complaints from me. I leave these races with a smile on my face now, just knowing that my bike and I are in a good spot – it is just a good feeling.