CHASE SEXTON INTERVIEW: "I AM STILL TRYING TO FIGURE MY BIKE OUT"

CHASE SEXTON READY IS FOR THE 2021 WASHOUGAL NATIONAL
While we were at Washougal and talking to Chase, little did any of us know that he would go out and win his first  AMA 450 National of 2021, Honda's Chase Sexton expects more. Any why shouldn't he? He won the Pala 450 National last year in his rookie season and now he won the 2021 Washougal Nationals. Here are his thoughts on the motocross series so far—leading up to his win in Washington.  
BY JIM KIMBALL
CHASE, GIVE US A RUN DOWN OF YOUR SEASON SO FAR. The first race started out good with getting second in the first moto, but honestly from there, it went downhill. I have had some off races, but we have gotten most of the tracks that I don't really like out of the way. From here on, all the tracks are good for me, and I am excited to hopefully build off that second moto we had at Spring Creek. The first moto, I felt good, but Kenny (Roczen) and I went down in the first corner. After that, I put my head down and spent a lot of energy in the first moto to finish seventh. Then was able to come back and have a solid second moto too. Overall, hopefully, we are on the upward trend, and we can start clicking off some podiums and wins.
IT WOULD SEEM LIKE YOU WOULD BE ON THE SHORT LIST FOR MOTOCROSS DES NATIONS. WHAT ARE YOUR THOUGHTS ON THAT? I want to go to Motocross des Nations. I made that very clear already. I would love to go over there and represent this country, and hopefully I get picked. It is going to make the season longer, but I am very hungry to go over there and trying to put USA back on top. I really want to go and hopefully they decide here soon, and we can start getting ready for it.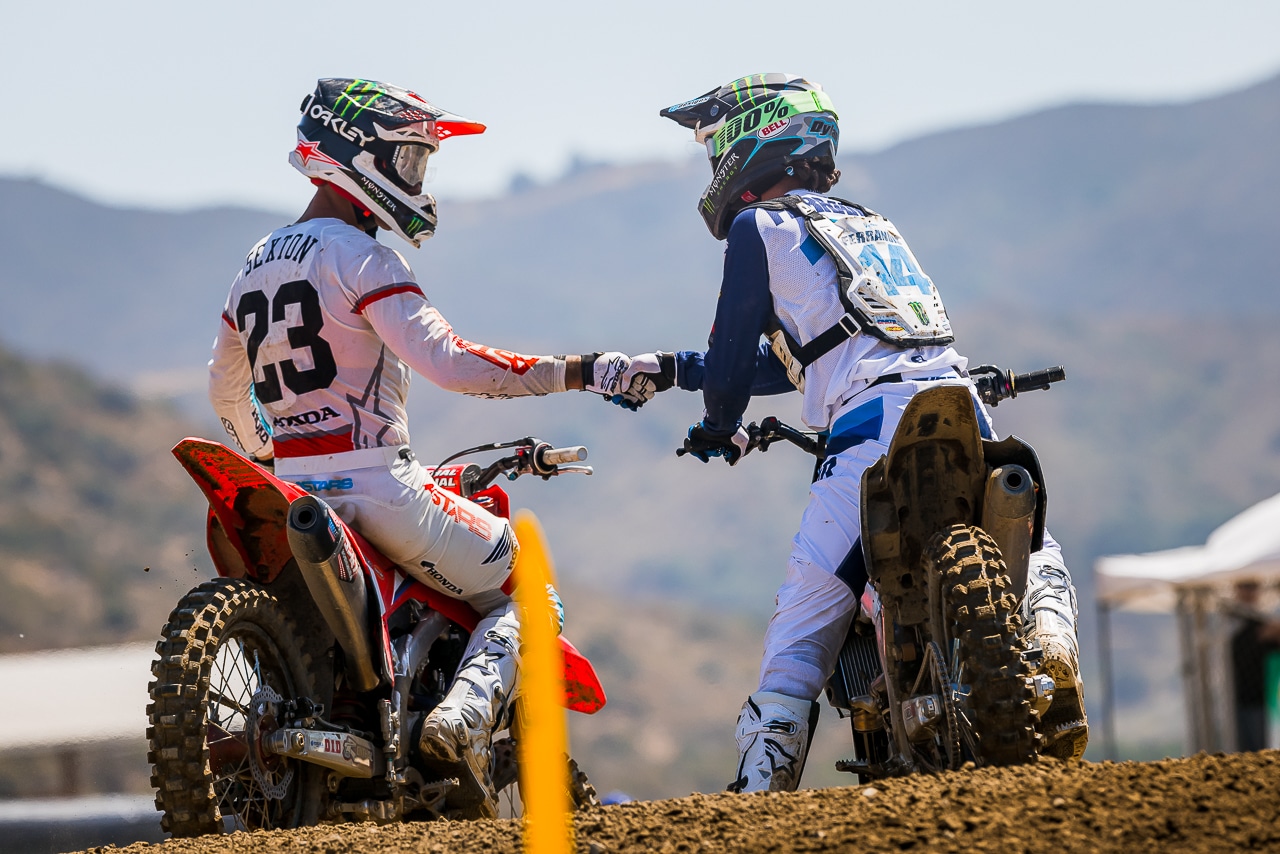 Chase Sexton and Dylan Ferrandis shaking hands after a hard fought 450 Moto 1 at the Fox Raceway season opener. 
DO YOU FEEL YOU HAVE THE NEW 2021 CRF450 DIALED IN? Not really because last year, I was on a different model than this year. I am on a totally different bike, so I had to start over again. For me, I am still trying to figure my bike coming to the races, my race bike does not normally feel the same as my practice bike. It's a struggle getting the lap times in the first practice when you don't feel comfortable. We figured out something today that was a lot better in the second practice. I felt so much better, I felt like I could push in the motos. The first one just did not go my way at the start with crashing with my teammate. In the second moto, I did not really get a good start again, but I was able to charge through, so, I think we found something that we can groove off now and start feeling more comfortable.
Chase and the whole HRC Honda team celebrating his Washougal win
KENNY SEEMS TO HAVE A GOOD CRF450 SET-UP. Yes. For sure. The bike is good, and Kenny makes it work. He and I are completely different on set-up. He kind of runs his way, and I run mine, but we are completely opposite, so he can make it work. He is obviously talented on the dirt bike and good outdoors. I am just trying to build now and consistently get in that top three and just keep it rolling.
HOW DOES DISLIKING A TRACK AFFECT YOUR PERFORMANCE? When you come to a track that you don't normally gel with, you try to go in there with an open mind, but it can be difficult. Honestly, there are some tracks that you really gel with and some days you just don't feel it. So, if you are not feeling it 100%, especially in the 450 classes, it ends up being a lot of work because everyone is so close. Southwick was not one of my favorites. So, yes, I'm glad to get those out of the way and I am looking forward to the last six rounds.

Chase Sexton on the charge at Spring Creek. 
THIS IS YOUR FIRST YEAR RACING A FULL SEASON ON A 450. HAS THE GRIND SET IN? Not really. I was expecting it to wear me down a little bit but honestly, I am happier to go racing now than I was  last year. I found a little routine that works for me, and my mood has been a lot better. Not that I was not happy last year, but I am hungry to go racing, so maybe the motivation is keeping me going. I feel like I still have a lot of energy left and looking forward to the last weeks.
YOU HELD OFF THE VETERAN ELI TOMAC IN MOTO 2 AT SPRING CREEK AND WASHOUGAL AND YOU ARE STILL SO YOUNG. I think Adam is probably the second youngest 450 rider, but we are by far younger than a lot of the guys that are up there. Obviously, Dylan Ferrandis is a rookie as well, but he has a lot of experience. I am young ,but I feel like I have the capabilities of being up there with Dylan. I am not using age as an excuse. I should have more energy at the end of the day than they do. But yes, Eli and I had a good battles. He was right behind me both times, but I was happy that I had some energy in the tank after putting out a pretty good effort in the first moto.
Chase Sexton leaning back for traction in the sand rollers at Red Bud. Chase says that he's looking forward to the rest of the the schedule. 
YOU HAVE STRUGGLED WITH STARTS AT TIMES AND THAT HAS TO BE A BIG HINDERANCE. My outdoor starys have hurt me some. Supercross, my starts are usually pretty good. I don't know if it has something to do with the metal grate or not. I am fond of the grate in Supercross, but  coming to outdoors, I have to back to dirt, so you must change your start technique. I have been looking at data and I have been all over the place with rpm, so I need to find something that is consistent. Honestly, if I can be in the top five off the start, I will be happy with that. I can make it work from there.
DO YOU STILL TRAIN WITH ADAM CIANCIARULO, PRIMARILY? Adam and I are training at James Stewart's compound in Florida. We have been riding together and it has been fun. We are even doing motos together. It has helped me and I believe it has helped our pace as well, so far so good.