THE CHRISTIAN CRAIG STORY: DREAM BIG & LIVE IT

Click on images to enlarge
By Kyoshi Becker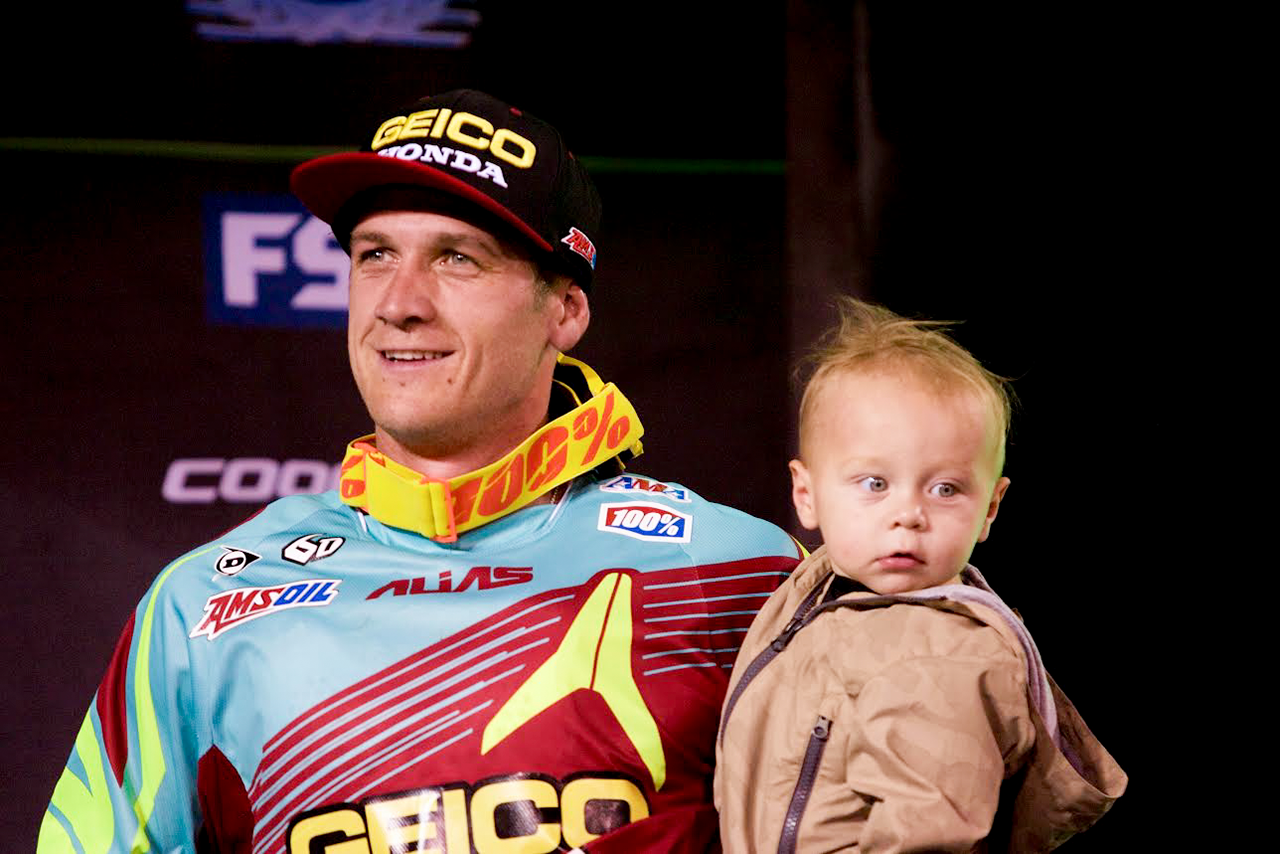 Christian got to celebrate on the podium with his son Jagger.
In September of 2013 Christian Craig said, "Since my last wrist injury in May I've been contemplating whether or not this is worth it. Motocross is all I've known, all I've wanted to do since I was a kid. But what you don't know ,until you've grown up a little bit, is how hard it is on your body and mind. Your body can break over and over and you can keep trying to go out there and win, but your mind is something that can't be fixed with a surgery. Since I've done a lot of sitting at home the past few months I've started to look at life after motocross."
Christian's career was punctuated with injuries from 2009 to 2013. And in 2013, it truly seemed like the end of Christian Craig's motocross career. After breaking his wrist in Las Vegas, the Troy Lee Designs Honda rider announced his retirement in early September of 2013. Craig relocated to Minnesota to work for his then-fiance's father's home construction business.
Christian Craig on his Troy Lee Designs' Honda CRF250 prior to retirement.
But, racing was in his blood. In 1994, his father Mike "Stingray" Craig won the Tampa Supercross on a factory Yamaha. As for Christian, his post-racing life was fairly normal. Christian describes it this way, "I got married, had a kid and got a real job, but deep down I knew racing is what I was supposed to be doing. I will always remember when I was about 5 years old my dad was on the podium about to spray champagne, when he found me in the stands and brought me up there with him!"
And, for Christian, that single memory was the motivation that he needed to get back on the bike. Christian didn't want his son to grow up without knowing a little of what he felt when he was on the podium with his dad. And he didn't want Jagger to think that "Dad" gave up on his dreams. When a fill-in ride became available at Geico Honda he jumped at the chance to return to racing. He didn't set the world on fire, but he did well for a guy who just set his hammer down. For Christian it was a new beginning.
At the start of the 2016 Supercross season, Cooper Webb was the dominating force in the 250 West Supercross class. Webb looked like he would run the table in the 250 West in 2016. Meanwhile Christian had two crashes in the main event at Anaheim 1 and had to start the season with a 17th place. Refusing to let it get him down, Craig came back at round two in San Diego to grab a 4th place.
Christian holds off title defender Cooper Webb.
When the series returned to Anaheim for A2, the Geico #38 rider showed a new level of confidence and put on a performance that had the stadium on its feet. After stealing the lead from Pro Circuit's Joey Savagty on the first lap, Craig held the lead for 8 laps before Cooper Webb was able to catch him. Christian Craig refused to give up, stealing the lead back from Webb before the lap had ended. The next few laps showed a level of confidence that Craig hadn't shown earlier in his career, taking the number one position back from the persistent Cooper Webb an additional six times. While Cooper Webb went on the win A2, Craig not only made the podium in Anaheim, but was able to take 3rd in Oakland the next week.
"Putting everything together and being strong and consistent on the bike is was what I was missing before. I finally believe in myself. I knew I could win," said Christian.  Then, last weekend Christian Craig earned his first-ever career win in Phoenix. Although this teammate Jimmy Decotis grabbed the holeshot, Craig would let nothing hold him back from taking the lead. Cooper Webb made his way through the pack and tried repeatedly to take the lead from Craig, but Cooper made a mistake on the 10th lap that cost him valuable time. Craig had held off Webb, forced a mistake from the 2015 AMA 250 West Champion and took the victory. As he crossed the finish line the announcer said words that Christian had only dreamed of, "Jagger, your dad did it; Christian Craig is a winner." Craig finally had his goal solidified. With a four races left in the 250 West, 11 points out of the lead and third in points, Christian Craig just may have a shot at winning the overall.